The best times of your life, one way or another, are related to food—birthdays, anniversaries, and indulgent midnight snacking. And who said working out should prevent us from having happy tummies? Fueling your body with the right stuff before and after you sweat it out at the gym makes all the difference! Below, five fit girls with different diets teach us how to eat right and stay fueled.
1. Iza Calzado, Actress
Pre-workout: Tea or oil
"Pre-workout, I don't normally eat anything because I don't like working out with a full stomach. [Instead,] I take BCAAs (Branch Chained Amino Acids) or have tea (a sip of coffee if it's early enough, I'm caffeine sensitive) and maybe a tablespoon of coconut/MCT oil. Depends on my energy levels, really."
Post-workout: Protein shake
"If [I did] weight training, I drink a no-carb whey protein shake from Charles Poliquin with glutamine and some cacao powder. I can also eat protein and vegetables after. If I'm not doing a super low carb diet I would love to have some carbs and fruit after! Hahaha!"
ADVERTISEMENT - CONTINUE READING BELOW
2. Lauren Reid, Model/Host
Pre-workout: Healthy Carbohydrates
"At least an hour before working out, [I eat] a banana. It's a filling food source and full of potassium so you don't cramp during workout. Also, oatmeal. It's a carbohydrate so it will slowly release the energy so you last throughout your workout. Usually, I have the two together.
"Something else I have as an extra boost right before a workout is dark chocolate. Just a couple squares if I'm feeling snacky right before but it is always 70% cocoa or higher and sugar free."
Post-workout: High protein meal
"Salad with protein (chicken, tuna, edamame, tofu), protein oatmeal pancakes, protein shake—protein protein protein! But eat it with carbohydrates, preferably from vegetables. You break down your muscles when you are working out, and protein assists in building them back up and replenishing the muscles. However, if you consume more protein than you are working out, it will turn to fat.
If in doubt about what to eat before and after working out, look it up! But try to cross reference websites because not everything you find on the internet is honest and true!"
3. Yanna Cowper, Model
Pre-workout: Light snack or heavy carbs
"It depends on my workout, [but] if I'm going to do yoga I usually have a light snack like yogurt, fruits, and oats. If I'm going for a run I stock up on carbs (like pasta with tuna or salmon) for energy. I rest before I go for my workout or run, [so these work] because I need the energy. I'm not really into [using] pre-workout drinks or coffee to keep me energized."
ADVERTISEMENT - CONTINUE READING BELOW
Post-workout: Salad wraps plus dessert
"I usually go for salad wraps! Or, meat (chicken or beef) with a good balance of veggies and rice, then some yogurt bowls for dessert. I actually eat heavy post-workout meals because [food] burns faster after I workout, and it keeps me satisfied for a few hours. I'm not really into dieting for losing weight either, I just try my best to choose healthier options. Even if I eat a lot post-workout, I know I'm eating clean."
4. Nikki Torres, Fitness Instructor
Pre-workout: Vegan protein
"I usually have something light before my workout. Usually vegan protein with Rice Bran (for Omega 3) and MCT (medium chain triglycerides) powder. MCT bullet proofs my protein shake and gives me a boost of energy. I get my supplements from @muscleshackph. I add a banana or any fruit when I'm hungry."
Post-workout: Nourishing bowl
"I re-fuel with a good filling meal around an hour post workout. I usually make my own bowl which includes vegan protein sources (tofu, beans, etc), leafy greens and whole grains. When I'm craving for something sweet, I go for smoothie bowls which I boost with superfoods such as Maca and Spirulina."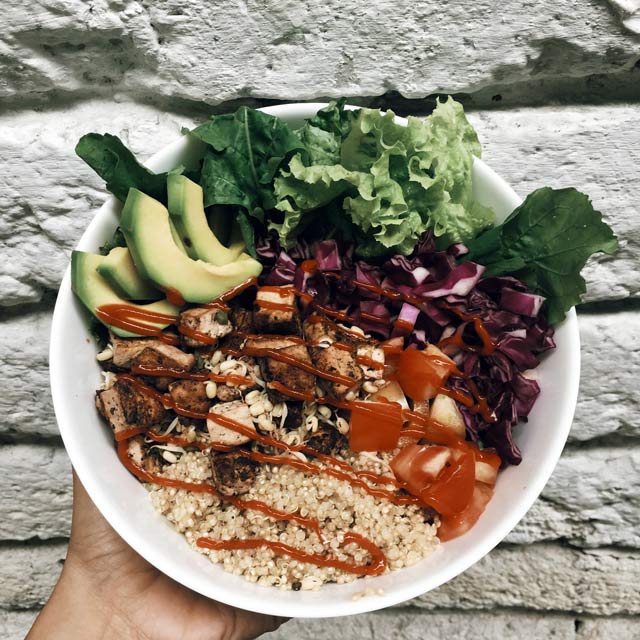 IMAGE Courtesy of Nikki Torres
ADVERTISEMENT - CONTINUE READING BELOW
5. Rachelle Que, Stylist
Pre-workout: High-protein, high-fat meal
"I usually have a serving of fat and protein. So I can have eggs with bacon, or avocado drizzled with olive oil and balsamic [vinegar] and then topped with ricotta cheese with some eggs. Sometimes I also have a salad with it. Salad mix would be romaine lettuce with some kale and arugula, cashew nuts, and drizzled with olive oil and sea salt with chili flakes. When I do more conditioning and endurance work (like a class in Electric Studio) I have more carbs. I'll usually have some eggs, a banana, and a whey protein supplement."
Post-workout: Electrolyte drink and protein supplement
"[I eat] More protein! Haha. I usually drink fresh buko [juice] (either Dizon's or straight from the husk) for electrolytes. Then I also take whey protein, especially after doing an Electric class. [I take the supplements because] When we workout, muscle breaks down. The supplement is a good way to help muscles recover and it's absorbed quicker by your system when you eat meat. Also, sometimes we can't eat as much meat as our body needs so taking protein supplements is a good way to get your protein intake without eating too much."
Related Stories from Preview.ph
Hey, Preview readers! Follow us on Facebook, Instagram, YouTube, Tiktok, and Twitter to stay up to speed on all things trendy and creative. We'll curate the most stylish feed for you!