Clarisse Gotico is reaching deep into her Filipino heritage. In a journey to reconnect with her roots, this young Fil-Am designer is on a mission to dress the modern Maria Claras of today's society. She imagines her muses clad in garments that boast of 1800s techniques and silhouettes merged with modern textiles and updated cuts. In fact, for her graduation show at Fashion Institute of the Philippines, Clarisse created a capsule collection that demonstrated age-old aesthetics modernized by today's streetstyle grit.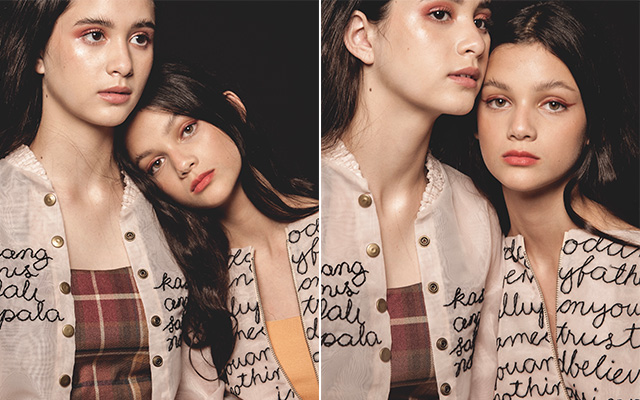 In our latest Preview Designer Spotlight, we get to know more about Clarisse's inspired vision of a strong and modern Maria Clara, her plans for the future, and her hopes of reviving the wearing of ternos a norm, once again.
How would you describe your design philosophy and aesthetic?
"We live in a country that is heavily influenced by Western cultures and other Asian cultures. As a designer, I want to design clothes that identifies or recognizes one that he or she is Filipino by bringing back the old [aesthetic] to the [modern times]. People only see the Baro't Saya and Barong Tagalog as national costumes and worn only on special occasions because they're said to be history. I want to bring back the Filipino traditional clothing, merging it with the modern streetwear silhouettes without breaking the purpose of the traditions. [My goal is to] turn it into norm again."
ADVERTISEMENT - CONTINUE READING BELOW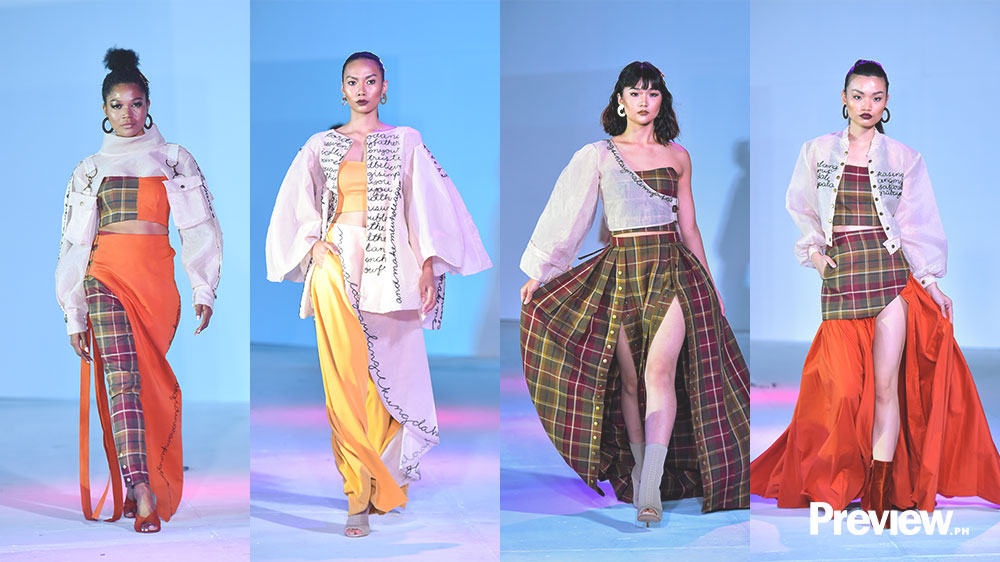 What motivated you to be a designer?
"It was really all about going back to my roots. I moved in the U.S. when I was a teenager—the age when you seek to find your own identity. I was beginning to see myself blending in with the western culture that I almost lost my own [sense of heritage]. That's when I decided to pursue a career in fashion.
"I believe and trust the Filipino craftsmanship because every art we create speaks of our beautiful culture. And so I moved back to the Philippines and studied at Fashion Institute of the Philippines where I was surrounded by like-minded Filipino designers. Here, I was mentored to create couture techniques and was really molded to find my own art as a Filipino designer."
ADVERTISEMENT - CONTINUE READING BELOW
You're a fresh name in the local fashion scene. What do you think is your greatest edge as a designer?
"There are a few local designers and brands out there that are already promoting Filipino fashion. As a young Filipino designer, I want to create clothes that don't just show the traditional silhouettes, but tell a story of our culture on each piece by using hand embroidery techniques. Hand embroidery has been a part of the Filipino fashion even before the 1800s and is still practiced to this day. When the hand embroidered words are read it starts up conversation and it brings history back to life. It educates both the wearer and the reader. I think it's fun how two or more are gathered together just because of what they read from a garment."
ADVERTISEMENT - CONTINUE READING BELOW
Knowing this, how would your clothes fit the modern Filipina now?
"A modern Filipina no longer holds the identity that traditions have given them. Maria Clara was portrayed in Jose Rizal's novel Noli Me Tangere as demure, modest, submissive, timid, etc., [which is not what] a modern Filipina is now. She is not controlled; she is free. A modern Filipina shouldn't feel that they have to cover certain parts of their body but [they are] able to flaunt it because they can. A modern Filipina is someone who is bold, strong, confident, independent, and limitless. [This is] exactly how I want them to feel when they wear my designs."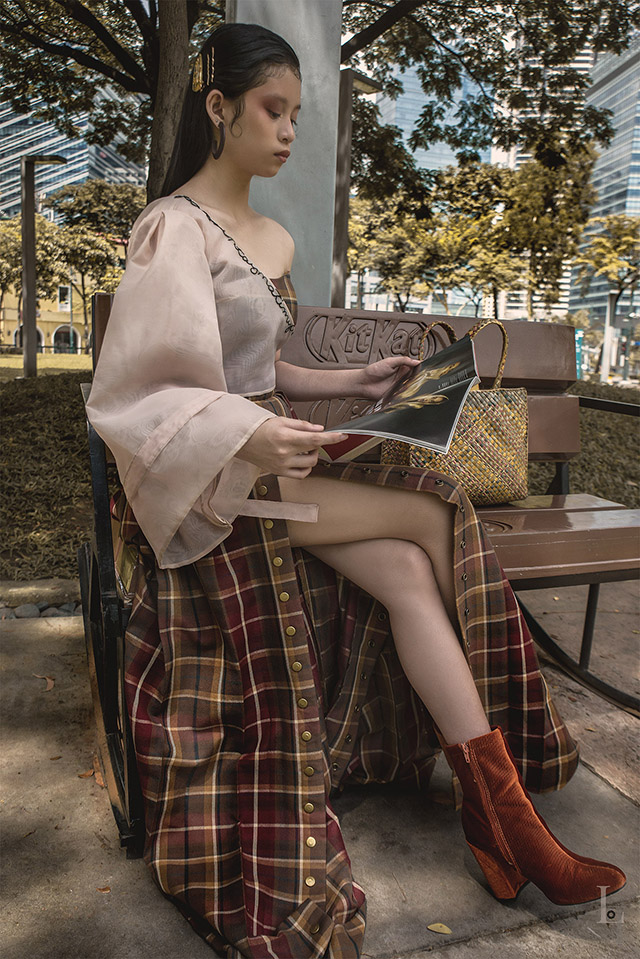 ADVERTISEMENT - CONTINUE READING BELOW
Tell us about your muse for your graduation show.
"It was quite a challenge looking for the perfect Maria Clara because I wanted the fictional character to come to life as well. I believe that Leonora Rivera was the basis of Maria's character, but I was looking for someone to fit the modern age. I had to go back and forth on how Jose Rizal described Maria Clara in the novel and how Crisostomo Ibarra treated her, as well.
ADVERTISEMENT - CONTINUE READING BELOW
"After all the search for the perfect candidate, I found Chona Recto-Kasten, fondly known as 'La Divina.' From head to toe, she was all about glam and grace. She was prim and proper, and sophisticated. She was confident and stylish in everything she wore. She is hardworking; she is wise and strong, and her presence is beautiful to everyone she meets. Hence, Chona is my modern Maria Clara."
Related Stories from Preview.ph
For your chosen textiles, you opted to use tartan and matte organdy. Is there a specific reason why you chose these?
"At the time I was building my collection, I was already thinking of using abaca silk and Hablon in my collection, but if this collection was to be my introduction as a designer and a brand, I then opted for materials that are practical and available in the market. I also want to create a ready-to-wear brand that caters high-quality yet affordable Filipino garments as I want my brand to be worn by a lot of people."
ADVERTISEMENT - CONTINUE READING BELOW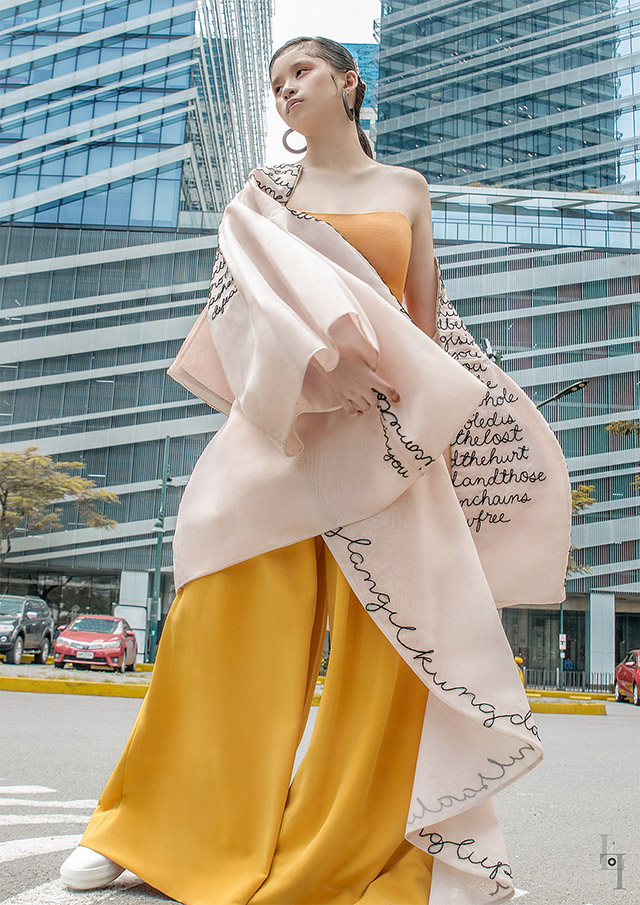 Let's talk about your creative process. How do you usually find inspiration?
"I was in the middle of recollecting my studies in Philippine history when I came upon Noli Me Tangere again. It goes back to the novelist himself, Jose Rizal. I went to visit the national museums, monuments, Intramuros, and Rizal's home. I tried putting myself in Jose Rizal's shoes by reading history books to really feel what he felt when he wrote Noli Me Tangere and how he created Maria Clara."
ADVERTISEMENT - CONTINUE READING BELOW
What do you consider to be your signature style as a designer?
"I personally like loose-fitting clothes, especially dresses. I'd like to be comfortable and relaxed at the same time so most of the time I'd go with oversized and babydoll-like silhouettes. Color-wise, I'd usually go with neutral colors or earth tones, just keep it light and simple."
ADVERTISEMENT - CONTINUE READING BELOW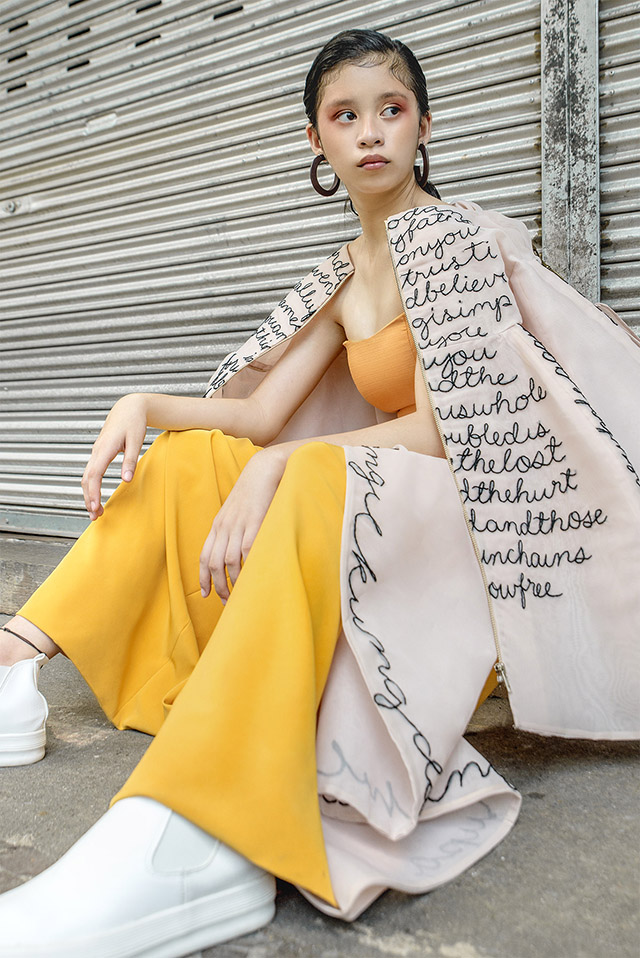 Let's talk about your newly-launched line. What can we expect from your eponymous line?
"I have no upcoming shows or any big projects anytime soon since I'll be flying back to the U.S., but I'm hoping to meet and collaborate with U.S.-based Filipino designers and organizations. I am currently working on my ready-to-wear brand, Kaladis—a Baybayin translation of my first name, Clarisse—which I hope to launch next year, and make available in-stores and online. The brand caters daily-wear garments with silhouettes inspired by the 1800s Philippine fashion."
ADVERTISEMENT - CONTINUE READING BELOW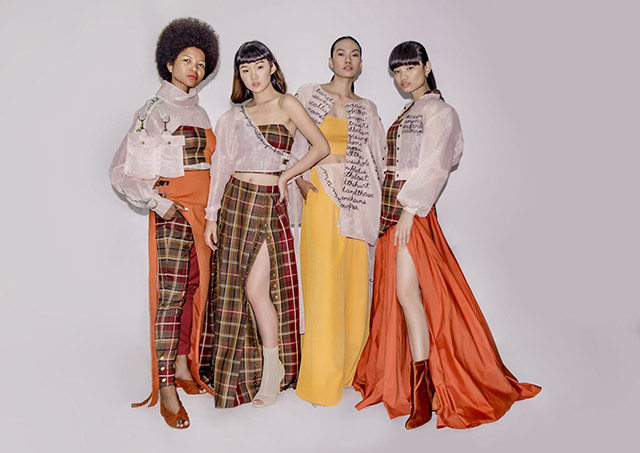 Is your studio officially open for business? How can we best reach your atelier for made-to-order pieces?
"I'm pretty fresh in the industry so still don't have my own studio yet, but I am already open for collaborations and custom made orders. Inquiries can be sent through my email, clarissegotico.ph@gmail.com, or my Instagram and Facebook pages, @ClarisseGotico.ph.
ADVERTISEMENT - CONTINUE READING BELOW
Hey, Preview readers! Follow us on Facebook, Instagram, YouTube, Tiktok, and Twitter to stay up to speed on all things trendy and creative. We'll curate the most stylish feed for you!