Maria Priscilla Silos Recto Ysmael Kasten, or Chona Kasten, is Nationalist Senator Claro M. Recto's daughter. She was the epitome of elegance and style since the '50s and arguably the first It girl of the country. She had been baptized by her friends and designers as "La Divina," a term coined by hair stylist Nomer Pabilona for Chona was an "image of elegance, poise, and sophistication with irreproachable manners and exquisite inimitable tastes." Her only daughter, fashion stylist Techie Ysmael-Bilbao, adds that her Mopy (the petname she had for her mom) was "in many ways ideally divine."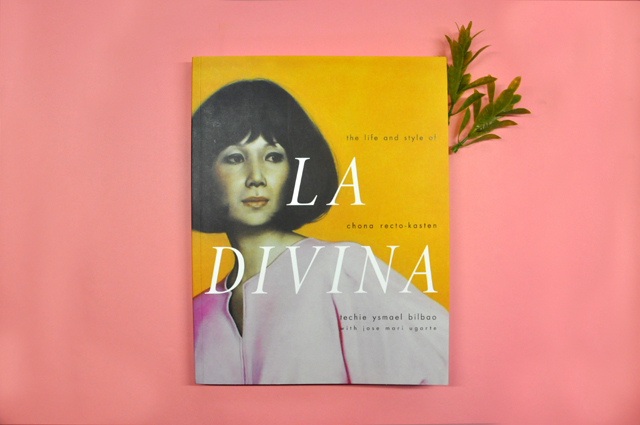 ADVERTISEMENT - CONTINUE READING BELOW
IMAGE La Divina
In the book La Divina: The Life and Style of Chona Recto-Kasten, Techie and Chona's close friends recount the life of the first It girl, painting an intimate portrait of the elegant model, career woman, and belle of the high-society ball. Here, discover nuggets of wisdom from Chona's high-profile life and her human side.
Taking notes from the first It girl, below are 20 lessons we can learn from La Divina.
1. How to sit properly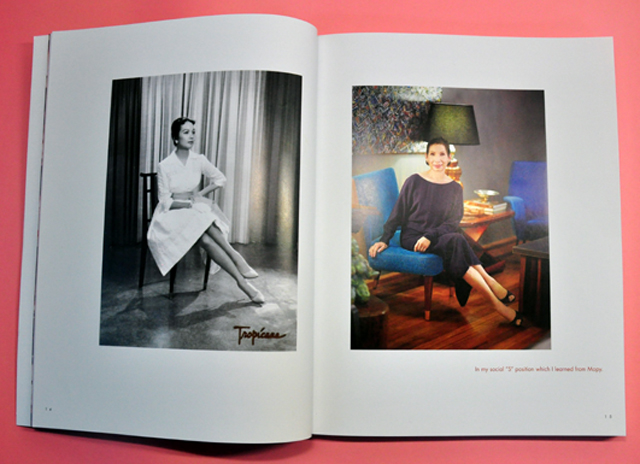 CONTINUE READING BELOW
Recommended Videos
IMAGE La Divina
2. Control your emotions especially in public.
"Try not to be so scandalous about emotions in public, and no shrill voices; always low, or better yet, in whispers."
3. You're never too young to wear couture.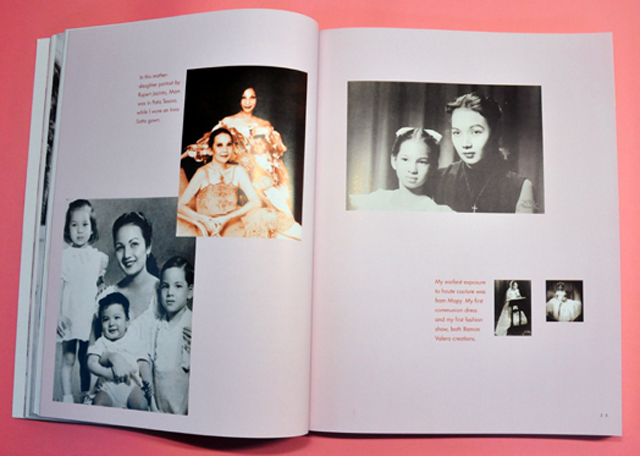 IMAGE La Divina
4. Maintain a good work ethic.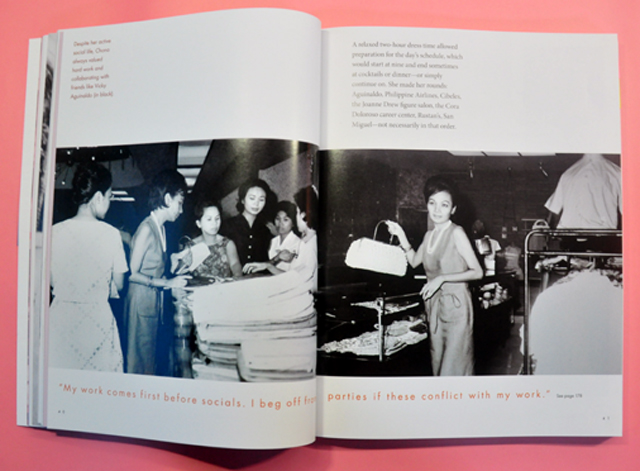 ADVERTISEMENT - CONTINUE READING BELOW
IMAGE La Divina
"My work comes first before socials. I beg off from parties if these conflict with my work."
5. When it comes to style, good fabric and tailoring is everything.
"I like very good fabrics, and I insist on a very good cut. It's a little bit expensive, but in the long run, it pays a lot. The most important things are line and fabric and fit."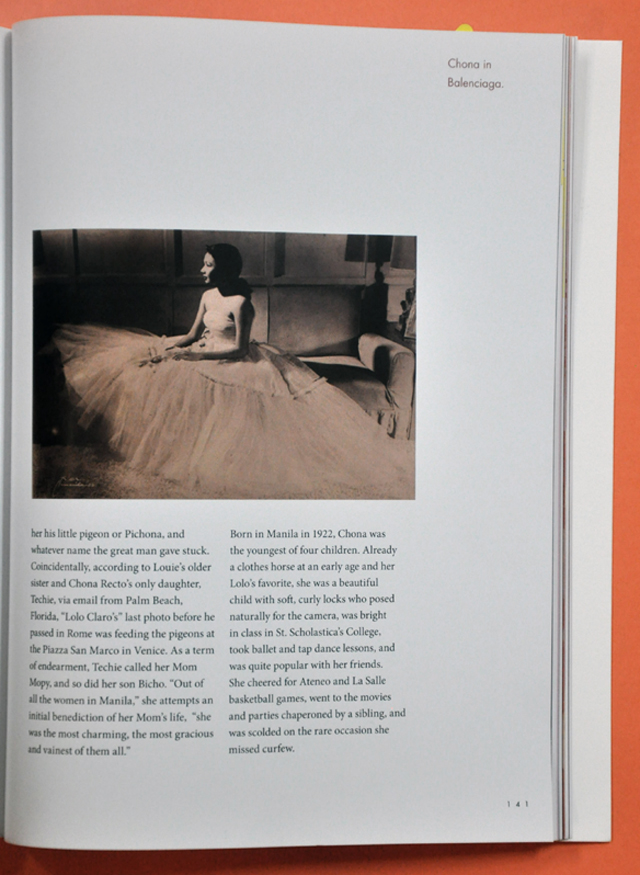 ADVERTISEMENT - CONTINUE READING BELOW
IMAGE La Divina
"Clothes do not have to be expensive. It is important that it is carried well and must suit the time and occasion."
6. There are no fashion secrets, only a well-thought out wardrobe.
"Have a wardrobe that is suited to your budget. Know beforehand what to wear, then ask yourself before wearing it: Where am I going? What is the time of day? And am I overdressed? That way, fashion works for you (not the other way around)."
7. Being cultured is a must.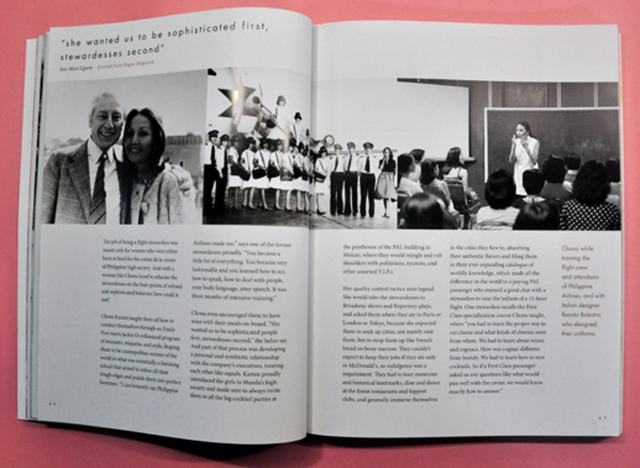 ADVERTISEMENT - CONTINUE READING BELOW
IMAGE La Divina
Chona was hired to educate stewardesses to a refined and sophisticated behavior. "Her quality control tactics were legend. She would take the stewardesses to Broadway shows and Repertory plays, and asked them where they ate in Paris or London or Tokyo, because she expected them to soak up cities, not merely visit them, but to mop them up like French bread on bone marrow."
8. Traveling is the best teacher.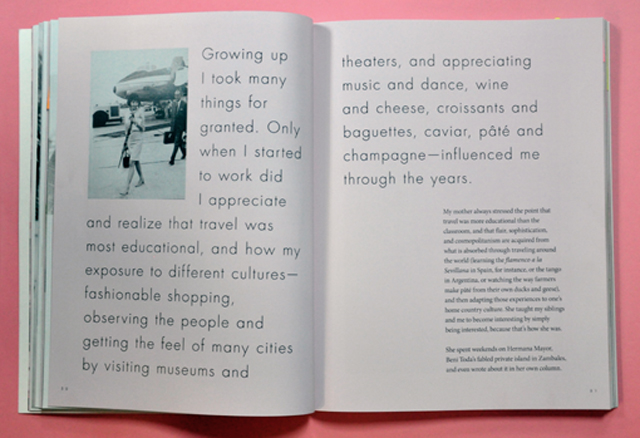 ADVERTISEMENT - CONTINUE READING BELOW
IMAGE La Divina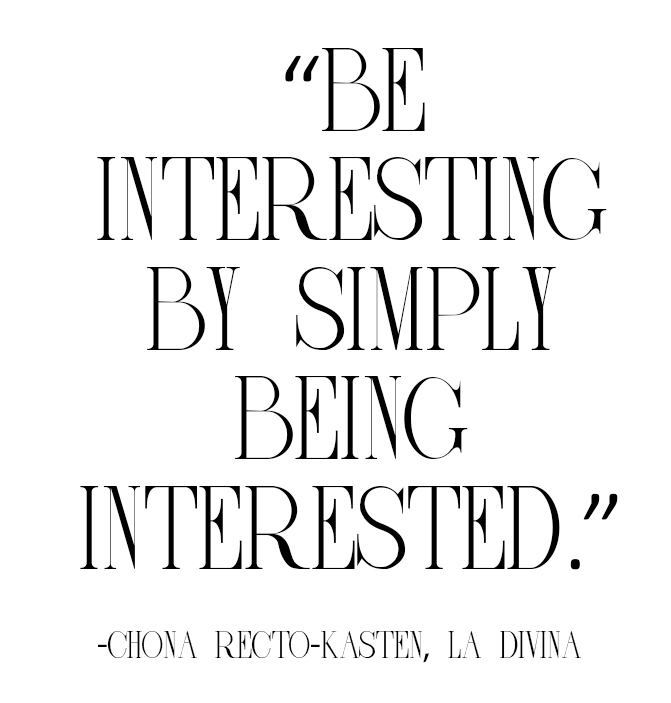 9. How to drink wine
"Simply remember to hold the wine glass by the stem. It is most appropriate, especially for champagne and chilled wine. And it may be wise to practice the art of restraint: never drink to get drunk. Stop before making a complete fool of yourself."
ADVERTISEMENT - CONTINUE READING BELOW
10. Read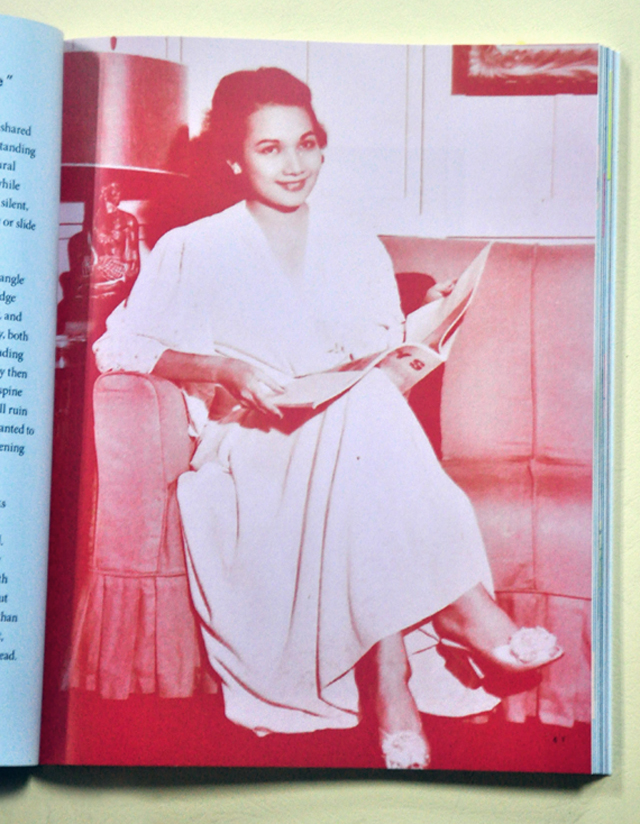 IMAGE La Divina
"My mom was a voracious reader and would curl up to finish books on C.Z. Guest, Jackie O, Audrey Hepburn, or the Spanish royalty… she would thum through fashion magazines and absorb every word and detail."
11. Have good posture.
Chona knew even before then that having bad posture would result to back pain and stomach pouches.
ADVERTISEMENT - CONTINUE READING BELOW
12. Good manners are always in style.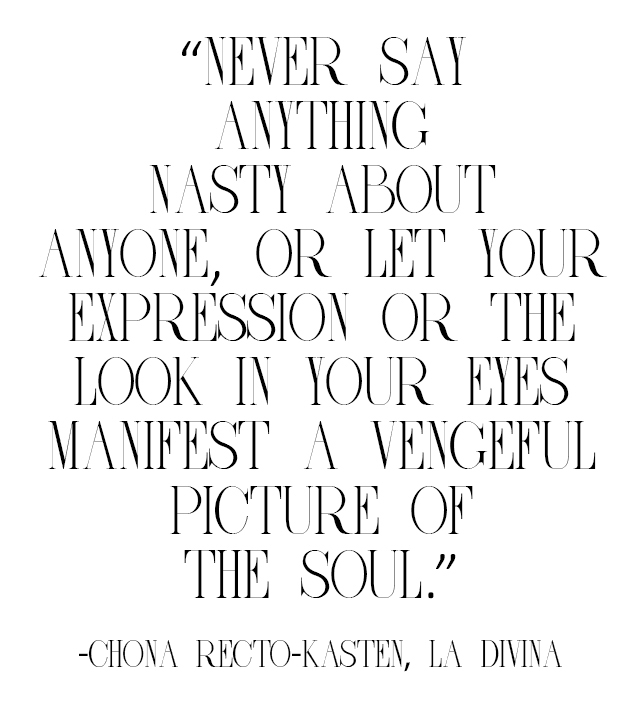 13. The best diet according to Chona
"Have wine with your meal," she tells her only daughter. Techie lists on her mother's advice, "Avoid fatty food, but give in once in a while. Eat healthy and let go on the weekends. Take yoga, Pilates, or dance lessons. Go to the movies. Enjoy your friends."
ADVERTISEMENT - CONTINUE READING BELOW
14. On love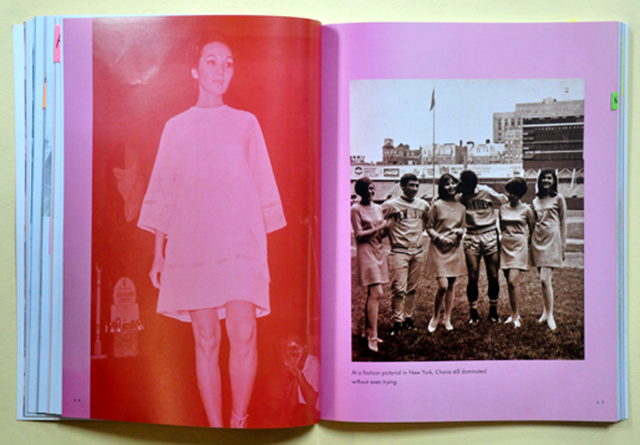 IMAGE La Divina
"Love what you do. Hone your people skills, love your friends, and yes, if circumstances permit, fall in love and be in love."
15. On life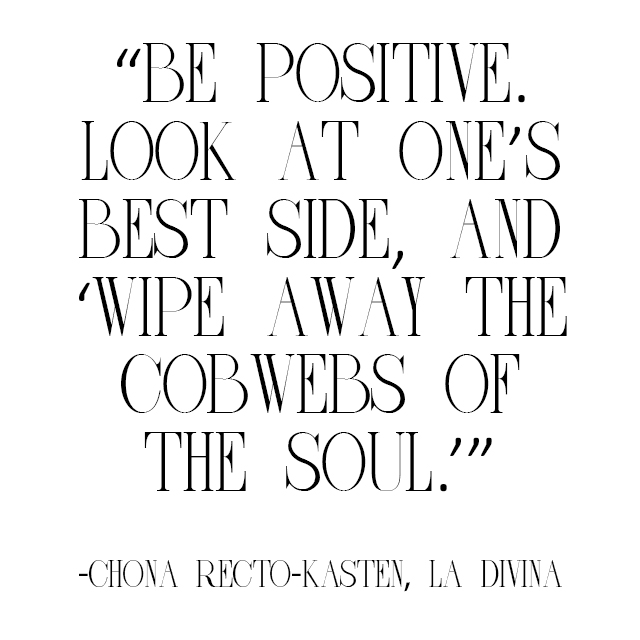 ADVERTISEMENT - CONTINUE READING BELOW
16. Her food for the soul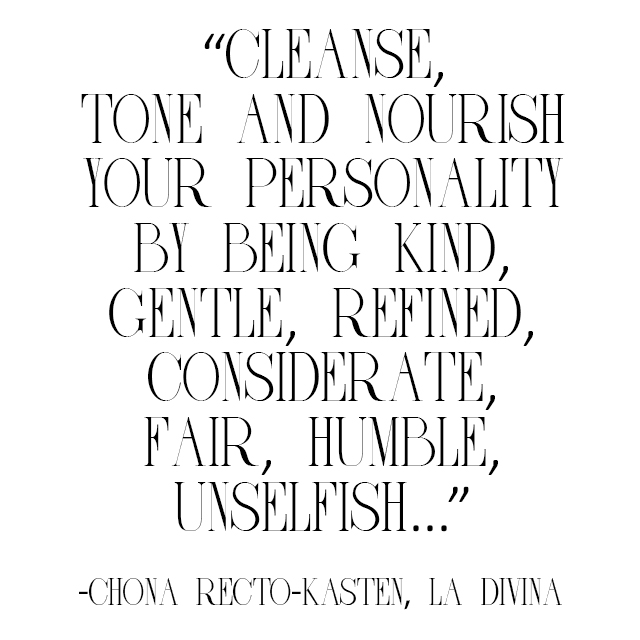 17. Stylish simplicity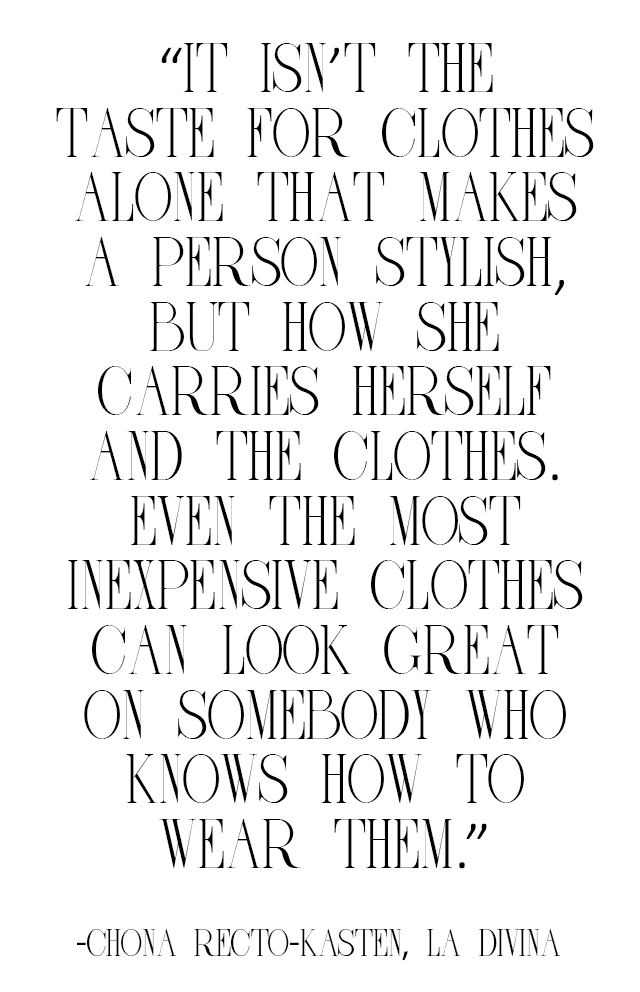 ADVERTISEMENT - CONTINUE READING BELOW
"Not every piece on our blessed bodies should be a designer piece or perfectly matched. There should be some well-coordinated contrasts, either in colors or accessories–but please do avoid being a plain Jane. "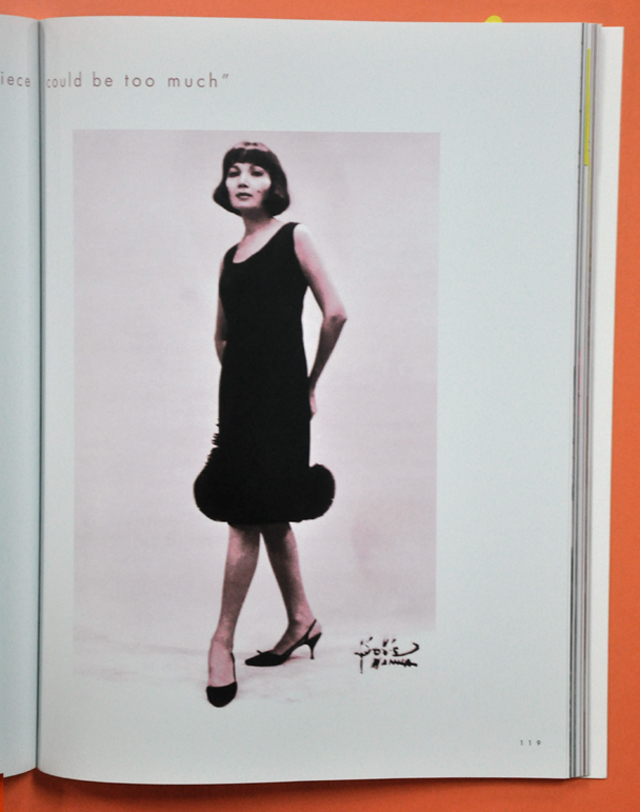 IMAGE La Divina
La Divina's motto was to always go for quality and artistic objects that were unique. She wasn't impressed with trendy and signatured items.
ADVERTISEMENT - CONTINUE READING BELOW
18. Underdressed, always.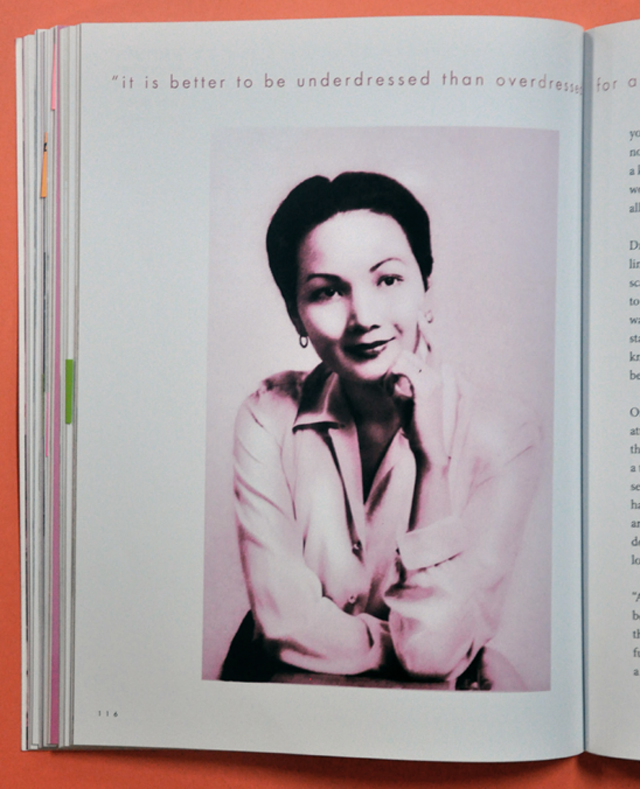 IMAGE La Divina
"It is better to be underdressed than overdressed for an occasion. Therefore just remember: when in doubt, don't!"
"Sometimes, people go overboard, maybe because they feel that if they're understated nobody will look at them. They don't know that presence is much more important."
ADVERTISEMENT - CONTINUE READING BELOW
19.Comfort is key.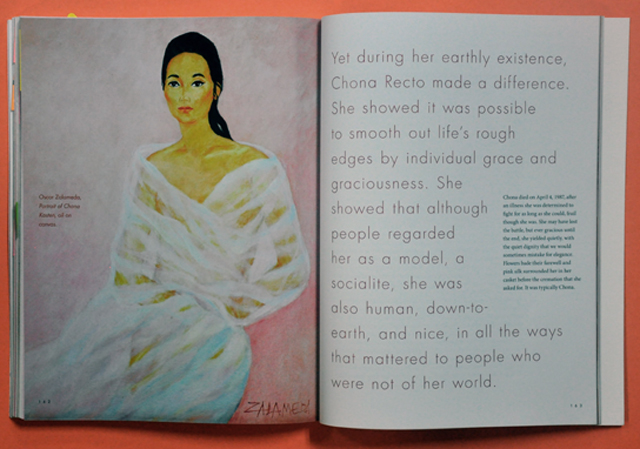 IMAGE La Divina
"If one is not comfortable, then one can never look naturally elegant or confident. The outfit must look part of you. An integrated look always results in perfect poise."
20. Be punctual.
In her last interview with Philippine Star, Chona is asked which Filipino trait she'd like to correct. She responds, "Shyness and lack of confidence. The reluctance to be assertive. During dinners and parties, Filipinos always come in late. You should be very punctual."
ADVERTISEMENT - CONTINUE READING BELOW
Related Stories from Preview.ph
Hey, Preview readers! Follow us on Facebook, Instagram, YouTube, Tiktok, and Twitter to stay up to speed on all things trendy and creative. We'll curate the most stylish feed for you!