They say that abs are made in the kitchen, and the common culprit for belly fat is carbs. But really, if you're born and raised Filipino, nothing satisfies the palate and the tummy quite like rice does.
A number of women who are watching both their weight and their health have turned to cauliflower rice as a less caloric substitute for white rice. The cruciferous veggie has many health benefits as it's both a good source of fiber and antioxidants. It also leaves you feeling less heavy after a meal in comparison to starch-filled rice.
Related Stories from Preview.ph
Making cauli-rice isn't actually difficult, but it is time consuming. It involves grating chunks of the vegetable to turn it into small grains (you can use a food processor if you have one), removing excess moisture by letting it dry on paper towels (to prevent it from getting soggy), before you can finally cook it. It's quite a bit of work and time to dedicate for every meal.
However, before you stash this idea in a list of things to try but never actually get around to, you should know that there's a new Instagram shop that's popped up, eliminating the entire tedious process. Caulibabe, with its aesthetic pink logo, sells just one item—Cauliflower Rice—and it's ready to heat and eat once you get it.
ADVERTISEMENT - CONTINUE READING BELOW
Made without any added preservatives, Caulibabe's rice is pre-blanched or flash-cooked in boiling water before being dunked in an icy bath. By the time the product gets to you, you can choose to consume it right away or store it in the freezer for up to 90 days.
It's packed in 100 gram and 500 gram kraft bags. The former is great for a single serving, while the ½ kilo size is generous for sharing. It's really easy to heat, as well. You can pop it in the microwave for 3 to 5 minutes, or heat it up in a pan and add a few other yummy ingredients while you're at it.
You can place your order through viber by messaging cel. no. 0977 691 5049. Note that this is to place an order in advance; orders are made fresh in time for the scheduled delivery. Prices are as follows: The minimum order of 500 grams is P550, 800 grams is P900, and 1 kilogram is P1050.
My Caulibabe cauliflower rice arrived frozen and well-packed in a box. I liked that there were 2 sizes, so I only needed to defrost and cook what I was planning to consume for that meal.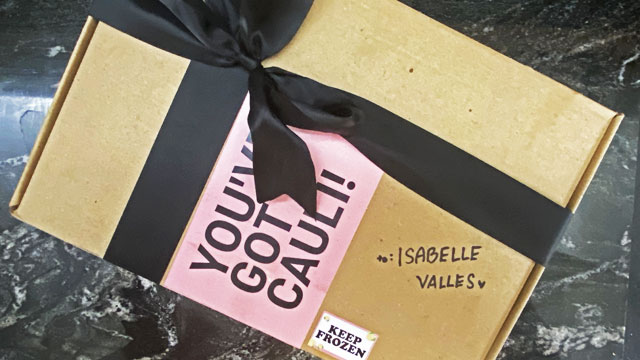 ADVERTISEMENT - CONTINUE READING BELOW
I decided to try different cooking methods to see which I would like best. First, I tried it plain by heating it up in a pan without any oil. My hubby and I had a cup each, and it was more than enough to fill us up. The texture was, of course, very different from white rice, but it was a good pairing with the roast chicken we had for lunch. We agreed it would be perfect with comfort dishes like adobo, that requires rice to sop up all the yummy sauce it comes with.
ADVERTISEMENT - CONTINUE READING BELOW
Next, I took the recommendation of whipping up some cauli fried rice by sautéing about 300 grams with carrots, corn, peas and a dash of soy sauce. I topped it with some fresh cilantro, too. Honestly, this was so tasty and filling enough to be a meal on its own. It was a healthy "rice" bowl that only took about 10 minutes to put together. The best part: There was a lot leftover for me to enjoy it for yet another meal.
ADVERTISEMENT - CONTINUE READING BELOW
I'm making big plans for my last pack. I'm deciding between making a bibimbap bowl or trying it out with sushi bake. Really, there are so many possibilities, and it's easier to think up recipes without the extra steps of turning the cauliflower into rice.
ADVERTISEMENT - CONTINUE READING BELOW
So if you're thinking of a way to satisfy your rice cravings without making an addition to your weight and waistline, ordering from Caulibabe's ready supply of cauliflower rice is a convenient way to take the healthier, low-calorie route.
Hey, Preview readers! Follow us on Facebook, Instagram, YouTube, Tiktok, and Twitter to stay up to speed on all things trendy and creative. We'll curate the most stylish feed for you!