Having a tattoo behind your neck can be quite intimidating since it's always visible, but opting for a minimalist design would make it less daunting. Nape tattoos are actually quite elegant, and their confident, unapologetic vibe makes for such a cool statement.
That's why if you aren't fussy about showing your tatt in public, we highly recommend this placement. In fact, if your neck is one of your assets, a tattoo will help draw attention to that area—especially when you have your hair tied up. You also have the option to hide your tatt just by wearing a high-neck top or by letting your hair hang loose.
Before booking your appointment though, note that you'll need to tolerate quite a lot of pain when getting inked on your nape. That's because it's a sensitive area, and tattoing it can hurt more compared to other areas like arms and legs. But don't let this change your mind, since the pain is just temporary while your tattoo will last forever. Plus, your session on the tattoo chair also won't last long if you only get a dainty tatt!
If you're ready to tattoo the back of your neck, let these minimalist designs help you choose your next ink:
Dainty and Minimalist Nape Tattoo Designs
1. Lotus
If you've gone through a difficult road and want to start anew with life, getting a lotus flower tattoo can symbolize this perfectly. The lotus embodies good change, rising above temptation, and overall becoming a better person. Having this tattoo on your nape is such a beautiful and meaningful placement for this flower.
ADVERTISEMENT - CONTINUE READING BELOW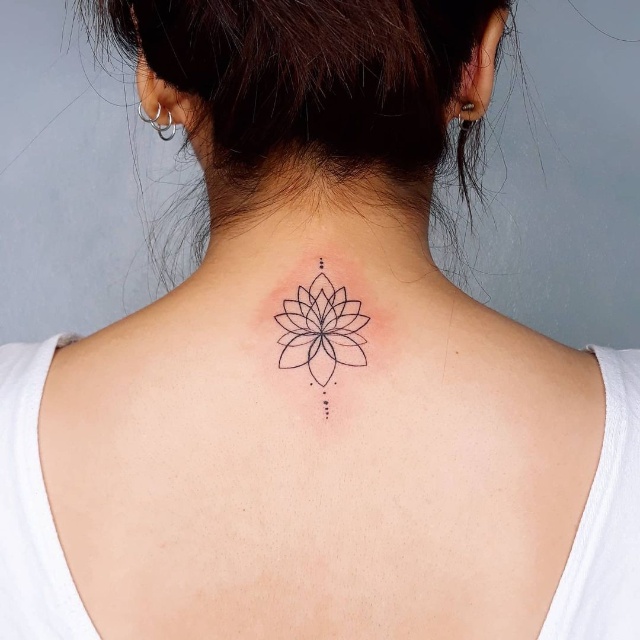 2. Sun and Moon
The sun and moon have their own meanings; the sun captures firmness, strength and power, while the moon symbolizes calmness, beauty, and nurturing. They are often associated with polarity but the symbolism of their union is also quite powerful. Having a joint tattoo of the sun and moon, for example, is a great reminder to keep your balance and embrace your true self.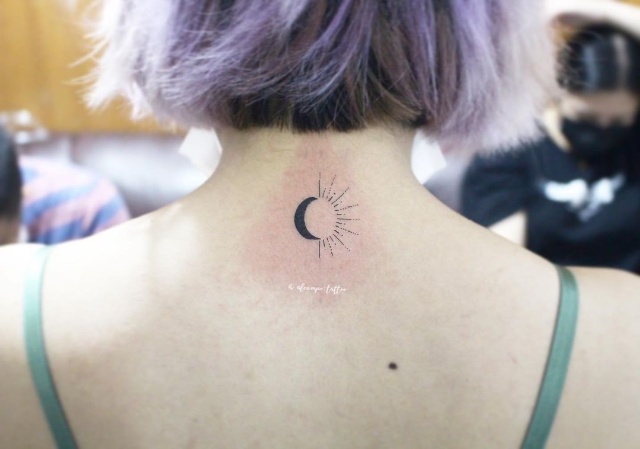 3. Micro Heart
For something cute and dainty, a micro heart tattoo will never fail you. This little tatt fully embodies passion, happiness and self-love. It's such a pretty ink for anyone to get, especially when it's sitting at the back of your neck!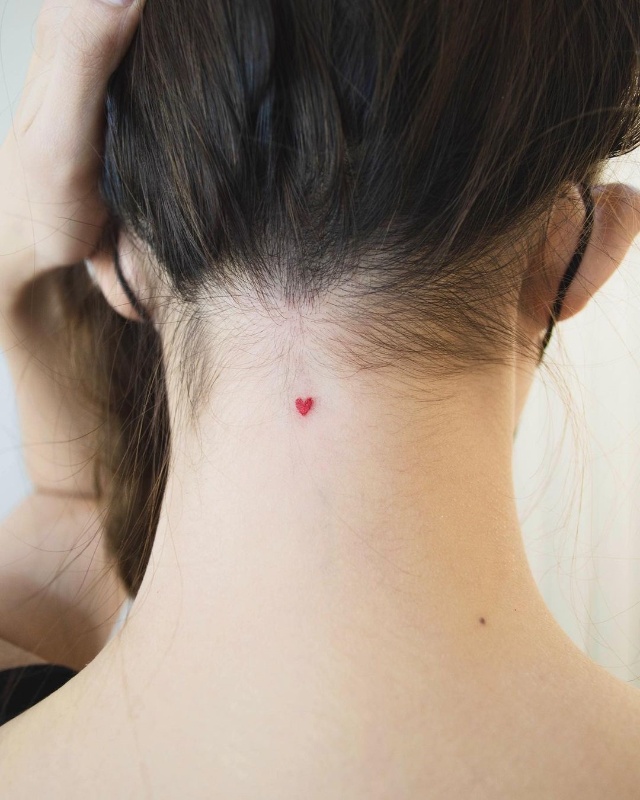 4. Rose
Rose tattoos are classy and simple, but its thorns tell a story of complexity. For many, it's a symbol for self-love, a reminder that you're imperfect yet still overflowing with beauty and love. The design will look so elegant on your nape, which is another plus!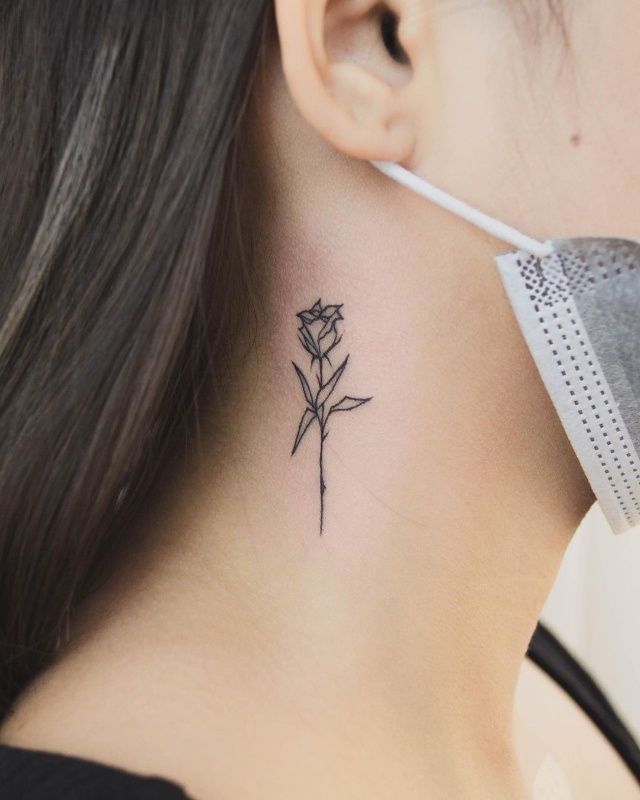 ADVERTISEMENT - CONTINUE READING BELOW
5. Constellation
If you have always been enchanted by the stars, a constellation tattoo will be an alluring accent to your nape. Stars represent honor, hope, intuition and desire. Choosing a constellation according to your star sign can also help you personalize your ink.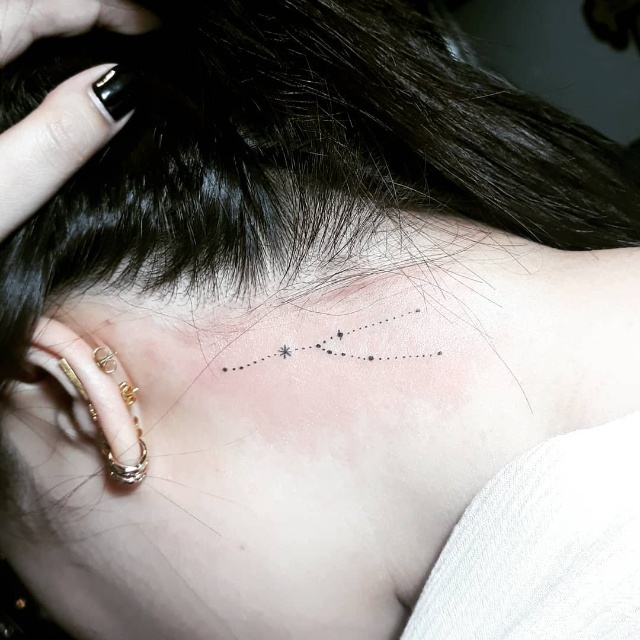 6. Hummingbird
One of the most powerful tattoos on this list is the hummingbird. These small birds are known to be resilient, having special abilities that can get them through any challenge. They're symbols of overcoming difficult times, healing, and freedom. A tattoo of a hummingbird on your nape can therefore symbolize a new journey or moving on from a chaotic past.
7. Continuous Line
Continuous line drawings have become increasingly popular for a minimalist ink. It's when the tattoo artist uses a single line to create an image, staying uninterrupted from the beginning to end. This art technique can suit any design you wish, from objects, to people, and to nature. They're also easy on the eyes and are a unique piece of art. If you plan to put one at the back of your neck, it'll definitely be an eye-catcher!
8. Butterfly
Butterflies are always a popular choice for tattoos because it represents the type of freedom we all aim for or may have already achieved. It's a wonderful reminder to just keep going until you morph into your ideal self.
9. Leaves
Leaves symbolize growth, hope, and our life cycle. Having it as a tattoo will project your determination to keep going, no matter how hard the obstacle you are facing is. It's also a great choice of ink if you are a plant aficionado!
10. Vertical Script
All of us have specific words that we hold dear to our hearts. And if you want one permanently ingrained on your nape, placing it vertically provides the illusion of a longer neck and gives a subtle, sultry vibe.
Related Stories from Preview.ph
Hey, Preview readers! Follow us on Facebook, Instagram, YouTube, Tiktok, and Twitter to stay up to speed on all things trendy and creative. We'll curate the most stylish feed for you!