You know how they say when you start coloring your hair, there's just no stopping? I can tell you right now that it's true for me. After coloring your hair for the first time, that's when you realize all the possibilities. This year alone, I've already had three hair color changes. At the first quarter of this year, I had lilac ombre hair; the second half, I had full on bleached blonde hair—both times with bangs; and for the third, I went for purple all the way. You could say I'm pretty adventurous with my hair, but the thing about a bold hair color is that it eventually fades, becomes boring, and then you find yourself dreaming about your next hair color again. That said, I was convinced I needed a change.
I knew that celebrity hairstylist and owner of Marqed Salon, Mark Rosales, was the man for the job. He's an expert at what he does and as tempting as it is to DIY a dye job, it's really best to let a professional do it. I've been itching to change up my look, and after going for the lightest color in the spectrum (read: blonde), my initial plan was to go dark. But then again, I didn't want to waste all those bleaching hours I went through, just to go back to black again! My hairstylist and I decided on a color that's a bit darker but still striking, and he calls it "blue velvet." It's honestly the most daring my hair has ever been.
ADVERTISEMENT - CONTINUE READING BELOW
Wanna know how we achieved this hair color? Read on below.
Condition Before the Hair Color
My hair is generally okay. There are days when it's full of life, but there are also days when it looks like it needs to be soaked in hair treatment. I used to use purple shampoo for my bleached locks but I couldn't seem to escape my low-maintenance tendencies. To be honest, if I can get away with just an ordinary shampoo sans the conditioner, then I really would.
As for my hair color, I can't exactly say what color it was because it was basically just remnants of my previous hair color. It had obviously faded and my roots were already showing significantly. You can see my naturally black hair color at the top, which kind of fades into this weird gold color and then cascades into an even lighter, silver hue at the bottom half. It was a confusing time for my hair so I was in serious need of a new dye job and some deep conditioning.
ADVERTISEMENT - CONTINUE READING BELOW
Recommended Videos
The Process
1. Consultation
Mark does a "check-up" before "diagnosing" every client's hair. He has a special machine that shows the status of your hair, whether dry, oily, or combination. It gives him an idea of your hair's current condition so you can proceed smoothly and avoid any mishaps in the process. He can also suggest proper treatments for your hair this way to keep it in tip-top shape. If you're wondering what my hair's assesment was, it's combination.
ADVERTISEMENT - CONTINUE READING BELOW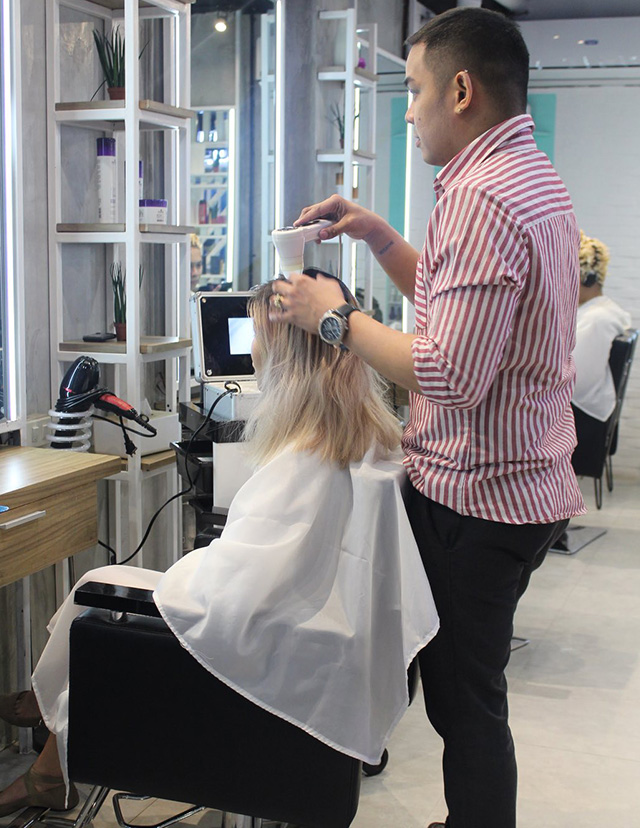 2. Creating the Base and Color
I thought I had majority of the bleaching part covered, but I had a significant amount of black hair showing already so he had to do two more rounds of bleaching: one for the tips, which was the lightest part; and another one for the section closer to my roots. If you're starting with a darker base than mine, it'll most likely be a longer process as the color needs to be stripped off the hair to really get a good base to work with. (I suggest having a full meal before starting the process.)
ADVERTISEMENT - CONTINUE READING BELOW
Results
After five hours in the salon chair, we've finally emerged victorious with this color! It's sort of a rich blue hue, with hints of purple, black, and ash mixed in.
Mark also had me do a hair treatment so as to prevent my hair from dying given all the chemicals that were used. He gave me a trim to get rid of some split-ends, too, making my hair look healthy again.
ADVERTISEMENT - CONTINUE READING BELOW
This hue is perfect for low-maintenance people like myself because, as you can see in the photo below, my roots were incorporated in the dyeing process so that my hair will have this cool ombre effect as it grows longer.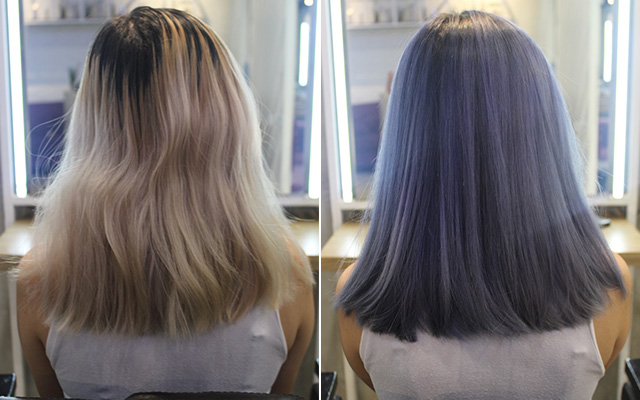 Here's how my hair looks when styled: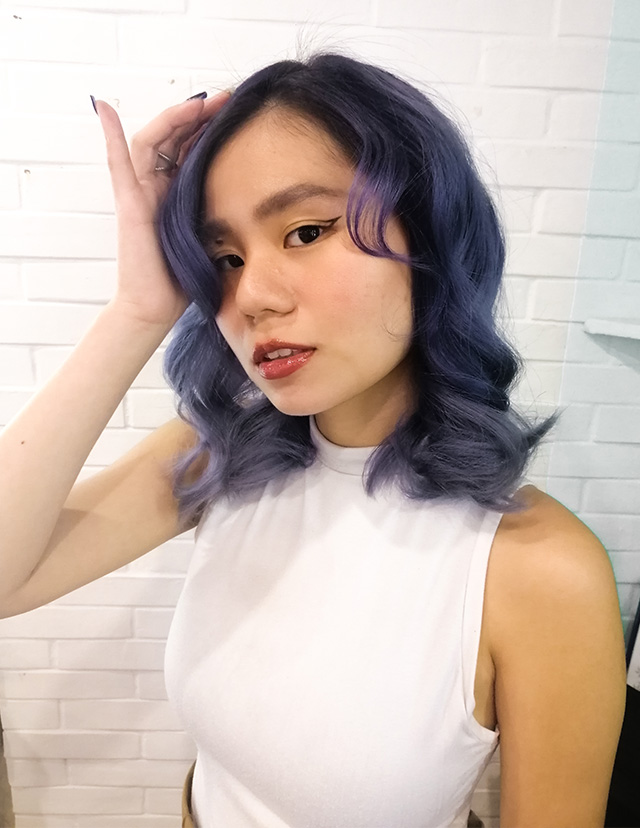 ADVERTISEMENT - CONTINUE READING BELOW
And a closer look: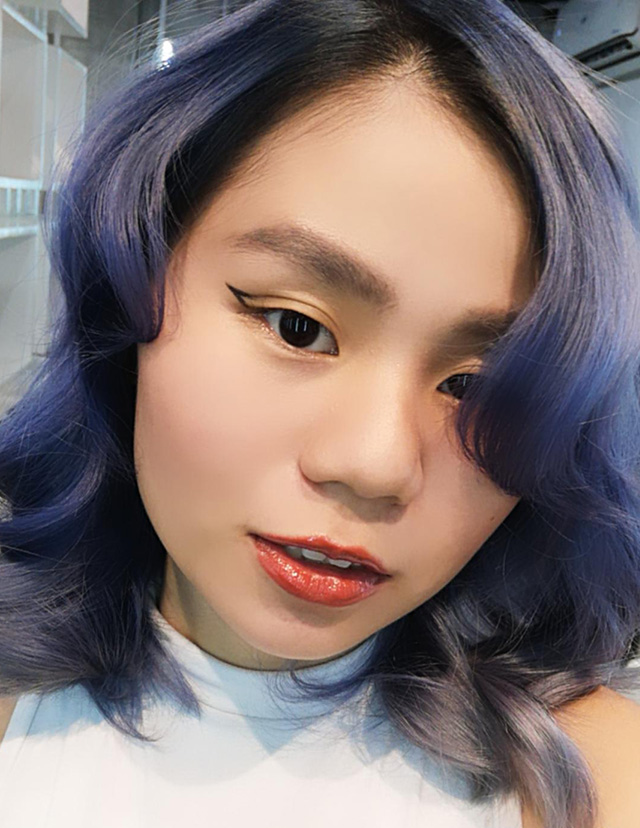 Post Care
After the process, I was asked not to wash my hair for 24 hours just so the color could get a chance to stick to my hair properly. The standard instruction of using purple shampoo was given. And as for maintaining the color, Mark advised to wash my hair as minimal as possible as the color will eventually fade into ash with every wash. In other words, dry shampoo will really be my best friend if I wanna keep the blue hue alive.
ADVERTISEMENT - CONTINUE READING BELOW
Final Thoughts
Overall, I'm really enjoying this color. Aside from the fact that my hair is more or less one solid color now, I really liked the idea of a dark hair color being my boldest dye yet. Since my natural hair color's black, I've always thought that going lighter was the only way to change up my look. I've had blonde and lilac hair but this is the most eye-catching my hair has ever been, in my opinion.
Related Stories from Preview.ph
Hey, Preview readers! Follow us on Facebook, Instagram, YouTube, Tiktok, and Twitter to stay up to speed on all things trendy and creative. We'll curate the most stylish feed for you!