Actress, producer, writer, and all around cool girl Bela Padilla has always worn many hats. But now she has officially put on the hat of beauty business owner, too, with her new skincare brand Britory.
TOP STORY: Why Are We Still Talking About Angel Locsin's Weight Gain?
The opportunity to work with a Korean partner came serendipitously, but as with all her endeavors, she wanted to make sure the products they would first launch together really resonated with her. After exploring sheet masks, nail care, and cosmetics, her eyes lit up when she read through the product brief of the serum and cream. "That's it! I will use that," thought Bela who shares that she loves skincare, embracing her natural skin and being makeup free.
A play on the words "Bright" and "Laboratory", Britory is a skincare company whose headquarters are in Seoul, but was co-founded by Bela and a group of Korean cosmetics and skin care experts. The products are produced in ISO-certified laboratories, meaning they meet global standards for consistency and quality.
In an exclusive interview with Preview, Bela talked in depth about how she changed her personal skincare routine because of Britory's products, her non-negotiables for the brand, and even a pro tip on how to use her now favorite serum.
Simplifying Her Skincare Routine
ADVERTISEMENT - CONTINUE READING BELOW
As someone who has to take extra care of her appearance for work, Bela is no stranger to using multiple products for her skin. "I used to have a huge nighttime skincare routine," she shares saying that erythromycin, retinol, and benzoyl peroxide were among the many products on her beauty counter. This allowed her to be blemish free, but redness, peeling, and other effects of these strong ingredients came with it. And while it was a regimen she was used to, she said that if there was a way to skip the downtime, the peeling, and irritation, that would of course be better.
"Honestly, I was able to find that with Britory," the actress reveals. After 2 months of exclusively using the 2 Britory products, Bela declares her skin has "just been amazing!" She does use her erythromycin toner when she feels a break out coming (you know, around that time of the month), but says that the serum and cream have really been enough to feed her skin with much needed nutrients.
Bela's pro tip: While the serum is really meant to be used at night, she says you can use it as a makeup primer, to retouch your makeup, or nourish skin throughout the day. When she was dealing with a bout of maskne, she dabbed it on affected areas throughout the day, and it helped clear it out and lighten the marks.
Britory Basics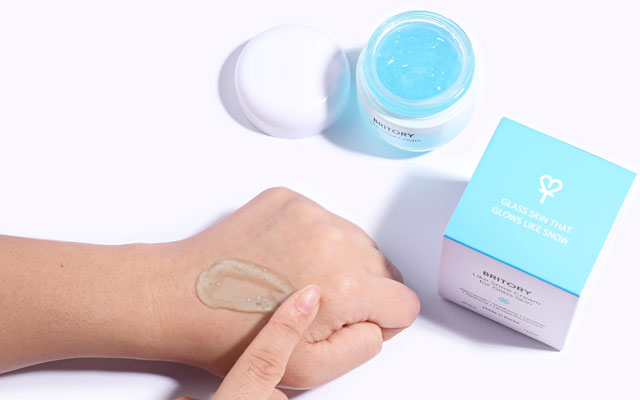 Bela had three main requirements for the brand:
First, it had to be affordable as she wanted everyone and anyone who needs a boost in their skin care to have access to the products' benefits. Both the serum and cream are priced below P1000, which is a good value proposition for potent skincare.
Second, she wanted the product to fit into a woman's handbag. The serum's adorable snowman bottle, for instance, is a handy size to take around. She advises that if you feel that you need a midday touch-up, even if you are out of the house, "you can go to the bathroom and wash your face and just apply a few drops of the serum."
Third, she wanted to offer products Filipinas could really use. "The climate in Korea is very different from the climate here, and [my partners] did create a formula that dries up very quickly so you don't get that sticky and hot feeling in our climate," Bela shares.
Britory's Skincare Products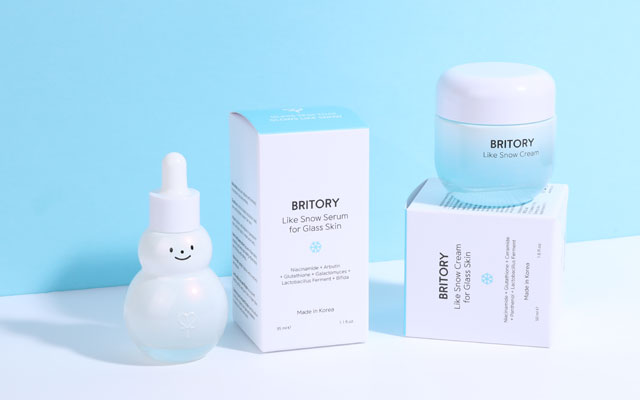 ADVERTISEMENT - CONTINUE READING BELOW
In line with keeping things simple, and rather unlike the multi-step K-Beauty routines we know of, Britory has only two main products: Like Snow Serum and Like Snow Cream. Formulated with a number of celebrated skincare ingredients, these products already address multiple concerns in relation to appearance, aging, and acne. In a word, using the brand's system will not only shorten your routine, it also means lessening the number of products you'll need.
"My favorite component is Niacinamide, which is basically vitamin B3," says Bela who explains that it helps make skin supple. Talking about other actives, she mentioned how Glutathione is an antioxidant that helps brighten the complexion. Most importantly, she shared that the concentration of all the key ingredients in the formula were acutely measured to be effective without causing sensitivity or irritation.
Below, discover more about each product.
Britory Like Snow Serum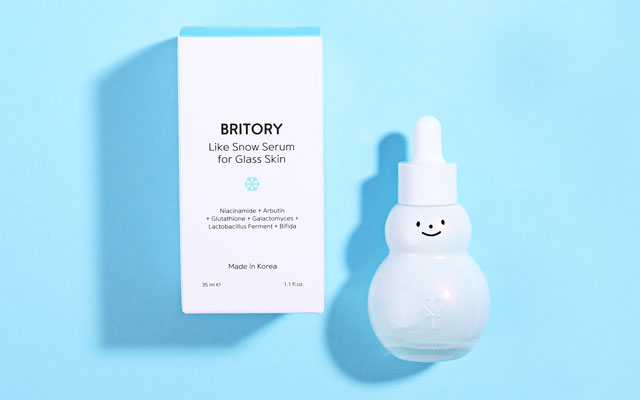 Price: P899
Key Ingredients: Niacinamide, glutathione, arbutin, ceramide, neem tree flower extract, walnut leaf extract, galactomyces ferment filtrate
Benefits: This serum nourishes, heals, and protects the skin to give you a glowing glass skin appearance. The formula works to tighten skin, smooth lines and wrinkles, control sebum and treat acne, lighten pigmentation and scars, bring down inflammation, and lock in moisture.
Texture: A light, almost watery serum, that has a barely-there fruity-floral scent.
Britory Like Snow Cream
Price: P990
Key Ingredients: Panthenol, lactobacilus ferment filtrate, niacinamide, glutathione, ceramide, neem tree flower extract
Benefits: This moisturizing cream also softens and evens out the complexion. Its main actives work to hydrate skin and lock in moisture, soothe inflammation and irritation, heal and lighten scars, and boost radiance and luminosity.
Texture: A fragrance-free gel to water cream that's easily absorbed by the skin.
Britory products are available in Shopee, Lazada
ADVERTISEMENT - CONTINUE READING BELOW
Related Stories from Preview.ph
Hey, Preview readers! Follow us on Facebook, Instagram, YouTube, Tiktok, and Twitter to stay up to speed on all things trendy and creative. We'll curate the most stylish feed for you!