The arm is a go-to area for tattoos since it offers a ton of space for even the largest inks. But if you want a unique take to this popular placement, an armband tattoo might just be the kind of ink you're looking for!
Recently, Miss Universe Philippines 2021 Beatrice Luigi Gomez's own armband tattoo caused a renewed interest in the placement because of its special appeal and meaning. When asked by host Steve Harvey during the international pageant, Bea explained that her tattoo means rebirth and new beginnings, which is what the cherry blossom featured in her tattoo commonly symbolizes. Due to their fleeting nature as they bloom for only a short period of time, their appearance is a welcome sight as it marks the arrival of spring and, in turn, renewal.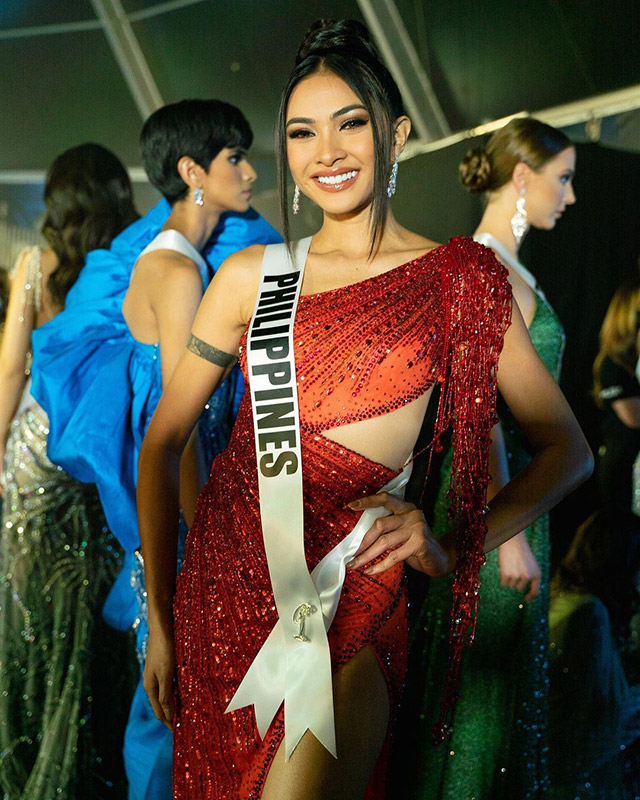 If you think an armband ink could be a great addition to your tatt collection, scroll ahead to find out more about the placement!
ADVERTISEMENT - CONTINUE READING BELOW
How painful is an armband tattoo?
There will always be a level of pain involved with any tattoo, with some places hurting more than others. That said, the outside of the arm is relatively less painful because of the amount of fat that covers the muscle and bone. However, since an armband tattoo wraps around the entire circumference of an arm, it will mean tattooing the inner part as well. Tattooing the inner part is fairly painful as this area usually has thinner skin and is closer to different nerves. But don't let that deter you as it ultimately depends on your pain tolerance!
How do armband tattoos heal and fade?
Keep in mind that the inner and outer parts of an armband tattoo may fade at different times. The the inner part of the tattoo, for example, is exposed less to the sun so it will last longer but it is more prone to rubbing against your clothing. On the other hand, the outer part of the tattoo is exposed more to the sun, which could make it fade faster, but it will experience less friction from clothing.
Why you should get an armband tattoo
Since the arm is quite a visible area, it's a prime location for showing off an ink. Wearing short-sleeved or sleeveless tops is an easy way to display your ink in all its glory! If there are days that you want to keep it hidden, you can just throw on a jacket or wear longer sleeves to cover it up. This is especially something to consider if you have a work place where tattoos need to be clandestine.
Still interested in getting an armband tattoo? Check out these cool designs:
1. Mountain range
If you're a nature lover, then why not express it with a cool ink? A mountain range design can hold such a deep meaning of overcoming different major life events, since trekking it involves journeys uphill and downhill.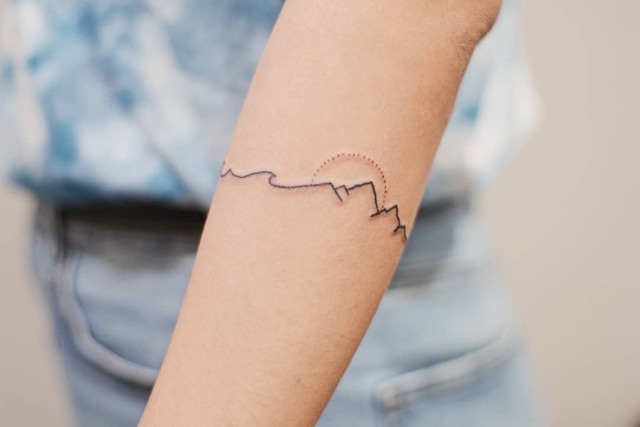 2. Morse code
A morse code tattoo can be such a personal ink to have on your body. While it'll be easily seen by anyone when you're showing off your tatt, only a select few who know how to read code will understand the message. It's a simple yet impactful way to express what you want to say without words.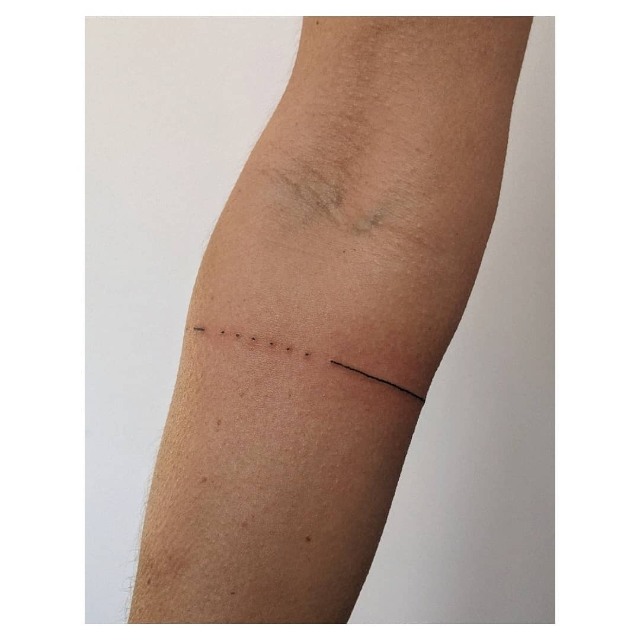 ADVERTISEMENT - CONTINUE READING BELOW
3. Water stream
Water can have so many meanings due to its fluid nature. It can symbolize mystery, purity, calmness, and many other things. A water stream in particular can mean going with the flow of whatever life brings. Since streams move in one direction, it's a great reminder to let yourself float with the current and continue moving forward.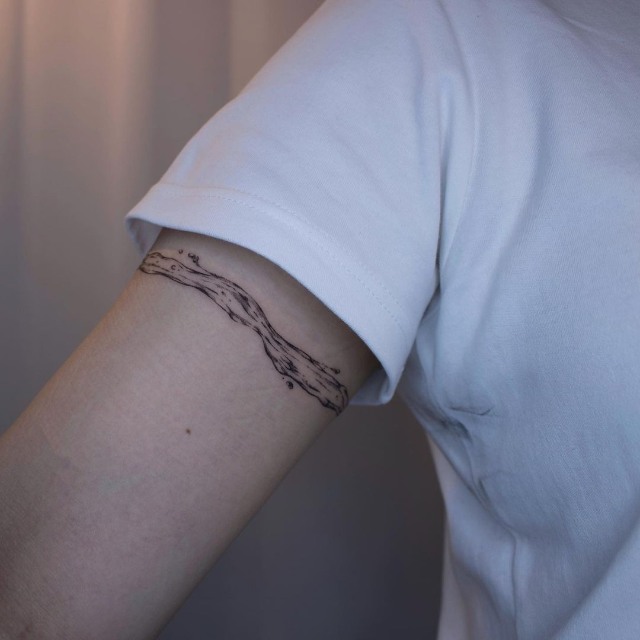 4. Colored flowers
If you're looking for a tattoo that's playful and fun, then a colorful flower design ticks all the boxes! Its pastel colors and dainty artistry give it a youthful look that can also be nostalgic. Not only is it absolutely adorable, but it's also such an eye-catching tatt that's sure to start conversations!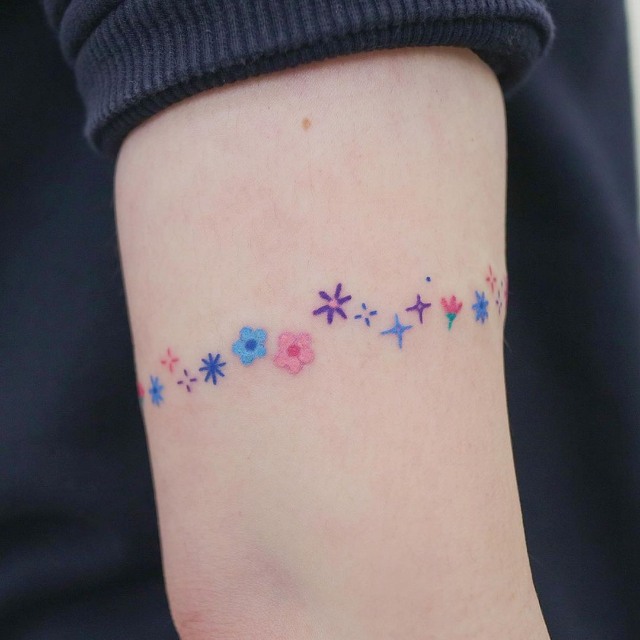 5. Minimalist dots and lines
Sometimes, tattoos don't have to be complicated or hold too much meaning. If you're going for a minimalist aesthetic, try getting a wrap-around ink with lines and dots. This particular design has such a clean finish and can easily be played around with to better suit your personal style.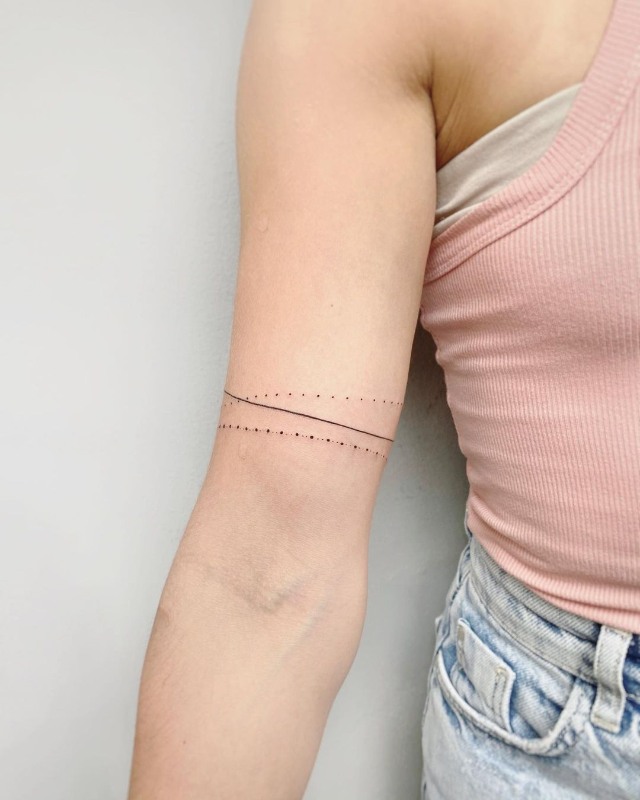 6. Moon phases
The moon in itself holds so much significance as a tattoo. Generally, they can represent eternity, reflection, and the dark side of nature, but getting the phases of the moon as a tattoo help represent the passage of time, which can remind us of the ephemeral quality of life.
ADVERTISEMENT - CONTINUE READING BELOW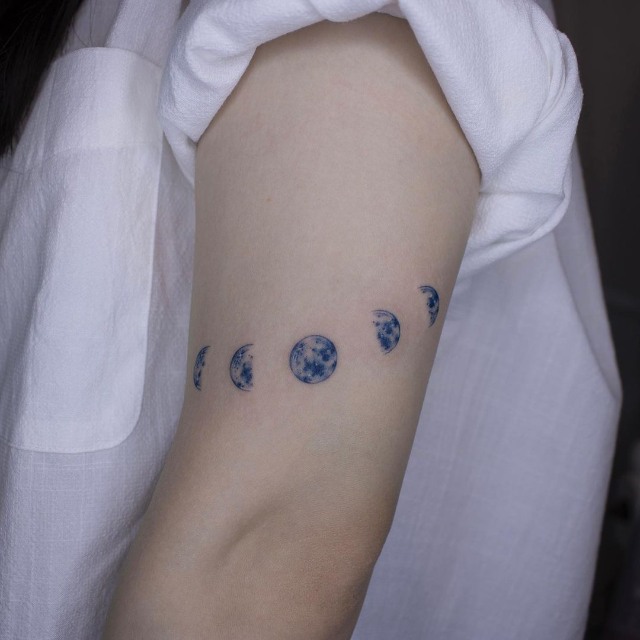 7. Red string
Red string tattoos can hold different meanings, but by far the most common one is the belief that it's how we are connected to our soulmate who we are destined to meet one day. Meanwhile, in other cultures, a red string is worn around one's arm to fend off misfortune from the evil eye, and can overall bring good luck to the wearer.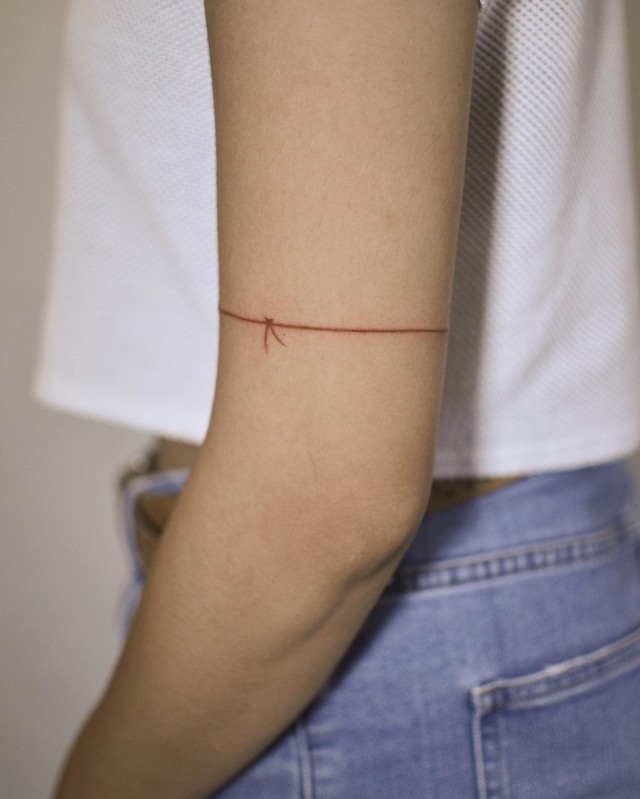 8. Waves
A wave tattoo is a great option to get if you want a versatile tattoo that can fit many aspects of your personality. They are known to represent strength, stemming from the way waves crash onto the shore. Waves can also represent a journey as their ebb and flow is akin to life bringing you unknown experiences.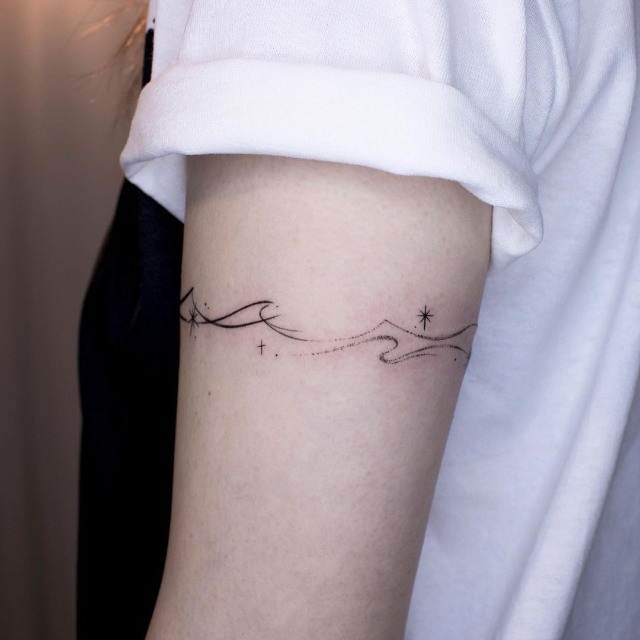 9. Stars and eyes
A hand-poked tattoo with a combination of different dainty elements are sure to impress. This design, for example, contains stars that are a great representation of ambition and destiny, plus an eye that can be taken to symbolize clarity and knowledge.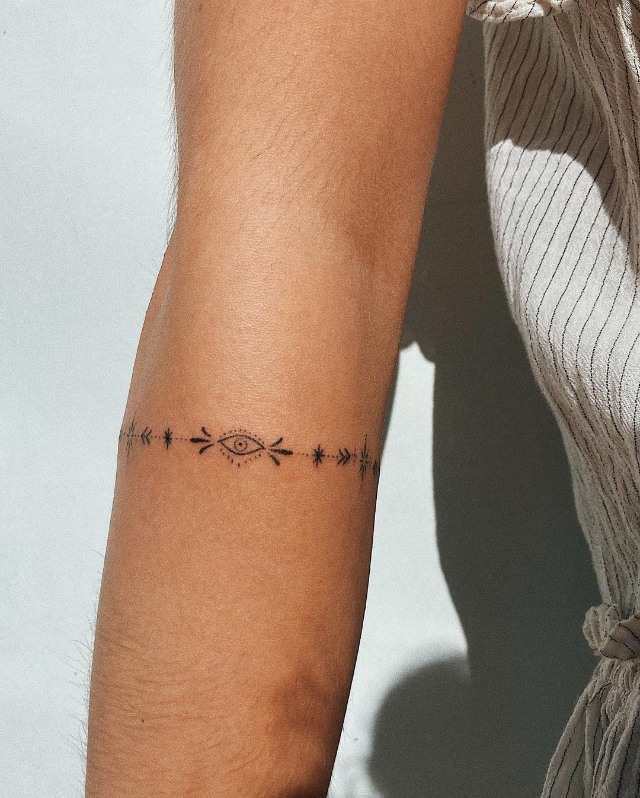 ADVERTISEMENT - CONTINUE READING BELOW
10. Flora and fauna
Consisting of a thick band with intricate flowers and leaves delicately tattooed inside, one can't help but admire the artistry of this detailed design. To suit your taste, you can decide on the exact elements to feature on your tatt like the exact flower or the thickness of the band itself.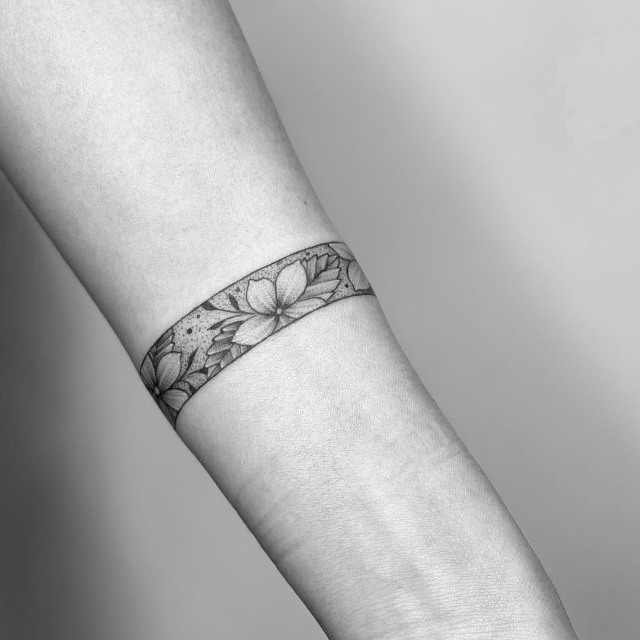 Related Stories from Preview.ph
Hey, Preview readers! Follow us on Facebook, Instagram, YouTube, Tiktok, and Twitter to stay up to speed on all things trendy and creative. We'll curate the most stylish feed for you!