I've been through several lipstick phases since I started wearing makeup. Back in high school and college, I wore dark shades like burgundy and blackened purple every day, as if they were nudes. Believe it or not, I wasn't going through an emo phase—I simply thought that if I was going to wear lipstick, people should know that I am, in fact, wearing some.
But as I got a little older (read: lazier), I started wearing subtler hues. I would say, though, that starting with vampy hues enabled me to wear whatever lipstick color I'm dared to—well, except for one: I'm not the biggest fan of red lipstick. Everything else that's red is fine—eyeshadow, blush, mascara, I'm good. But a Marilyn Monroe red? Watch me cower in fear.
I'm not afraid of reds per se, I just don't think it looks good on me. The fact that the hue accentuates my acne scarring and redness doesn't help either. So yes, I might be a little intimidated by it. Nevertheless, I figured that if I'm going to live my best life, my self-induced red lip ban should end. So in the cheerful spirit of masochism, I put myself through my version of beauty is pain: I wore only red lipstick for an entire week, in various levels of difficulty.
ADVERTISEMENT - CONTINUE READING BELOW
DAY 1
I figured I should start with the lip color that prompted me to do this challenge in this first place: Dior's Rouge Dior Ultra Rouge in 999. This red is the red—a classic vivid blue-toned red you've probably seen on an Old Hollywood actress. Now if you told me a month ago that I'd be wearing a color like this to work, I would've laughed in your face. But I thought I'd start strong to test my limits (and trust me, this was it.)
I put this lipstick on in the car, and it was so pigmented that I could only apply it when we were at a full stop. I applied it the way I usually do—I swipe it on as precisely as I can, and then I blur the edges with my fingers. It's how I tone down dark shades, too.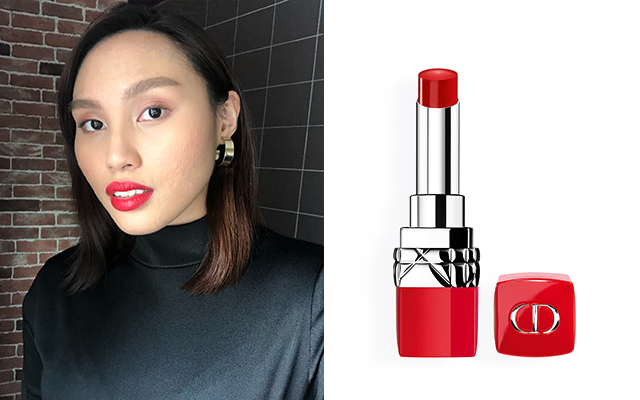 DIOR Rouge Ultra Rouge Lipstick in 999, P2100, SM Makati
Seeing it on myself, I didn't hate it. I wasn't 100% comfortable, but what's great about this formula is that no matter what you do—drink, eat, sleep—it won't budge. It'll transfer, yes, but it won't bleed around your mouth like other reds or leave you with a naked inner lip after a few hours. I was "stuck" with the color the entire day, and surprisingly, I didn't mind. If only all reds had formulas this good.
DAY 2
As a reward for withstanding a bright red, I went with a more muted, warm hue for day two. I wore MAC's Matte Lipstick in Chili, which has a hint of brown and orange. This color looked really flattering on my skin's warm undertones so I wasn't as uneasy about wearing it. The formula wasn't game-changing as it is an old product, but I found extreme comfort in having MAC's reliable lipstick formula (pigmented, easy to apply, and decently longwearing) in this terrifying experiment.
ADVERTISEMENT - CONTINUE READING BELOW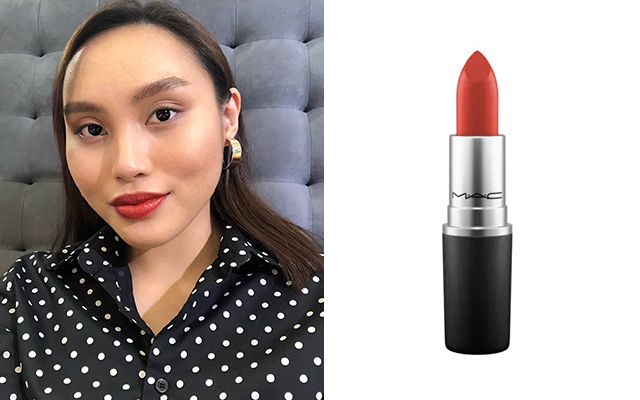 MAC Matte Lipstick in Chili, P1100, SM Megamall
Day 3
My least used Fluffmatte finally made its way out of the dungeon, and this 2018 Best of Beauty winner didn't disappoint. And because I've voiced my thoughts about this formula before, let's focus on the color instead: Sunnies Face describes Hot Sauce as a tomato red, a group of words I'd typically give a hard pass. However, I found that it complemented my undertones like Chili does. It registers warmer and more muted on the lips than it appears on the tube, so dare I say that it's a wearable, everyday kind of red? Overall, it definitely made humpday a little easier to bear.
ADVERTISEMENT - CONTINUE READING BELOW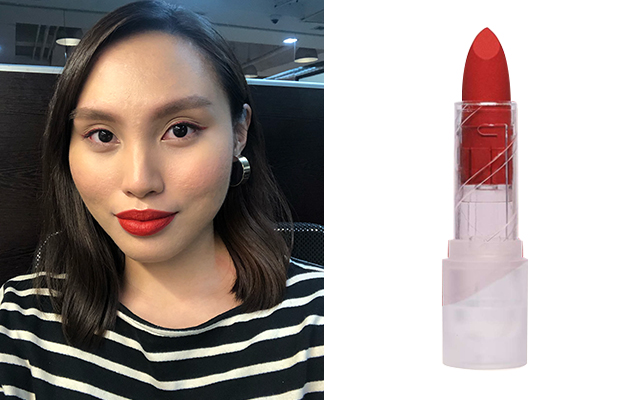 SUNNIES FACE Fluffmatte Lipstick in Hot Sauce, P345, Lazada
Day 4
Since the Jeffree Star Velour Liquid Lipsticks are now available locally, it was the perfect time to give them a test-run. I chose the shade Redrum for two reasons: the spot-on reference to The Shining and the fact that it's a blue-toned red, which mentally gives me a red flag. Plus, a matte liquid lipstick is my concept of a makeup nightmare.
ADVERTISEMENT - CONTINUE READING BELOW
But here's the thing—I loved wearing it. Despite its matte liquid formula, the finish was not flat and my lips didn't feel like the Sahara. One of my co-workers even said I looked like I was wearing a lipstick bullet. Still, it's such an intense shade that I had to wear a full coverage foundation so my facial redness wouldn't stand out like a sore thumb. Is it worth the extra effort? For special occasions, maybe!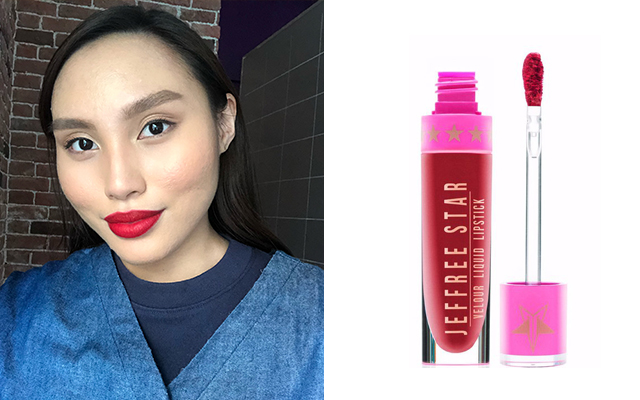 ADVERTISEMENT - CONTINUE READING BELOW
JEFFREE STAR COSMETICS Velour Liquid Lipstick in Redrum, P1300, Freyja, Glorietta 2
Day 5
At this point, I thought that I deserved a little break from "risky" reds. Maybelline's Chili Nude was my pick for the job because, while you can definitely tell it's a red, the color is so muted and flattering that it doesn't beg for attention—cue my sigh of relief. But to keep the spirit of challenge going, I smeared it all over my eyelids, too. I have to say, though, this is the easiest look I've worn so far—red eyes and all. I guess it's safe to say that a monochrome look rarely ever fails.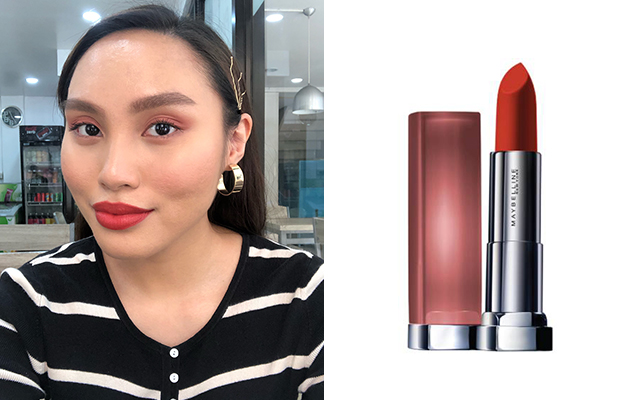 ADVERTISEMENT - CONTINUE READING BELOW
MAYBELLINE Inti-Matte Nude Lipstick in Chili Nude, P299, Department stores
Day 6
Out of the three finishes Estée Lauder's Pure Color Envy Liquid LipColor comes in, the vinyl formula is by far my favorite. It's an interesting mix between a liquid lipstick and gloss, meaning you get the pigmentation without drying out your lips. However, the only shade I own is Lava Flow, which as you can probably guess from the name, is a fiery orange-red. For this reason, I've only ever worn it as a stain, but as I hesitantly filled in my entire mouth with it for this challenge, I was slowly but surely convinced. It made my blue eyeliner pop even more and the gloss felt comfortable instead of tacky. 10/10 will wear this look again.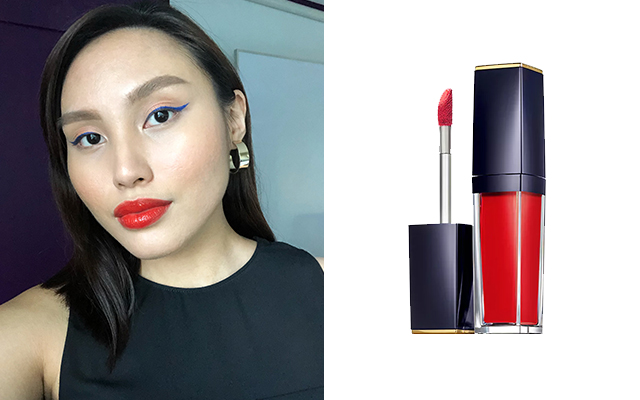 ADVERTISEMENT - CONTINUE READING BELOW
ESTÉE LAUDER Pure Color Envy Paint-On Liquid LipColor in Lava Flow, P1800, SM Megamall
Day 7
Finally, we've reached the final leg of the challenge. The week felt longer than usual, thanks to the anxiety I had to repeatedly endure every time anyone as much as glanced in the direction of my lips. To wrap things up, I wore a sheer shade, albeit still a bright one, in one of my favorite hydrating formulas from Tom Ford. This, I wore as a slight stain, but as you'll see in the photo—the vivid hue still came through.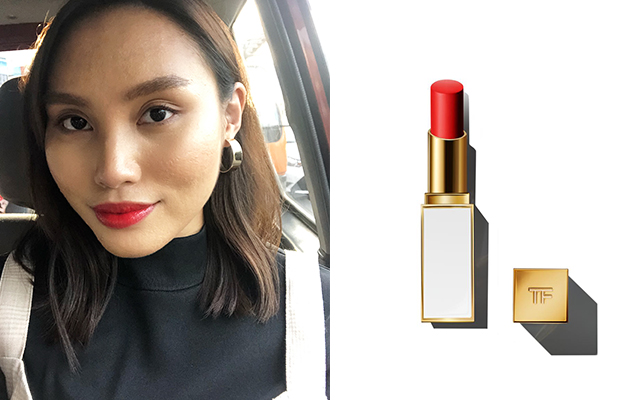 ADVERTISEMENT - CONTINUE READING BELOW
TOM FORD Ultra Shine Lip Color in Willful, P2820, Adora, Greenbelt 5
Conclusion
So, how do I feel about red lipstick now? To be honest, I still don't think it will become my go-to in the near future. I would say, though, that I'm no longer intimidated by it. Wearing all those eye-catching shades in the most light-reflecting formulas for so long made me feel like there's no lipstick color I can't conquer anymore. In fact, I might start wearing reds when I feel like it, given the right shade and formula. I guess forcing yourself to face your biggest makeup fear does pay off!
Related Stories from Preview.ph
Hey, Preview readers! Follow us on Facebook, Instagram, YouTube, Tiktok, and Twitter to stay up to speed on all things trendy and creative. We'll curate the most stylish feed for you!