During our interview with her, Rei Germar shared that she was surprised to have been included on our Best Dressed List this year. ("Sobrang nagulat talaga ako," she said, explaining that the list includes "amazing, very influential women of our time.") Truth be told, we firmly believe that she's a powerhouse influencer and trendsetter in her own right. Hop on her Instagram page and you'll immediately see that she 1) loves herself some sultry swimsuits, and 2) that her self-confidence is impossible to ignore. Rei is a strong representative of the outspoken, self-assured generation of women who wear what they want and love themselves unconditionally.
What's most inspiring about Rei's story, though, is the journey that led her to where she is today. In case you didn't know, the 25-year-old YouTube sensation battles skin asthma, a dermal condition marked by inflammations, severe itching, scarring, and hyperpigmentation. At some point in the Zoom interview, Rei turned her nape to the camera to reveal an irritated patch of skin. It isn't some thing in her past. While some may prefer to work around a condition like this one, Rei confidently lives with it, and doesn't let it influence her sartorial choices. Rei aims to empower other women to redefine their perception of the "bikini body": According to her, the best bikini body is the one you've got.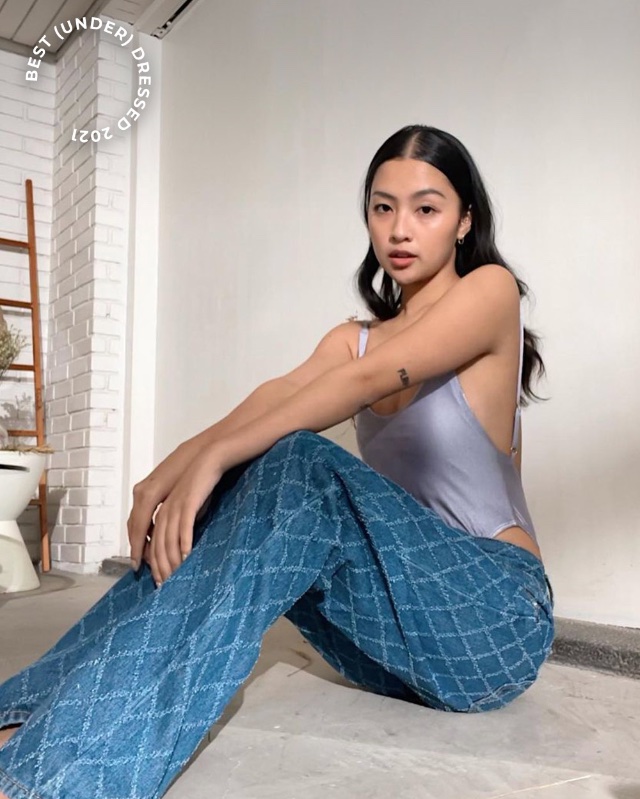 ADVERTISEMENT - CONTINUE READING BELOW
How would you describe your style in one sentence?
"I feel like right now, it's very exploratory, but always comfortable."
How would you say your style has evolved over the years?
"I feel like my style is always evolving, because my inspirations in life are also evolving. And it's also growing with me. I remember back in grade school, I was super obsessed with Sharpay Evans from High School Musical. So you [would] see me in all-pink outfits, wearing glittery and furry things. And then I remember in college, I was really influenced by Adidas Originals. So ang dami kong outfits na very athleisure.
"As of right now, I am influenced by anything comfortable. And I feel like your inspirations in your life will also [show] in how you dress up and carry yourself. Right now, that I am in a stage where I'm focusing on my self-growth. I am doing a lot of businesses—ventures with friends, and with my partner. Nag-iba na rin yung inspirations ko in life. But when it comes to fashion, (like brand-wise), I'm super obsessed with Dion Lee. I feel like nagta-translate siya sa suot ko today. But personality-wise, right now, I'm super into BLACKPINK's Jennie Kim and Bella Hadid.
"I feel like the Jennie Kim [inspiration] started because one I am a huge BLACKPINK fan. And I would feel super kilig when people would send photos of Jenny saying 'Oh, you kinda look alike in this angle!' Maybe two years back, I [tried] to copy her outfits and do a vlog about it. And then last year for halloween, I dressed up as BLACKPINK as well from their Ice Cream music video. So yeah, I love how fun BLACKPINK fashion [has been] these past years. It's so colorful. And then when Chanel got Jennie as their ambassador, it spoke to me because I love Chanel so much. So right now, I'm heavily influenced by Jennie talaga. But I make sure that I put my personal touch in every style that I try."
How would you describe this "personal touch"?
"On a daily basis, I would dress up depending on how I feel, and depending on what message I want to put out there. I like giving stereotypical things a twist and giving them my own definition. And always comfortable! I always come back to that; because there's a lot of styles out there, whenever I try something, I make sure I'm comfortable in it. I make sure that I can work and move while wearing it, especially [given] my lifestyle, because I feel like your fashion needs to fit your lifestyle as well. "
ADVERTISEMENT - CONTINUE READING BELOW
If you were to name three items that you feel make up your style DNA, what would those three items be?
"First, a bikini worn as a top. I love investing in nice bikini tops and one-piece [swimsuits] because they're multi-purpose. I can use it at the beach, but I can also cover it up with a blazer. And, I'm a beach person: See my Instagram feed, and you'll see me in my bikinis. I own a lot of bikinis, so I want to make the most out of them and repurpose them.
"Second would probably be co-ords. I feel like when I'm wearing a monochromatic look, it [seems] very put-together, but in reality, binili ko naman siya as a pair na. And it makes me look more mature as well. I feel like that's a struggle for me: To make myself appear more mature since I entered the industry at (I think) 18 years old, and my features were very baby pa back then. I definitely put a lot of effort in making myself appear more mature, and I feel like monochromatic outfits really helped me.
"Third would be a cute bag that would speaks my feelings for that certain day. Sometimes, I can be very, very lazy when it comes to dressing up, but I will never forget to grab a cute bag for my outfit. It completes the outfit for me.
"I don't have a huge collection, but I realized that fashion is not just about mixing pieces together, but also how you carry yourself out there. So you don't really have to be all [about] luxury and very put-together. Sometimes, a very simple, comfortable outfit matched with how you carry yourself will be the best outfit."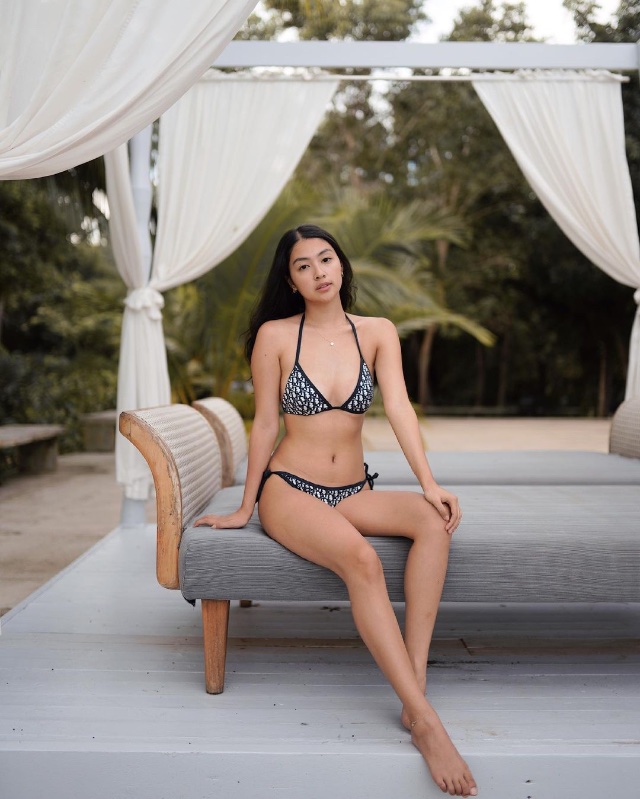 Was there ever a time when you hesitated to wear swimsuits?
"I've always loved bikinis because I love the beach and like resort wear. But I used to avoid some cuts, especially for the bottoms. And, back then, I would avoid certain poses while I'm posing for photos because I had a lot of insecurities. I have skin asthma, so my skin is very, very dry and sensitive. The moment na kagatin lang ako ng mosquito, the mark will stay there for the longest time possible: It's going to turn red, then magiging black na siya. And part of skin asthma is that sobrang prone ang katawan ko sa hyperpigmentation. I have it in my armpits as well. Back then, hindi mo talaga ako mapapataas ng kamay when I'm posing at the beach.
ADVERTISEMENT - CONTINUE READING BELOW
"You know, before I would call these flaws, but it's totally human. It's totally natural. But it's not something I was able to conquer immediately. It was still a process for me. So ayun, I experienced editing my own photos. I would lighten my underarms just to fit society's definition of beauty. But then I realized that I have these younger girls looking up to me, and that we're all not perfect. And that's totally okay. I want them to be able to look at the mirror and see and love everything about themselves, kasi iba-iba talaga tayo ng katawan. So that's the first one; I wasn't super confident with my underarms. I tried everything: editing my photos, lightening them, lasers—I tried everything until I gave up.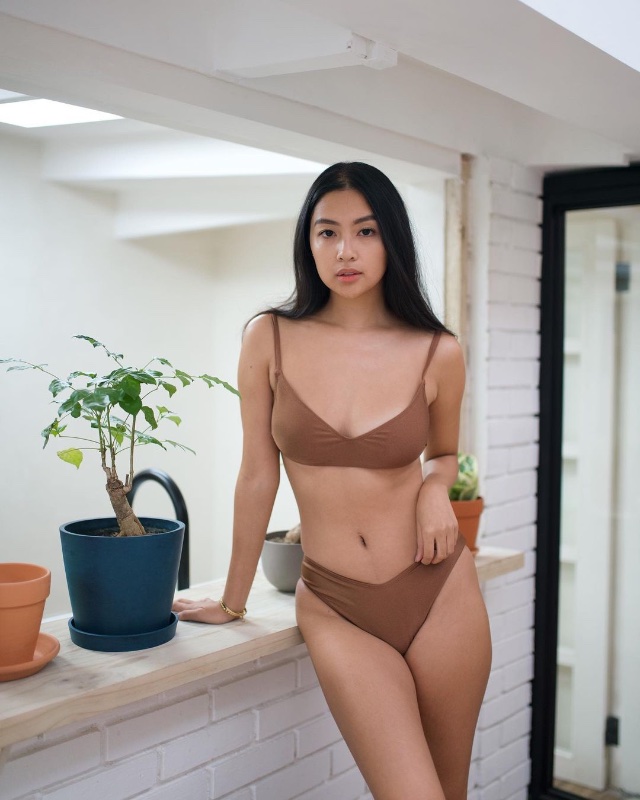 "It's natural, and there's nothing wrong with it. I am still equally beautiful even if you compare me to the flawless kili-kilis out there. Second, I have a lot of scars sa butt area ko, and I have this scar in my lower tummy kasi tinanggalan ako ng appendix. So, ang hirap pumili ng bikini bottom that would cover all of my scars.
"I realized that to be 'bikini ready' is to just to wear the bikini, and to not care about what other people would say, as long as you're comfortable in it."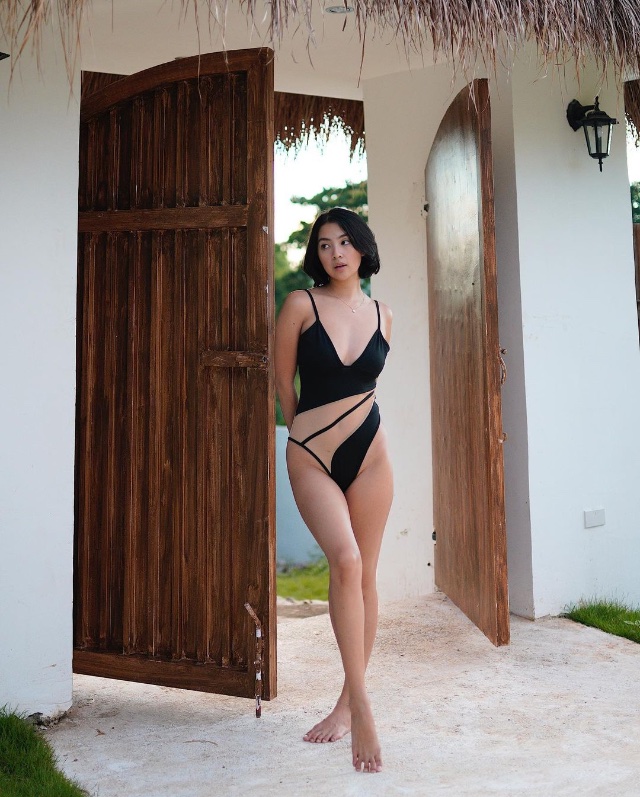 Do you still have your skin asthma now?
"Yes! I don't know if you can see but it's here right now; it's really bumpy, and it's super-duper itchy. Sasabihin sakin ng doctor ko 'Don't scratch it!'
"This is triggered by stress, so hindi ko talaga siya maiwasan. If I get a skin asthma attack, it gets really itchy, and the moment I scratch it, it gets really dark and it stays there for a long time. Right now, my legs are full of dark spots. Before din pala, I'm not comfortable wearing short shorts because my knees are evidently darker than the rest of my body. Pero wala eh, I like clothes so never mind!"
ADVERTISEMENT - CONTINUE READING BELOW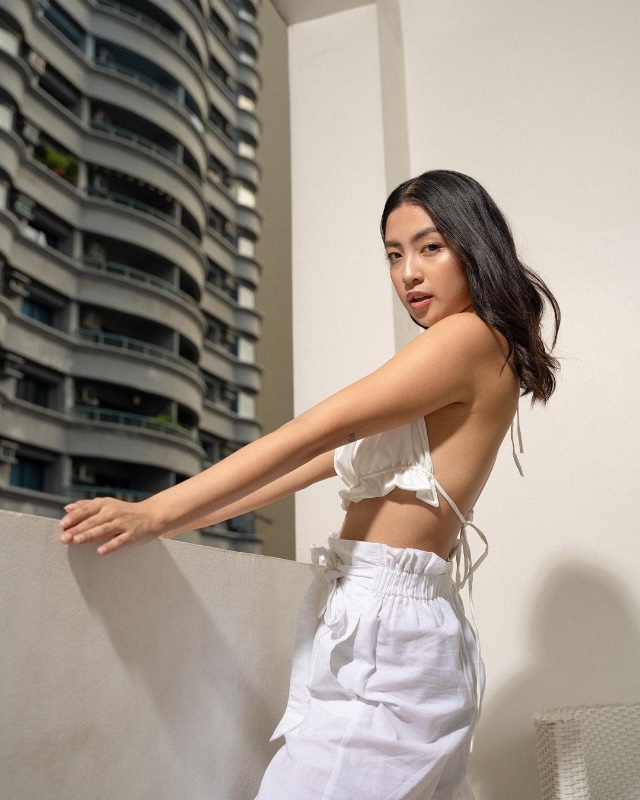 Do you remember the exact moment you were like, " Okay, I'm just totally gonna accept it—I'm perfectly fine the way I am." Do you remember what that felt like and how it happened?
"Yeah, I completely remember it, it's super vivid in my head. It wasn't an instant thing. I remember I was asking my followers for some questions because I was doing this Q&A vlog for my channel. Then there was this subscriber that asked me something like, 'How do you feel confident? Do you have any tips that can help with your self-esteem?'
"And then I realized that I don't have an answer—I cannot answer them. So that's when I realized, 'Oh, maybe I should work on completely loving everything that I am.' How will I be able to share with other people out there how love themselves if I can't give do it for myself?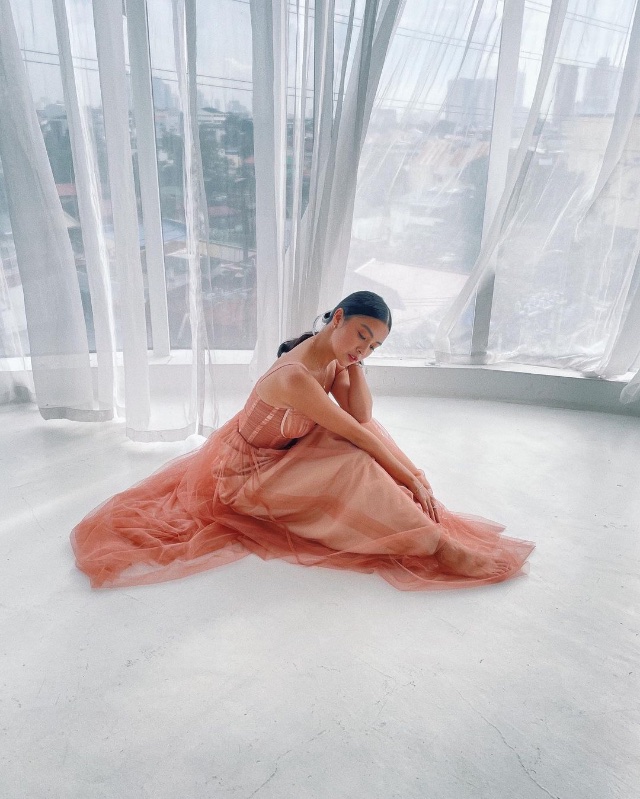 "So it was a long, very not easy journey, but what I always tell [my subscribers] is, 'You'll get there, and please, please, please be easy on yourselves.' The world out there is cruel already. With the age of social media, people can throw you hate comments in an instant, with a click! They don't even think about it. They don't even think about what the other person on the other side of the screen would feel. It's important to know your worth so that when other people try to drag you down, you have a safe place you can go back to and say 'Hey, that is not how I know myself.'
"Their opinion shouldn't matter, because I know who I am and I know the people that should matter. In my industry, I'm out here living, literally growing old in front of cameras, in front of a lot of people. And on social media, a lot of people think they can dictate how you live your life, how you dress, and how you do things. What I always tell my friends—and my subscribers as well—is to make a list. Make a list of the people that should matter. If I hear something from a basher, I'm gonna go back to my list and say, 'Wait, wait, wait. Wala ka sa listahan ko. You shouldn't matter in my world. So I'm gonna go on, and act as if I didn't hear you.'
ADVERTISEMENT - CONTINUE READING BELOW
"But of course, there is constructive criticism na kailangan mo naman i-hear out because at the end of the day, constructive criticism will help you grow as well."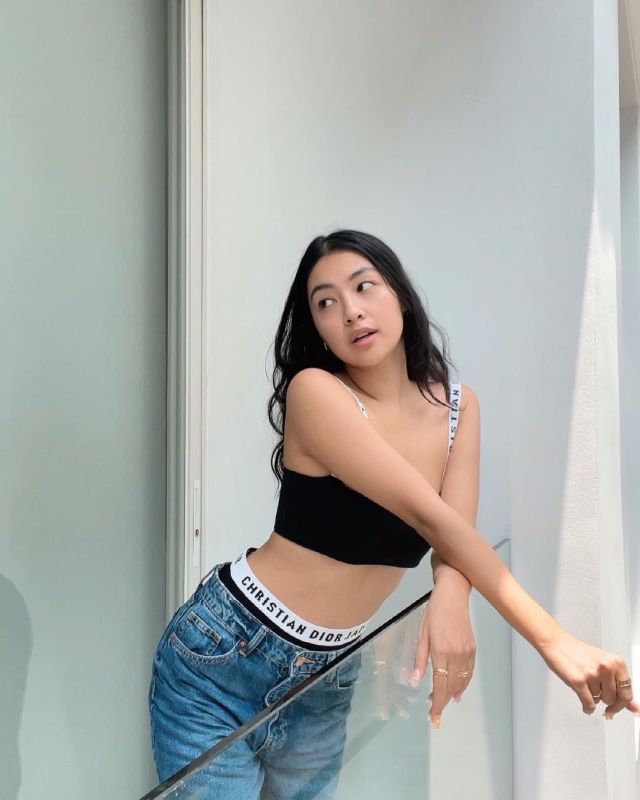 Is there a particular thing that bashers focus on? Would people bash your style?
"When I entered the YouTube world, I was a college student. Of course, after you graduate, you evolve as well. When I was in the process of trying to figure out the best styles for me, you'd hear people say na parang, 'Trying hard naman, parang ginagaya mo si ganito, si ganyan.' And with bikinis: 'Wala ka namang pwet, bakit ba post ka ng post ng bikini?
"Sige, throw me all of those things—'walang boobs, walang pwet'—all those I can handle. But what if you throw it to a person na mas maliit yung threshold sakin? You don't even know the effect [those words] will have on them. [Bashers] don't even know how long the person has been working on themselves, their self-esteem, and their confidence. Just one single mean comment can bring everything to crash down talaga.
"I remember there was this specific comment [in reaction] to me talking about how pressured I am in life. One person said 'Ikaw lang naman yung gumagawa ng pressure sa sarili mo.' And I felt like hindi lang yung feelings ko yung na-invalidate, but also yung feelings ng followers ko. Kasi I have followers that would tell me, 'I'm on the same page as you. I'm feeling a lot of pressure right now, and I feel like I should know everything that I'm doing at my age."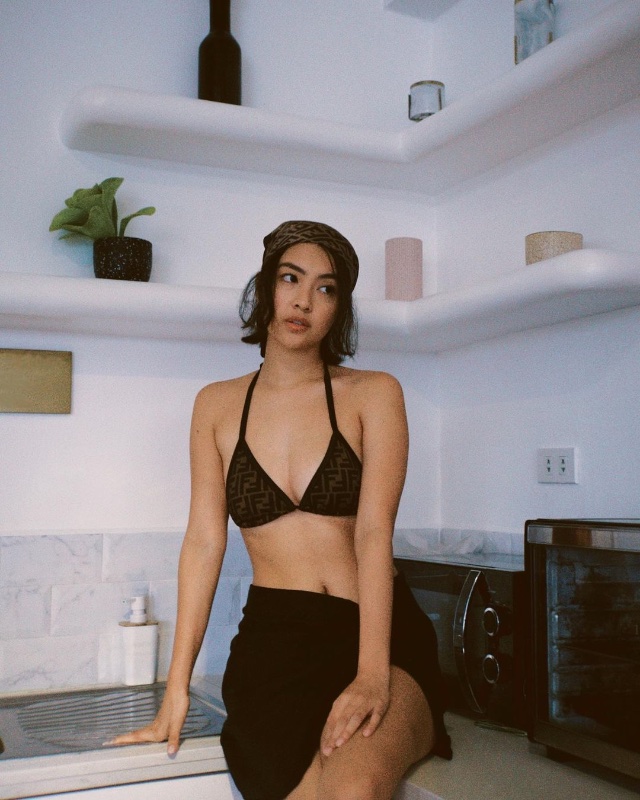 Did your relationship with fashion and style change because of the pandemic?
"Yes, I think it did, especially in 2020 at the beginning of quarantine. I was leaning toward comfortable pieces. I shopped [for] loungewear since I'm just working at home. But on the other hand, I always look forward to shopping for going-out clothes, so that I have something to look forward to when the situation is better.
ADVERTISEMENT - CONTINUE READING BELOW
"[Another thing] that changed is that whenever I have a reason or a chance to dress up, I really prepare for it. Like just today: I would collaborate with my stylist, call my glam team, and take lots and lots of photos, because you never know the next time you can dress up again.
"And [I've had] more time to explore, I guess. Kasi more screen time means seeing more inspiration."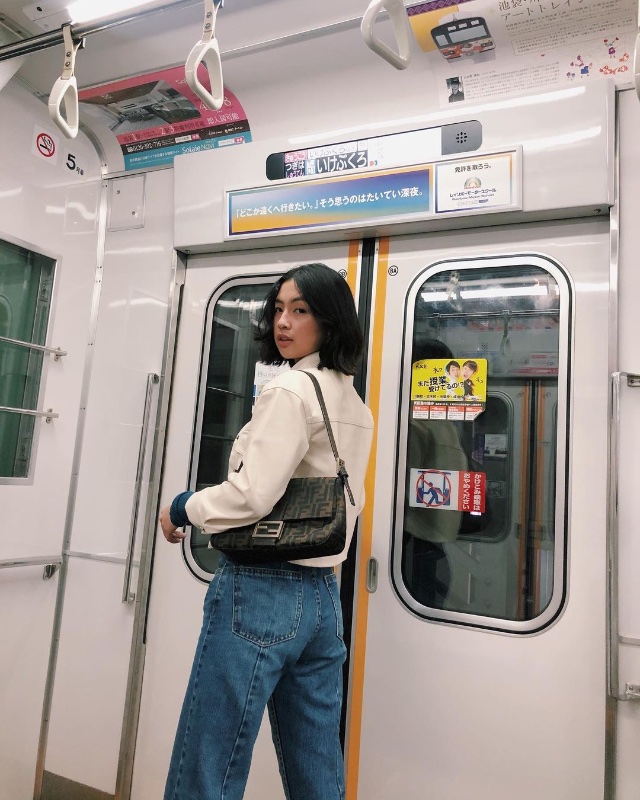 Preview is now on Quento! Click here to download the app for iOS and Android and enjoy more articles and videos from Preview and your favorite websites!
Related Stories from Preview.ph
Hey, Preview readers! Follow us on Facebook, Instagram, YouTube, Tiktok, and Twitter to stay up to speed on all things trendy and creative. We'll curate the most stylish feed for you!