Whether your vision of the dress is a sweeping ball gown, a playful mermaid, or a sparkly slip dress, the goal is to make sure that you look timelessly beautiful in photographs—that imposing hallway portrait will serve as a reminder for years to come—and enjoy regram potential, the way Grace Kelly's and Carolyn Bessette's respective wedding dresses continue to charm today. (Okay, perhaps the reference is a tad too much but consider, too, a well-dressed bride you personally know and how her dress is in your head all the time.)
Below, a dozen well-dressed Pinay brides from the last 20 years that future brides can learn from. Six of them lean towards a classic aesthetic, leveraging tradition and royal inspiration, while six others reflected the times and walked down the aisle in styles that are fashionable and modern. Be inspired!
CLASSIC BRIDE 1
Georgina Wilson-Burnand in Monique Lhuillier, 2016
The ever-reliable Grace Kelly route is the way to go, especially if you are blessed with Georgina's frame and are getting married somewhere sweat-proof: an air conditioned church, out of town such as in Baguio or Tagaytay, or in Mrs. Burnand's case, Winchester in the springtime. The look—hair, makeup, and dress—would have looked great 20 years ago as it does today or even 20 years from now.
ADVERTISEMENT - CONTINUE READING BELOW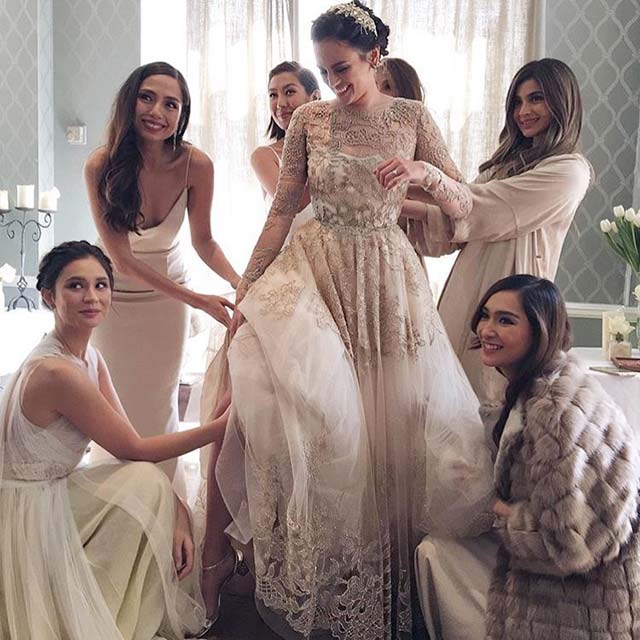 IMAGE INSTAGRAM/ilovegeorgina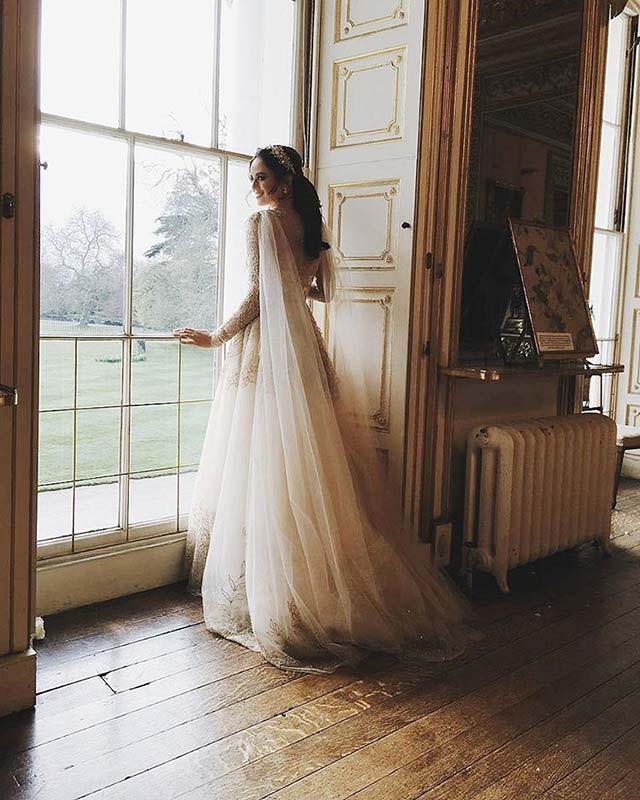 ADVERTISEMENT - CONTINUE READING BELOW
IMAGE INSTAGRAM/isabelledaza
CLASSIC BRIDE 2
Mikee Cojuangco-Jaworski in Inno Sotto, 1999
The sartorial stakes are high when you are the poster girl of a generation and the daughter of an eternal style icon yet Mikee Cojuangco, also the ultimate 90s Preview Girl, did not disappoint. Mother of the bride Ting Ting Cojuangco lent the veil of her own Christian Espiritu wedding ensemble—something borrowed—to serve as the train of the brand new duchess satin Inno Sotto number. Mikee also let her hair down, literally, and kept her overall look fresh and youthful.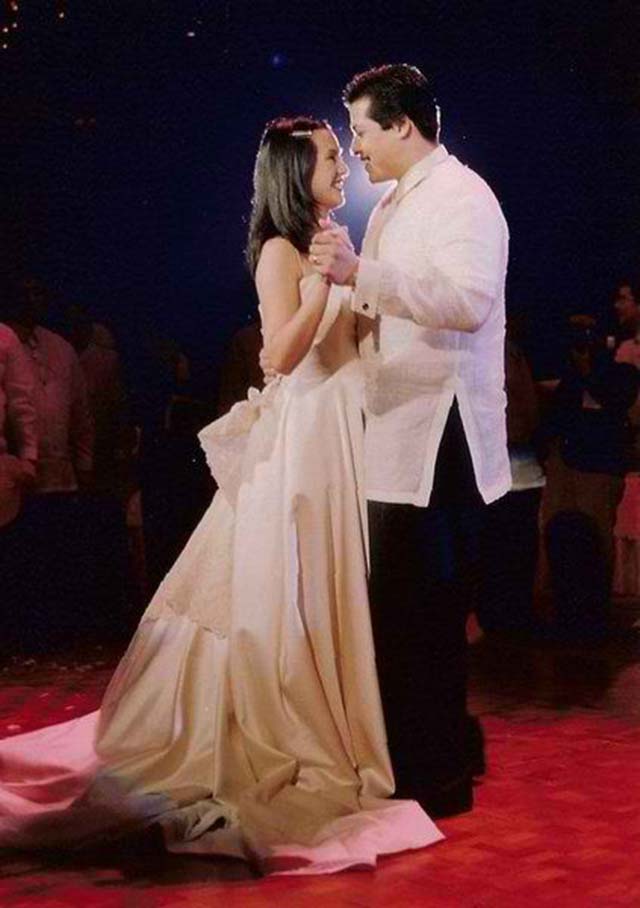 ADVERTISEMENT - CONTINUE READING BELOW
IMAGE Courtesy of Whosdatedwho.com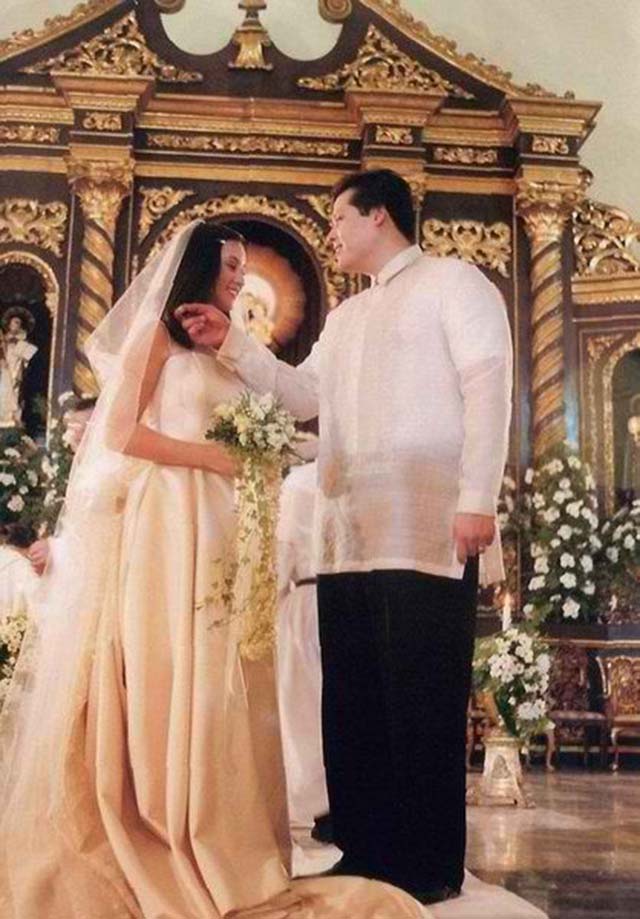 IMAGE Courtesy of Whosdatedwho.com
CLASSIC BRIDE 3
Heart Evangelista-Escudero in Monique Lhuillier, 2015
It was expected for Heart to rock a dress fit for royalty to her own wedding—she did exactly that in Ezra Santos during the Balesin ceremony—but the actual surprise is the simple and sweet off-the-rack Monique Lhuillier frock she wore to her Manila reception. The convenient and affordable pick—it would be marked down online later that year much to the delight of her bashers—proved that while sleeves can be shortened and trains eliminated, a best-dressed woman never ever scales down in style.
ADVERTISEMENT - CONTINUE READING BELOW
CLASSIC BRIDE 4
Rocio Olbes-Ressano in Rajo Laurel, 2017
Rajo Laurel's design for fellow designer Rocio Olbes's big day is a departure from the trend-driven grind, which both maker and muse are accustomed to. The gown's off-shoulder silhouette and the use of lace and hand-embroidered techniques are both full-on classic, complementing the overall old world look and feel of the event. The dress is also seasonless, possessing such big heirloom potential.
CLASSIC BRIDE 5
Tricia Gosingtian-Gabunada in Vania Romoff, 2016
An unadorned dress with a Sabrina neckline looks like an unlikely choice for a blogger and influencer who's practically worn every applicable cut and embellishment in her Instagram feed. And yet, Tricia Gosingtian's big decision to pull back on a day when pulling out all the stops seems the norm turns out to be her most grown-up fashion decision. The wedding look, Korean-inspired make-up included, deserves all its double taps.
ADVERTISEMENT - CONTINUE READING BELOW
CLASSIC BRIDE 6
Dawn Zulueta-Lagdameo in Inno Sotto, 1997
Dawn's short-sleeved and full-skirted Inno Sotto dress is equal parts classic and classy, fashionable and forgiving. Minus the muff—it was a winter wedding, after all—and the New York setting, hers is a look that brides of various beliefs and body types will tack on a mood board and actually have made. It's actually something we imagine a young supermodel saying "I do" in. Think Gigi or Bella Hadid with loose waves, a bare face, and the will to settle down.
MODERN BRIDE 1
Kim Jones-Rosales in Vania Romoff, 2014
Pinay by affinity, Kim Jones stuck to her style instincts when choosing the look for her Boracay sunset wedding. In keeping with the tropical theme, she complemented her barely there makeup and relaxed 'do with a Vania Romoff frock that showed just enough cleavage and the right amount of leg. But look closer and you'll see Miss Jones's sartorial IQ balancing out a style equation: ladylike details (a big bow and lacework) that work in a seaside setup as they would in an evening landlocked fete.
ADVERTISEMENT - CONTINUE READING BELOW
MODERN BRIDE 2
Lucy Torres-Gomez in Randy Ortiz, 1998
The '90s fashion scene may owe fashion publicist and Kennedy bride Carolyn Bessette for elevating the slip dress to bridal levels but it is Lucy Torres's take on the iconic garment that made it a local hit. Forget for a moment that she pinned down and married the ideal Pinoy male in a fantasy ceremony and just focus on that dress. Randy Ortiz's slip is sparkly and made Lucy glow even more—like a prophecy of the bride's eventual #blessed life in wardrobe form.
MODERN BRIDE 3
Bianca Gonzalez-Intal in Rosa Clara, 2014
That Bianca opted for off-the-rack comes as no surprise. Remember that before Pinoy Big Brother had her obeying a wardrobe memo of custom bodycon and heels, she was a low-maintenance girl who took pride in collecting and wearing Chuck Taylors. Minus the flower crown she wore as wedding headgear, the '20s vibe of Bianca's Rosa Clara pick would go perfectly with finger waves and contemporary statement heels. Or white Chucks even, if she really wanted to.
ADVERTISEMENT - CONTINUE READING BELOW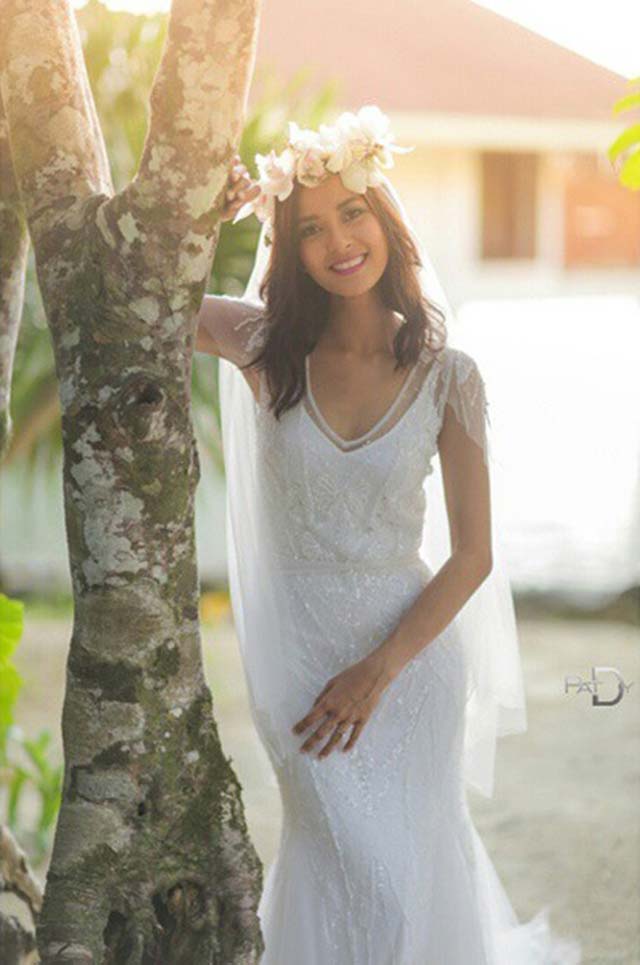 IMAGE Pat Dy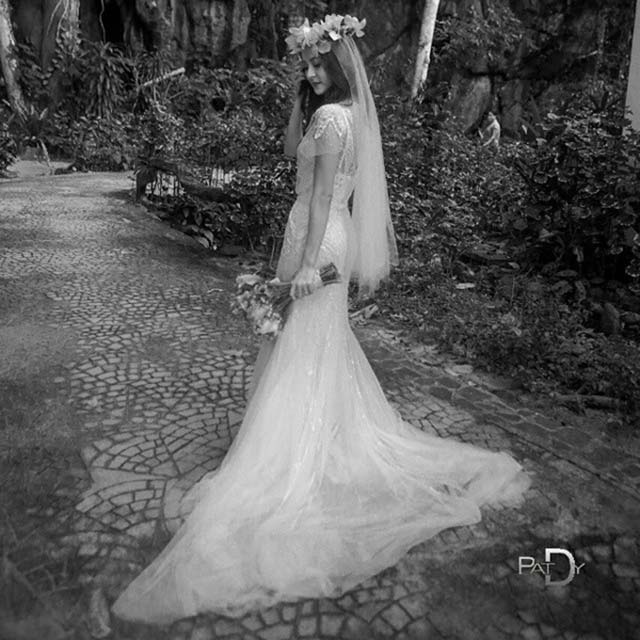 ADVERTISEMENT - CONTINUE READING BELOW
IMAGE Pat Dy
MODERN BRIDE 4
Cheska Garcia-Kramer in Puey Quinones, 2009
Play is something not limited to the high-profile Kramer kids of today. Prior to married and family life, actress and model Cheska Garcia had fun with early aughts fashion as much as the next single, stylish girl. This fun was never more emphasized in her choice of a wedding gown—textured from top to bottom and cascading from the knees down. The dress is also a literal interpretation of that good old phrase "business in front, party at the back."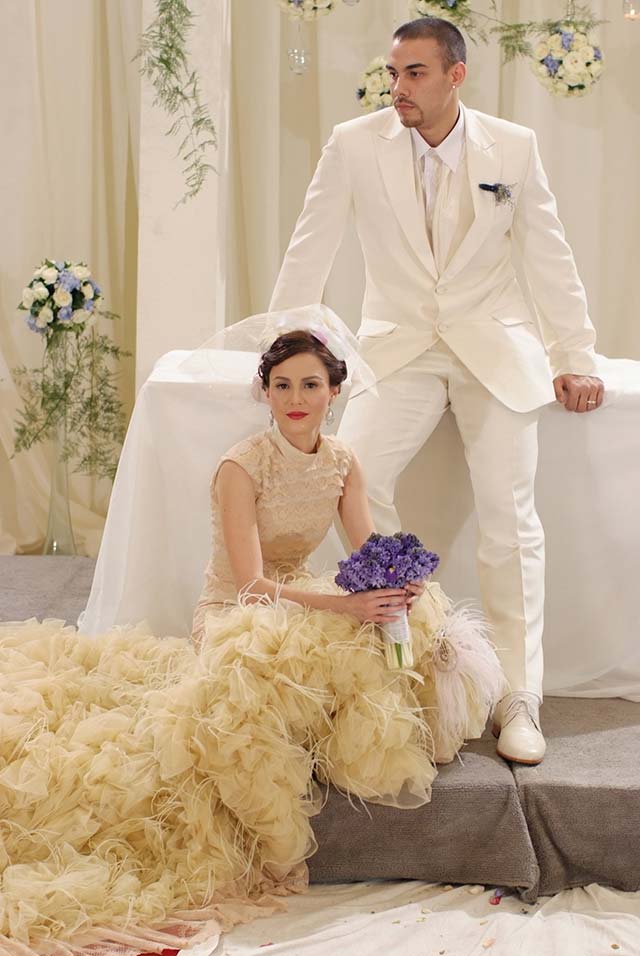 ADVERTISEMENT - CONTINUE READING BELOW
IMAGE Courtesy of TeamKramer.ph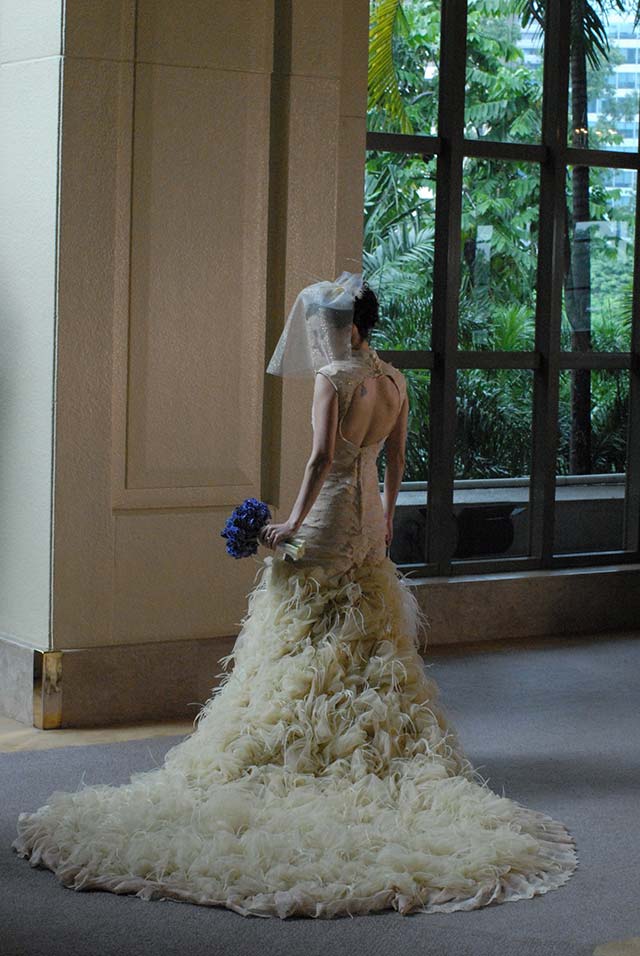 IMAGE Courtesy of TeamKramer.ph
MODERN BRIDE 5
Kelly Misa-Fernandez in Joey Samson, 2012
Kelly made the interesting decision of working with forward-thinking Joey Samson for a look that will forever be documented in the interwebs. Created years before the big tulle trend that's all over runways and fast fashion window displays, Kelly and Joey collaborated on a look that is decidedly feminine without being stereotypically sweet. Kelly's shapely gams peeking through the gown's sheer skirt was that necessary hint of sexy.
ADVERTISEMENT - CONTINUE READING BELOW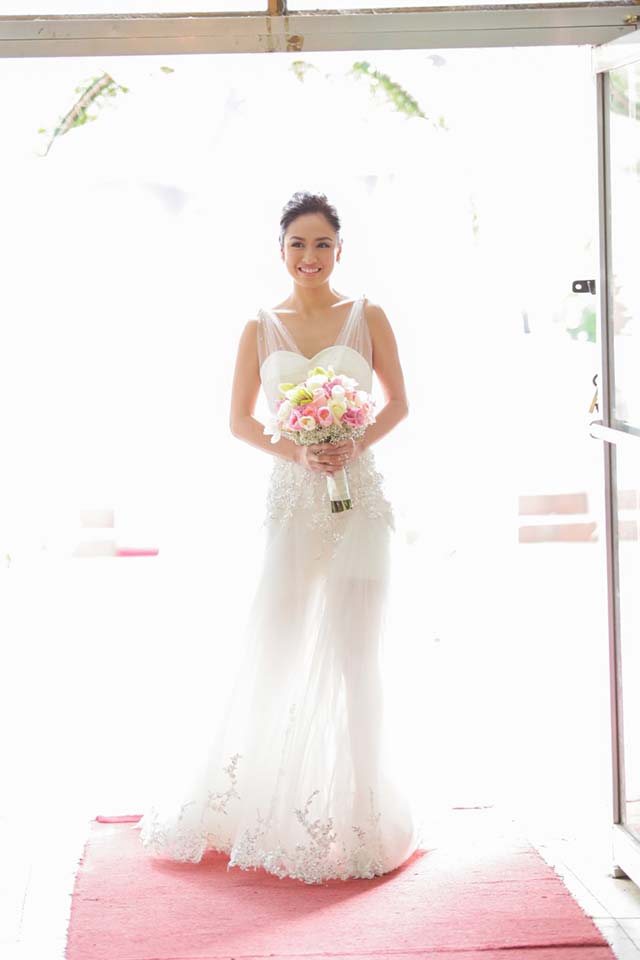 IMAGE Courtesy of Kellymisa.com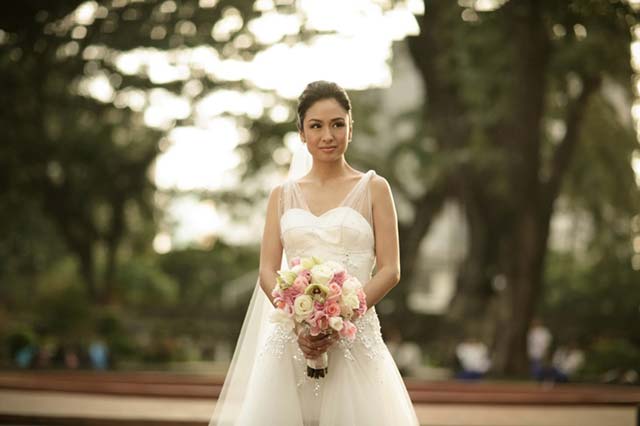 ADVERTISEMENT - CONTINUE READING BELOW
IMAGE Courtesy of Kellymisa.com
MODERN BRIDE 6
Daryl Chang-Lotho in Cary Santiago, 2016
Daryl Chang's structured and unembellished off-shoulder wedding dress is a reflection of her crisp, architectural leanings and a revelation of her ladylike potential. Fellow Cebuano and international designer Cary Santiago worked closely with the bride in creating the deceptively simple, vintage Balenciaga-inspired number. The result is a dress that is minimalist and contemporary as much as it is editorial.