"Have you guys eaten lunch?" Gloria Diaz greets us while handing out packets of nuts and gummy candies when we arrived at the convention center where she was shooting—a distinctly Filipino way to welcome us, don't you think? I, together with a group of journalists, flew 30 hours to Atlanta, Georgia to visit the set of Netflix's satirical dark dramedy, Insatiable, in which our very own Miss Universe 1969 is a guest star.
Fifty years after she had won Miss Universe, Gloria Diaz is back in the pageant scene—quite literally. She would be portraying Miss Universe Gloria Reyes, a beauty queen turned pageant coach in the second season of the series. "I'm a real bitch here!" she exclaims.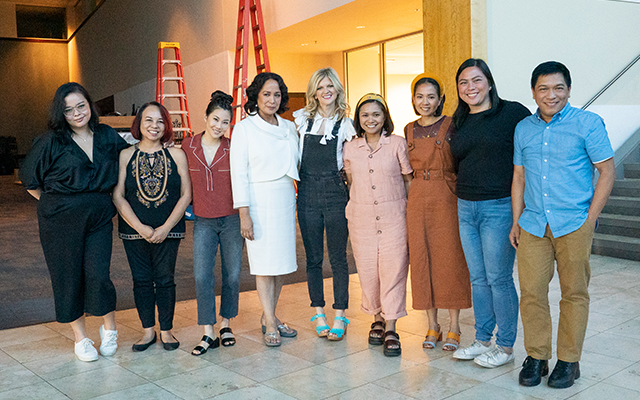 ADVERTISEMENT - CONTINUE READING BELOW
Gloria arrived in Atlanta a few days before we did. "I was nervous when I got here because I was totally among strangers," she shares. "I'm used to working at home where you have this person taking care of this and that. But I noticed [here] everybody comes to the set with nobody. They just take care of themselves. But you know, everyone is so nice."
As she waited for her turn to shoot, Gloria lead us to the craft corner to pick up coffee and more snacks before making a beeline for the holding room to chat some more. It was quite surreal to be in the midst of a huge foreign production but what's truly exciting was to witness a fellow Filipina being part of it—in a role that couldn't be more fitting.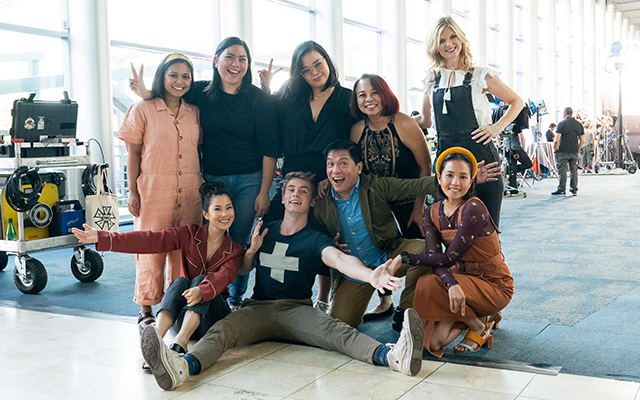 "We were excited that we felt like it was a good way to show a woman of strength and somebody that Patty (the lead character played by Debby Ryan) would listen to. And what's so great is that she kind of, in her short amount of time in the show, has such a huge impact in terms of Patty's belief in the power of the crown because Gloria has such gravitas. And so when she says to you, 'Your crown will erase your past', you believe her," showrunner Lauren Gussis says of Gloria. "She's beautiful and has amazing presence."
While one may think that Gloria portraying Gloria didn't take much, the real Gloria did have a few reservations. "My fist language is almost English but I was so nervous I was gonna make a mistake," she reveals. She also sought the help of her director to better understand her role. "He told me, 'Act like a diva. I said, 'That sounds like me.'"
ADVERTISEMENT - CONTINUE READING BELOW
From the back of the room, we watched Gloria breeze through one of her scenes like the pro that she is. She nailed it after just a few takes. It was the pageant scene and it was both familiar and new to her. During the break in between scenes, she sat down with us and reminisced about her experience when she was crowned Miss Universe 50 years ago.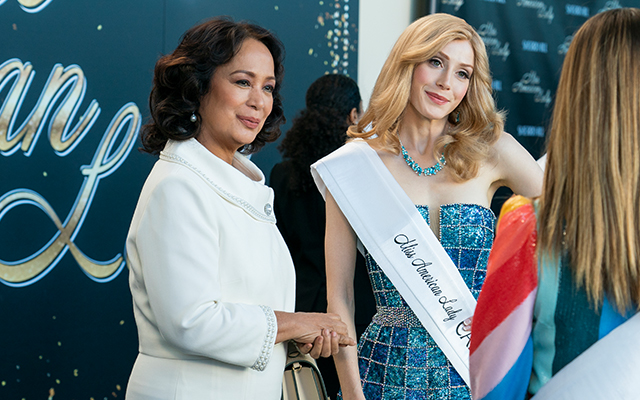 ADVERTISEMENT - CONTINUE READING BELOW
"When I joined the pageant 50 years ago, we talked about scholarship, education, and stuff. But now it's not like that. It's very commercial. It's about making money and stuff, which is also good. Once you work with a pageant now, they have a modeling agency—they discuss that with you, that even after the pageant you can work with them. And many of the girls are much older now. And they can join many times. And of course a lot of plastic surgery. They say beauty queens are not born, they're made," she says in true no-filter-Gloria fashion.
"She's such a class act," her co-star Erinn Westbrook accurately describes her.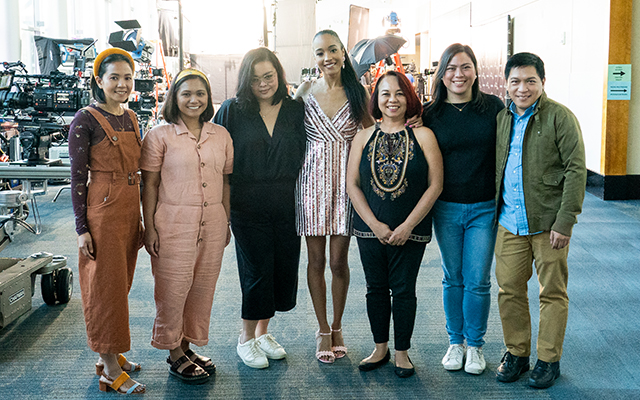 ADVERTISEMENT - CONTINUE READING BELOW
The show
The first season of Insatiable tackles the story of a high school student, Patty Bladell, who has had to deal with bullying because of her weight. When she drastically loses weight, she decides to join beauty pageants as a way to get back at her bullies.
This spawned quite a substantial amount of backlash when it first came out. "There was an issue at exactly one country and it was the one I thought I was making the show for," says Lauren. "But the rest of the world embraced it." This, in fact, has opened up other creative avenues for the showrunner when Netflix gave the go signal for a second run.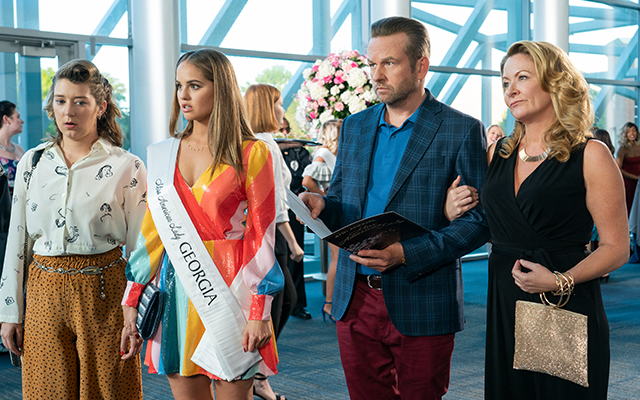 ADVERTISEMENT - CONTINUE READING BELOW
"I don't know if I would have put Gloria in the show had I not known we were popular in the Philippines because it wouldn't have been on my radar—to be looking in that direction. It put a couple of extra toys in the box," she adds.
The second season finds Patty being haunted by her past and battling her inner demons while she struggles to be "good." We can expect the show to still be outrageous, messy, and funny with more of Patty's misadventures with her pageant coach, Bob Armstrong (Dallas Roberts). And although she's a guest star, Gloria's role is pivotal in how Patty's character develops in the latter part of the season.
Whether Patty will succeed in the pageant or not is for us to find out as we watch the second season of Insatiable, which is now streaming on Netflix.
ADVERTISEMENT - CONTINUE READING BELOW
Related Stories from Preview.ph
Hey, Preview readers! Follow us on Facebook, Instagram, YouTube, Tiktok, and Twitter to stay up to speed on all things trendy and creative. We'll curate the most stylish feed for you!