Merriam-Webster just declared "they" as its 2019 word of the year and it's nothing short of groundbreaking. Now you're probably inclined to scrunch your nose in doubt or confusion when the very word sounds so miniscule and mundane. It's something you use daily and without a second thought, so what's the big fuss?
For one, it's a step in the right direction towards acceptance and inclusivity for the LGBT community. More than just the word you're accustomed to and learned in basics grammar class ages ago, 2019's most popular word actually refers to the singular "they." Yes, singular—you read that right.
To put it simply, it's the pronoun used by non-binary people or those who don't conform with the gender binary (male and female) set by society. Hence, using he or she to refer to them wouldn't be the right fit. Merriam-Webster recently added a new definition for "they" in their official online entries for this specific use roughly three months ago, September 2019.
ADVERTISEMENT - CONTINUE READING BELOW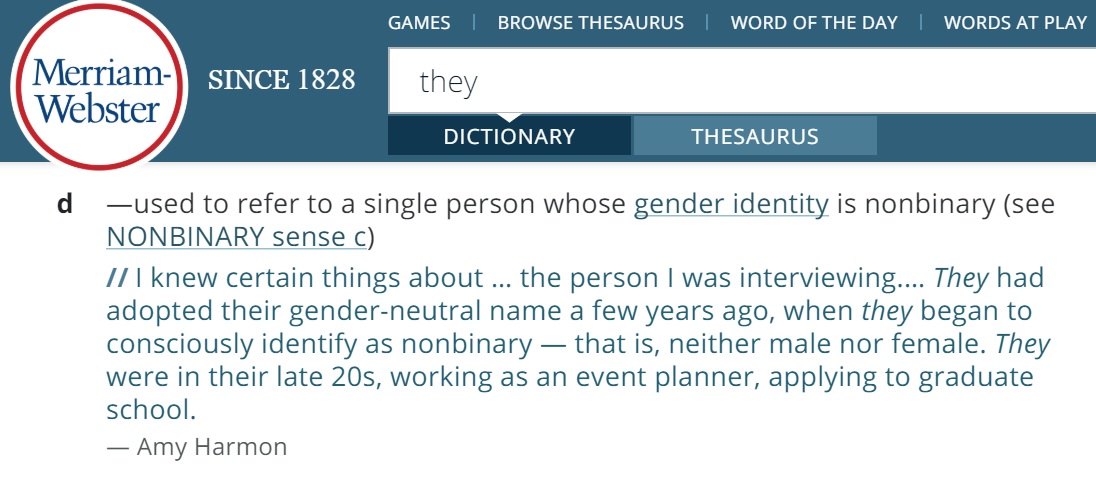 In their official announcement, they wrote "...they has...been used to refer to one person whose gender identity is nonbinary, a sense that is increasingly common in published, edited text, as well as social media and in daily personal interactions between English speakers. There's no doubt that its use is established in the English language..."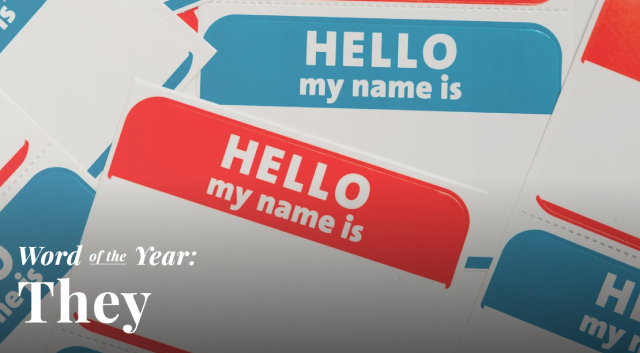 A major global company and lexicon authority affirming the singular use of "they" sparks a significant movement of acknowledging and validating non-binary people. The news puts them in the spotlight, allowing their identities to be heard and known through a widespread platform. While the affirmation stands to be a big deal, at the heart of it, using the proper "they/them" pronoun for our non-binary friends remains a matter of respect and basic decency.
ADVERTISEMENT - CONTINUE READING BELOW
According to the team at Merriam-Webster, the word "they" saw a spike of up to 313% in search volume as compared to 2018. A search increase for the term started in January during the rise of transgender non-binary model Oslo Grace, who's known for walking the runway for both women's and men's apparrel.
ADVERTISEMENT - CONTINUE READING BELOW
Grammy award winning singer Sam Smith also largely contributed to the search count after they came out as non-binary last September. Through a lengthy, heartfelt Instagram post, Sam stated that their preferred pronouns were "they" and "them," and that the decision came "after a lifetime of being at war with my gender."
ADVERTISEMENT - CONTINUE READING BELOW
Other celebrities who are proudly non-binary and use "they/them" pronouns include Lachlan Watson, Amandla Stenberg, Indya Moore, and, most recently, Atypical star Brigette Lundy-Paine. Brigette, who came out as non-binary last November at the height of their Netflix show's success wrote, "I'm non-binary, always felt a lil bit boy, lil bit girl, lil bit neither. Using they/them as of late and it feels scary to come out...If you're non-binary...celebrate yourself! You're beautiful and you are whole."
ADVERTISEMENT - CONTINUE READING BELOW
Aside from this, "they" may also be used to refer to people whose pronouns have not been identified or confirmed, especially in writing. "We believe writers should try to use a person's self-identified pronoun whenever feasible," Jasper Simons, the American Psychological Assicoiation's chief publishing officer, tells the Associated Press. "The singular 'they' is a way for writers to avoid making assumptions about gender when it is not known."
Runners-up for Merriam-Webster's word of the year include quid pro quo, impeach, crawdad, egregious, and clemency.
Related Stories from Preview.ph
Hey, Preview readers! Follow us on Facebook, Instagram, YouTube, Tiktok, and Twitter to stay up to speed on all things trendy and creative. We'll curate the most stylish feed for you!