Admit it: Staying healthy has been difficult for you during quarantine, what with all the endless food trends you've been whipping up or having delivered, and well, the close proximity of your fridge. Know that you're not alone, for I, too, am struggling.
As a health buff, I'm all for clean eating. But the constraints of quarantine have made it tricky for me to maintain my lifestyle. Grocery trips entail stocking up more of ready-to-eat products or canned goods instead of vegetables and fruits, which are also not so easy to come by at our nearest supermarket. And okay, fine, I have been snacking a lot, too. But I've always believed that sometimes, it takes one super healthy meal to get you back on track, so I endeavored to find one. If there's anything that's been beckoning me on my IG feed, it's the smoothie bowl, widely referred to as the acai bowl.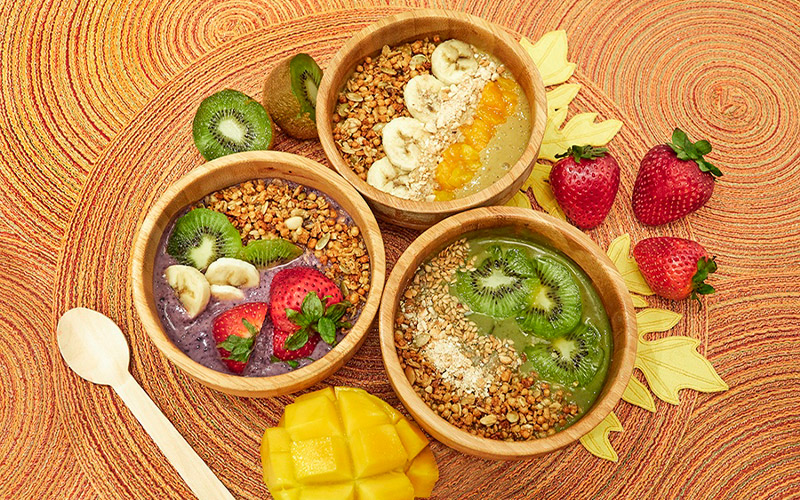 ADVERTISEMENT - CONTINUE READING BELOW
The Trend
Acai bowls are basically oversized acai smoothies mixed with various healthy toppings. Acai is a "superfood" berry native to Brazil, and it's known to have anti-cancer and cholesterol-improving benefits, not to mention that it's packed with antioxidants. These benefits, coupled with the bowl's aesthetically pleasing look, catapulted it into a food trend that dominated social media in 2017. (Fun fact: It can be traced back to as early as the 1970s!)
Eventually, people started to do the same with other fruits, and so the smoothie bowl was born. (That's why people often mistakenly interchange the term acai bowls for smoothie bowls!) In true Instagram culture, smoothie bowls were created not only to taste good but to look good, too, spawning a plethora of different colorful combinations and plating designs. People were quick to gobble up the craze and local entrepreneurs were just as fast. Metro Manila has a bevy of smoothie bowl-only brands while other existing restaurants also offer it. One local brand in particular that recently set up shop on IG is Lilo's Acai.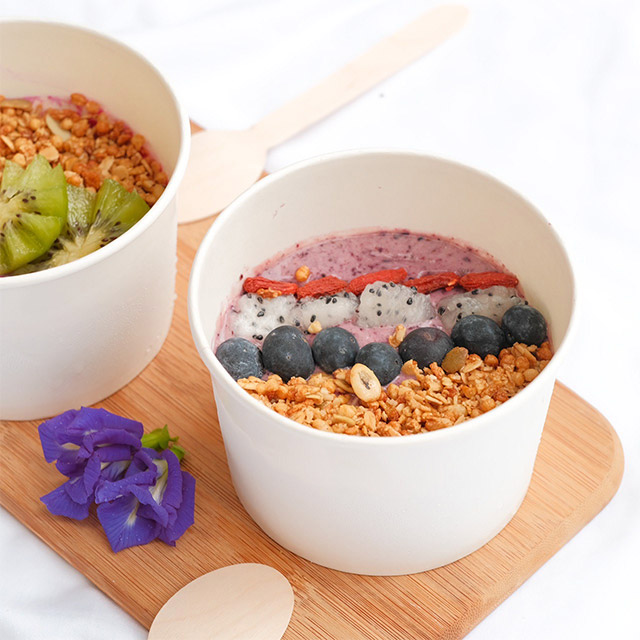 Taste Test
Lilo's Acai was established last April 26, right in the middle of quarantine. It's menu features a wide variety of smoothie bowls that are available for pickup. Flavors range from breakfast-worthy bowls loaded with fruits and granola, to sweeter ones with nutella or peanut butter—healthy dessert alternatives. I haven't had a smoothie bowl in a while, plus I was curious to see why they were popping up on my IG feed again, so I placed an order.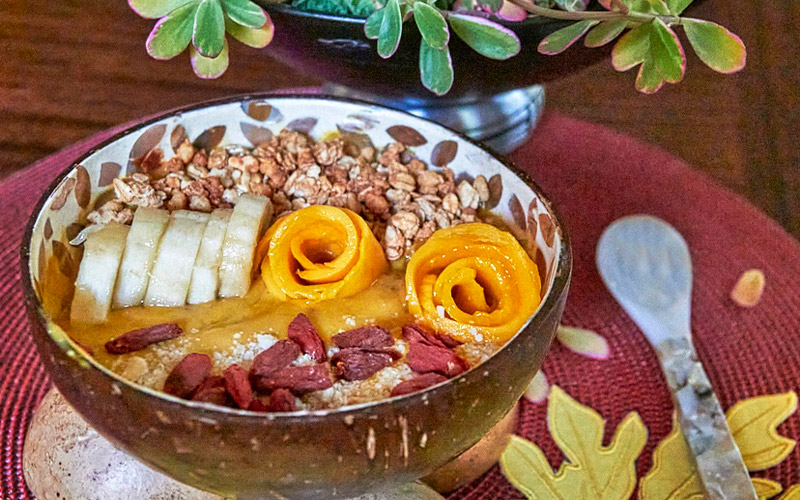 The Product
For myself, the Sunshine bowl (P235). Its smoothie base is made with mango, banana, soy milk and turmeric powder, and it's topped with granola, cashew nuts, and goji berries. For my mom, the Berry Bliss (P275), with a smoothie base of blueberries, strawberries, bananas, soy milk & vanilla protein powder. We had it for lunch.
ADVERTISEMENT - CONTINUE READING BELOW
My order promptly arrived in its plastic-free packaging: just a brown paper bag and the biodegradable, starchware bowl made from corn and yam. The presentation was neat and super pretty (despite its travel time!), and it was exactly how it looked in the photos.
I mixed the ingredients before scooping up my first spoonful and was delighted by the sweet, tangy mango taste, which was punctuated by the slightly spicy turmeric. The bananas, granola, and goji berries added the right amount of bite to the smoothie base. In other words, it didn't scrimp on the toppings. This made the portion more "filling" than it appears, and I was definitely full when I was down to my last spoonful. I underestimated the serving size!
The Sunshine bowl didn't overwhelm me with flavors—it hooked me with the turmeric and that's what made it so addicting! Now, I know you can't measure a bowl's health effects just by eating one serving, but I have to share that it did help my body cleanse that day, if you know what I mean. LOL! Plus, I didn't even have to snack that afternoon because I was so darn full!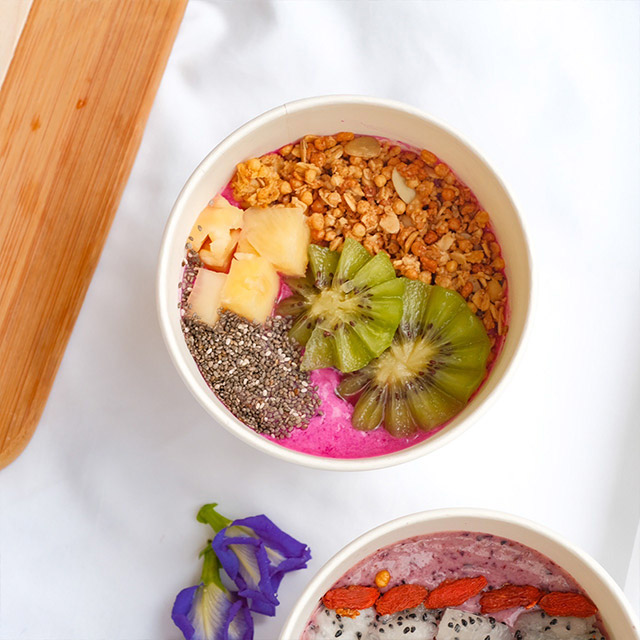 The Verdict
From placing my order to the meal itself, my Lilo's Acai experience was great. It ticked the three essential boxes that characterize the ideal smoothie bowl: healthy, beautiful, and delicious. But more than the food itself, what I admire about the brand is its thrust for the environment and the local community. Aside from the said eco-friendly packaging, Lilo's Acai sources its fruits from local farmers to help them sustain their livelihood. So you not only eat great food but support communities, too. Sustainability is at the forefront of business, and I appreciate that Lilo's Acai is taking extra steps towards that.
ADVERTISEMENT - CONTINUE READING BELOW
The Takeaway
So, is this smoothie bowl revival worth paying attention to? Yes. Honestly, having one bowl helped me reset my eating habits, even if just for a day. Given their slightly hefty price tags (they don't come cheap—Lilo's Acai's ranges from P220 to P275), smoothie bowls are great "pick-me-up" meals—not everyday meals—whose health benefits and vibrant taste might inspire you to eat clean again. It's up to you, of course, to make that decision.
Related Stories from Preview.ph
Hey, Preview readers! Follow us on Facebook, Instagram, YouTube, Tiktok, and Twitter to stay up to speed on all things trendy and creative. We'll curate the most stylish feed for you!