In this Preview exclusive, we phoned Raymond Gutierrez (who's currently in sunny Los Angeles!) to chat about what exactly drove him to achieve his mind-blowing transformation—and just what it took to stick to the grueling fitness journey. Clue: it's a lot of blood, sweat, and tears, but nothing worth it is ever easy to get your hands on.
ADVERTISEMENT - CONTINUE READING BELOW
When did you start your fitness journey and in how long did you aim to achieve your goal?
"It was in December of 2016. My birthday's in January, and every year I always tell myself, 'This is the year you're gonna be fit and healthy and get the body you've always dreamt of.' I've been saying that to myself for the past five years and it hasn't happened, so the reason why I went into this journey isn't purely because of vanity; it was also because of some health issues that I was encountering. Before, I was out every night. I opened The Palace and Gramercy, and being a partner in one of the biggest nightclubs definitely did not help my health. So there would be nights out where I'd wake up the following morning and have difficulty breathing. Or sometimes I'd think, you're getting a little too old for this and you need to start focusing on yourself. That was what pressured me also—the timeline. I knew I was turning a year older and i just wanted to make it happen.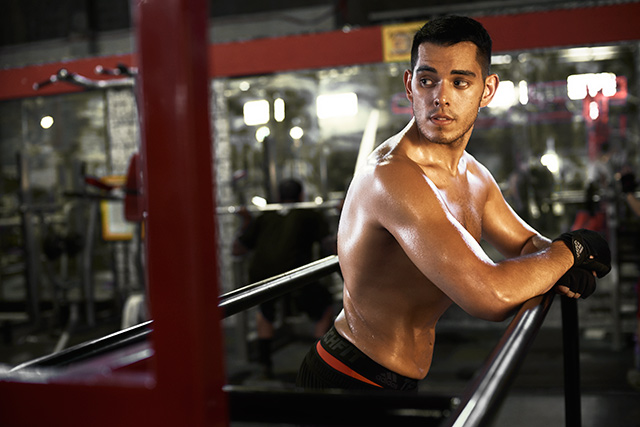 IMAGE BJ Pascual
"So yeah, I started in December, which is the worst month to start, by the way, because I literally had to decline every Christmas dinnner, Christmas party—or worse, attend but not drink! That's when I started moving my body. The first workout I did was Ride Revolution because I wanted to support Belle [Daza], and then I kind of got addicted to it! I would do that as my cardio. And then January was when I started working out with Arnold Aninion, upon the recommendation of Erwann [Heussaff] and Anne [Curtis]. That's when I started my 90-day challenge with Century Tuna. I actually came up with the campaign because I felt like it was always an excuse for me to not be working out, or to be living a healthy lifestyle. I would always tell myself, 'Oh, I don't know how to cook,' or, 'I don't know what workout I should do to lose weight.' All these things: they were a constant battle between me and myself. It was all these little voices in my head that said 'Mond, stay home na lang, it's too hot outside, don't work out!' You know I what I mean? (laughs) I was my own roadblock, pretty much."
ADVERTISEMENT - CONTINUE READING BELOW
What was your goal weight-slash-goal body?
"I'll be honest with you, when I first met Arnold, he was like, 'What's our goal? Show me the body that you want.' And I could not even show him anything. I just said, 'I just wanna get out of this rut. I don't have a body in mind. I just don't wanna be what I am now." And that was a clear message to him that said, okay this guy needs my help, and he just needs to lose the weight, he just wants to be healthy. And it wasn't like, 'I want to achieve this body.' it was more like, I just wanna feel good. I did not have a goal weight or goal body. I just wanted to see, like, how far can we take this? I just wanna work as hard as I can and see where this takes me."
ADVERTISEMENT - CONTINUE READING BELOW
That's an incredibly short amount of time, though! Awesome job!
"You know, people say it's a short amount of time, but if you think about it, it's actually been a long time. People are shocked that I was able to do it in four months, but if you create time to work out, then you'll really see results. What happened to me before was, 'I'm too busy, I'm throwing events, I'm doing parties, I'm traveling, I'm hosting, I'm shooting my reality show.' There were just so many things going on that I did not make time for working out. And the moment that I did was when I started seeing changes. I said, look, I'm not going to be taking any meetings this morning, because, from seven to nine, I'm going to be working out. I worked out twice a day, seven days a week, for three months. So you would be surprised if you don't see results!"
ADVERTISEMENT - CONTINUE READING BELOW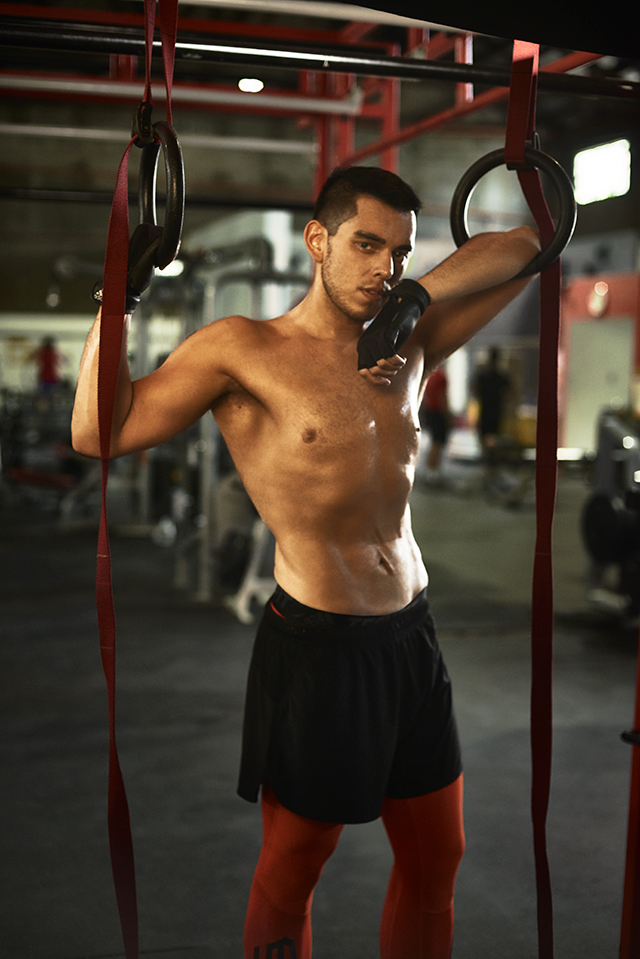 IMAGE BJ Pascual
So, your motivation behind it all was your health, right?
"Yes, primarily my health, but also because I knew I wanted to do so much more. I felt that I was immobile, and all my friends are so active, and whenever we'd travel they'd venture out to do things I couldn't keep up with. So it was also just knowing that I could do better. I knew I could be a better person, overall."
ADVERTISEMENT - CONTINUE READING BELOW
Any words of advice for those who are just about to begin their own fitness journey?
"It's all in the mind. It's all about you. It's all about your determination. That's my magic formula. Because I could have had the best trainers, the best gyms, and the best food—and I've had access to that for years—but it's when you decide to make a change, that's when you see results. It's up to you. I could have given up halfway through and said, 'I'm happy, I'm satisfied, I've lost ten pounds, so I'm okay.' It's not about how expensive your gym is or how exclusive your workout regimen is. It's about your dedication and the time that you put into yourself."
ADVERTISEMENT - CONTINUE READING BELOW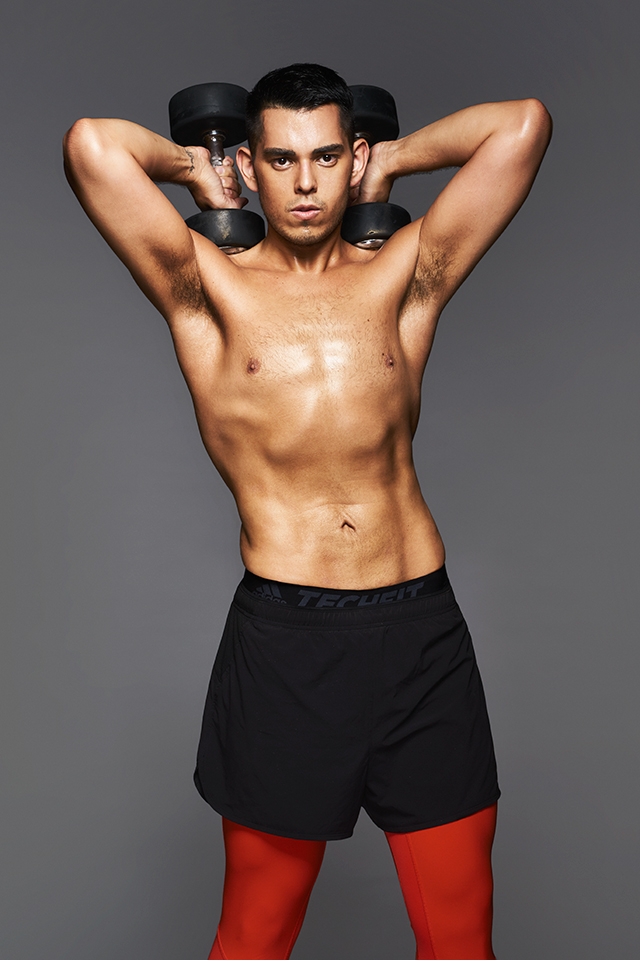 IMAGE BJ Pascual
What was the hardest habit to start?
"Being a morning person! I've always been a nightlife guy, and I love going out, I love partying with my friends, and that was what had to be adjusted, too. Now I only go out if there's a special occasion or a special weekend, but that's what changed the most: I actually became a morning person. (laughs) I would work out at 7am! The shift in time was a big, big adjustment. I'd do cardio as soon as I woke up, because I used to hate running. I used to hate P.E. back in school, so I had this fear of running growing up! But my trainer said, 'Mond, as soon as you wake up, before breakfast, you need to do 40 minutes of cardio on the treadmill.' And that to me was, like, death.
ADVERTISEMENT - CONTINUE READING BELOW
Did you go on a diet, too?
"Okay, diet is literally...I can't express how important it is. It's 80% of the formula and 80% of the results. The first things I gave up were beef and pork back in December. Alcohol I would only have on special occasions, so Christmas Eve, New Year, birthdays, but no longer casual anytime-of-the-day drinking. After that I altered my carbs. I started eating kamote, and then I started slowly removing rice. I know that's hard for Filipinos everywhere—me included—but if you wanna see results you have to cut down on carbs! After that, I just stuck to an all-fish diet. Salmon and tuna, and then for my last month I had just tuna. Plus fruits and veggies, of course."
ADVERTISEMENT - CONTINUE READING BELOW
Favorite diet food?
"It'd have to be tuna salad. There's a good balance of things in it and you feel full after, not hollow. It's healthy, but filling; you're not left hungry."
What's your favorite workout?
"I learned to love running in the morning and doing sprints with my friends. It's become a group hangout. We meet up at seven in the morning, we talk a bit, and then we do our run. Then we go back and have breakfast together, so it becomes more of a hangout than an annoying exercise. It's fun!"
ADVERTISEMENT - CONTINUE READING BELOW
Who helped you along the way?
"The person who helped me the most is one hundred percent my trainer, Arnold. I cannot express enough how much dedication and passion he has for what he does. He was even only supposed to train me twice or thrice a week, but he would be there every day. He explained things so well, he's so well-informed, and he really takes time out to make sure that each of his clients are well taken care of. I'm thankful to Anne and Erwann because they're the ones who introduced me to him.
ADVERTISEMENT - CONTINUE READING BELOW
"Nadine Tengco also helped me with my diet in the beginning of the process, and Erwann also served as my lifestyle coach! He's also my YouTube coach; he helped me produce my videos. (laughs)"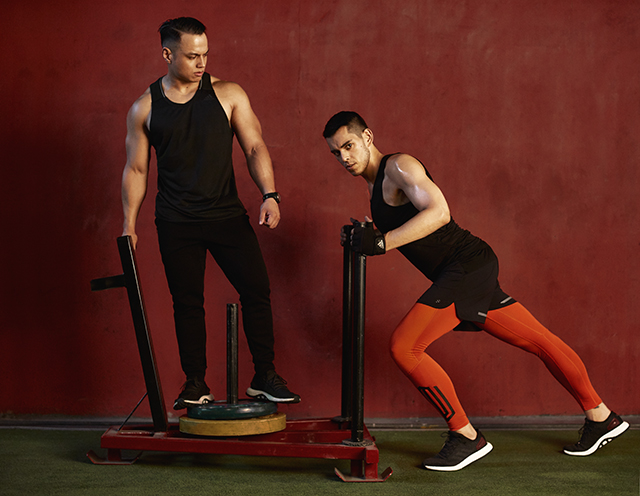 IMAGE BJ Pascual
Last question! What were people's reactions to your new body?
"Okay, I cannot express how overwhelmed I am by everyone's reactions. You know, it's so overwhelming because every day I wake up to hundreds and hundreds of messages and comments in my DMs and on my posts about me serving as an inspiration to a lot of people. And it's honestly an accidental situation because I did not set out to do this to be inspirational. I just wanted to better myself. So, for me, doing this for myself but at the same time encouraging other people to go out there and be healthy is a double blessing. I'm still getting used to the fact that I'm serving as an inspiration to others, because it's a new feeling for me! I'm just so thankful because whenever they send me messages, it encourages me to work harder and stay focused and not let go. Being told that I'm an inspiration inspires me!"
ADVERTISEMENT - CONTINUE READING BELOW
Related Stories from Preview.ph
Photography by BJ Pascual
Creative Direction by Vince Uy
Grooming by Steven Doloso
Clothes from adidas Philippines
Special thanks to Gold's Gym Sheridan, Arnold Aninion, W Talent Management, and Century Tuna
Hey, Preview readers! Follow us on Facebook, Instagram, YouTube, Tiktok, and Twitter to stay up to speed on all things trendy and creative. We'll curate the most stylish feed for you!