It seems fate was on celebrity stylist Myrrh Lao To and his fiance Koko Gonzales' side. Finally deciding to tie the knot, the couple of more than 11 years flew to Melbourne, Australia to legally wed after originally having applied for a May 18 civil wedding. However, with the actual date out of their hands, the couple was given May 17 instead—and, unbeknown to them, they coincidentally said their "I dos" on the same day of IDAHOT (International Day Against Homophobia, Transphobia, and Biphobia), as well as Taiwan officially legalizing same-sex marriage.
"On the morning of our marriage, I saw quite a lot of social media posts about #IDAHOT and #RainbowDay and I just got even happier because it was a commemoration so close to what we celebrate and actually fight for," Myrrh tells Preview. "Plus, that day also marked Asia's first ever country to legalize same sex marriage! Love that the entire world has joined us make that day even more special."
ADVERTISEMENT - CONTINUE READING BELOW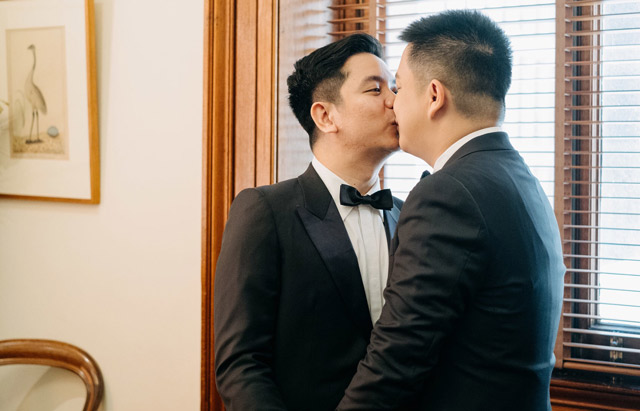 With luck and a whole lot of love on their side, Myrrh and Koko officially became husbands on a clear, hopeful Friday morning at the Old Treasury Building in Melbourne. Both looking dapper in their Yves Saint Laurent suits, they celebrated with their closest family and friends. "We personally have no guides or templates when we decided to take the next level. With just real life stories we found on the internet and the will to inspire other LGBTQ couples to be fearless and do the same, we just went for it, praying that one day everything will just be fair for everyone."
ADVERTISEMENT - CONTINUE READING BELOW
Recommended Videos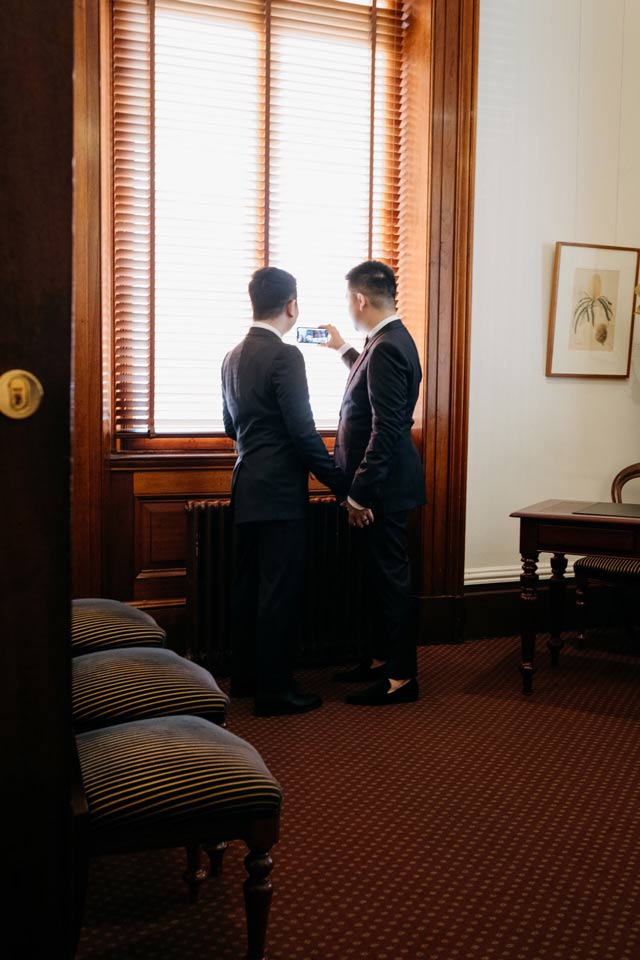 Below, we talk more to Myrrh and Koko about their wedding journey, their sweet proposal story, and what having the right to marry means to them.
First of all, congratulations on your wedding! How's married life been so far?
"Thank you! Koko and I have been together for 11 and a half years and nine years living together so nothing has really changed, except for the fact that we're legally married in Australia and we have a lot of new fun and happy memories to look back at."
ADVERTISEMENT - CONTINUE READING BELOW
May we ask about your proposal story? How did it happen?
"Koko proposed to me on our 10th anniversary last year, November 18. After dinner (we both love Japanese food, and eating a lot), he brought me to what used to be our first apartment—a corner room in a low-rise condo, while I was reminiscing and revealing to him that on our first month in that place, I used to look out the window and watch him walk to work until he goes further into the horizon and becomes too far I don't see him anymore—he knelt on one knee and asked if I'd be willing to take it to the next level. I cried before I said yes."