With hundreds of thousands of social media followers, local blogger Camille Co no doubt has a strong presence online. Still, she tries her best to maintain good rapport with her followers, which sometimes also means having to politely deal with internet bullies and trolls. It's not always an easy task, though—and it was made clear to Camille when another troll left a racist comment on her YouTube channel recently.
"I was just going through comments since I like engaging with my followers and replying to them as much as I can. [But] this particular comment caught my eye," Camille narrates to Preview. One user apparently left a comment on her bag collection video, which says, "I'm pretty sure that they're all fake 'cause she's Chinese, so she can get [them] in China for very cheap."
This prompted Camille to call him out. She replied, "I'm not from China, you stereotypical racist." In reaction, the user went on saying that all of Camille's bags are fakes because "everyone knows that there are very good imitations in Asia." This, according to Camille, was what made her post the screenshot on her Instagram stories.
Instead of simply deleting or blocking the person for his online negativity, Camille explains why she just couldn't let this one go. "I just had to reply because racism shouldn't be ignored. It's not even about the bags. I could care less about them. But racism, I don't stand for it. He should be made aware of this in the hopes of him realizing how discriminatory his statement is," Camille said.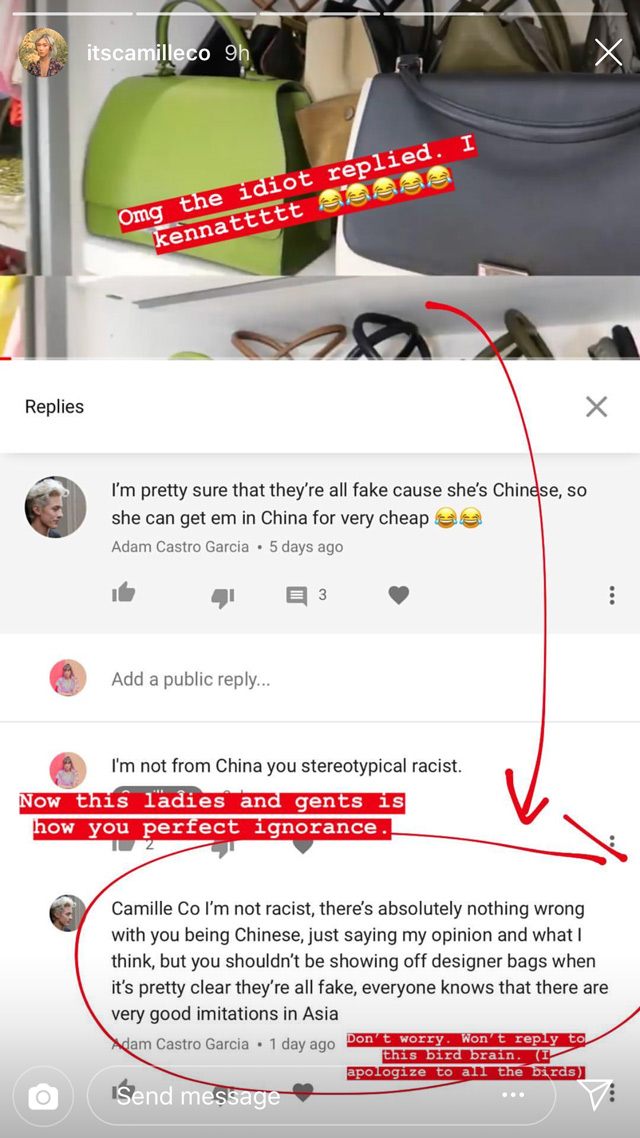 ADVERTISEMENT - CONTINUE READING BELOW
IMAGE INSTAGRAM/itscamilleco
"His reply clearly shows how narrow-minded and completely clueless he is. It just wasn't worth it. There's no convincing a person who thinks generalizing Chinese AND Asians, not to mention belittling them, is just an 'opinion' and not racist. He's so far off from the point, I don't even know where to begin," Camille said in an online interview with Preview.
"Internet trolls think they're brave in making these nasty comments but really, it only goes to show how cowardly they are—hiding behind their keyboards; and how truly ignorant and sad they are—with zero knowledge of proper values and ethics," she adds.
So how can one deal with these trolls with class and grace? Camille suggests you pick your battles since not all trolls need a reply. The better question is when to make a stand. "When they do cross the line and they go against your principles and beliefs, then by all means, clap back," Camille urges. "But don't bite their heads off. The goal is to hopefully educate them and make them realize things they weren't aware of."
Very well said, Camille!
Related Stories from Preview.ph
Hey, Preview readers! Follow us on Facebook, Instagram, YouTube, Tiktok, and Twitter to stay up to speed on all things trendy and creative. We'll curate the most stylish feed for you!