It's not new to say that Geneva Cruz is the queen of clapbacks against bashers. After many years of being in the public eye, the 46-year-old star has had her fair share of dealing with rude and hate comments. That said, she knows now exactly what to say to internet trolls who can't help but make harsh and unsolicited remarks about her body and whatever she's wearing. Scroll through her Instagram and Facebook profiles, and you'll definitely notice that the singer-actress has the most epic and empowering responses to body-shaming and aegist comments. Read on!
READ: All the times Geneva Cruz had the best responses to bashers
1. When she clapped back at an age-shaming comment
Last year, Geneva posted a bikini photo of herself on her Facebook page with the caption, "I was smiling yesterday, I am smiling today, and I will smile tomorrow simply because life is too short to cry for anything."
ADVERTISEMENT - CONTINUE READING BELOW

ADVERTISEMENT - CONTINUE READING BELOW
Recommended Videos
Geneva definitely did not condone the comment, and even responded to the user shortly after.

Geneva later on posted another comment to explain her response. "Minsan lang kasi napakadaling maging rude sa social media kasi hindi naman natin nakikita ang tao ng personal. We can even change our appearances and pretend to be someone else maka-sakit lang tayo ng kapwa natin," she wrote.
ADVERTISEMENT - CONTINUE READING BELOW
The singer-performer also added, "I'm 44 years old, but deep inside, I feel younger than those digits. Age is only a number, and you know why I look more youthful than my age? Because I choose to only wish my fellow people love and support....when someone needs uplifting; I'm all for it....I will remind that person that he or she is special. Life is too short to be remembered as someone rude and arrogant." You keep doing you, Geneva!
2. When she shut down a comment that called her the "ugliest" among Cruz cousins
In a reunion with her fellow celebrity cousins, Geneva posted a photo with Donna Cruz and Sunshine Cruz on her Instagram account. One user left an uncalled-for remark on the photo, comparing Geneva's looks to those of her cousins. The basher called her the "ugliest" out of the Cruz cousins, and even brought up her relationships.
ADVERTISEMENT - CONTINUE READING BELOW
In response, Geneva called out the netizen to condemn their behavior by first clapping back with an epic comeback.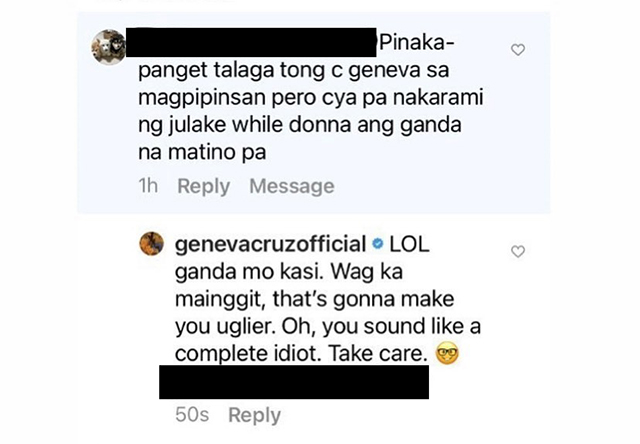 ADVERTISEMENT - CONTINUE READING BELOW
Geneva then followed with more statements on her Instagram and Facebook page. "First of all...Walang pangit sa pamilya ko. Walang pangit na tao. Ugali mo ang pangit, which makes you...pangit. You need a hug," she said. "I'm not affected sa sinabi nya, I love how I look, and I'm comfortable in my skin. Gusto ko lang sya i-highlight since yun ang gusto nya... 'ATTENTION.' Hehe! I can't with these bullies; sometimes, they need a dose of their own medicine to know they are making themselves look like complete fools at hindi cute ang ganong attitude kahit fake accounts pa sila." You go, Geneva!
3. When she posted a bikini photo with an empowering message
It's not uncommon for mothers to feel conscious while wearing a swimsuit. For Geneva, who's a proud mother of two, she believes that no one deserves to be shamed for being confident in their skin. In an IG post, this is exactly the message she wanted to share to her followers.
ADVERTISEMENT - CONTINUE READING BELOW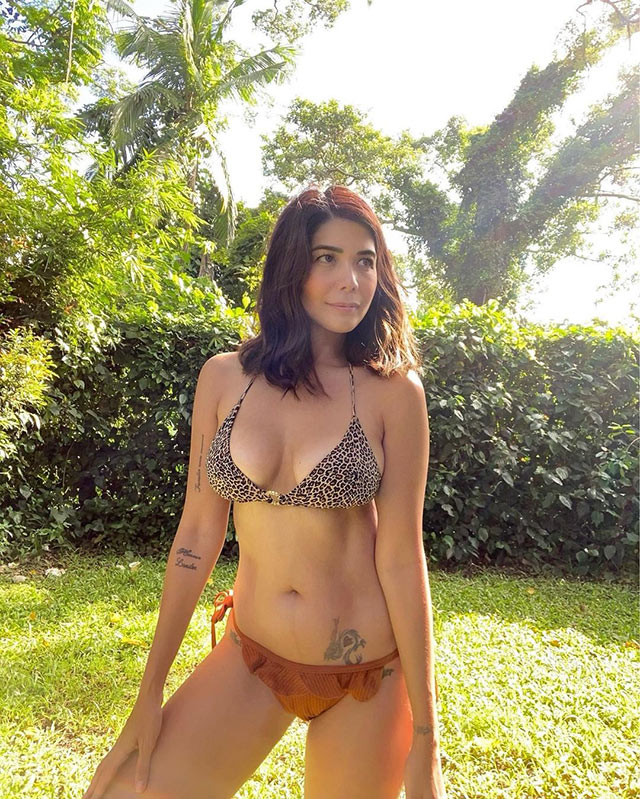 "Wearing a two-piece swimsuit on a beach or in a resort is more than okay, and no one should be shamed for it, and all women can rock it despite their biological age, weight, height, or skin," she wrote in her caption."Yes, to women supporting other women, and double YES to celebrating different types of 'imperfect beauty' because no human is perfect." Thank you for inspiring us, Geneva!
ADVERTISEMENT - CONTINUE READING BELOW
4. When she had the best reponse to a body shamer who commented "ang itim ng singit"
By now, it's quite clear that Geneva is not one to shy away from a swimsuit photo. In a trip to Boracay for a much-deserved vacation, she documented the occassion with a photo of herself looking amazing in a red bikini.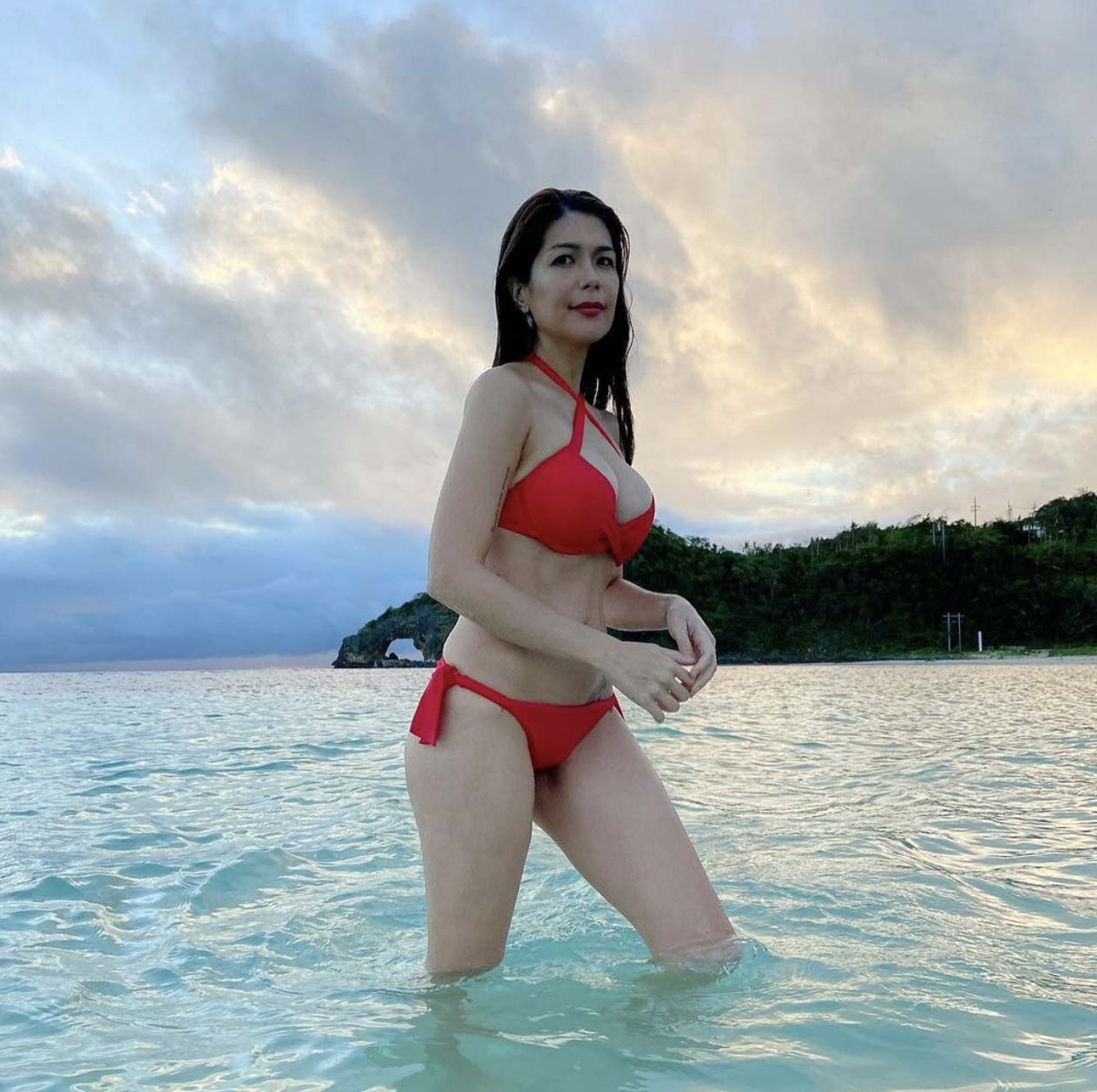 ADVERTISEMENT - CONTINUE READING BELOW
One netizen made an tasteless comment, saying Geneva's bikini area was dark, and her reply was empoweringly straight-forward: