Coming up with a fine itinerary is hard work, especially if you want everything to cater to your exacting taste. So, if you're visiting a country for the first time, like say, South Korea, and you also happen to be quite the well-bred fashion girl, then the task is even more challenging.
Thankfully, we have each other to run to for advice, and one girl we can all take tips from is Mikka Padua, founder of e-commerce website Seek The Uniq. She recently went on a trip to Seoul, and if her sophisticated brand is any indication, you can bet that the itinerary was very, very aesthetic. Not only did she maximize all the touristy spots but she also squeezed in some time to go vintage shopping and cafe-hopping, all while flaunting her chic OOTDs. Here's everything she did during her four-day trip:
Day 1
1. Stay at Ryse Hotel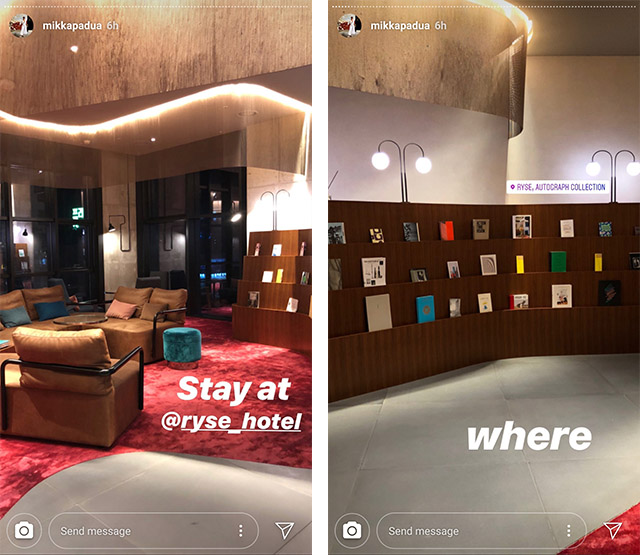 ADVERTISEMENT - CONTINUE READING BELOW
Everything in Ryse Hotel is a visual feast that will satisfy even the pickiest aesthetes. "Everything is well thought out," Mikka shared on her Instagram stories. Evidently, Ryse Hotel, located in the heart of Hongdae, really was created for "creative originals." The Instagrammable hotel has rooms for the "artist," the "editor," the "creator," and basically, every position up the ladder. Plus, there's a coffee bar and club you could hide away in.
2. Start the day at The Famous Lamb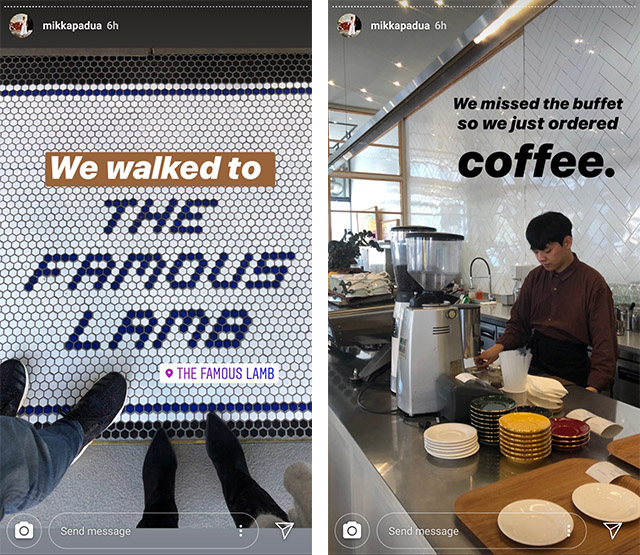 If you're a big breakfast person, then you have to head to The Famous Lamb, a cafe that serves a hefty breakfast buffet! According to Timeout, must-tries include the cinnabon buns, ciabatta rolls, and fig-cranberry baguettes. Althogh Mikka missed out on the breakfast, she drank up on coffee, which was still worth the visit.
ADVERTISEMENT - CONTINUE READING BELOW
3. Walk around Dongdaemun Design Plaza (DDP)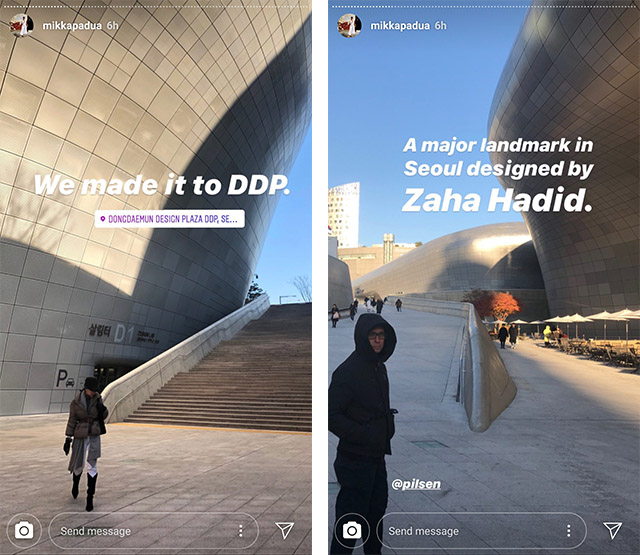 A popular tourist destination and architectural landmark, Dongdaemun Design Plaza (DDP) was designed by Zaha Hadid and design firm SAMOO. It is marked by its neofuturistic design and is one of the reasons that Seoul was recognized as the World Design Capital in 2010. Plus, it's gray curves and massive space serve as the perfect backdrop for your photos!
ADVERTISEMENT - CONTINUE READING BELOW
4. Have Korean BBQ for dinner
Cap off the day with a heavy dinner (to make up for all the calories you burned while walking—or shopping—everywhere)! It's the perfect dining option if you're traveling with a big group. Everyone loves KBBQ right? Here, The Culture Trip shares some of the best KBBQ joints in Seoul.
Day 2
1. Get your cultural fix at Gyeongbokgung Palace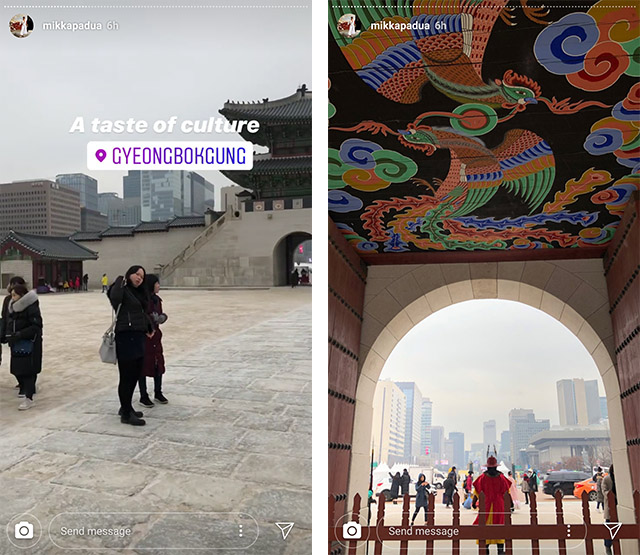 ADVERTISEMENT - CONTINUE READING BELOW
The Gyeongbokgung Palace, also known as the Northern Palace, is largest of the Five Grand Palaces built during the Joseon dynasty. It's every foreigner's must-see historical place. Tip: Visit the Hyangwonjeong Pavilion within the palace grounds. It's a two-story pavilion in the middle of a beautiful lake!
2. Spend idle time at Gyeongbokgung Station
Even the subway stations have sights to see! Mikka enjoyed looking at the cool art in Gyeongbokgung Station, which carries a lot of artifacts from various dynasties.
3. Spend the afternoon at Bukchon Hanok Village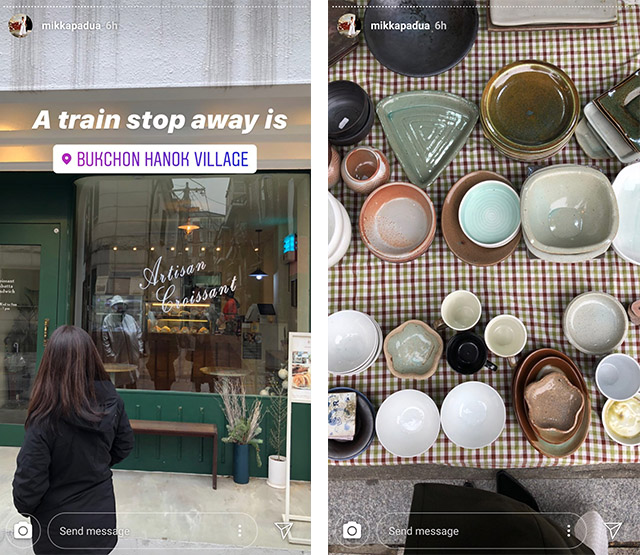 ADVERTISEMENT - CONTINUE READING BELOW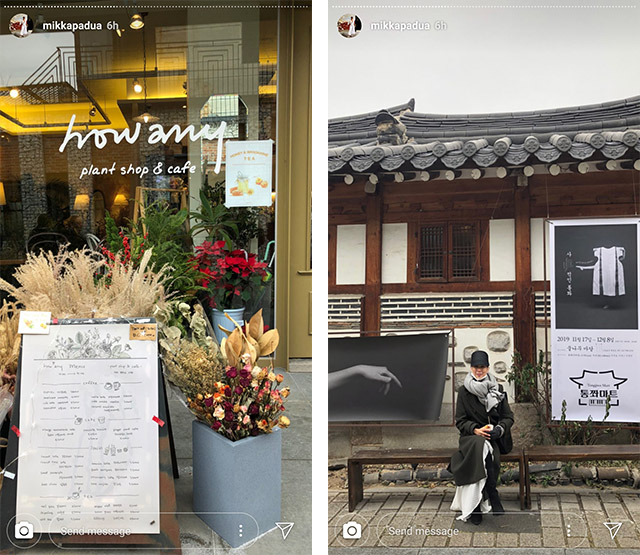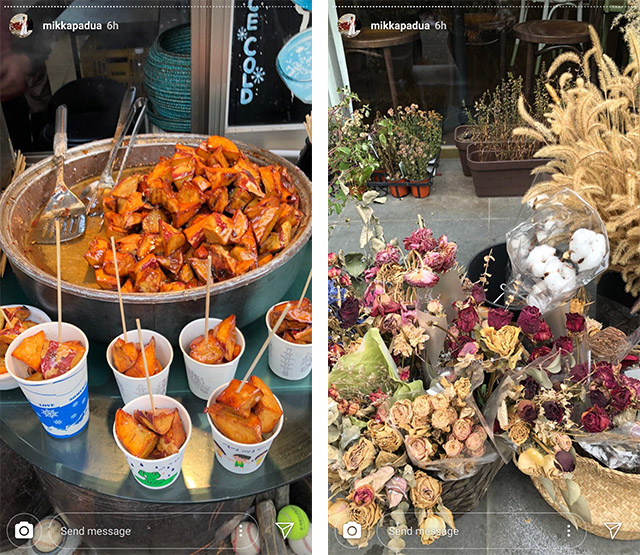 ADVERTISEMENT - CONTINUE READING BELOW
A quick getaway from the hustle of city life is Bukchon Hanok Village, a traditional village atop a hill that not only offers breathtaking views but is a sight to see in itself. Make sure you take photos in this gorgeous spot! You can even rent out hanboks (the traditional Korean dress) if you want the full experience.
4. Spend the evening at Garosu-Gil Road in Sinsa-Dong Garosu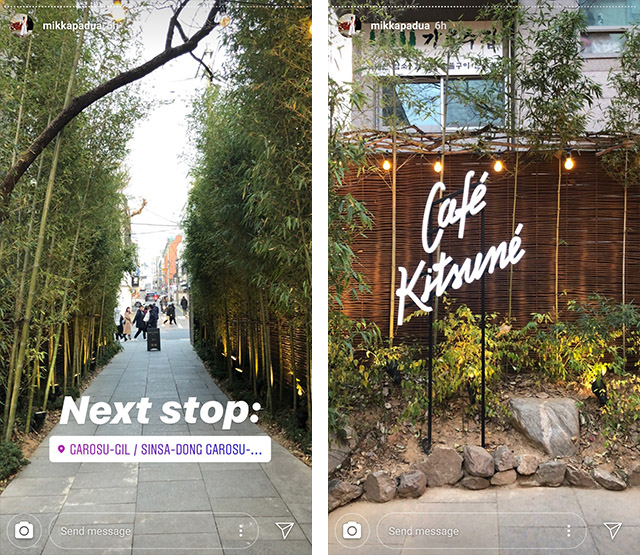 ADVERTISEMENT - CONTINUE READING BELOW
Garosu-gil means 'tree-lined street' in Korean, and this specific promenade in Sinsa-Dong Garosu is one for the books because it's every artist's dream street: quaint cafes, cute shops, and unique finds everywhere.
5. Visit Cafe
Kitsuné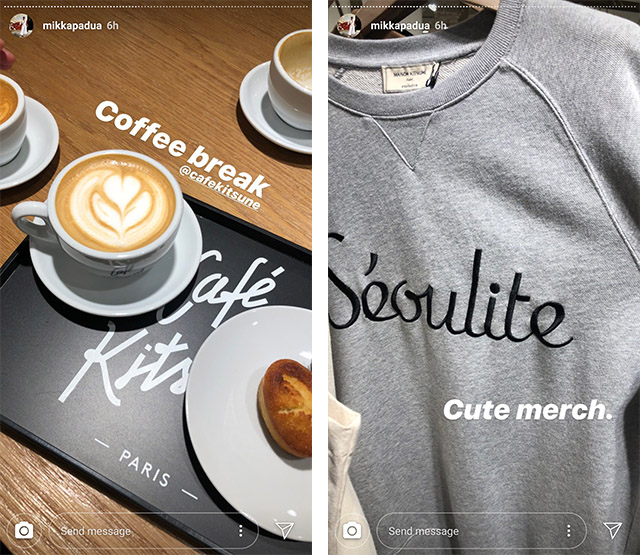 Maison Kitsune set up shop in Korea just last year, so it's obviously a must-visit for every fashion girl looking to experience the French-Japanese cult brand. It's conveniently located along Garuso-Gil, so you could take a break from all the perusing by stopping by here.
ADVERTISEMENT - CONTINUE READING BELOW
6. Take a breather at Aesop
A spot that beauty enthusiasts will definitely appreciate is the sleek-looking Aesop store in Garuso-gil. Its simple and modern design is inspired by Seoul's "overlooked elements" such as sun, sky, ginkgo trees, and tranquillity.
7. Hoard beauty goods at Village 11 factory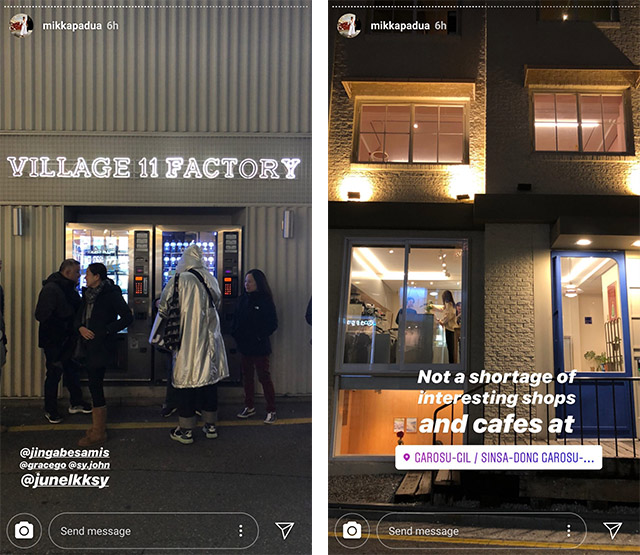 Village 11 Factory is basically beauty heaven. It's one of the largest multi-brand beauty stores in South Korea. What sets this place apart from typical department stores is its setup: every brand has its own little nook or corner for an immersive experience.
ADVERTISEMENT - CONTINUE READING BELOW
8. Shop for sustainable finds at Granit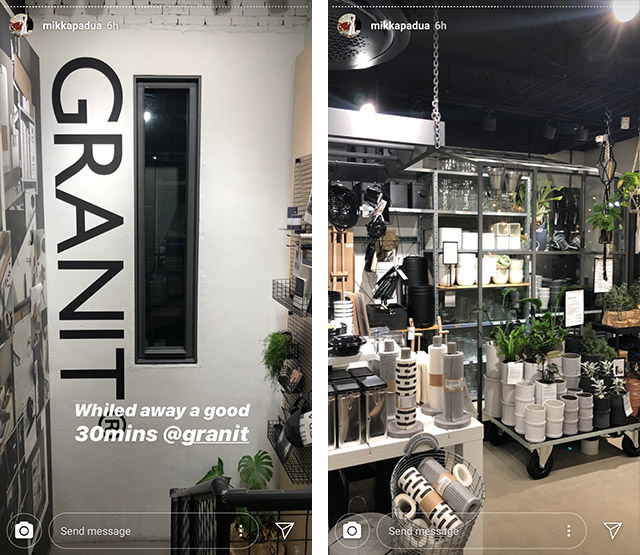 Conscious consumers will have a field day at Scandinavian lifestyle brand Granit, also located along Garuso-gil. All the minimalist home essentials marry form and function and are created with environment-friendly materials. The store itself is a welcome respite from your tiring adventures.
ADVERTISEMENT - CONTINUE READING BELOW
9. Dinner at James Cheese Back Ribs
Sink your teeth into one of Korea's signature dishes, Korean baby back ribs! James Cheese Back Ribs has many branches around Seoul, so you can easily get your fix wherever you are. Expect to be served a hot iron plate with baby back ribs and melted cheese in the middle, surrounded by other mouthwatering side dishes like sweet potato and egg.
ADVERTISEMENT - CONTINUE READING BELOW
Day 3
1. Pose for the gram at
Cafe Yeonnam-dong 223-14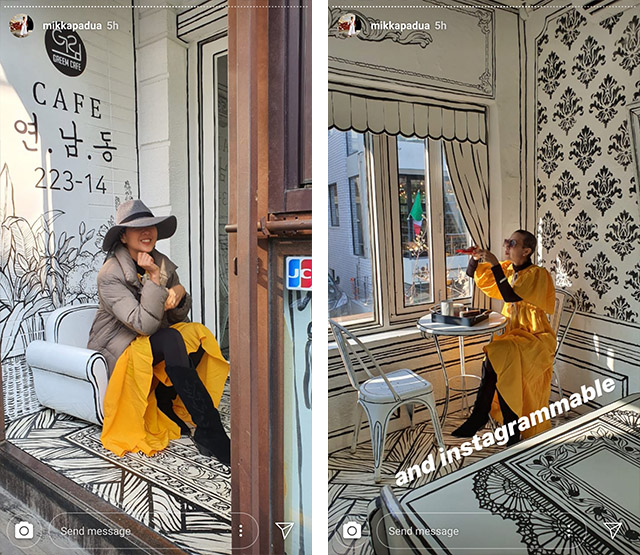 ADVERTISEMENT - CONTINUE READING BELOW
We've already disucssed how cool this cafe is, and the fact that it landed on Mikka's itinerary just seals the deal. What makes this Instagrammable cafe worth the visit is its comic book-inspired interiors marked by its all-white surfaces that are outlined with black paint to make it look exactly like a storybook page.
2. Drink more coffee and cocktails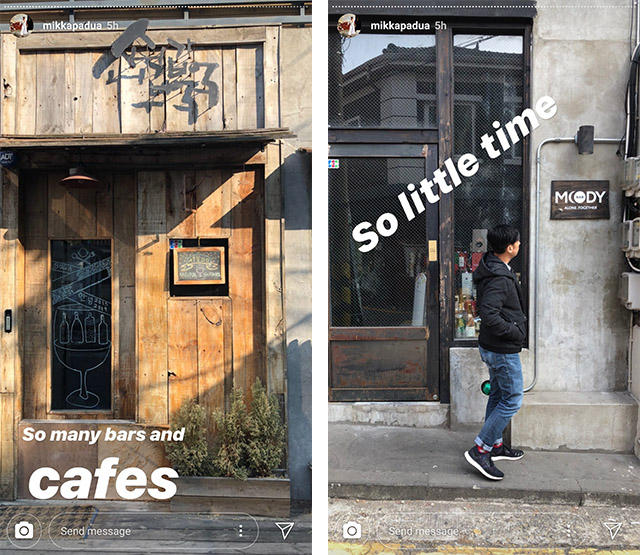 ADVERTISEMENT - CONTINUE READING BELOW
Mikka was evidently thrilled by the number of interesting restaurant, cafes, and bars that dot the entire area. There were too many places and so little time!
3. Stroll around Hongdae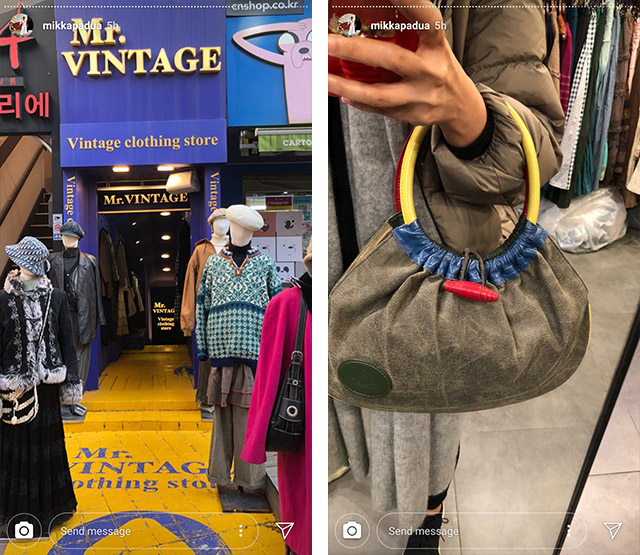 Hip neighborhood Hongdae is a must-visit for everyone who appreciates unique goods that are hard to find elsewhere. Mikka explored the cool area (home to youthful brands!) and went shopping in various stores, including Mr. Vintage.
ADVERTISEMENT - CONTINUE READING BELOW
Day 4
1. Bond with friends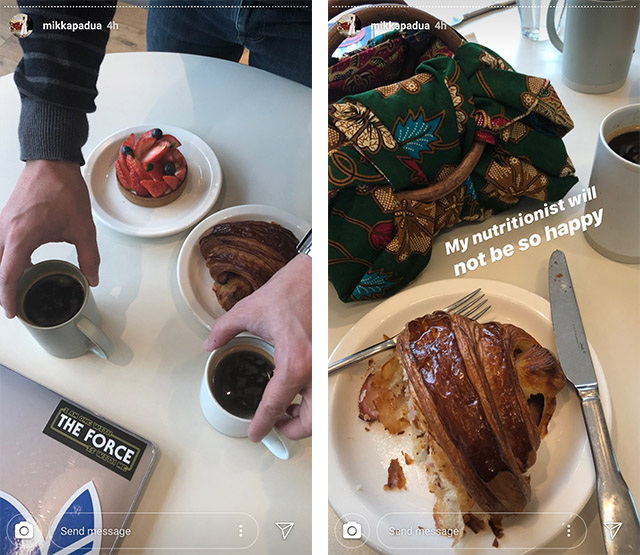 For Mikka's last day in Seoul, she had a simple breakfast of croissants, pastries, and coffee. She browsed through more stores such as Vintage Ralph and spent time with the group for lunch.
2. Visit the shopping area of Myeongdong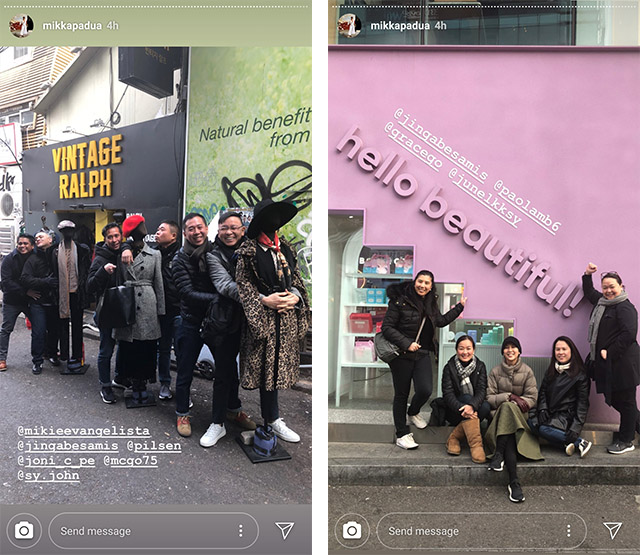 ADVERTISEMENT - CONTINUE READING BELOW
Maximize your time in Seoul by taking more photos at IG-worthy spots that are aplenty at Myeongdong! Here, Mikka visited the pink Banila Co store, but you can also visit Style Nanda Pink Hotel, Urban Space (there's a ball pit here!), and the Innisfree Green Cafe.
3. See the Starfield Library at the COEX Mall
ADVERTISEMENT - CONTINUE READING BELOW
Before Mikka jetted back to MNL, she pandered to her bibliophile self by browsing through the many, many books at the Starfield Library, a public library featuring a wide range of genres and even occasionally hosts reading events.
Although Mikka confessed that she was initially hesitant to visit Seoul because she isn't a fan of K-pop or K-drama and doesn't eat Korean barbeque, her final verdict was: "Seoul is not bad at all. I'd like to think of it as the fun and notorious cousin of Tokyo and I'm so glad I went."
Related Stories from Preview.ph
Hey, Preview readers! Follow us on Facebook, Instagram, YouTube, Tiktok, and Twitter to stay up to speed on all things trendy and creative. We'll curate the most stylish feed for you!