After making a mark on our screens just last year, more and more Boys' Love series are finally being produced locally. One of the latest Filipino BLs to drop on Netflix is Ben x Jim, a contemporary story about childhood best friends Ben (Teejay Marquez) and Jim (Jerome Ponce), who reconnect during the onset of the COVID-19 pandemic. Over the course of the two seasons the show has had so far, the star-crossed lovers struggle to reclaim their relationship amidst family drama, third parties, and the challenges that come with being queer in today's world.
So is Ben x Jim worth the binge? Read up on our review and decide for yourself.
What I liked about it:
We hear both Ben and Jim's sides of the story.
One of the main themes of the series is how the stars are aligned (or aren't aligned) for the two central characters. Both Ben and Jim look at the same night sky from different perspectives, and throughout two seasons, we get to witness both sides.
ADVERTISEMENT - CONTINUE READING BELOW
It kicks off with Ben narrating how elated and thrilled he is that his childhood best friend is coming home to their neighborhood after eight years. In the first season, we see how their relationship budded, how it has blossomed, and how it wilted from Ben's perspective. We feel for Ben when he's jealous of his best friend's girlfriend Yana (Sarah Edwards), or when he's distraught that he has to leave Jim.
Come Season 2, with the series retitled as Ben x Jim Forever, we shift gears and see how the story went down from Jim's point of view. From there, it's shown how mutual the attraction between the two actually was, which would explain some lapses in character development from Jim in the first season. Viewers learn more about Jim's relationship with his father, and how this has broken him. We have an equal appreciation for the two boys, and we're able to look into both of their thought processes and feelings.
It doesn't hold back on its commentary about LGBTQIA+ issues.
The rise of BLs in the country has done a great deal in making queer stories more visible and mainstream, and Ben x Jim contributes to that progress. With Ben being more open about his identity, Jim gets to learn about political correctness when it comes to LGBTQIA+ terms and issues. This is further and more intentionally explored in the second season, with the passing of the SOGIE Bill being an underlying discussion throughout the eight episodes. Transgender characters (rightfully played by transgender actors EJ Jallorina and Rica Castano) are introduced, and the spectrum of sexuality and gender are duly discussed. It even touches on themes of internalized queerphobia, workplace discrimination, cancel culture and the need for sex positivity.
ADVERTISEMENT - CONTINUE READING BELOW
What I didn't like about it:
There's too much going on.
The very foundation of the series is the friendship-turned-romance between the two lead characters, yet the story tends to become too convoluted or fast-paced at times that we lose focus of them. The narrative starts to lack cohesion in the first season when numerous conflicts arise, and we lose sight of the main plot. This is exacerbated in the following season, with even more side characters and subplots coming into the mix. While these all provide commentary, some of them can come off as arbitrary, and pulling the focus back to Ben and Jim's relationship starts to seem a bit forced.
Some storylines are also haphazard or inorganic, with minimal character development to support the chances of them naturally occuring. A prime example of this would be Ben suddenly choosing to come back to the "outside world" after disappearing for six months. The context of the story unfolding in the middle of a pandemic then becomes an afterthought, with elements indicative of the health crisis, such as mask wearing and physical distancing, being inconsistently portrayed.
ADVERTISEMENT - CONTINUE READING BELOW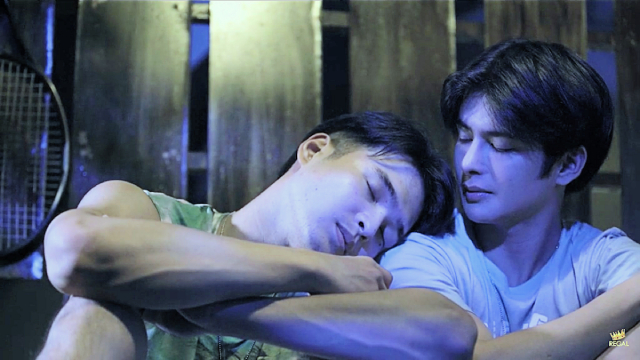 It tends to bank on narrative and character clichés.
Ben x Jim has that charming allure audiences have grown to love in BLs, but what it lacks is its own original take on the genre. Firstly, we have the usual cast of character archetypes one can expect: the supportive best friend, Flo (Kat Galang), and the respective third parties, Yana and Olan (Ron Angeles). Their characterizations come off as formulae, failing to add any interesting layers to the overall story. Yana and Olan fall into the "broken-people-find-each-other" template, and even with her own love life in the latter season, Flo is stuck being Ben and Jim's third wheel.
ADVERTISEMENT - CONTINUE READING BELOW
The show had great potential to separate itself from the usual strangers to lovers set-up prominent in other local BL series; instead, it failed to maximize its unique premise of having the central characters be childhood friends. It could've given more emphasis on the history of the two leading men, rather than incorporating additional characters and storylines.
So should you see it?
While its true essence can get lost at times, at its core, Ben x Jim is a look into the dynamic times we live in today. With what we've seen so far, it's safe to say we haven't seen the end of Ben and Jim's chronicles just yet. The inherent ambiguity in some of its plot points could most probably be avenues for the story of the two boys to continue on in later seasons. At the end of the day, it's a BL that intentionally mirrors all of the nuances and contexts of our generation, and it's worth a shot if you're in for something relatable, and easy to watch.
ADVERTISEMENT - CONTINUE READING BELOW
Related Stories from Preview.ph



Hey, Preview readers! Follow us on Facebook, Instagram, YouTube, Tiktok, and Twitter to stay up to speed on all things trendy and creative. We'll curate the most stylish feed for you!