As big of a help foundation and concealer can be, using them alone doesn't necessarily produce the most realistic effect. It's only after you apply your blush and your contour that your features actually pop (or reappear, if you went a little heavy on the coverage) and have everything looking less makeup-y, and for that reason alone they deserve more praise. The only thing left for you to do really is to know how to play these products up to your advantage, and who better to ask than a makeup artist who has aced the Instagram-ready face?
Makeup artist Nam Vo has amassed a huge following on social media for her hypnotizing take on glowing skin. She moisturizes and highlights until her client gleams like—in her words—"a dewy dumpling." Despite being known for glow, however, what I love about Nam's work is how she sculpts and colors the complexion to be able to pull off that much luminosity. And during her makeup demo in collaboration with Bench Beauty, we got to witness her techniques in the flesh. In fact, we rounded up her best ones below.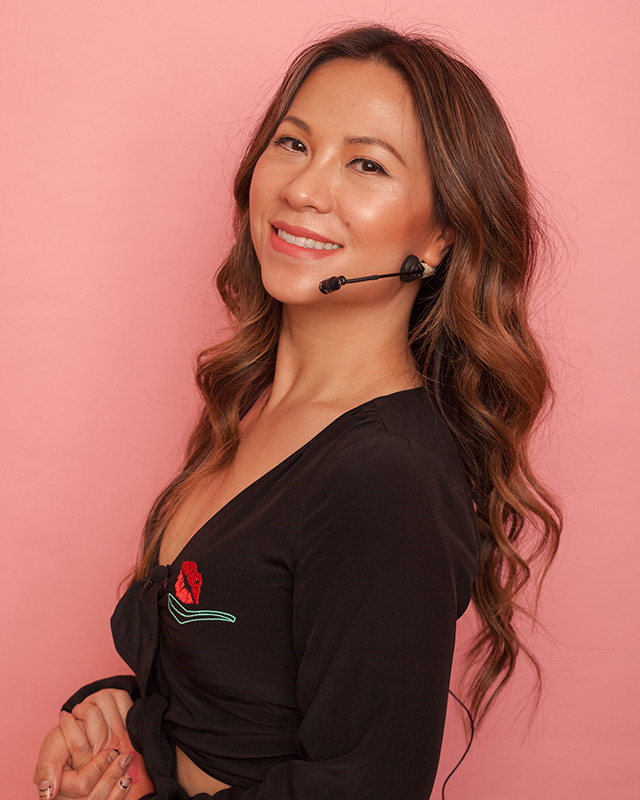 1. Contour your face, regardless of its shape.
Nam's philosophy for contouring is to make the face sort of look like burnt toast—light at the center and dark at the edges. This gives her clients' mug a three-dimensional effect that registers well in photos. That's why no matter her client's face shape, she contours their forehead, cheeks, and jaw, and then highlights the center of the face.
ADVERTISEMENT - CONTINUE READING BELOW
If you're a contouring novice, master the technique by starting on your cheeks first. Nam says that it's the easiest way to cheat a more V-shaped face, in case you needed an incentive! "Put a brush from the corner of your mouth towards your ear—this is where you're the sharpest and that's where you want to slice your contour," the makeup artist explains. Use a contour stick like Bench Beauty's (P199, Bench) for a fuss-free application, and then use a brush or your fingers to blend out the line.
2. Clean up the edge of your contour for a more defined look.
If you prefer a natural contour, you can stop at number one. But if you want your cheeks to look more chiseled, Nam has a cool trick you can try. Take a concealer that's at least one shade lighter than your skin tone, and then apply it right underneath where you contoured your cheeks. You can do the same thing with powder, too, and then watch the effect take form almost immediately.
ADVERTISEMENT - CONTINUE READING BELOW
3. Be careful where you apply your blush.
Your blush application affects the overall dimension of your face, which is why if you're aiming for that V-shaped look, pay closer attention to where you put it. According to the makeup artist, the quickest way to find out where to put blush is to look in the mirror and smile. "The meaty part [when you smile] is the apple of the cheek—that's where blush goes," said Nam. Avoid putting blush too high or too low because aside from not looking natural, it won't look as flattering.
ADVERTISEMENT - CONTINUE READING BELOW
4. Highlight with a non-glittery formula for a natural glow.
Of course, you can't have a Nam Vo makeup demo without some glow. Since our weather is too humid for intense skin prep, add some luminosity to your face with highlighter instead. Nam used Bench Beauty's highlighter stick (P199, Bench) during her demo, which is perfect for a natural-looking sheen. "[It's] not too shimmery, not too wet—just a nice moist formula," she said. Add highlight to areas like the center of your nose, the highest point of your cheekbones, and the center of your chin to make them pop.
ADVERTISEMENT - CONTINUE READING BELOW
5. Only powder in specific areas to retain your skin's glow.
We weren't surprised that the most common question people asked Nam is about achieving dewy skin on an oily complexion. It's something we were curious about, too, and the answer is simpler than expected. She battles shine with precision powdering, or basically applying powder only on certain places instead of all over. "I like light [to] come from every angle of the face, but it's really the smile lines [and the center of the face] that you don't want to be shiny," explains Nam.
ADVERTISEMENT - CONTINUE READING BELOW
Related Stories from Preview.ph
Hey, Preview readers! Follow us on Facebook, Instagram, YouTube, Tiktok, and Twitter to stay up to speed on all things trendy and creative. We'll curate the most stylish feed for you!