The moon is nothing short of magical; and for some, it may even have a special meaning. To preserve those special memories, or simply adorn yourself with its elegance, getting a moon tattoo is the way to go!
You can choose different moon phases and shapes for yours, or you can even include cute elements like your pet. It helps that the moon can symbolize many different things, too, allowing you to add your own special and meaningful touch to the popular tattoo design.
With tons of options out there, we totally understand how stressful it can be to pick that perfect tattoo; especially if it's your first time. Going back and forth between pictures and websites can make you even more confused about what to go for. But don't worry, we've got you covered! Here, we list 11 minimalist moon tattoo ideas that you should consider for your next ink session!
ADVERTISEMENT - CONTINUE READING BELOW
11 Moon Tattoo Designs and What They Could Mean
1. Half-Moon, Half-Sun
This tattoo may be simple, but it's just as eye-catching and magical as the rest. Symbolizing harmony and unity, here, the sun and moon meet halfway and are together as one. It's a great option for arm and leg placements and can perfectly suit those who want a more understated tattoo.
This simple design can also represent the concept of having the past version of yourself meeting your present self, and coming together despite being as different as night and day. Note that the moon symbolizes renewal and transition, so you can play around with that when coming up with your own design!
2. Floral Moons
Flowers are beautiful as is, and they are great tattoo options in their own right. But why not try combining the beauty of flowers and the enchanting moon into one? If you have any memorable flowers in mind, like your birth flower or meangingful flowers like a daisy or a rose, you can incorporate those into your moon tatt for a personal touch. Colored or fine-lined, floral moons are a great choice for those who want to immortalize a floral design with the whimsical look of a moon.
ADVERTISEMENT - CONTINUE READING BELOW
3. Pet and Moon
If you want to commemorate your pet or even your love for animals, try including them into your minimalist moon tattoos! This design is great for smaller areas like your wrists and ankles for that cute and dainty feel. We recommend this design to those who are just beginning their tattoo journey and want something a bit more playful. Now you can take your companion with you wherever you go!
ADVERTISEMENT - CONTINUE READING BELOW
4. Moon Phases
One of the most popular and classic moon tattoo designs would have to be moon phases, and we can see why! This tattoo will call out to your inner astronomer and it will fit perfectly in areas with more space in order to accommodate all the phases. There are numerous design styles for this type of tattoo, you can opt for either the minimalist or more detailed approach, but it will still look amazing regardless of what you choose. The phases of the moon represent transformation, and can even reference the phases of your life. Whether it be about your age, individual growth, self-love, it's no difficult to resonate with such a meaningful design.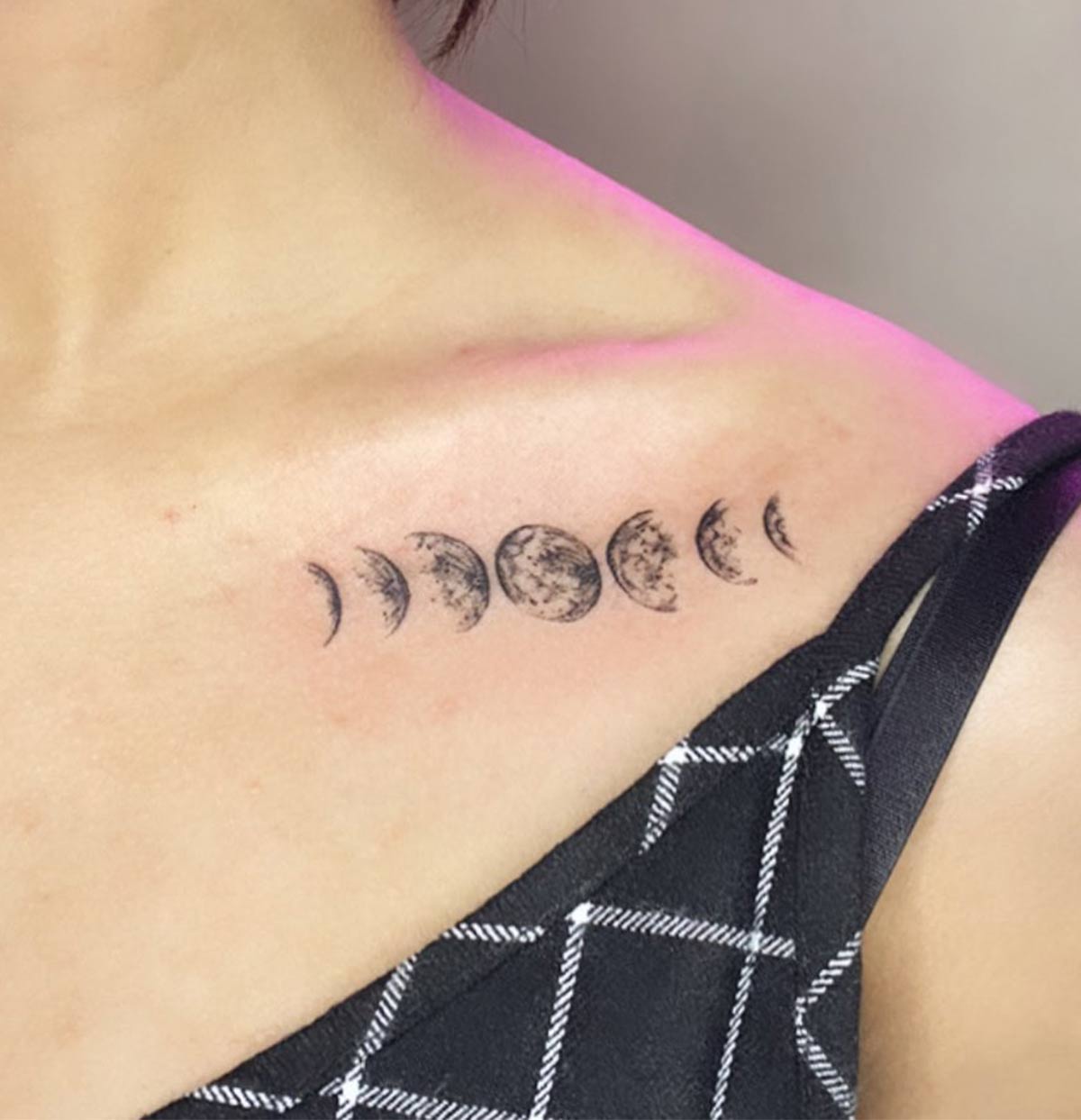 ADVERTISEMENT - CONTINUE READING BELOW
5. Moon and Sea
This design offers a new and creative take on moon tattoos, especially if you have a memory associated with the sea. It can stand for all the peaceful walks at the beach you take at night, and the moment of peace tht delivers. Not only will it preserve those beautiful memories, you can't deny that it's such an elegant design!
ADVERTISEMENT - CONTINUE READING BELOW
6. Cartoon-inspired/Doodle
To conserve those integral parts of your youth, you can opt to include your favorite childhood movies in your moon tattoos for a refreshing touch. Here, we have a simple crescent moon featuring a house inspired by the one from Pixar's Up. We love how the minimal, doodle-like style gives such a youthful energy to the design!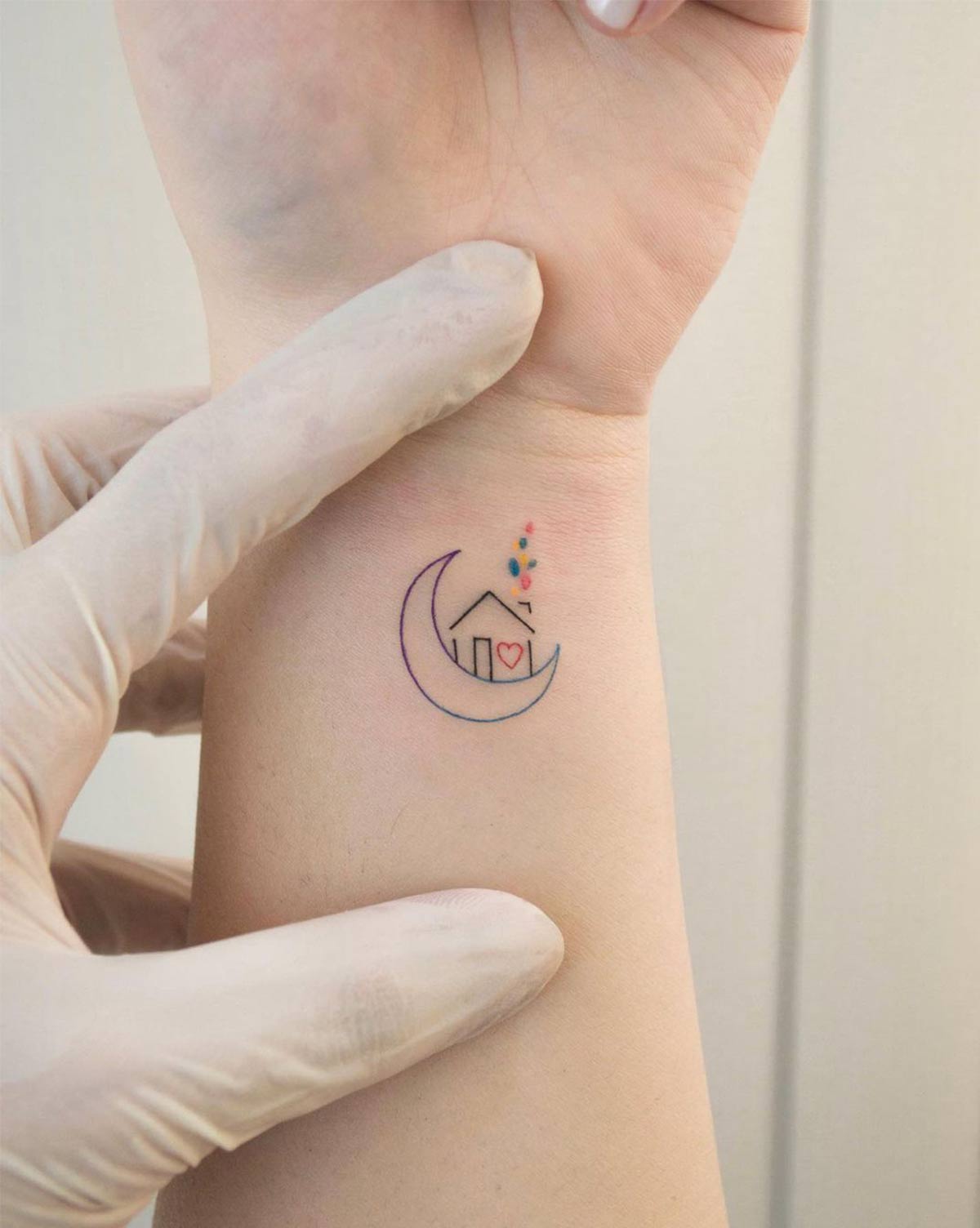 ADVERTISEMENT - CONTINUE READING BELOW
7. Astronomer
This tattoo is perfect for adventurous people with have a strong sense of wanderlust. It would look amazing on big areas like your back and arm, and it will certainly be a conversation starter. Dreamy and creative, this design is the epitome of imagination; maybe you can see yourself as the astronomer shooting for the moon, which can represent your goals.
ADVERTISEMENT - CONTINUE READING BELOW
8. Full Moon
Another classic that will stand the test of time is the full moon tattoo. This is a more detailed and realistic option compared to others in this round-up, but it will shine in small areas of your body like the wrist of forearm wonderfully. A full moon typically symbolizes completion, fertility, and abundance; and if that sounds appealing to you, we say go for it!
ADVERTISEMENT - CONTINUE READING BELOW
9. Watercolor Moon
Want something more fun? Try a watercolor version of the full moon on your arm for a bold statement. It's an intricate design that people can spot from far away! We love that it's is a more elevated and striking version of the classic, and it captures the beautiful image of the moon with a colorful explosion from a supernova. Consider this option if you're interested in trying out something new and more vivid than a black-and-white ink!
ADVERTISEMENT - CONTINUE READING BELOW
10. Moons with Stars
This dainty ink is another optimal choice as a first tattoo. Minimal and relatively small, this moon design can fit beautifully on your wrist and shoulder like it is here. The best part about it is that the world is your oyster, you can go for a moon and a single star or even a whole colorful galaxy!
ADVERTISEMENT - CONTINUE READING BELOW
11. Moons with a Touch of Geometry
If you are the daring type, this may be the moon tattoo for you. This geometric moon tattoo is certainly not for those who are into small motifs, but it's a stunning choice nonetheless. Its intricate design can signify that wherever you go, or whichever direction you face, the moon will always light your way through the night.
ADVERTISEMENT - CONTINUE READING BELOW
Related Stories from Preview.ph
Hey, Preview readers! Follow us on Facebook, Instagram, YouTube, Tiktok, and Twitter to stay up to speed on all things trendy and creative. We'll curate the most stylish feed for you!