While many celebrities choose to stay mum about their insecurities, some speak up in order to empower others. Lili Reinhart, who has always been open about her struggle with acne, achieved a new feat with her skin positivity.
"I have a cystic breakout on my forehead currently. And I had to do a photoshoot all day long," she writes on her Instagram story. "I had to put my biggest insecurity on display. There was nowhere to hide."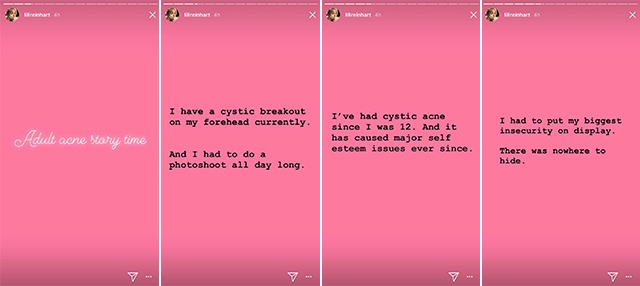 IMAGE INSTAGRAM/lilireinhart
According to Lili, she couldn't help but feel conscious about her acne all throughout the shoot. "All I could think about when I was in front of the camera were the pimples on my forehead," the actress confesses. And in times like this, she reveals that she turns to her mom for comfort—"I tell her how ugly I feel and how these breakouts shatter my confidence every time they appear." The crippling insecurity that comes with having acne gets to her, too, going as far as saying that she's unsure if she'll ever accept her skin the way it is.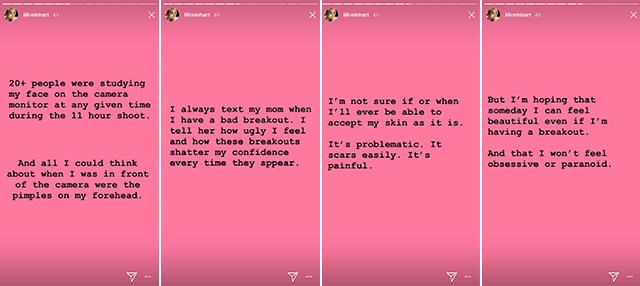 ADVERTISEMENT - CONTINUE READING BELOW
IMAGE INSTAGRAM/lilireinhart
However, the Riverdale star is also hopeful that the feeling will fade, which is why she chooses to talk about acne openly. "Because maybe if I normalize my broken-out skin, more people...including myself...will be able to feel okay about their skin," she reasons. In the next panel she adds, "My breakouts don't define me."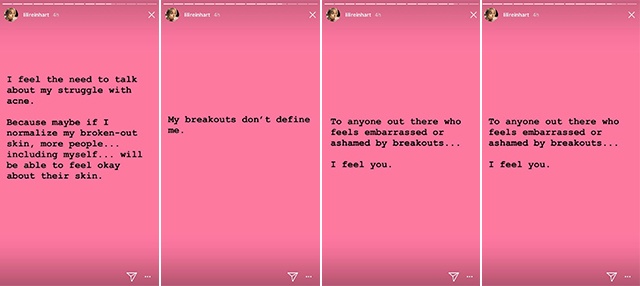 IMAGE INSTAGRAM/lilireinhart
Her series of posts ends with her encouraging her followers to share their own skin story through the hashtag #breakoutbuddy. "We have each other. So let's get through this acne experience together," she says.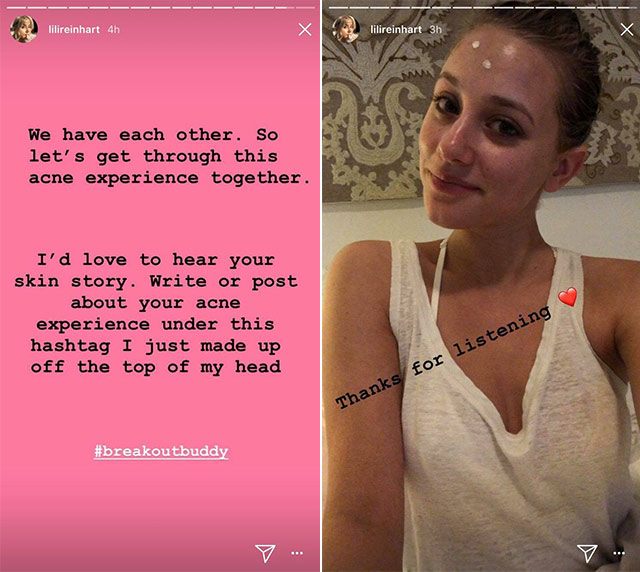 IMAGE INSTAGRAM/lilireinhart