Last June, true-blue Preview girl Anne Curtis fronted our cover clad in our top picks from the Panasonic Manila Fashion Fest (PMFF) held last April 2018.
We dressed Anne in selected designer pieces that showed impressive potential in terms of the designer's inspired theme and creativity, craftsmanship, and overall coherence as a collection.
Additionally, it's only fitting that we feature promising local designers as a prelude to our new venture into the digital era, don't you think? Below, get inspired by our top 10 PMFF collections for this season.
1. Martin Bautista
Martin Bautista wields familiar prints and fabrics to form a fresh and modern collection. He merged natural elements like floral prints with various man-made materials like PVC, tulle, and sequins to make a futuristic collection designed for a fashion-forward urbanite. His collection showcases a new way for soft blooms to be worn and be incorporated into the wardrobe of a city gal.—SS
ADVERTISEMENT - CONTINUE READING BELOW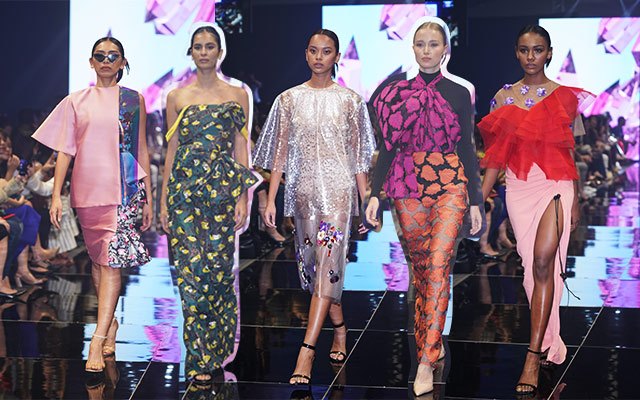 IMAGE Ryan Ong, Andrew Co
2. Yong Davalos
Yong Davalos is riding the retro wave, but departs from the athleisure-inspired interpretation of the '80s. Instead, he explores the decade's structured and bold silhouettes that depict a modern and strong woman. He makes retro dressing au courant with his collection filled with bold orange accents that go well with structured houndstooth blazers, complemented by floral suits for a feminine take on power dressing. He tops it all off with a sequinned body-hugging dress because what is the '80s if it isn't loud, right?—SS
ADVERTISEMENT - CONTINUE READING BELOW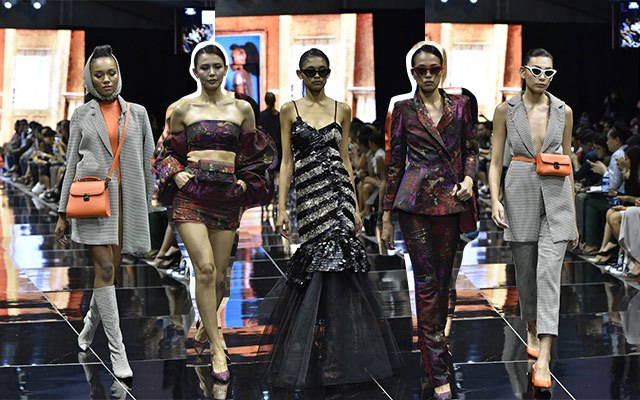 IMAGE Ryan Ong, Andrew Co
3. Rob Ortega
Rob Ortega visualizes the modern Filipina as a woman with authority and confidence. He's dressing her in sultry silhouettes and shine that juxtapose edgy detailing like rock-sized crystals, silver chains, and vine-like sequinned appliqués on soft tulles and supple velvet. If you've got the body to flaunt and are looking for a standout look, Rob definitely has you covered with this collection.—SS
ADVERTISEMENT - CONTINUE READING BELOW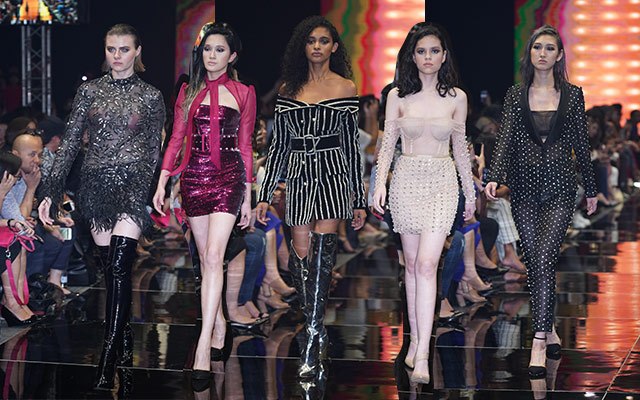 IMAGE Ryan Ong, Andrew Co
4. Jun Escario
If there is one thing that Jun Escario has mastered, it's glamour; and this collection did not disappoint. While he catered to the modern woman's need for ease of movement—the assortment of pants and fluid dresses is indicative of this—the pieces were certainly not lacking in feminine flair thanks to feathers, embroidered flowers, pleated palazzos, and thigh-high slits. If anything, he's reminded us that in a day when comfort and casuals reign, getting all dressed up in his manner of elegance is a true delight.—IA
ADVERTISEMENT - CONTINUE READING BELOW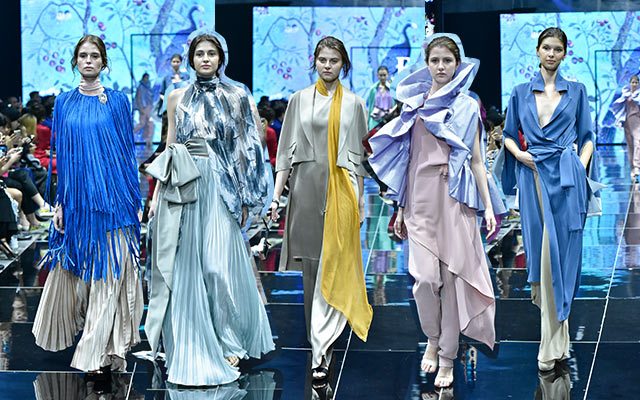 IMAGE Ryan Ong, Andrew Co
5. Neon Island
Reducing Neon Island to just a swimwear brand seems a disservice to the talents of its co-founders Aira Medina and Chi Gibbs. Their Easy Lover collection zeroes in on that vibrant Miami vibe not just via the color palette, but also in the mix of silhouettes: minimalist cuts for swimsuits and dresses that share the same modernist hand-drawn prints, paperbag waists on shorts and trousers alike, and linen dresses and jumpsuits with large buttons that were the style detail of the summer. This might be their first outing for PMFF, but if the mostly sold out collection on their website is any indication, the two have shown they're as savvy with design as they are with retail.—IA
ADVERTISEMENT - CONTINUE READING BELOW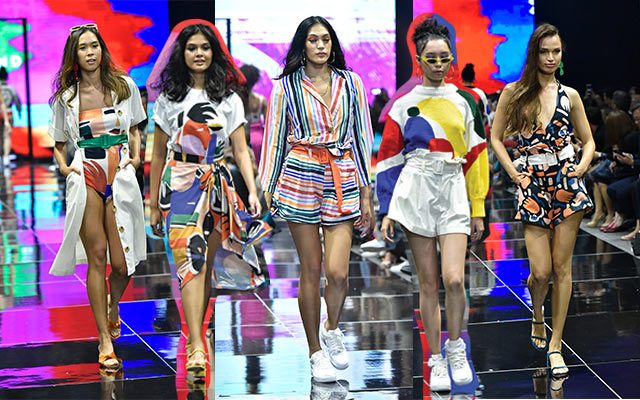 IMAGE Ryan Ong, Andrew Co
6. Patricia Santos
Patricia Santos must have been in the mood for romance when she conjured up this collection. Building on a top summer trend, sheer fabrics, what she delivered to the pretty-frock-loving Filipino market was a slew of ultra-feminine pieces one would imagine wearing to a balmy evening affair at the beach or garden. Whether you're a bride seeking a sultry alternative to a princess gown, or a gal looking to make an impression at a big event, this set has got your options covered.—IA
ADVERTISEMENT - CONTINUE READING BELOW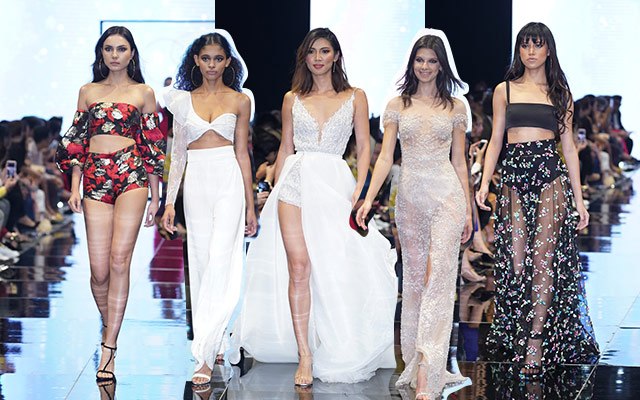 IMAGE Ryan Ong, Andrew Co
7. Chris Diaz
As always, the fount of inspiration of Chris Diaz's collection is one that will lead you to research and discover. It was the modernist work of architect and industrial designer Eileen Gray, and her famed friendship with French-Romanian architect Jean Badovici, that spurred the riff on graphic stripes and 1930s-style suiting. Yet what always excites us is how he distills what's on his mood board into clothing that's striking, with the accoutrements to match. Those fit and flare skirts are a waist-defining moment waiting to happen—every woman needs that in her arsenal.—IA
ADVERTISEMENT - CONTINUE READING BELOW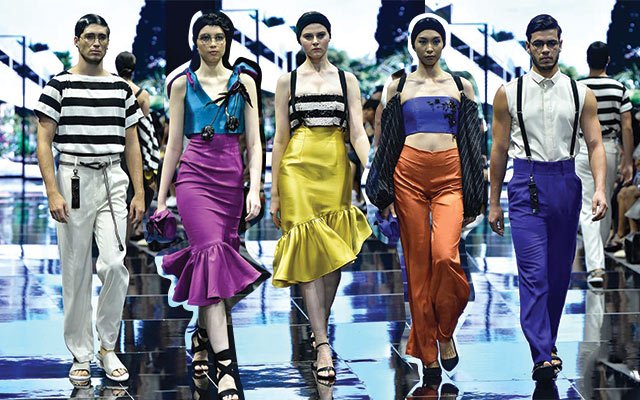 IMAGE Ryan Ong, Andrew Co
8. Candice Arboleda
School of Fashion and the Arts (SoFA) graduate Candice Arboleda has changed the way we see and now want to wear tulle. The popular fabric is usually used as a sheer overlay or to pouf up a frilly skirt. But in Candice's eyes, tulle can also pump up the volume without losing the fabric's movement or softness. She renders the fabric in frothy cocoon ballgowns that are sure to make a statement. We look forward to seeing more from this young designer.—SS
ADVERTISEMENT - CONTINUE READING BELOW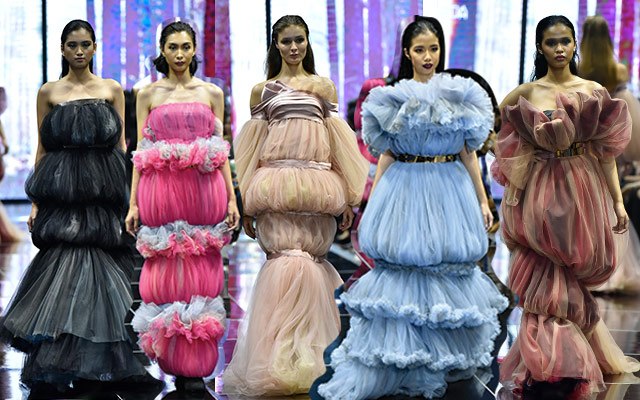 IMAGE Ryan Ong, Andrew Co
9. Jeremy Tan

SoFA graduate Jeremy Tan is a denim master in the making. Jeremy has taken the ubiquitous fabric and transformed it into subversive pieces that will deepen your love for the unceremonious textile. He reveals the fabric's potential beyond casuals with deconstructed denim wrap skirts, jumpsuits, and dresses that come in undone, raw, and ruffled iterations. Who knew denim had this creative capacity, right?—SS
ADVERTISEMENT - CONTINUE READING BELOW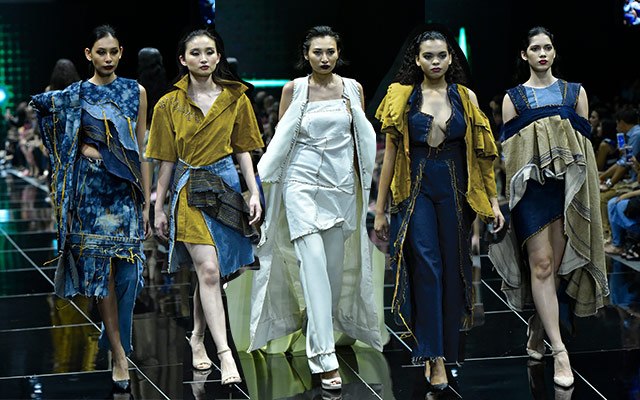 IMAGE Ryan Ong, Andrew Co
10. Jekka Sison
Jekka Sison is another SoFA graduate whose work stood out at PMFF. She exhibited a talent for creating structured sculptural pieces that showcase how fashion can take inspiration from architecture. She makes her case with the aid of pleats and strong curves set around the body in the same motion as the curves of the Guggenheim museums. What a unique proposition for the modern woman.—SS
ADVERTISEMENT - CONTINUE READING BELOW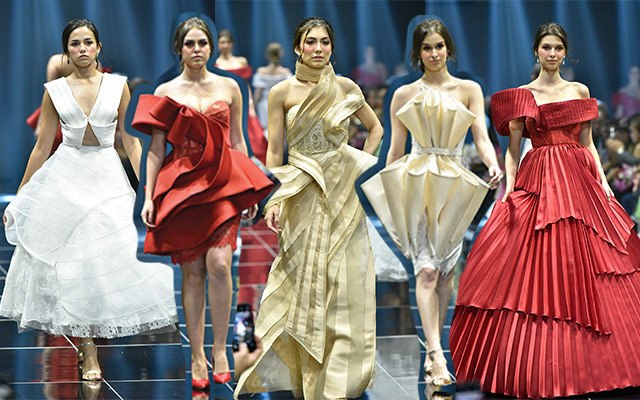 IMAGE Ryan Ong, Andrew Co