Tricia Gosingtian has fully emigrated from the blogging space she had occupied since 2007. Now, she leads a quieter life anchored on family and creative breakthroughs. She devotes her attention to her toddler, Leo, and has conversations with her followers via Instagram on motherhood and beyond—she takes the time to thoughtfully answer their questions on baby-led weaning, sleep training, and her decision to not over-buy toys and baby supplies. This peaceful, relationship-centric life is a tad different from the busy spotlit career she enjoyed for over a decade. But, as our conversation with her proved, she is fully content. The past phases of her life have been shed to reveal her core, her roots. Now, she is less of a photographer/blogger/event attendee, and more of a mother/wife/designer/producer, which suits her just fine.
Since she was eighteen, she's been metamorphosing in the public eye, but it seems like she's finally arrived at her final form. A million different hair colors and style evolutions later, here she is, enjoying her early thirties and living her best life, stripped of frivolities and impracticalities. While her personal style has never been daintier, we daresay it's at its boldest.
Preview Best (Under) Dressed List 2021: Tricia Gosingtian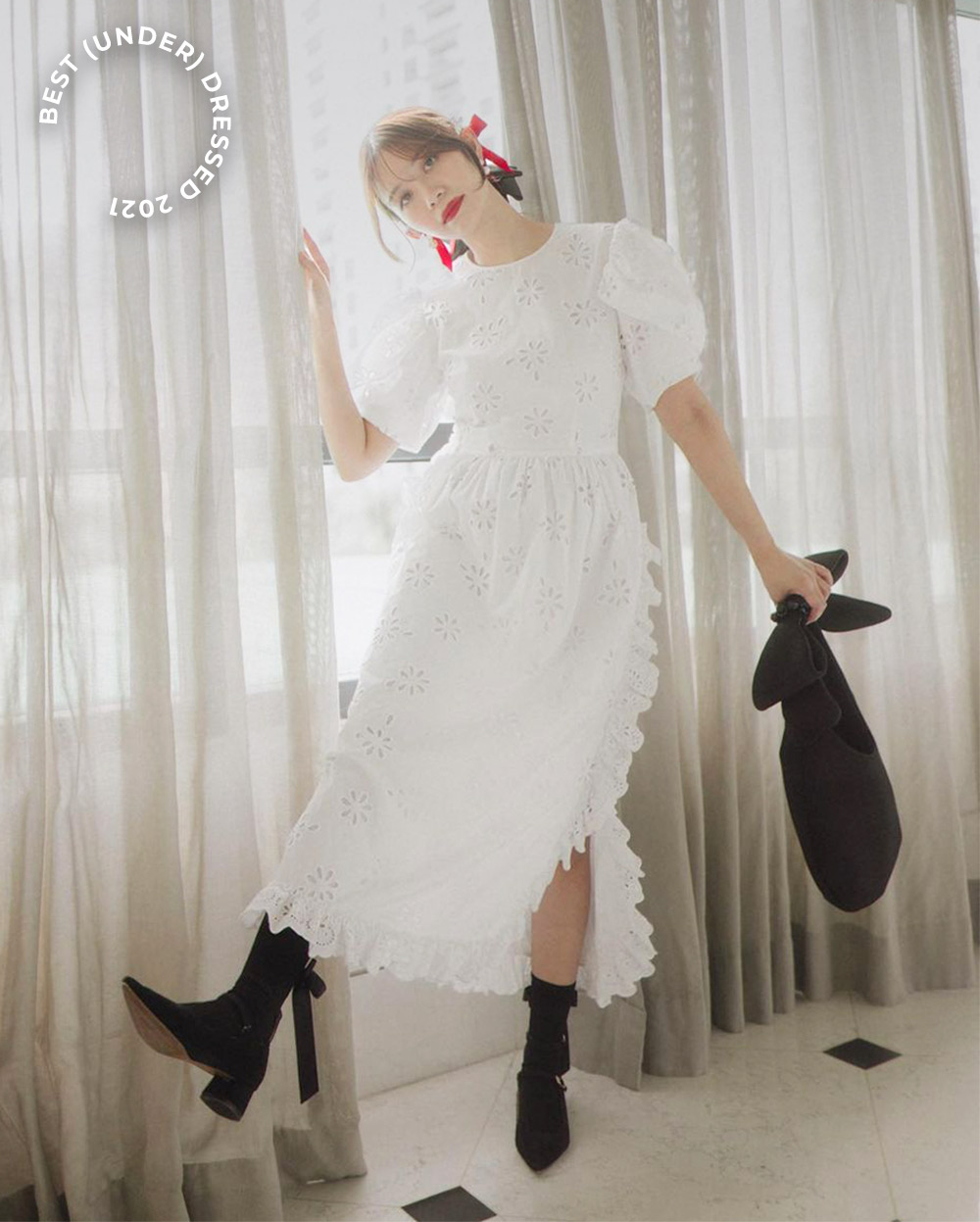 ADVERTISEMENT - CONTINUE READING BELOW
How would describe your style in one sentence?
"My personal style is anything that transforms me into the best version of myself. That could be anything. For example, on one day, I could be dressed up like this—in a nice dress, with nice hair. Now that I have an interview with you guys, I feel like dressing like this will give me more clarity in answering these kinds of questions about fashion. But on some days, the best version of myself could be me in my pajamas, because I need to take care of my baby. It could be anything that the occasion calls for."
How has your style evolved over the years?
"It's so documented–my whole fashion journey. Since I was probably like eighteen or nineteen, I've been posting pictures of my OOTDs. Recently, I archived a lot of it because I decided I wanted to be a bit more low-key now that I'm a mom.
"I feel like my style just evolved in a way that it's more age-appropriate now that I'm in my thirties. Especially now that I have a toddler, I'm more drawn to low heels. I don't wear as much heels now as before. If I do, it always has to be block heels.
"But I've always been the kind of person who was inspired by Japanese [and] Korean aesthetics. I feel like as the fashion (or the style) evolved there, I also kind of followed. [As] I grew older, my Japanese or Korean [inspired] style also changed."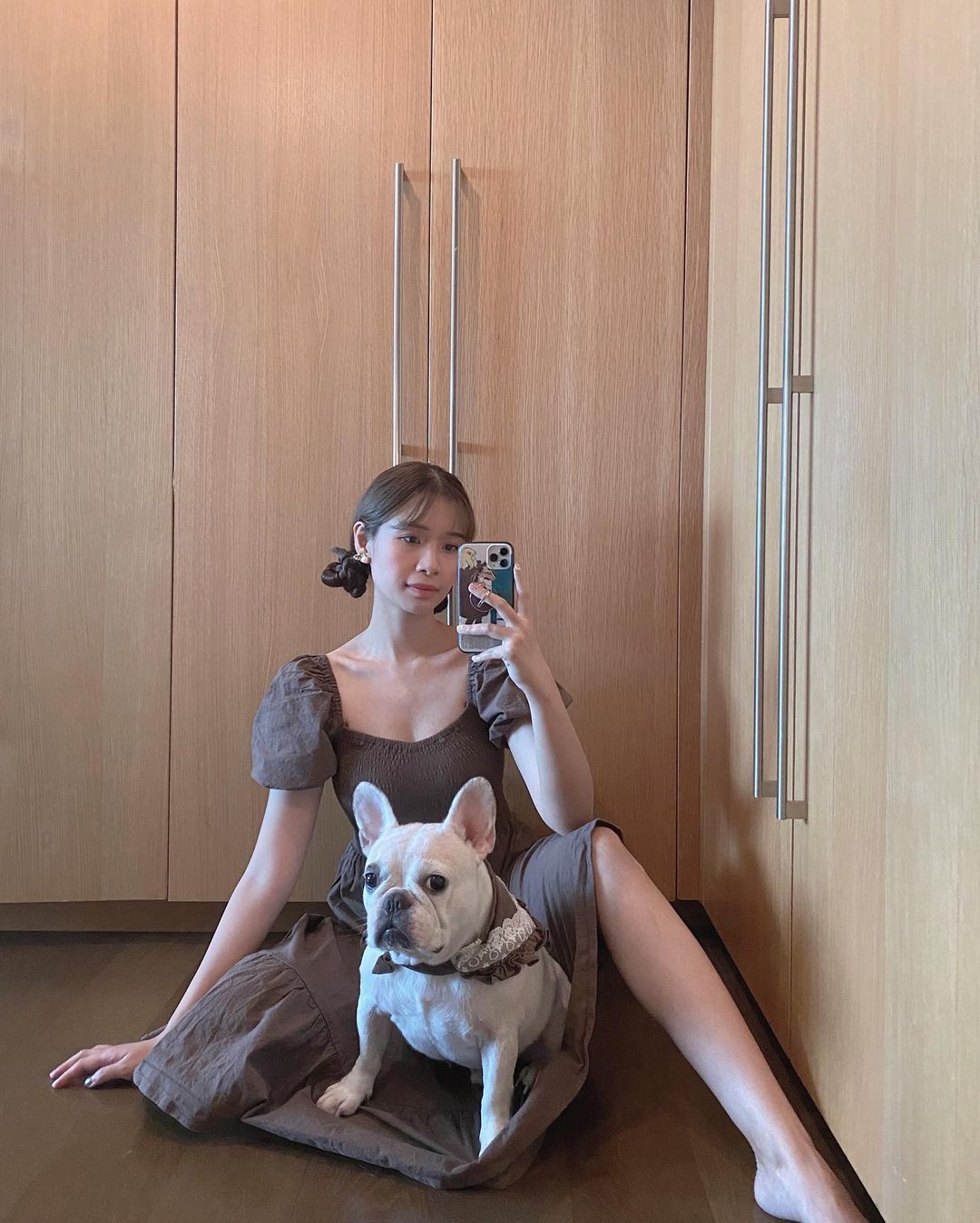 What are the three items that make up your style DNA?
"I'm always in dresses. For me, it's a no-brainer. I don't need to coordinate–one dress is good for me to go. Now I have less time to think about what to wear; taking care of a toddler with no yaya is such a handful already. So, I always go for dresses.
ADVERTISEMENT - CONTINUE READING BELOW
"Hair is [also] such a huge deal for me. My hair always has to be perfect. I remember maybe 10 years ago, someone asked me, 'Would you go out with no makeup, or with really bad hair?' I said that I'd rather go out with no makeup and nice hair.
"I came from a family that has a hair obsession. Even cutting my husband RG's hair and my son Leo's hair with precision is an event that I look forward to every few months. I cut and dye my own hair as well. It's such a sacred ritual for me. I was definitely hairstylist in a previous life.
"The third one would be neutral-colored shoes. I could wear super colorful or intricate dresses, but then my taste in shoes is very vanilla. It's super classic. I feel like I'd rather go for classic styles that I can wear for a long time, especially now. It's proving to be such a good practice. Now that there's a pandemic, I don't have a lot of shoes that are rotting away in a corner. I just have a few really good ones, and that's it."
PHOTO BY

INSTAGRAM/TGOSINGTIAN

How has your style changed over the course of the pandemic?
"I tend to gravitate more towards fuss-free pieces, like stuff that I can throw on and not think about that much. I'm more into comfortable button-downs, anything with front access, because I'm also breastfeeding. It's been almost 17 months of me exclusivey breastfeeding–you have to latch on demand, so you always have to have front access in all of your clothes.
"I gave birth April 2020, two to three weeks after the first lockdown. The weeks leading up to me giving birth were so stressful—super. But my way of coping at the time was wearing nice dresses. Duing those days, when nothing was happening and we were all kind of in limbo, I would really dress up and hang out at my place wearing nice floral dresses. It gave me a sense of normalcy. Like, okay: Let's just pretend that everything is fine."
Related Stories from Preview.ph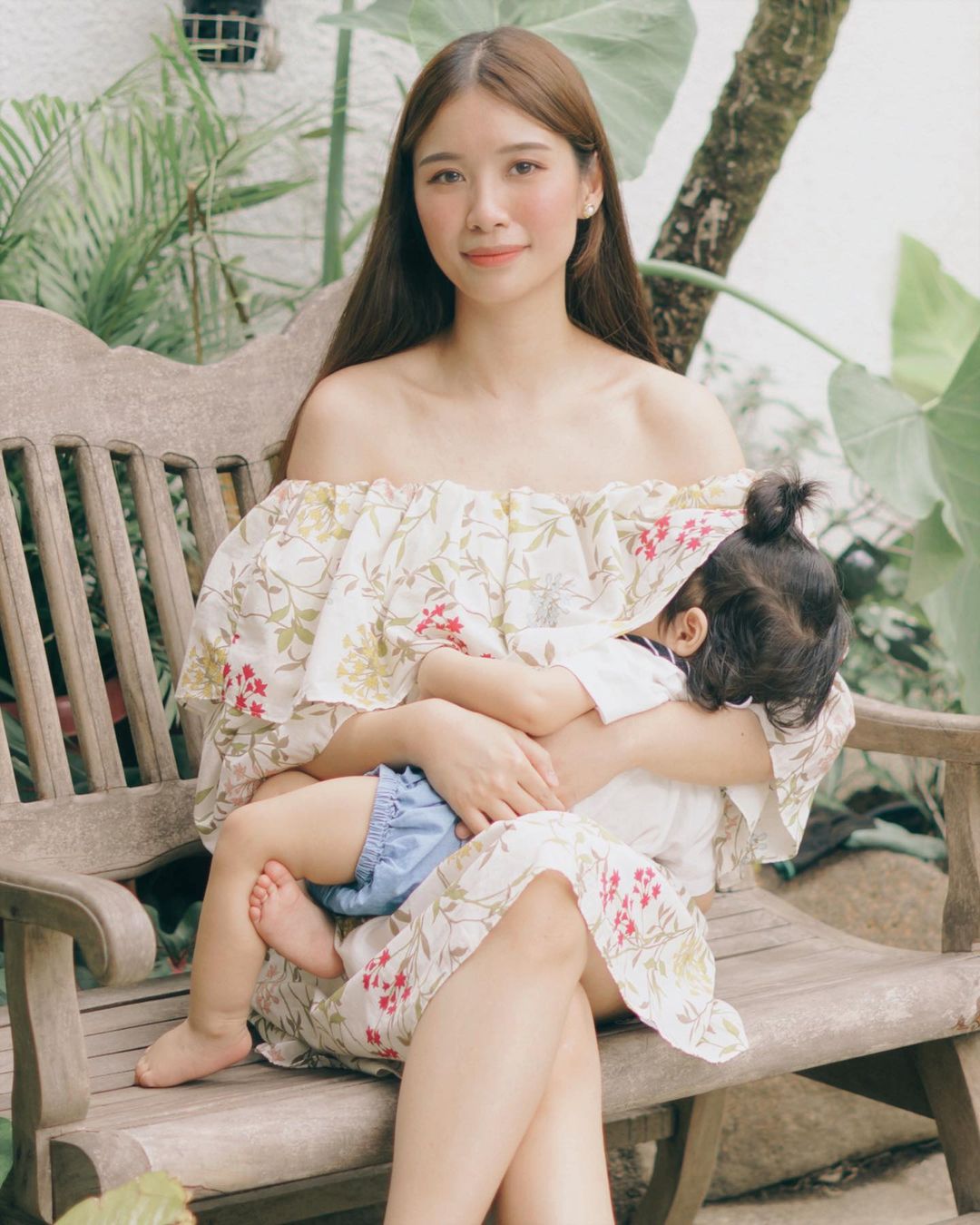 ADVERTISEMENT - CONTINUE READING BELOW
How important is it for you to look good, even just for yourself? What's the value in that?
"I didn't want to forget the feeling of how it was before the pandemic. I kind of wanted to, at least once a week, dedicate a day when I could dress up and do my makeup. Most of the week, I'm just in plain pajamas and my hair's just all over the place.
"It's some sort of therapy for me now during the pandemic. If I completely stopped after giving birth, I dont know how I could have coped with the whole anxiety surrounding what's going on. Even if theres really nowhere to go, I feel like dressing up opens up a world here in my small space at home. That allows me to kind of see the world in a better light.
"Other people ask: Why dress up when no one can see it? When you just have to wear it at home? This is exactly why I enjoy the 1-2 days a week where I can dress up. Besides not wanting to forget life pre-pandemic, I'm simply dressing up for myself, and no one else. It's pure love of fashion. No room for fear or other people's judgment when it all comes from a place of love.
"Dressing up during the pandemic wasn't just a take-a-picture-and-that's-it kind of thing for me. It helped me be in a better place mentally as I went through both motherhood and pandemic adjustments. On rough days, wearing a dress was like wearing a suit of armor that gave me additional stats like in video games. It changed everything for the better."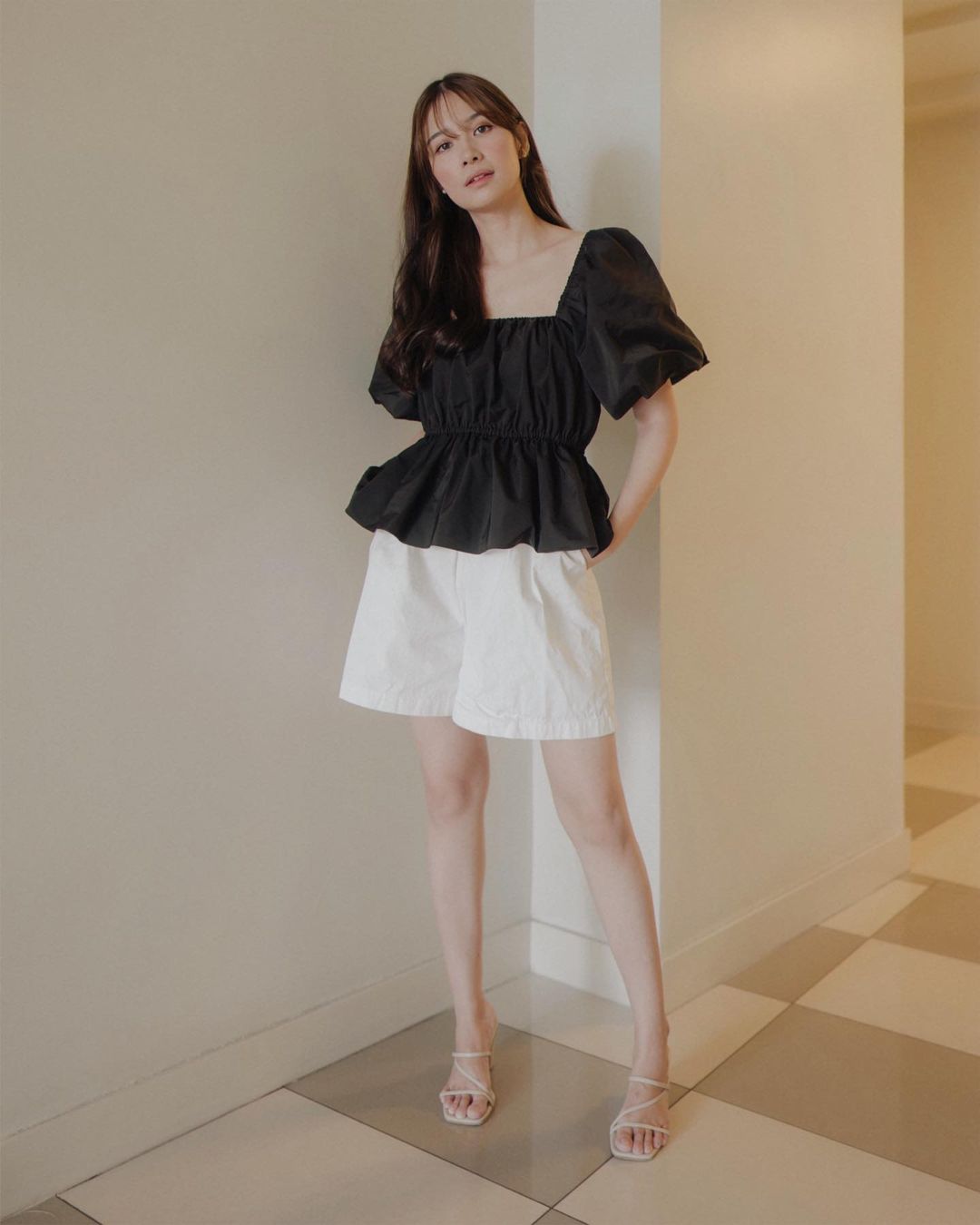 Is it impractical to shop for clothes now?
"For me actually it's such a great time to buy clothes. That's my unpoular opinion. These clothes will forever have that story, like, 'I bought these during the pandemic!' You can forever look at that particular item and say, 'I survived — This is proof'. I feel like it's becuase I'm a mom now. I can tell my son in the future that this was a dress that I made or that I wore during the COVID panedmic. It's like a time capsule in the form of fashion. Of course, if you take care of it properly."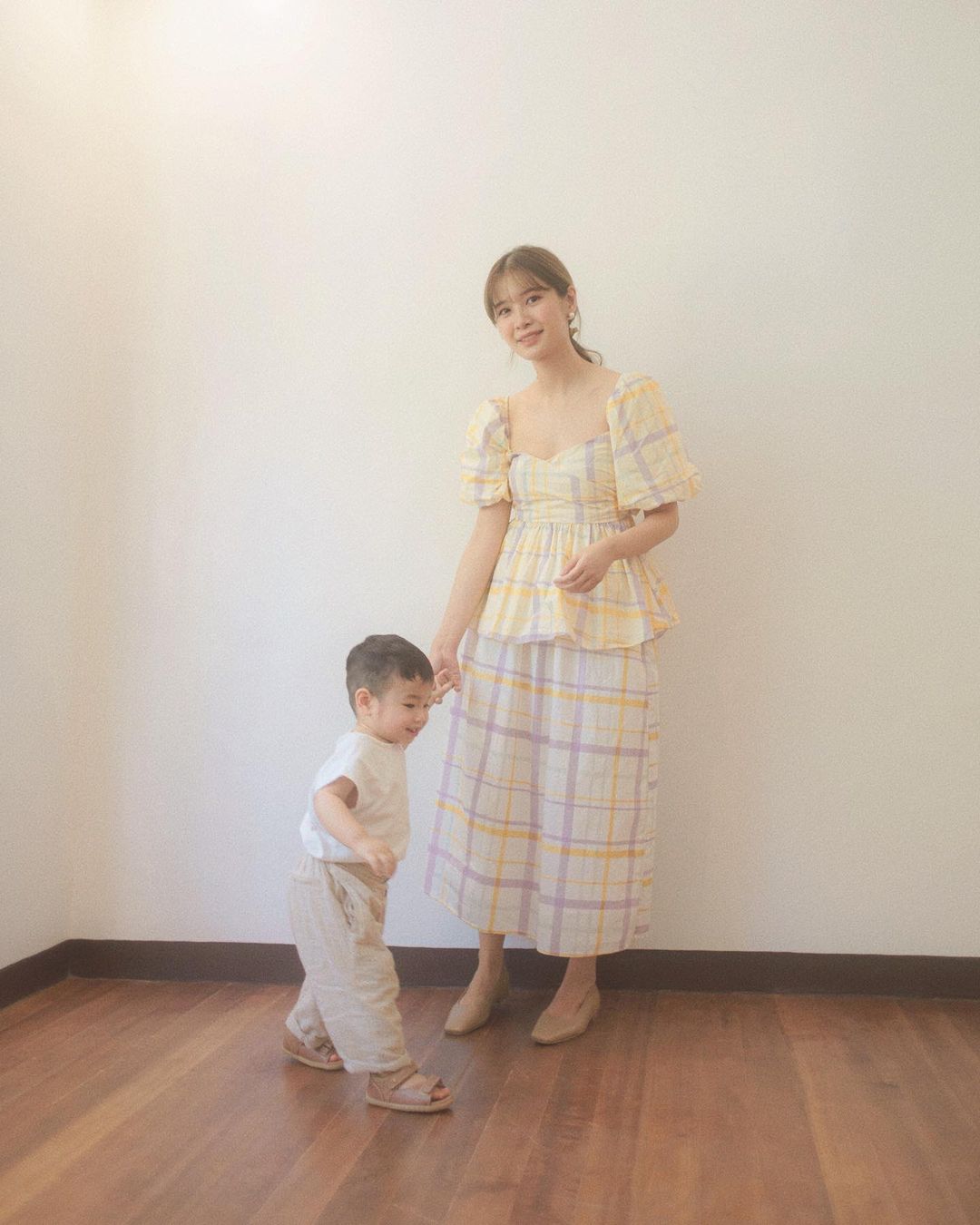 ADVERTISEMENT - CONTINUE READING BELOW
How much of a practical dresser were you prior to the pandemic versus now?
"Wearing stuff like this is practical in the sense that it doesn't require a lot of work. Anything that is super complicated to wear, for me, is not practical. Wearing a dress is not impractical, no matter how fancy it is. It's one step, and that's it. One item for me is enough. That's why I'm always wearing dresses. Given that, I have more time to do my makeup, my hair, because one step lang nga yung dress."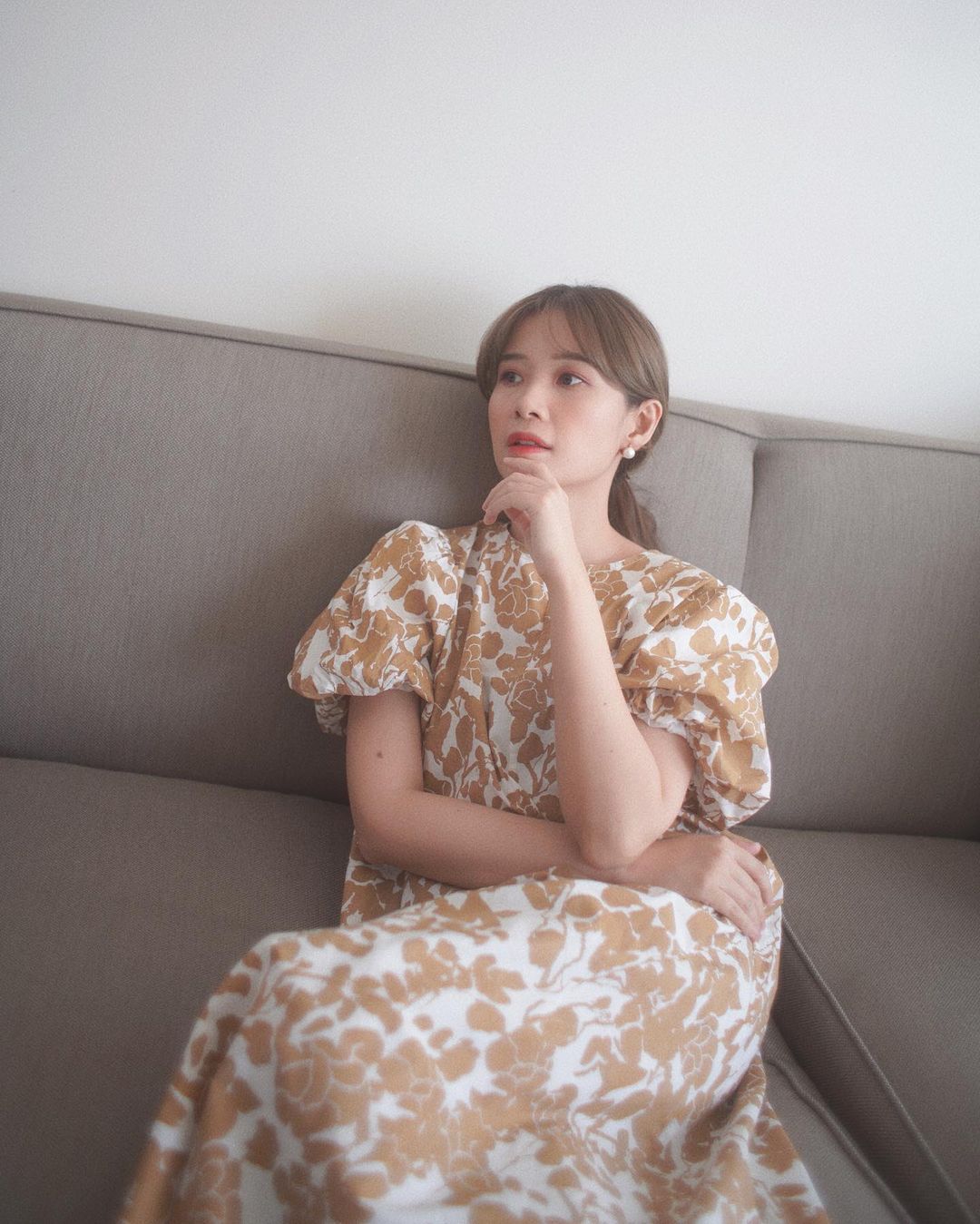 You brought up the term "age-appropriate." Does that concept come into your mind more so now that you're a mom?
"I think I brought it up because over the course of the pandemic I was able to let go of a lot of my preloved stuff from five to 10 years ago. I saw a lot of super short skirts and short shorts, denim cutoffs, mga ganyan. When I looked at them, I thought that I definitely needed to let these things go. I won't be caught dead wearing these now.
"I feel like they're impractical in the sense that I need to wear a pair of safety shorts underneath. I have to be super conscious over [not] flashing my underwear. There are extra steps to make it foolproof. It's mind blowing to me–it's so complicated! I don't have anything against people who are into mini skirts or short shorts, it's just that I dont know if I can still wear those things now, or even five to ten years from now. Parang hindi na."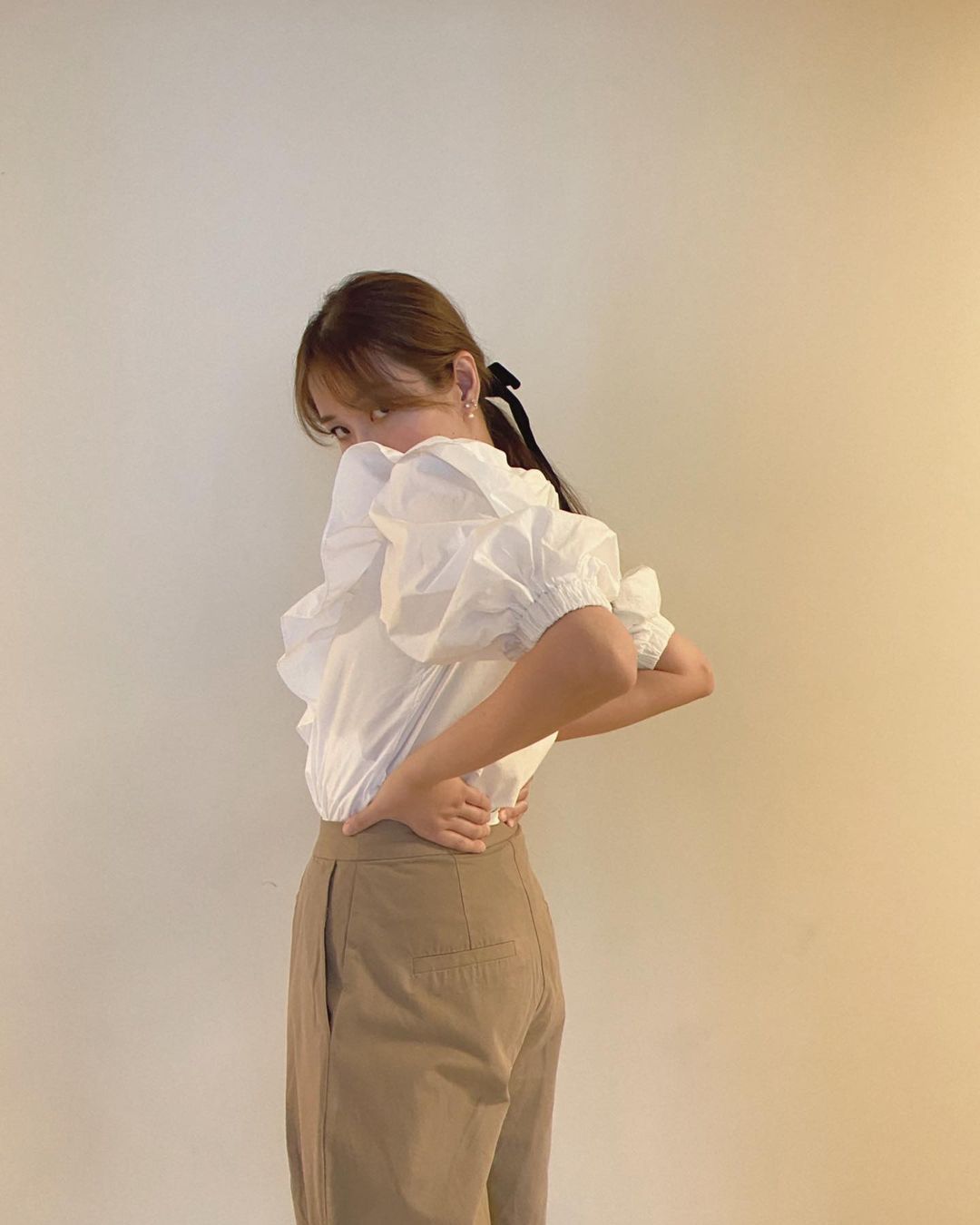 Are you embracing more of what motherhood has brought to your personal style?
"Yeah, definitely. Motherhood has changed every single thing about me. I'm a totally new person now on the inside, even if on the outside it's not too obvious.
ADVERTISEMENT - CONTINUE READING BELOW
"I learned so many things. In terms of style, I definitely had a bit of diffculty at the beginning, right after I gave birth. I had a different body type. My whole life I've never really had a problem with my weight. I could eat whatever I want and I wouldn't gain weight. I could go out and shop without fitting clothes, and they would fit me. After I gave birth, I [became] more understanding of other people.
"I'm working on the next collection of my brand, Hinhin, and I'm going up until size XL now. Before, it used to be mostly small medium.
"It's really important to have representation in that sense. If you have a brand, you [might] tend to gravitate toward people who look like [you], kind of dress the same way, and have the same body type. But, it would be ideal to have representation for all sizes, so that you can ask them to actually try the products out, and see if they work for them. That's what Im doing now; there's a lot of sampling going on. I'm asking people of different sizes to tell me their feedback. Before I was dressing myself up and kind of just producing it—I just wanted to share the stuff that I was wearing, my secret projects. Now, I want to make it more accessible to everyone. I feel like this was a good thing that came out of all the bodily and hormonal changes I experienced."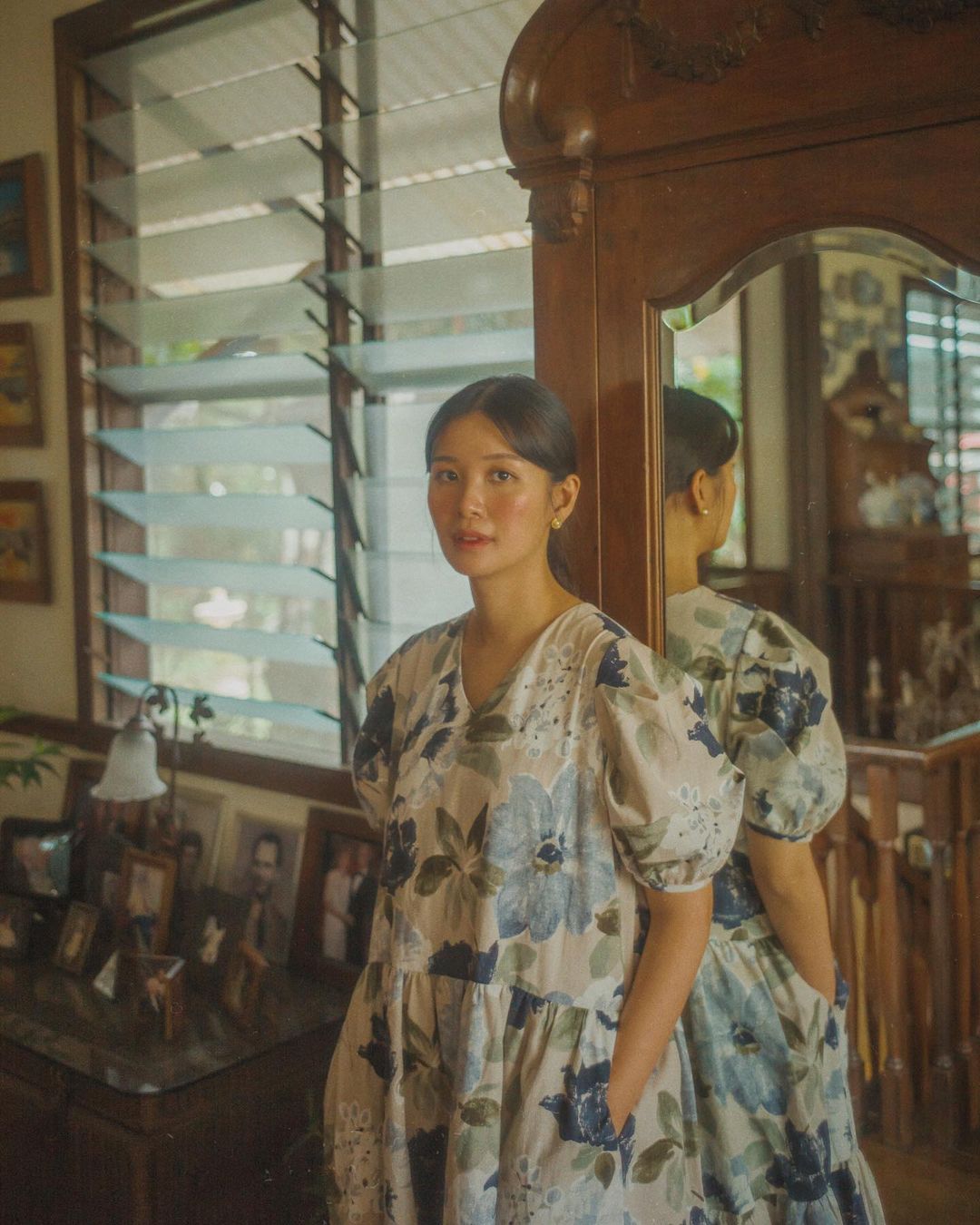 What is your take on "tita" fashion?
"I would often joke that I skipped the tita phase and went straight to lola phase. A lot of times, I'd catch myself and tell my husband na, 'I'm such an adult!' or 'Ang tita na ng taste ko!' For example, before, I would be like, 'Oh my god, pearls are so titas-in-their-forties or something'. But now, I'm like, 'Yes–pearls everywhere!' I want to wear so many pearls!
"Feeling ko it really comes with age–nagiging tita na talaga taste natin. I used to be really not into big-ish jewelry before. But now I'm like 'Ooh, fancy rocks and stones! Thanos!' Those things would never appeal to me before, but now I'm like, 'Ooh! It's so pretty!'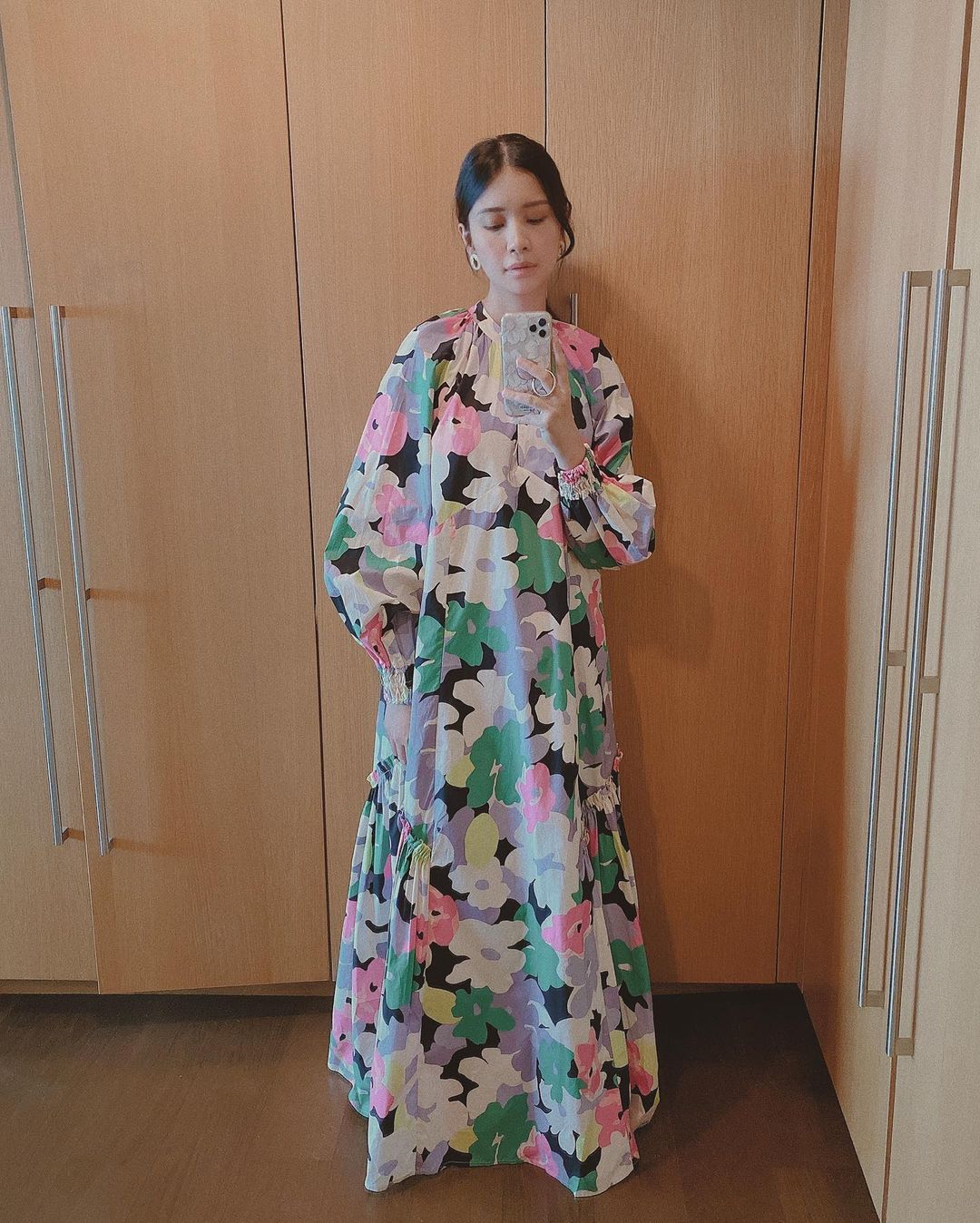 ADVERTISEMENT - CONTINUE READING BELOW
Do you ever feel pressured by looking at your blogger peers? Do you still catch yourself comparing?
"Two years ago, I posted that I wanted to quit blogging. It was a conscious decision for me to slowly fizzle out, to slowly lessen my screen time. Before, I would have a blog post every day, and a shoot every day. I always had events to go to and stuff like that.
"And then I just realized that it wasnt me anymore. It was conscious descision for me to cut back on sponsored posts, and to go back to where I started. I was just a simple college, high school girl who just wanted to share whatever it is that I wanted to share, without the complex stuff that goes along with brand sponsorships. I still do have partnerships from time to time, but it's not as crazy as before. I actually feel a lot happier now that I'm more selective. I'm also not dependent on posting as a livelihood. There's a lot less pressure for me now. [After] getting married and giving birth, I realize that this is how I set my boundaries with myself, for my sanity. I am actually very introverted, so why would I force myself to go into TikTok and YouTube if it doesnt come naturally to me?
"I'm so happy for [my peers]—bagay sa kanila yun. I'm okay with a small, niche following. I know each and every [person] that messages me. I actually get to talk to them when they DM me.
"I feel like I'm not constantly pushing products for people to buy on Instagram because im not dependent on blogging and Instagram life as a livelihood. I feel more free now, more low-key. I actually put my blog on private a few months ago. On my Deviant Art, I also archived a lot of my old posts. My Twitter is private now, too. Andami ko pang gustong i-private or itago. Masaya na ako na I have such a small digital footprint compared to before. Before, my life was a reality show for a lot of people. It was fun at that age; I'm really grateful that part of my life—professionalizing blogging and stuff like that—happened. I wouldn't have been able to enjoy my life now if it didn't. But that's not me now. I prefer being behind the scenes—being involved in creating and actually producing tangible pieces, compared to making myself a product.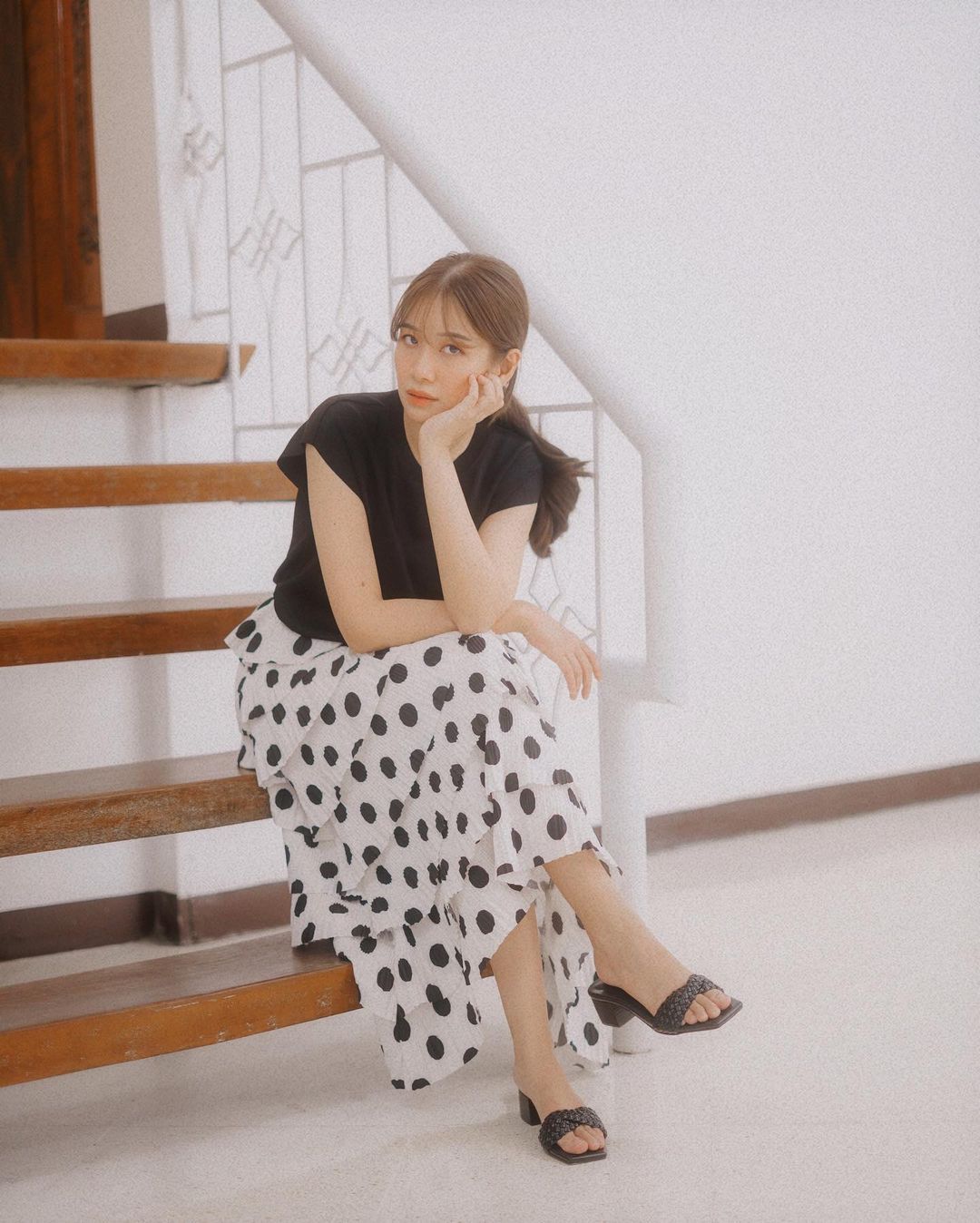 ADVERTISEMENT - CONTINUE READING BELOW
"With Hinhin, I was able to establish a safe space for me in a way that Instagram or Facebook could never. In my own space, I was not bound by algorithms and trends. In my own world, the only 'like' that matters is if I like myself or my own creations.
"People express themselves in different ways. While it's great that others were inspired by newer platforms and ways of presenting their content, I was just done with that phase in my life. I started at such a young age, after all.
"I retired in 2018, and some people thought I was crazy for doing this. Away from the camera, I slowly worked on becoming the person I wanted to be. Because I didn't have endorsement lockouts anymore, I didn't feel tied for the first time in a long time. My dream was fulfilled through blood, sweat, and tears—I was back to being a regular person with a regular job, who just happened to have a bit of a presence on social media. I'd look at myself objectively and think, yeah, I'd believe this person more than the previous version of her that was doing content creation for a living.
"While I significantly cut the number of content I have out there, I wasn't concerned about being left out or not being relevant enough. In fact, I feel more authentic now than ever. Just because you don't see it doesn't mean it's not real. You just have to trust that I'm doing the right thing even if there is no documentation."
Preview is now on Quento! Click here to download the app for iOS and Android and enjoy more articles and videos from Preview and your favorite websites!
Hey, Preview readers! Follow us on Facebook, Instagram, YouTube, Tiktok, and Twitter to stay up to speed on all things trendy and creative. We'll curate the most stylish feed for you!