You know those people on Instagram who seem like they're always on vacation? Marie Lozano is absolutely one of those people. The TV host's Instagram feed is a wall of dreamy beach getaways, and a quick scroll will make anyone want to feel sand on their feet. As if that isn't enough, she embellishes the natural eye candy behind her with her covetable collection of Panama hats, white dresses, and stylish swimwear. She has mastered the art of dressing up to dress down, and at a time when fashion has inevitably taken a gentle pause, we can't help following her lead.
Marie's place at this year's Preview Best Dressed list also couldn't have come at a better time. The 43-year-old is currently relocating from the city to El Nido, Palawan, so her vacationwear will soon become her everyday pieces. She's purging everything she can't bring to the island, too, and her closet sale account (@marielozanocloset) now has a waitlist of almost 4,000 people. And while such a major cleanout can sound daunting to some, Marie has found solace in what the cleanse represents.
ADVERTISEMENT - CONTINUE READING BELOW
In an exclusive interview with Preview, Marie talks about how fashion fits into this transitional phase, her past life in the newsroom, and more.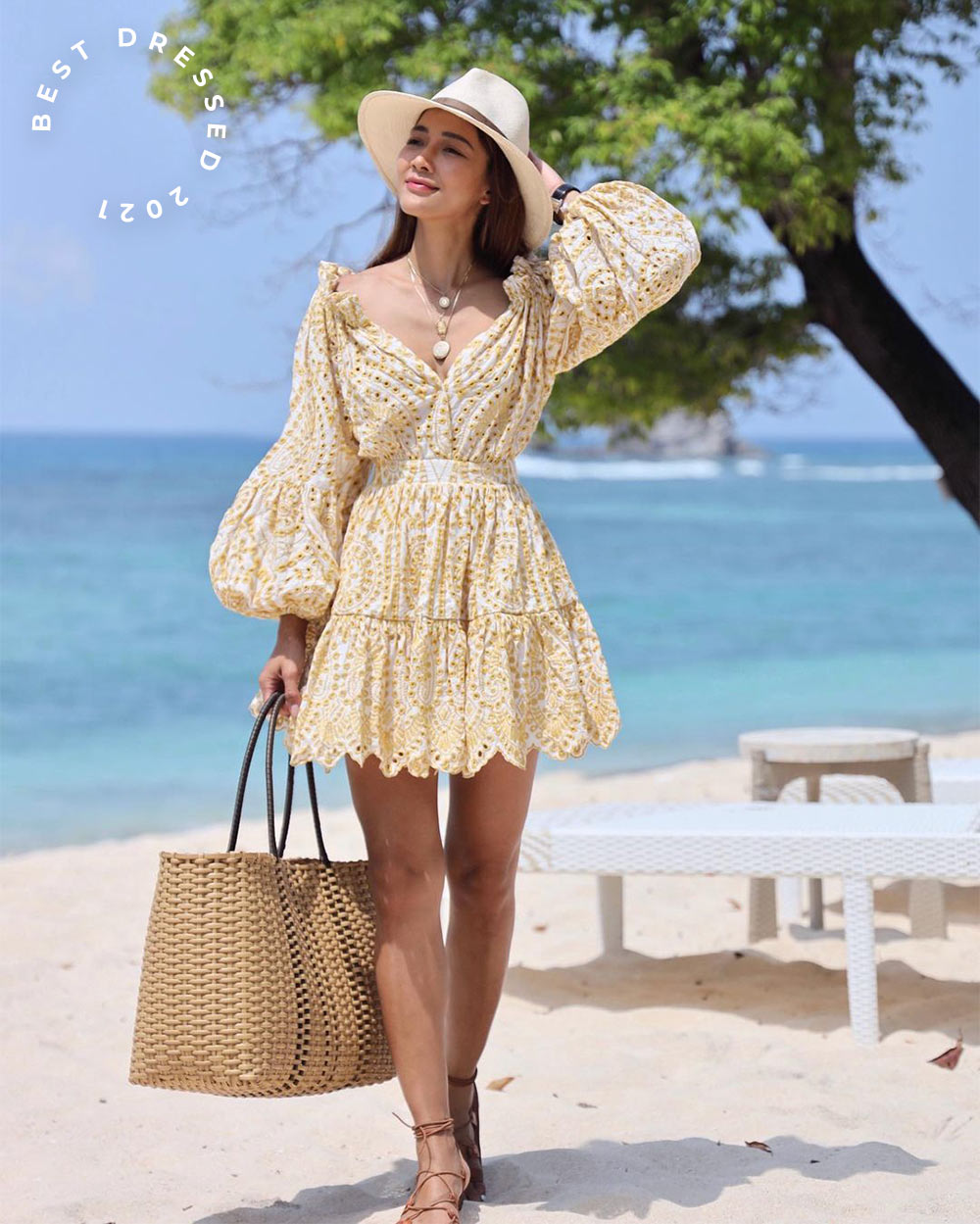 How would you describe your personal style?
"It's always been something I had a hard time describing when people would ask me because I was in my job for 20-something years and I always loved to dress up, but it wasn't something that fitted much in the newsroom. So I found myself kind of conflicted in how I would dress. I dressed as a TV host, I dressed for the interviews that I was going to, but never really been able to express myself—I would, but only in little ways.
"I'm also currently in the process of moving from my city life into the island so I started purging—I did a closet sale on social media. I started letting go of these things from my past [as a reporter/journalist]. So to describe my style in one word, that would be a transitioning style. I also just turned 43 so all of those short dresses and all those things I used to wear that were too pa-cute I let go of and I'm moving forward to, girl, you're 43, dress your age. *laughs*"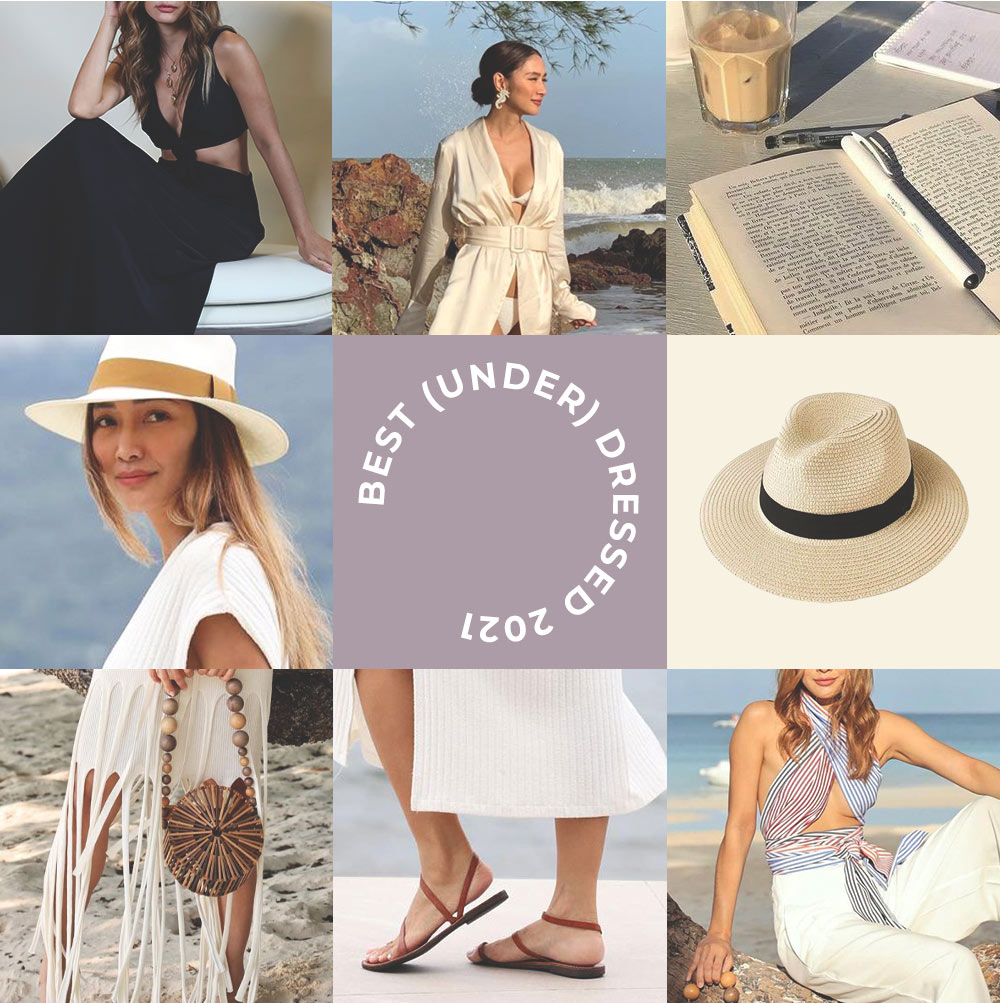 ADVERTISEMENT - CONTINUE READING BELOW
Can you tell us more about how you dressed in your "past life" in the newsroom?
"I remember walking in the newsroom getting my first job [in the early 2000s]. I was minimalist, wearing a fitted white suit, white pants, red stilettos. I remember my newsdesk then seeing me and looking at me. I was dressed up as an anchor, my hair was slicked back. She looked at me from head to toe and she's like, 'Go to Quezon City.' And she sent me to this Level 4 fire and I remember I couldn't go home until the story was done. I had to take off my jacket, my pants were already brown, and I came back in the newsroom and she was laughing at me. It was kind of like, okay, there you go, you learned your lesson. Next day I was like, 'I'm gonna prove her wrong,' so I dressed up again in my white outfit but that's another story.
ADVERTISEMENT - CONTINUE READING BELOW
"[Back then,] I made the back of [my trunk] my closet so I'd have every single thing I need. Because I was a general assignments reporter, one day they would send me to congress, and another day they'd send me to some murder than happened in San Juan, or Malacañang so we can't wear certain things in certain places. I'd have stilettos, a rain jacket, everything I needed was all there. And when you have a closet in your trunk it's easier because you don't have a lot of choices and you just have to improvise."
Was outfit repeating an issue for you back then?
"Not at all. Especially in the newsroom you could have four five different jackets and you just wear them and people wouldnt even realize because it's not you people are looking at. It's only lately that I've started caring about [how] I've worn [things already] because of social media.
ADVERTISEMENT - CONTINUE READING BELOW
"I'm feeling the pressure more because as a journalist you're not the story. You're making a story. It's still something I struggle with that I am the person people follow on social media so they need to see me [as the] story."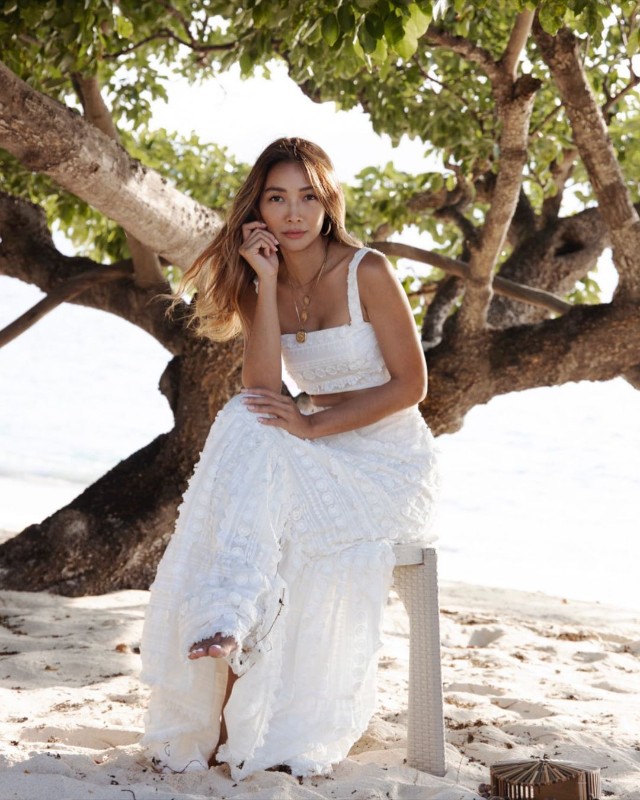 Is there anyone you looked up to in terms of style during your time as a reporter?
"You've seen Ces Drilon, right? She's one person also that it doesn't matter if she's in a war-stricken area. She looks great. You can really sense that she has her own style from her haircut to the way she does her makeup, even how she'd wear a bandana or a jacket or how tailored it is. She's like a fashion icon."
ADVERTISEMENT - CONTINUE READING BELOW
How has your style evolved over the years?
"When I was in my 20s, I had so much to prove. I wanted to be taken seriously. But now I've been in the industry for so long now people know who I am and what I do. You care less about how you dress for people but of course you still have to be presentable.
"My style back then was defined by the lifestyle I was living, the travel I was doing, the job I was going to do. I like to play dress up, so if I'm interviewing someone from Star Wars or Marvel, I will dress the part. It was more of playtime, roleplaying.
"As I'm aging, I'm defining myself to more with what I want to do. I'm finding myself dressing up more laidback, more relaxed, more confident with myself. Defining style is not the easiest thing for me but I guess now I'm coming closer to finding out what my actual style is when I'm not doing the things I was doing in the past."
ADVERTISEMENT - CONTINUE READING BELOW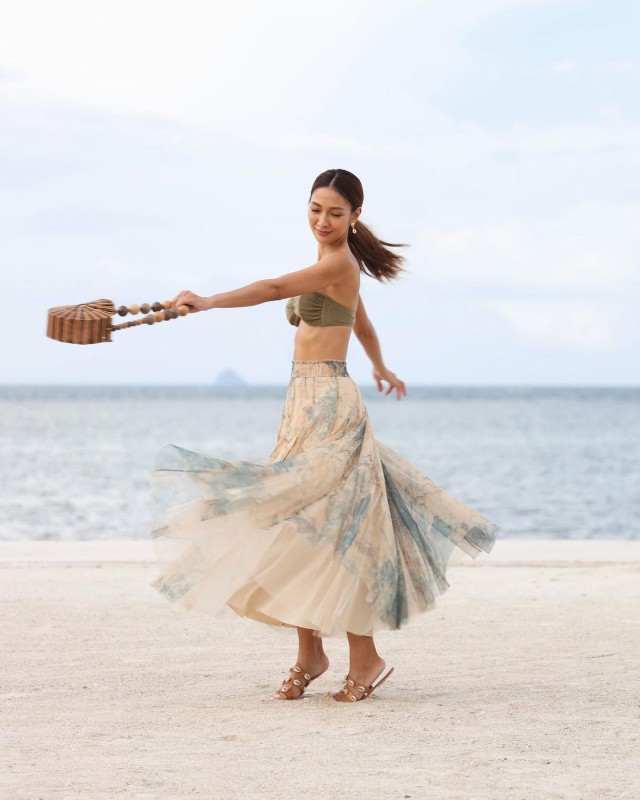 What are the three items that make up your style DNA?
"Hats. Scroll through my social media and I think in more than 50% of my photos I have a hat on. So hats are a thing for me. I collect them in all my travels, lately I've been buying them online. [I have a] collection of Panama hats.
ADVERTISEMENT - CONTINUE READING BELOW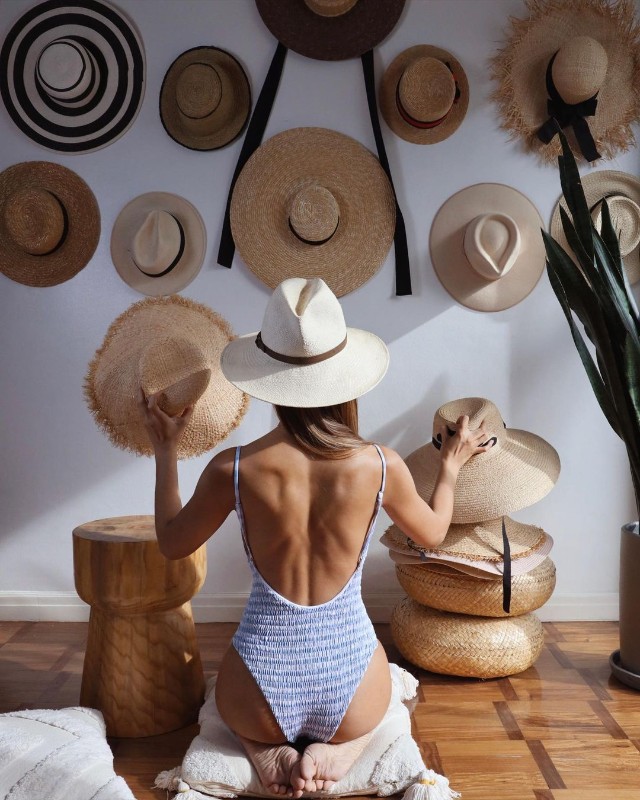 "I do love a really good white dress. I have several. I can never stop buying white dresses. I don't know, there's something about white that I really love. And my bikinis. That's something that I've always [liked] and that's something that was and will be part of my DNA because I'm transitioning into an island girl life."
ADVERTISEMENT - CONTINUE READING BELOW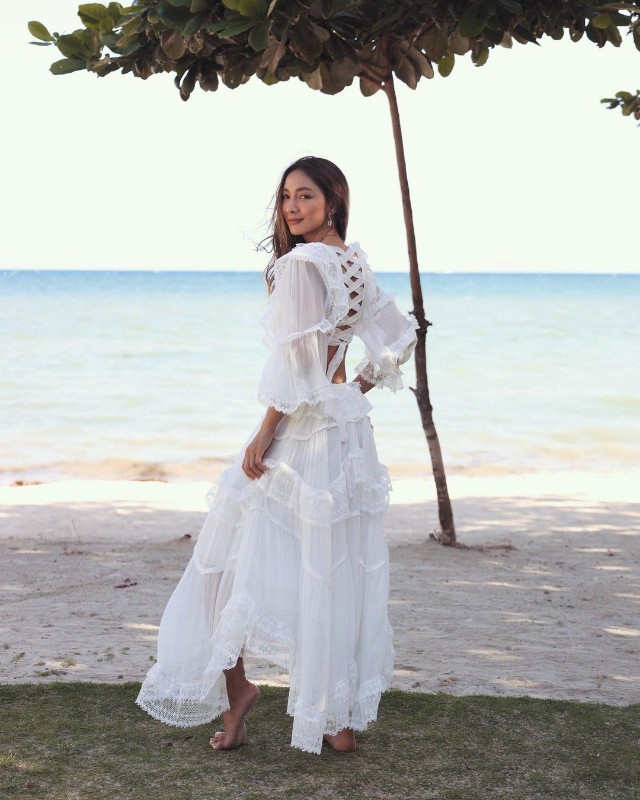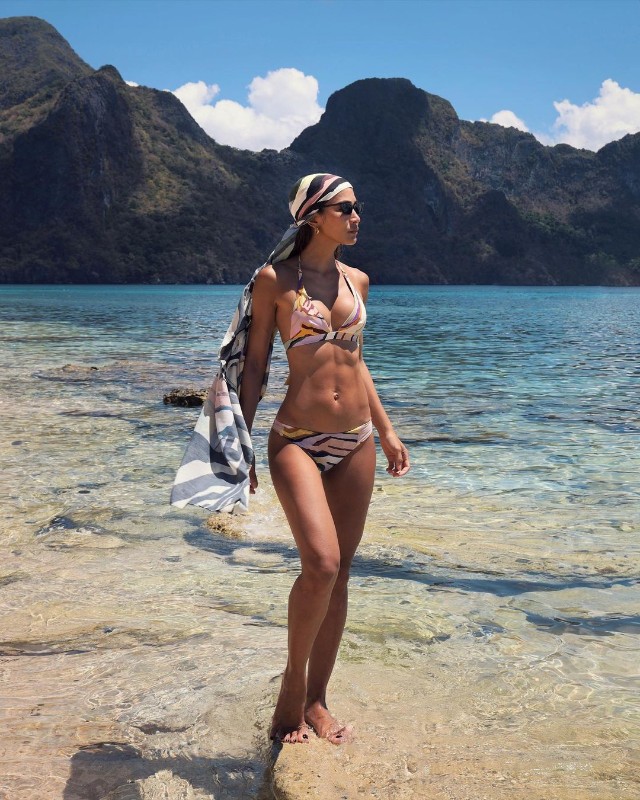 ADVERTISEMENT - CONTINUE READING BELOW
Did the pandemic change your relationship with fashion in any way? How so?
"My relationship with fashion changed because I don't wear shoes anymore. *laughs* I used to display them in a bookshelf and just look at them and it made me happy. Now I haven't worn heeled shoes in two years and I found myself actually buying less, making use of what I have. If there's anything that this pandemic taught me is that anything we do makes an impact. Our carbon footprint, for instance.
"Also with age, when you're older, you play less. You just stick what works for you and your body. I went through that experimental phase but later on in your life you'll discover what works for your body and what works for your style."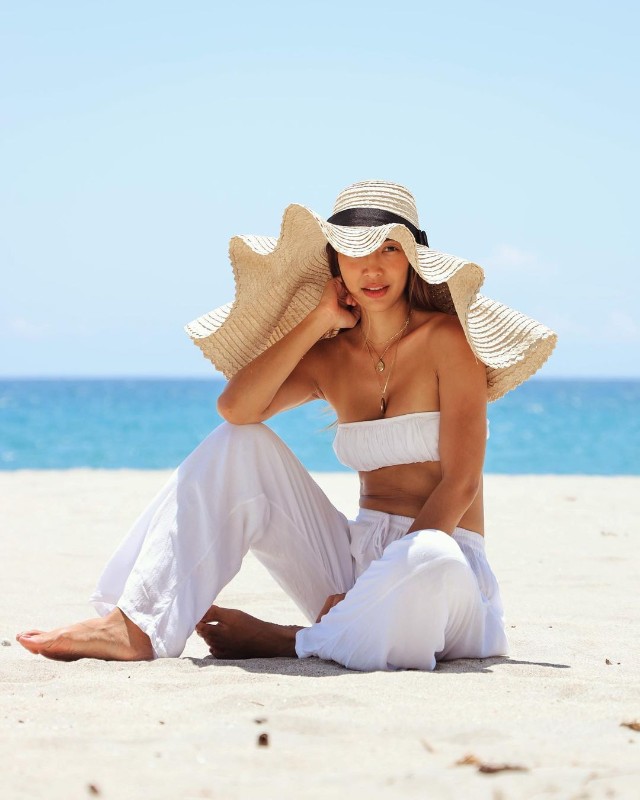 ADVERTISEMENT - CONTINUE READING BELOW
What made you choose to wear this specific outfit for this interview?
"This [represents] my transition. My life in transition, my fashion in transition. It's a Dion Lee gown, and it's something I can wear here in the city and wear at same time at the beach, just change into sandals and wear a hat and it's a different look. It's a look that you can wear both in an event and in the beach. That's basically where I am right now.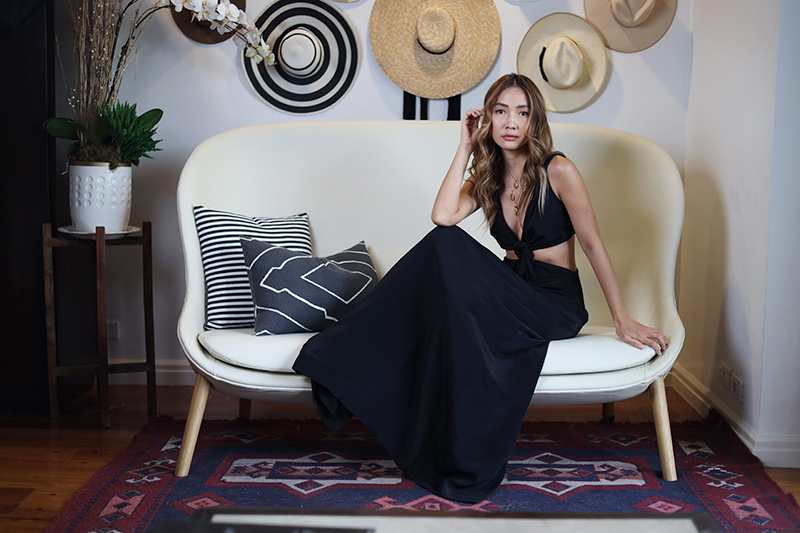 ADVERTISEMENT - CONTINUE READING BELOW
We know that you shoot your OOTDs yourself. Can you share some posing secrets?
"I use my phone as my camera controller, so I find myself taking photos where I'm sitting down or [having] somewhere I can hide my phone or like a bag where I can drop it 'cause it has to be hidden. I have two to three seconds to just toss something and take my photos. When I'm standing, my trick is I'll just throw it in front and then erase it with Snapseed. Most of the time it's somewhere I can hide it."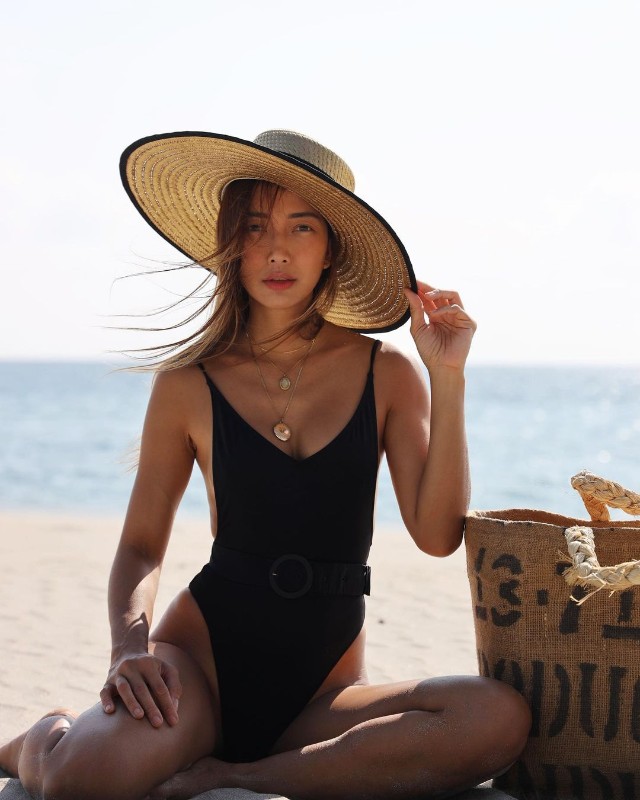 ADVERTISEMENT - CONTINUE READING BELOW
Speaking of poses, do you have any memorable DIY shoots with a fun story?
"I used to travel by myself and I asked strangers in the beginning to take my photos. In Japan, in Korea, I would ask people to take my photos. They think you're just gonna pose but then all of a sudden you have this dramatic dress moment. You should have seen this Japanese guy and his wife they were sp [shocked]. So I was just like, 'Keep taking [photos]' *laughs*It was funny. That and the numerous times that my camera fell from the tripod. Those moments."
How's your closet sale going? Has there been any stuff in particular that were not easy for you to let go?
"I really enjoy it. Passing something on to someone who seems so excited about a piece that you have makes you feel so much better of the purge. Letting go of something when you know someone else will appreciate and love it. I think that's why I love it so much. I've sold 150 items so far.
ADVERTISEMENT - CONTINUE READING BELOW
"Sometimes I'm not ready to give up something but someone's just like, I really wanna have your hat. So you really have to choose from your "kids" [to sell]. Some of them I really didn't want to let go of, maybe that's why I bought two more since I sold them."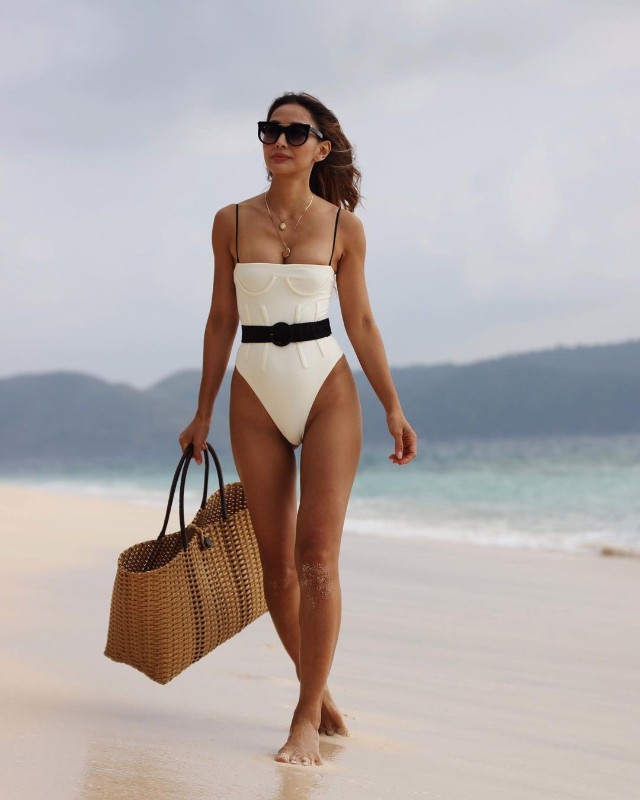 ADVERTISEMENT - CONTINUE READING BELOW
Have you learned anything about your style from purging your closet?
"For me dressing up was always just a fun thing or is still a fun thing. So I don't think about defining myself. It's only very recently when I started purging my closet that I saw it was like the history of Marie's dressing.
"From the time I started with my work, to how I am now. It was like oh, I went through phases. I don't have a, 'This is me, this is my look.' It was more of like, I was into this at one point in my life.
"Also I think [people associate me with resortwear] because my social media is my leisure lifestyle. I didn't really post much of my work life and that's a big chunk of my life. I guess I project the life I want to live on social media and that's what I'm gravitating towards—that life of just laidback resortwear."
ADVERTISEMENT - CONTINUE READING BELOW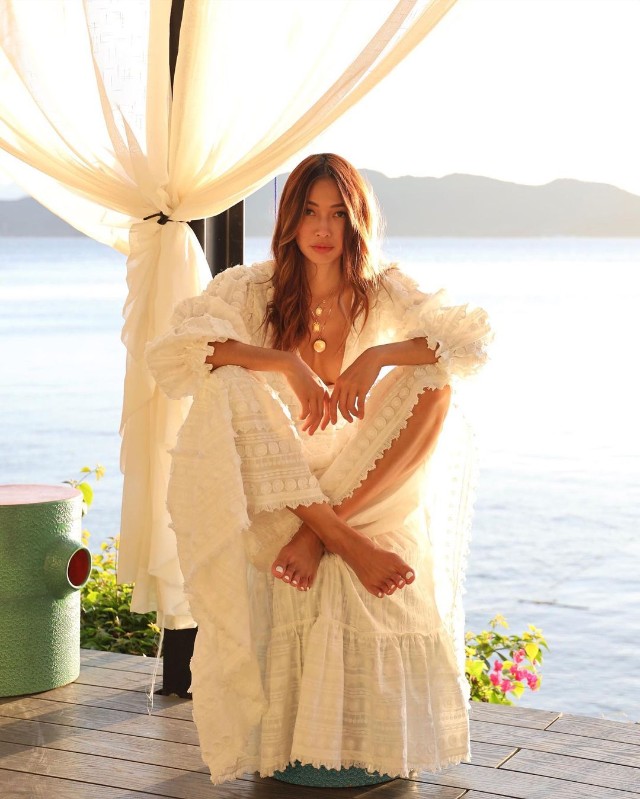 What are you looking forward to in future life in Palawan?
"If you've been to Palawan or El Nido, it's pretty off-grid. I'm looking forward to the adventure. Not so much what I'm gonna wear I just know I'm gonna be packing a lot of comfortable clothes, a lot of swimsuits, clothes for adventure. My boyfriend just bought me freediving fins. I thought I wasn't gonna be the freediving type of person but we started getting into it in Bohol. I'm gonna still bring pretty dresses but I'm gonna be more pragmatic and bring practical clothes, more for just exploring the island for now. The first box. The others will trickle in."
ADVERTISEMENT - CONTINUE READING BELOW
Hey, Preview readers! Follow us on Facebook, Instagram, YouTube, Tiktok, and Twitter to stay up to speed on all things trendy and creative. We'll curate the most stylish feed for you!