Macky Fäh is a woman worthy of admiration: She's a successful jeweller (owner of jewelry brand Bijouxfäh), a loving wife, a mother to two kids, and now, one of Preview's Best Dressed.
Her love of fashion extends beyond her natural love for accessories. A self-admitted serial repeater of clothes, Macky is a conscious buyer; she is very particular with her sartorial purchases, and always has quality and mileage in mind.
ADVERTISEMENT - CONTINUE READING BELOW
Macky is an unexpected dresser, but not in the way you would think. She is a rebel in the sense that she's not afraid to mix it up. When you see her, you'll get an outfit that's put together and easy on the eyes, but there's always a quirky little stand out piece that she's wearing or carrying. More often than not, that eye-catching piece, is locally-made. She's a big believer in promoting local fashion and always tries to incorporate it somewhere in her outfit. Whether it's a skirt in an ethnic fabric, an embroidered top from a homegrown designer, or a charming woven bag, she'll always introduce you to your new fashion obsession.
More than fun outfit choices however, her efferverscence makes her a delight to the people around her. No other instance illustrates this more than her dancing to a '70s OPM hit in our Best Dressed photo studio. She busts out old school moves while waving around her multi-colored Harvey Alumisin mini box bag.
After an energetic performance, we caught up with the lady of the hour to chat about her most prized jewelry, her impressive pajama collection, and how fashion makes her feel.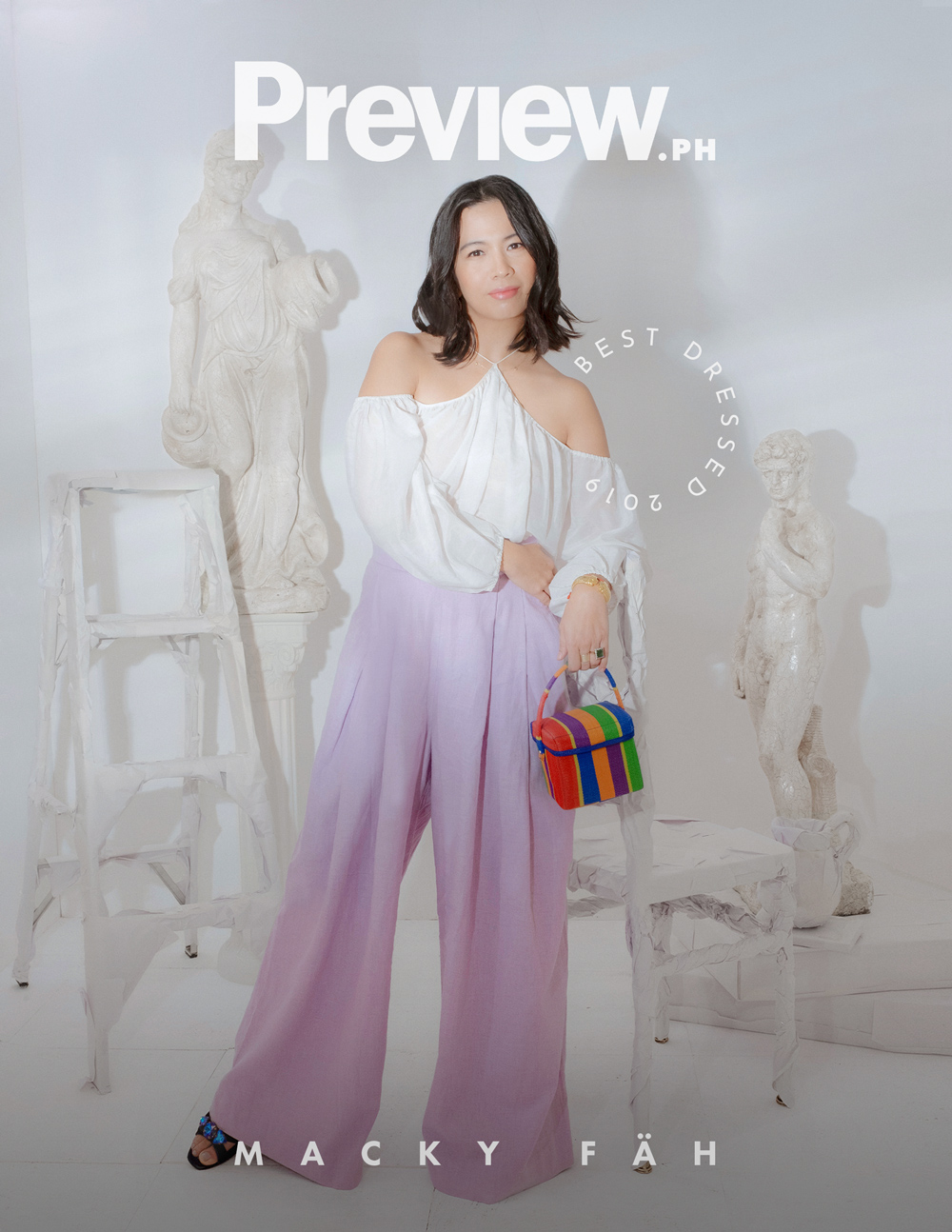 Personal Style
In a few words, how would you describe your personal style?
"Effortless and comfortable. I pick clothes that I know I'll wear over and over again. I am a serial repeater of clothes. I really believe in quality clothes that last."
ADVERTISEMENT - CONTINUE READING BELOW
When and how did you realize that this is your personal aesthetic?
"I realized I'm not one to suffer for fashion but I still appreciate well-made clothes and also the thought process it takes to make each piece of clothing."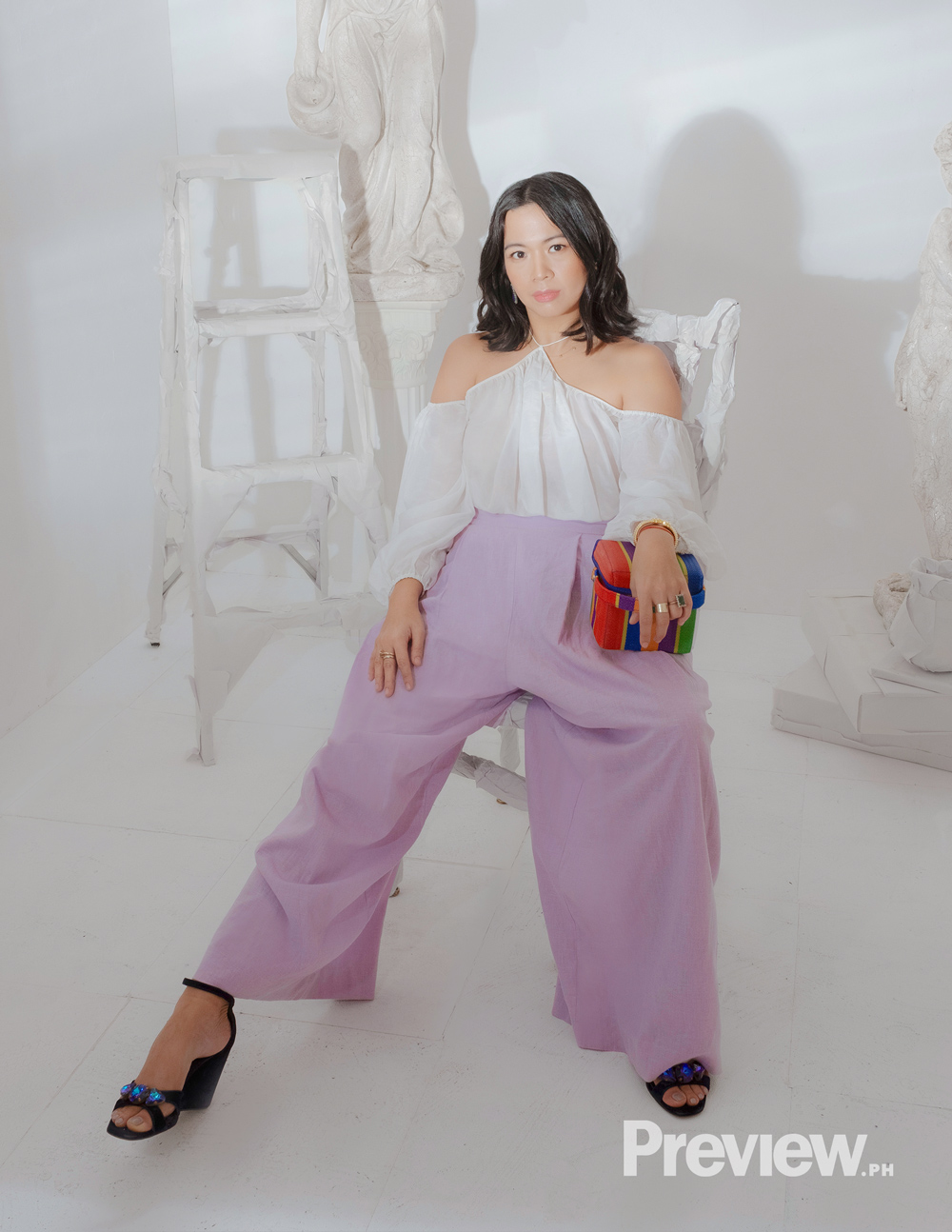 How does the aesthetic of your jewelry brand reflect in the way you dress?
"My mood generally reflects how I dress. If I wanted to wear bold pieces, then I would dress in solid colors to let the jewelry stand out. However, I love interesting, stand-out clothes too so I just wear what I think fits."
ADVERTISEMENT - CONTINUE READING BELOW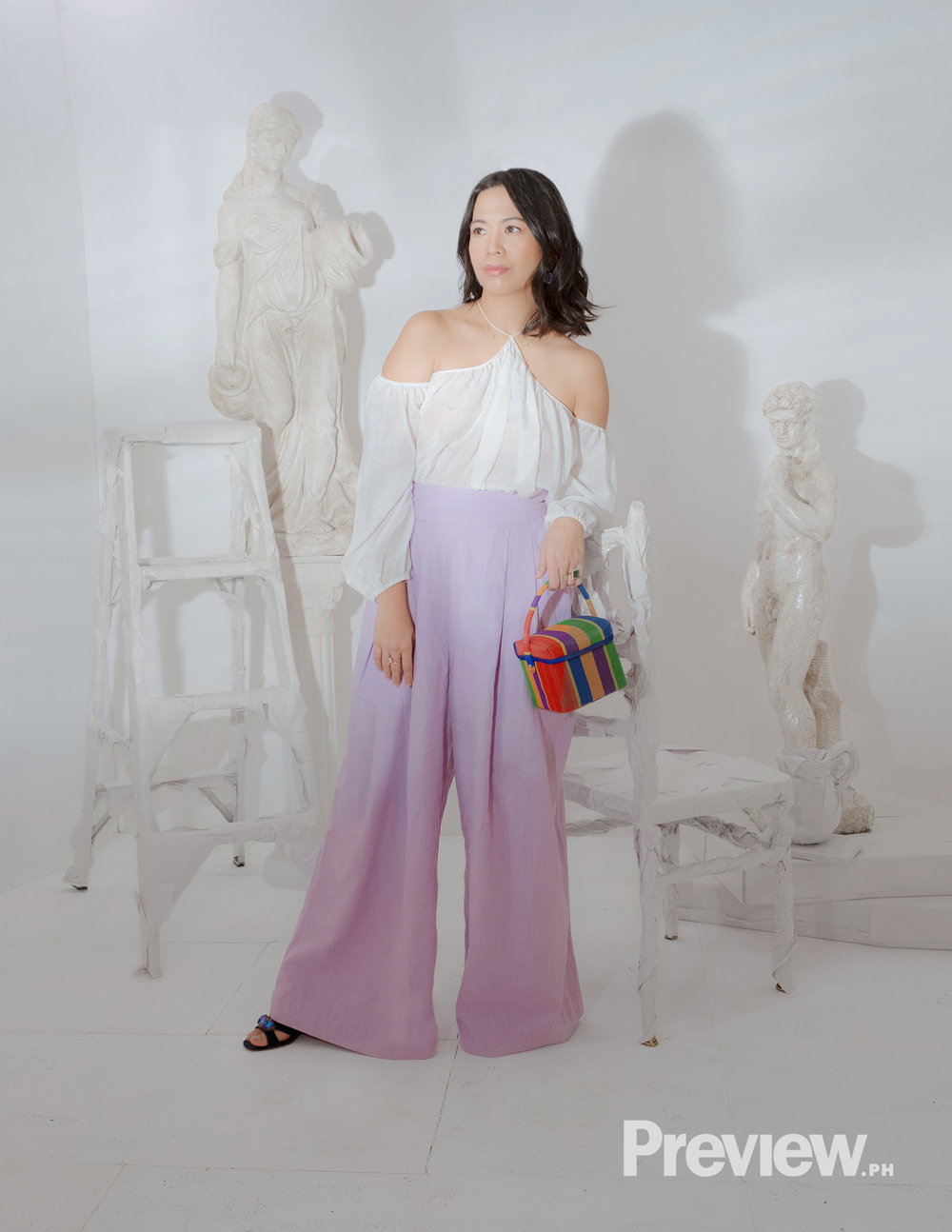 What's your favorite piece of jewelry?
"That's a hard question as I constantly wear different jewelry all the time. However, I do wear a couple of items almost daily: my wedding band, my birthing ring, an evil eye bracelet from my brother, and a necklace made with rose cut diamonds."
ADVERTISEMENT - CONTINUE READING BELOW
What's your most prized fashion possession?
"My wedding band. Not sure if one would consider that a fashion piece but it's something that I wear and prize the most."
Name five items in your closet that you absolutely can't live without.
"My collection of day-to-night pajama sets, vintange purses I inherited, scarves, my birthing rings and wedding band, and athleisure clothes."
ADVERTISEMENT - CONTINUE READING BELOW
How would you describe your "uniform" outfit?
"Easy pieces that can go day to night. For example, I'll wear silk PJs then pile on jewelry and put on flats. I really don't have a uniform per se. But comfort and fabric is always key. I wear a lot of natural fabrics."
ADVERTISEMENT - CONTINUE READING BELOW
Shopping Habits
Where do you usually shop for clothes, bags, shoes, accessories?
"My clothes are usually from local designers that catch my eye. I also tend to get pieces online at times mostly for athleisure. I've been quite into vintage shopping, but again, it has to catch my eye also. Construction and fabric are really important to me."
Are you an impulse buyer or more of an I'll-think-about-it-first kind of shopper?
"Both. But I am impulsive when I see an item and I have the urge to get it, I follow my instincts. Why? Because over the years I learned that if I like something, I should not question it. Usually, when I think about it too long, I forget the item or lose interest."
Fashion Picks
What's your fashion obsession nowadays?
"Jewelry, always. It can make or break what you're wearing. Also, jewelry can completely transform your look."
ADVERTISEMENT - CONTINUE READING BELOW
PHOTO BY INSTAGRAM/MACKYFAH
Complete the sentence: Fashion makes me feel ___.
"Clothed. Because I would feel naked without it, literally!"
Produced by Steph Sison
Photographed by Shaira Luna
Art Direction by Bacs Arcebal
Set Design by Aren Dale Santos of ADSET Production
Video Produced by Maura Rodriguez
Video Directed by Karlo Torio
Assistant Video Director JF Calimag
Related Stories from Preview.ph
Hey, Preview readers! Follow us on Facebook, Instagram, YouTube, Tiktok, and Twitter to stay up to speed on all things trendy and creative. We'll curate the most stylish feed for you!