When a party's dress code is color, you'd immediately have to assume that it will be a challenge to stand out from the crowd. But that's not the case when you're an honoree for Preview's Best Dressed 2019 and you're Maggie Wilson Consunji. Just one look at her, with her beach waves, jet black kajal liner, and highlighter green Patty Ang dress, you just know she's going to be the life of the party.
But it turns out, we were just seeing one side of the Filipina-British beauty, as Maggie admits she has two major moods: A boho siren on the beach or a rock 'n roll chick under the city lights. She works these two styles like no other, and with her statuesque body and beautiful face, even the most avant garde sartorial pieces would look great on her. But you'd be surprised to learn that she actually prefers classics over trendy pieces. On special occasions such as this annual party, however, she goes all out. Case in point: her neon feather mini dress and lace-up boots combo.
As she takes a break from enjoying the revelry with fellow beauty queen BFF Parul Shah at this year's party, we caught up with her to talk about her current fashion obsession, why she loves itty-bitty bikinis, and why she's been frequenting her jeweller more these days.
ADVERTISEMENT - CONTINUE READING BELOW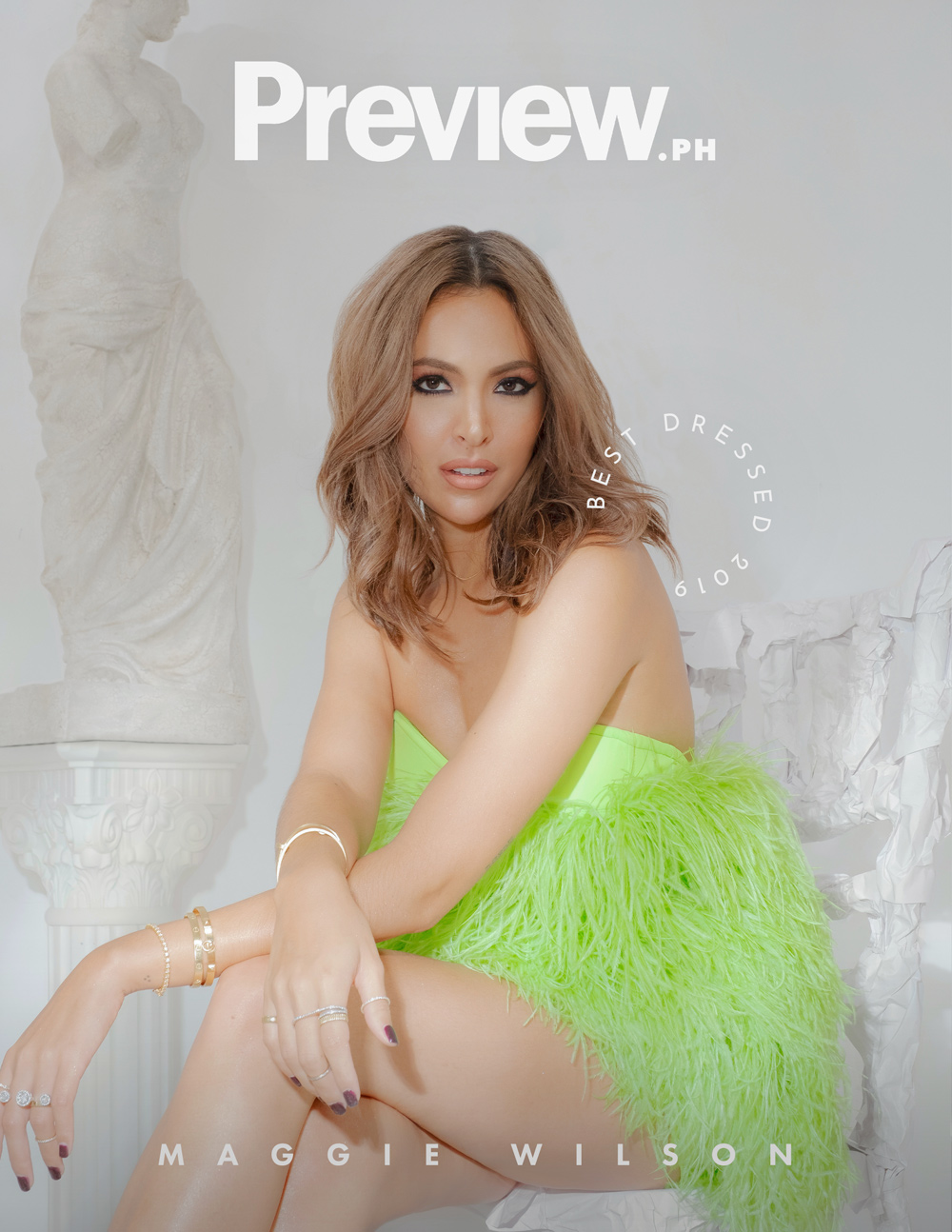 Personal Style
In a few words, how would you describe your personal style?
"I'd say I'm classic but with a twist."
When and how did you realize that this is your personal aesthetic?
"I've always been a little bit rock 'n' roll when I'm in the city. I guess I kinda have two personas. A lot of people see on Instagram that I'm always at the beach, so they think I'm really boho. Well, I can be when I'm at the beach but when I'm in the city, I'm actually a little bit more classic and sleek. I like wearing black and white. I'm always in a black T-shirt, and black pants. Just in general, edgier in the city. It just depends where I am."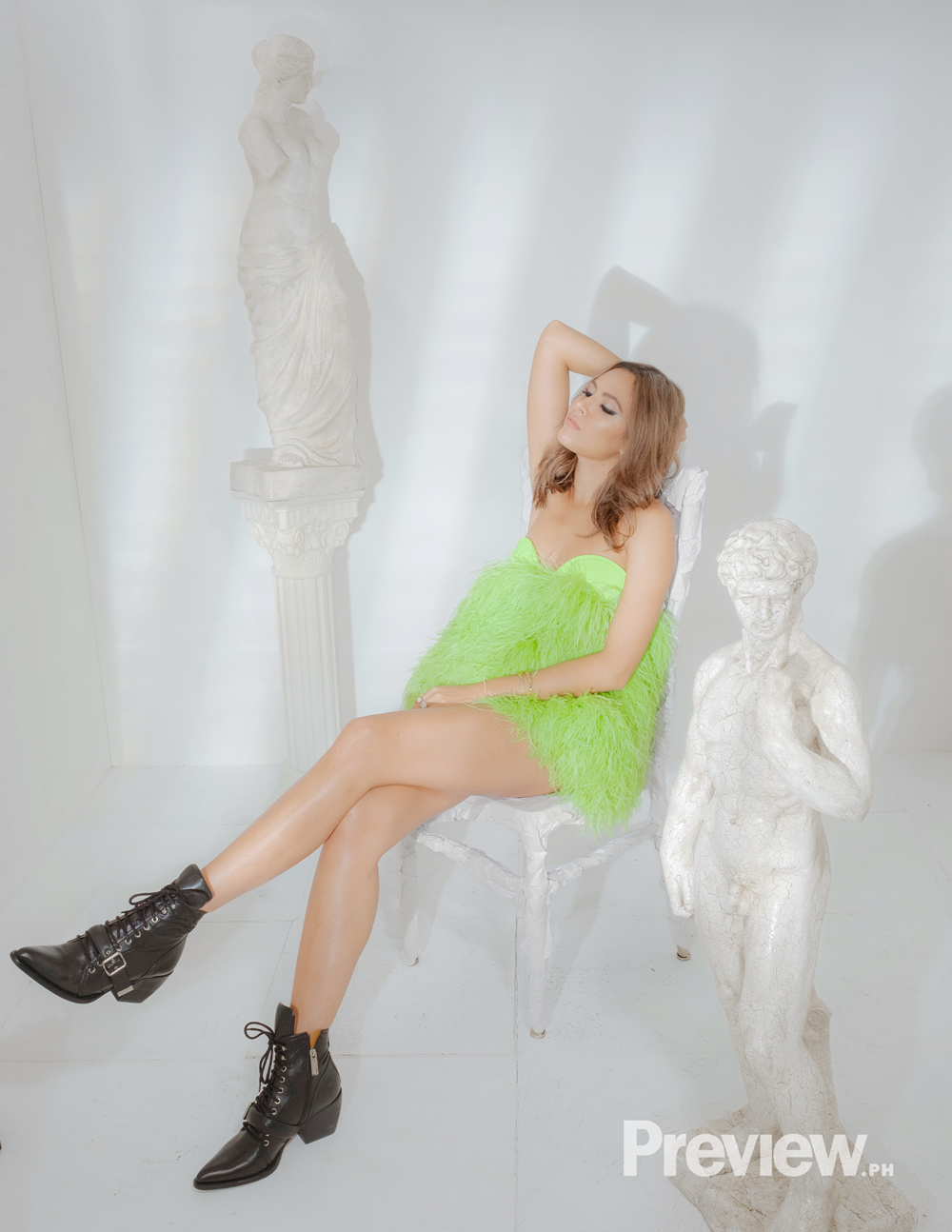 How has your style changed over the years?
"I've always liked sleek and classic looks. I would say I didn't veer too far from it. But I would say that now, I've edited out trends, like I don't follow trends anymore. I used to be more experimental, then I realized not all trends look good on me. Maybe if something's interesting, I'll try it. But I'm really a little bit more conservative when it comes to following trends. I like putting together outfits that will look good 10 years from now."
ADVERTISEMENT - CONTINUE READING BELOW
How has your style as an actress and former beauty queen shaped the way you dress?
"As an actress, you normally dress like the characters you play. As a beauty queen, you're meant to look glamorous all the time. In the time that I was reigning, I wore high heels, a full face of makeup, and I had big, beauty queen hair every day. To be honest, I found that exhausting. [Laughs.] I feel like my style now has remnants of both lifetimes but a lot more toned down and polished. I also wear a lot less makeup for my everyday look. I do enjoy dressing up but I always make it a point to feel comfortable. I am not the type to suffer for fashion anymore. [Laughs.]
Who's your fashion inspiration?
"My favorite person to follow on Instgaram in terms of style is Julie Sariñana. I think her blog is Sincerely Jules. I love her style. I think she's the perfect mix of boho but also very sleek and street. I just love how she puts together prints, patterns, and looks. I love how she does it."
ADVERTISEMENT - CONTINUE READING BELOW
Name five items in your closet that you absolutely can't live without.
"Currently, I'm obsessed with my boots. I also love a good pair of skinny jeans. I have a denim one and a black one that I always wear. I have so many white and black round-neck shirts. Then, a good sling bag. I'm loving my Chloé bag right now and my sunglasses. I just recently bought a pair from Gentle Monsters and I super love them. I've been wearing them every day."
ADVERTISEMENT - CONTINUE READING BELOW
How about your staples when you go to the beach?
"Obviously, my bikini! [Laughs.] I really like skimpy bikinis. I think, especially for women, I really like the small, itty-bitty bikinis in the back, almost like a thong type or if you're not comfortable doing a thong, then do a brazilian cut. It just makes the butt look so much nicer. And for the top, I always go for bra-shaped ones. I think that looks the best for my body. I also like a good one-piece. I think it's so hard to find good one-piece suits that fit well, so if you find one, then you should stick to that. I also have sunglasses and I like a good cover-up as well. My go-to beach bag is anything from Aranaz. Love her stuff! It's perfect for the beach. And yeah, just slippers."
How would you describe your "uniform" outfit?
ADVERTISEMENT - CONTINUE READING BELOW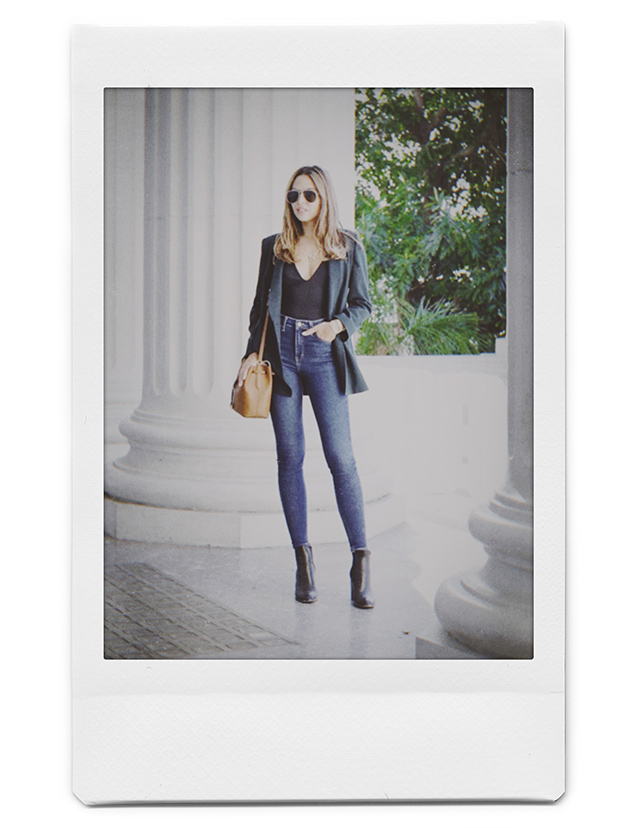 Shopping Habits
Where do you usually shop for clothes, bags, shoes, accessories?
"Good question! So I do a lot of online shopping. For every day stuff, I just normally go to Zara. I think it's perfect for my body type. All their clothes just fit me so well. For online stores, I love to shop at Sabo Skirt, which is an Australian label. I love all their clothes, especially for the beach because they're very boho and relaxed but still very sexy. There's also another store called White Fox Boutique. They sell a lot of nice bikinis so I like to get my bikinis and workout clothes from them. They have some cute dresses, too, every now and then. I also shop in Revolve, ASOS, and then for designer stuff, I shop on Net-a-Porter, Shop Bop, and Farfetch."
ADVERTISEMENT - CONTINUE READING BELOW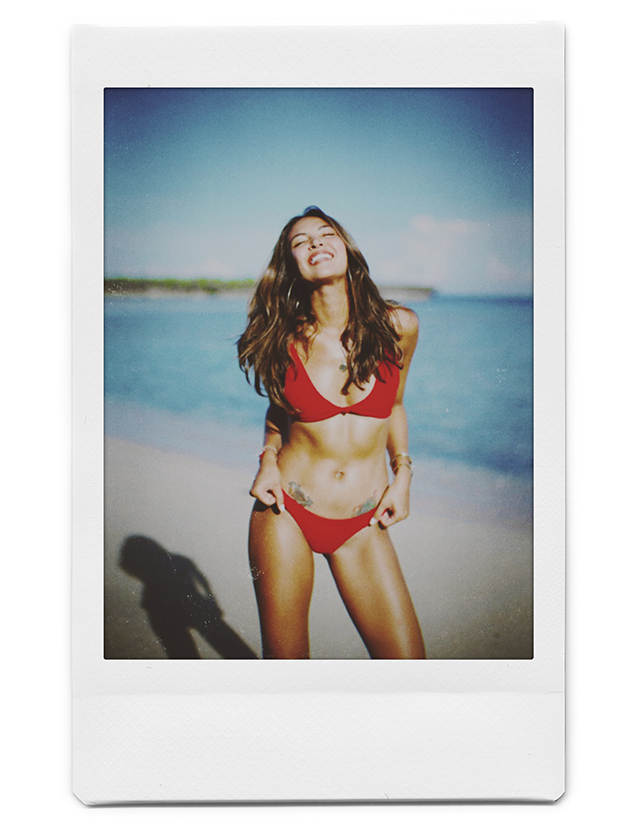 PHOTO BY INSTAGRAM/WILSONMAGGIE
Are you an impulse buyer or more of an I'll-think-about-it-first kind of shopper? Why?
"I'm definitely a I'll-think-about-think shopper! Because when I was younger, when I saw something nice, I'd go 'Oh my gosh, I really, really want it!' But now that I'm older, I've sort of put a little less value into shopping. I invest more now. So if I like a designer piece, I'll really think about it. I won't get it just because everybody has it. I'll really think if I'll actually use it, how often I'll use it, too. If I'm gonna use it once and then it's gonna sit in my closet for the next year or so, then I won't get it. Honestly now, I invest more on jewelry. I've been buying a lot more gold and rings, just little everyday pieces. So now, I would say I go to my jeweller more."
ADVERTISEMENT - CONTINUE READING BELOW
Fashion Picks
What's your fashion obsession nowadays? Why?
"My boots! Maybe because it's the rainy season right now so I think it's very appropriate for the weather. And I was just in London and Iceland, the weather over there is a lot cooler. It's perfect boot-weather. I'm definitely going through a boot phase at the moment. Right now, I'm really loving the ankle-length style. I just think they're really sexy. Like if you wear them with nice cropped jeans, it just looks so good!"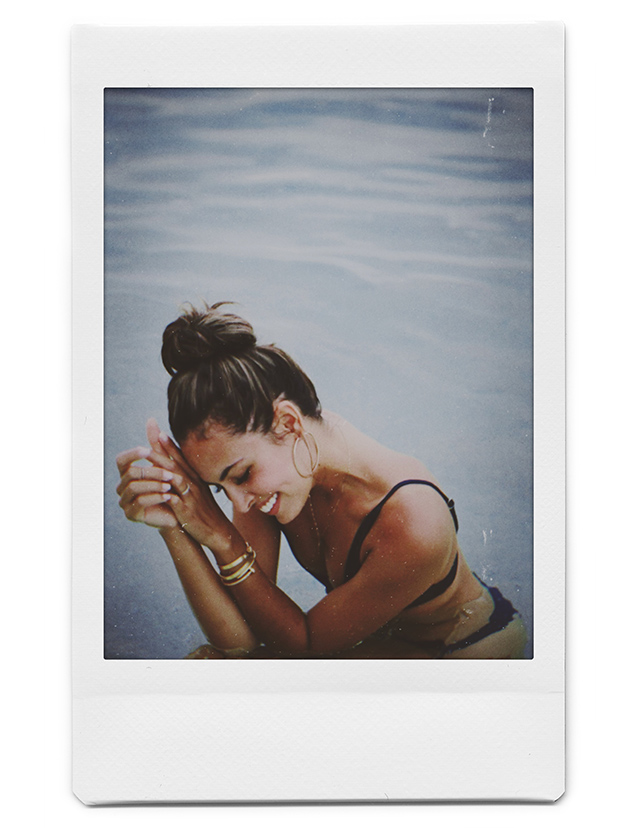 ADVERTISEMENT - CONTINUE READING BELOW
PHOTO BY INSTAGRAM/WILSONMAGGIE
Complete the sentence: Fashion makes me feel ____.
"Fun and adventurous!"
Produced by Steph Sison
Photographed by Shaira Luna
Art Direction by Bacs Arcebal
Set Design by Aren Dale Santos of ADSET Production
Video Produced by Maura Rodriguez
Video Directed by Karlo Torio
Assistant Video Director JF Calimag
Videography by Sernne Dominia
Video Production Assistant Gerol Candelaria
Related Stories from Preview.ph
Hey, Preview readers! Follow us on Facebook, Instagram, YouTube, Tiktok, and Twitter to stay up to speed on all things trendy and creative. We'll curate the most stylish feed for you!