Ryza Cenon trended twice in one week, first because of her new cropped 'do, and second because she officially announced that she was expecting a child. The actress coupled her big reveal with beautiful photos showing off her baby bump at 5 months. We just had to ask her about her cool maternity shoot.
The theme was "Oppa"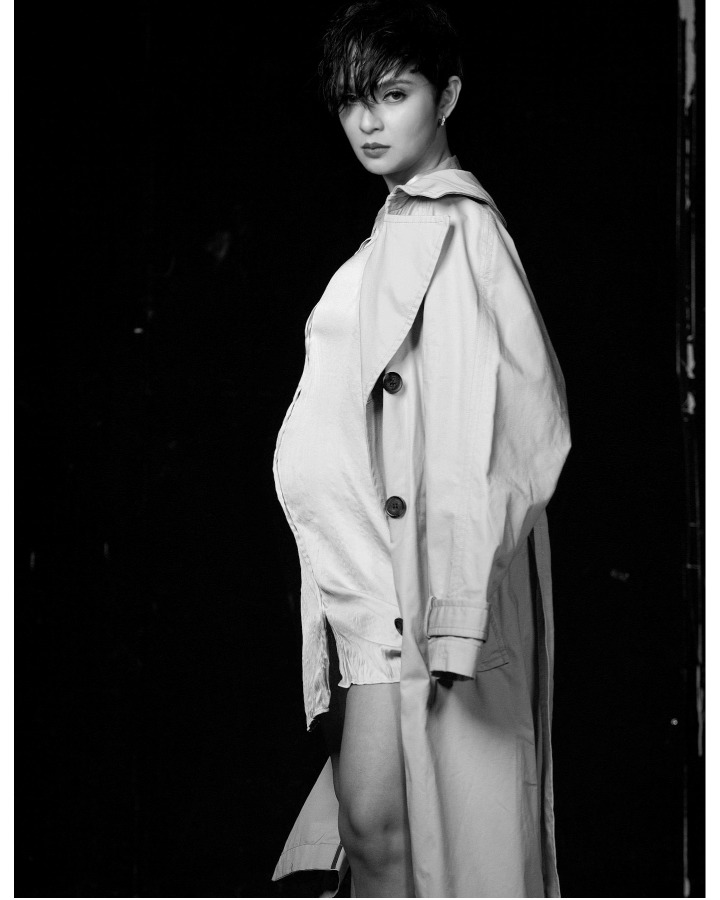 ADVERTISEMENT - CONTINUE READING BELOW
"Well, it started when my new hairstyle was trending on social media and a lot of people were saying that I look like Lee Min Ho," Ryza shares. (She earlier revealed that a bout of hair fall caused by changing hormones in pregnancy spurred the dramatic pixie cut.) "Oppa" is Korean for older brother, and as hair stylist Mycke Arcano puts it, "Ryza's current hair length is reminiscent of the trending hairstyles of Korean male idols."
Her Instagram post of her new short hair was also what brought the team for her maternity shoot together. Photographer Niko Villegas as well as Mycke both commented that they wanted to do a photo shoot with her. "But they did not know yet that I am pregnant," Ryza says. She then talked to stylist Ryuji Shiomitsu and makeup artist Vanessa Estor to complete the team.
The team's dream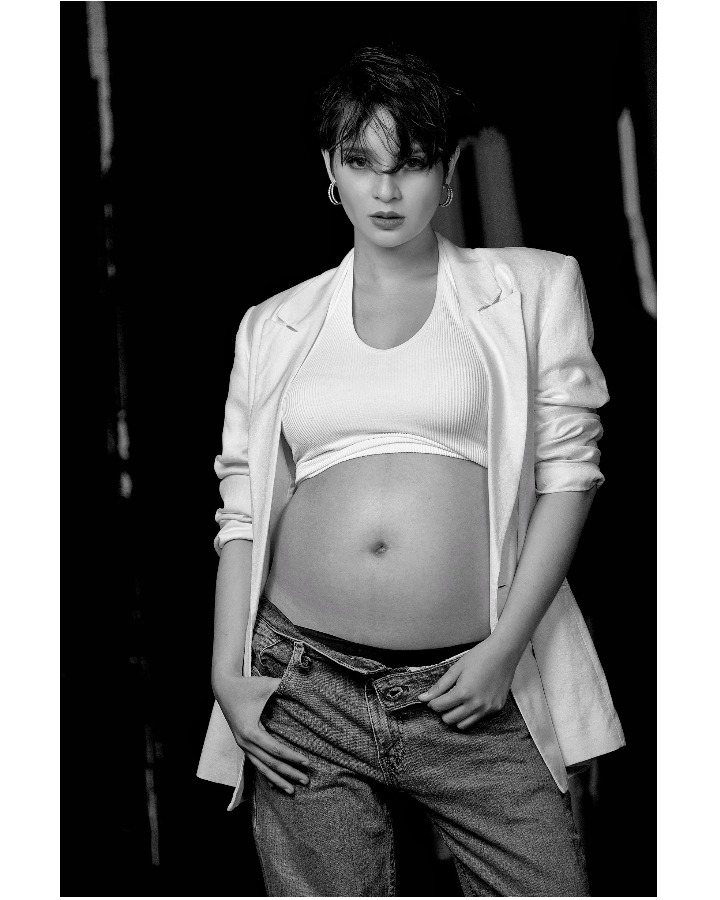 Ryza was a dream subject for the creatives that were part of her maternity shoot. Having worked with everyone before, she gave each of them full creative control when it came to what they planned to do.
Niko referred to her as his muse when he shared shots of Ryza in his Instagram account. "When our schedule is not tight, we randomly have photoshoots just to add to our portfolio," Ryza says. She worked with him 6 months prior to this shoot and also chose him to photograph her new makeup line Kyss, which will be launched this year.
She shares that Ryuji immediately came to mind because she felt that this boy-meets-girl look is his forte. "I wanted to see his vision as an artist so I didn't meddle with his work," she says adding that she only spoke up when she wasn't comfortable with what she was wearing. "Everything that I wore at the shoot came from Ryuji. He brought 6 looks, but I got tired easily, so we only finished [shooting] 4 looks."
ADVERTISEMENT - CONTINUE READING BELOW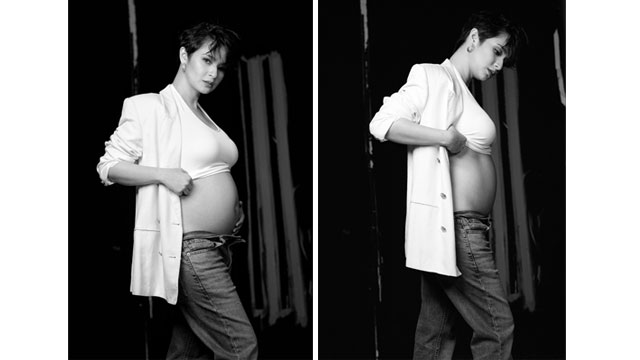 With only a few days to prepare, and with most designers in quarantine, Ryuji shares that he made use of clothes he had on-hand in his studio for the shoot. "I'm accustomed to Ryza's size, but we had to adjust for her growing baby bump," he says. The goal for styling was to achieve looks that were similar to what Lee Min Ho and other Hallyu actors wear. "They really do lean towards tonal colors and simple silhouettes," the stylist expounds, adding that the aesthetic is "very minimal but plays on details and textures."
ADVERTISEMENT - CONTINUE READING BELOW
As for her hair, which got this whole project off the ground, Mycke shares that he followed Ryuji's lead and translated the Korean idol look into one that was androgynous and evoked power. "I created variations of parting with dents and bends to make it look more editorial for her maternity shoot," Mycke explains.
Even if Vanessa couldn't make it to the actual shoot, she still provided the concept for Ryza's makeup look. She initially offered to send a replacement, but upon seeing what the artist had in mind, Ryza said she could handle doing it on her own.
Staying safe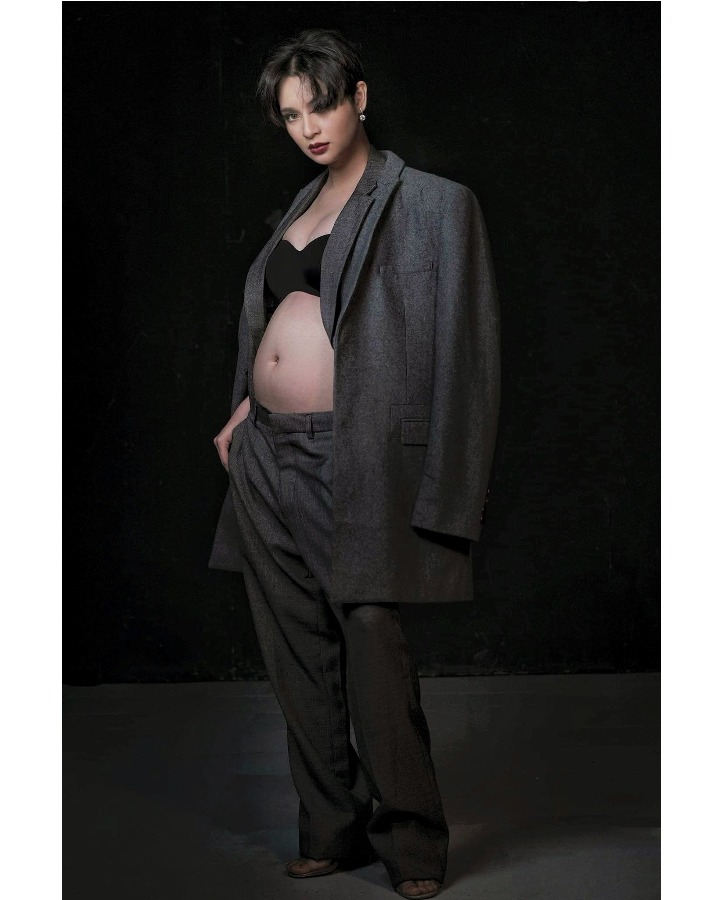 ADVERTISEMENT - CONTINUE READING BELOW
Doing a shoot right now entails being around people who aren't from your household, so naturally, safety was a top priority. Wanting to shoot in a hidden venue that was clean and safe, they were able to book Viva studio. Everyone wore face masks and observed social distancing throughout the shoot, and regularly sanitized with alcohol.
Ryuji also shared that the team limited contact and stayed in a different room while Ryza was preparing, making sure to also wear face shields, apart from the masks, and disinfect with both alcohol and Lysol. "Even in our group photo [at the end], we were social distancing," he laughs.
He adds that in order to lessen the time each one spent outside their homes, Niko worked quickly as he took the photos. "I think we only did the shoot for 4 hours, including hair, makeup, and overall prep time," Ryuji says.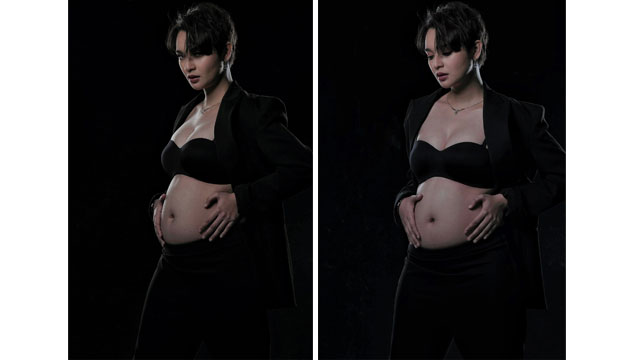 ADVERTISEMENT - CONTINUE READING BELOW
Most moms-to-be schedule their maternity shoots closer to their due dates when their bellies are in full bloom. For Ryza, doing the shoot on her fifth month helped with the announcement of her pregnancy. She does plan to have another set of photos taken later on, "maybe on my 8th month of pregnancy," she says. But plans aside, Ryza shares that what she is looking forward to most is finally giving birth to her baby.
Hey, Preview readers! Follow us on Facebook, Instagram, YouTube, Tiktok, and Twitter to stay up to speed on all things trendy and creative. We'll curate the most stylish feed for you!