This month, we zoom in on new blood in the realm of fashion. Take our November cover girl Vivoree Esclito, for example. She's a triple threat poised at the top of her game—in the most stylish way, of course! She appears on the cover of Preview clad in our top picks from these new and emerging young designers.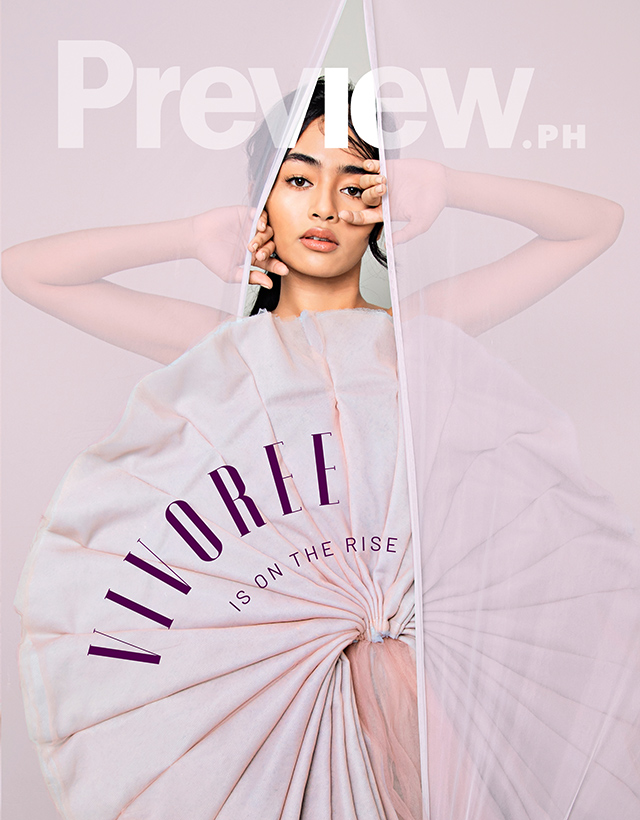 ADVERTISEMENT - CONTINUE READING BELOW
Every year, we round up fashion design novices that show promising potential for their craftsmanship, aesthetic, and style substance based on their graduation collections. Below, let's get to know this year's Preview Emerging Fashion Talents.
Related Stories from Preview.ph
Candice Arboleda
Candice Arboleda starts with a story. It is through a visual narrative that she gets inspired to turn simple fabric into works of art. She moves her viewers to understand the story she's created via lines, shapes, textures, and patterns. While her aesthetic is feminine—just see her tulle creations—she makes sure that it's nowhere near ordinary. Candice amps up the volume, silhouettes, and leans to a scuptural, almost avant-garde approach that make her pieces worthy to be called wearable art.
For this specific collection, she pulled inspiration from her self-journey, healing from clinical depression. "My collection tackles depression as an energy through the dichotomy of freedom and restraint," She explains. And from this, stemmed tulle creations that balance movement and softness, despite its volume. Frothy balls of cocooned tulle frame a woman's body and highlights the duality of knowing strength, without hardening.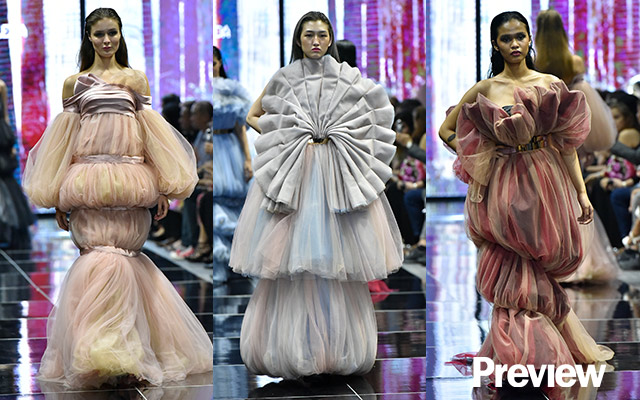 Candice's pieces from this collection range from P25,000-P75,000. Contact her through her Instagram account or email her at cma_arboleda@yahoo.com.
Tracy Cunanan
Tracy traces her roots for her Kaamulan collection. Derived from the Binukid word amul that means "to gather," she looks back to her ancestors from Bukidnon who gather "to celebrate their differences and to showcase the unique indigenous culture of Bukidnon," the young designer says. She pulled inspiration from her tribe and merged it with her visual aesthetic as a designer—drawin on symmetry and color. Tracy shares that she yearned to "accumulate tradition and culture from the indigenous tribes of the country and applying its attributes to different techniques and manipulations that would thrust it in a contemporary state."
ADVERTISEMENT - CONTINUE READING BELOW
We dare say she's successful at this venture. She modernized tribal wear and translated indigenous culture into contemporary fashion through the use of a soft, thin cotton thread she used for her head-turning knitted garments.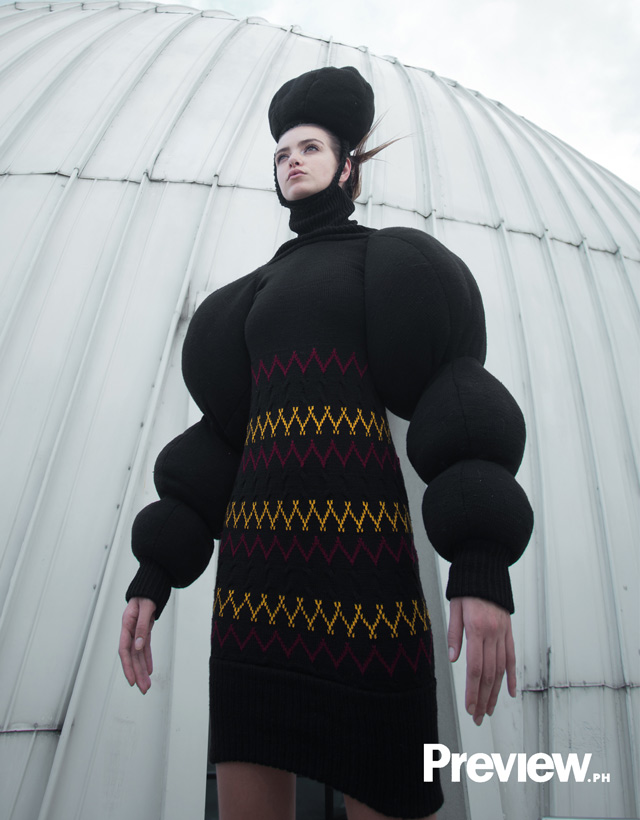 Tracy lists her pieces from this collection starting at P3000. For orders, you can contact her through her Instagram account.
ADVERTISEMENT - CONTINUE READING BELOW
Kyle Corona
Kyle believes in balance to achieve the sweet spot in stylish dressing. She plays with bold pieces reined in by subtle texture play which allows the wearer to play with her pieces. You can evidently see this in her graduation collection called The Bind.
Inspired by ballet, she zoomed into the anatomy of a pointe shoe and exemplified it through the use of leather and sheer fabrics. Kyle's pieces reflect a sense of thoughtfulness that can be rooted in her detail-orientedness. She took the fluidity and drama of the ballet and combined it with the structure of a ballerina's shoe. This meant leather peekaboo overskirts, bias bindings, and tops she made by employing different smocking techniques. All these strong elements she paired with sheer asymmetric tops and pleated tulle skirts to add a softness to the pieces.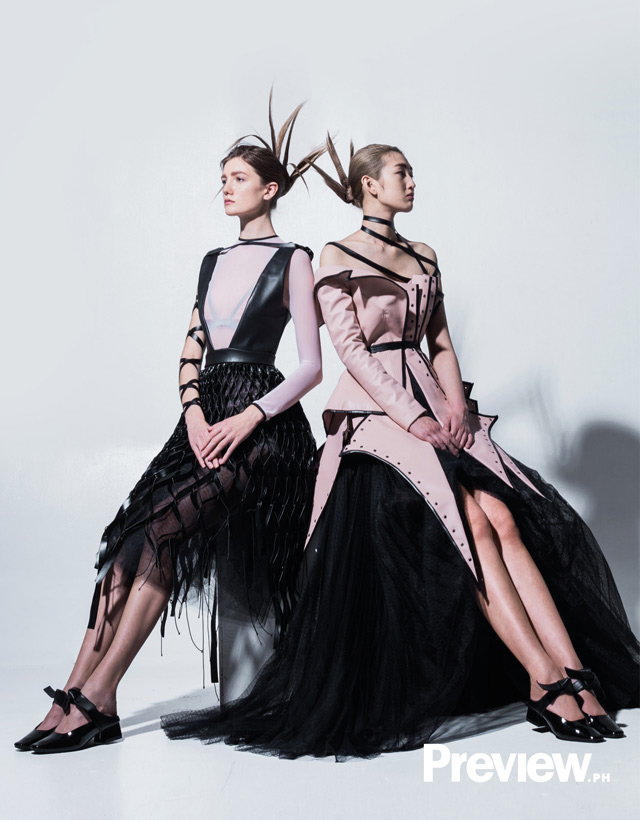 ADVERTISEMENT - CONTINUE READING BELOW
Pieces from this collection start at P10,000. For orders, you can contact Kyle through her Instagram account or email her at designerph.kyle@gmail.com.
Kathleen Matillano
Kathleen's ebony collection is inspired by the idea of a modern woman. She took notes from how women of architecture starts with their plans—structure, molding, and layering. According to the young designer, her collection resonates the legacy of Zaha Hadid and Maya Lin. "The techniques and silhouettes are on homage to female strength that emanates from her physical beauty, intuitive spirit and inner strength," she explains.
To translate architecture into fashion, Kathleen took unconventional materials like car tints, black cords, and yarn and merged it with frilly tulle, organza and some metallic fabrics. The result are pieces made with smart tailoring married with dramatic flair and sophisticated design.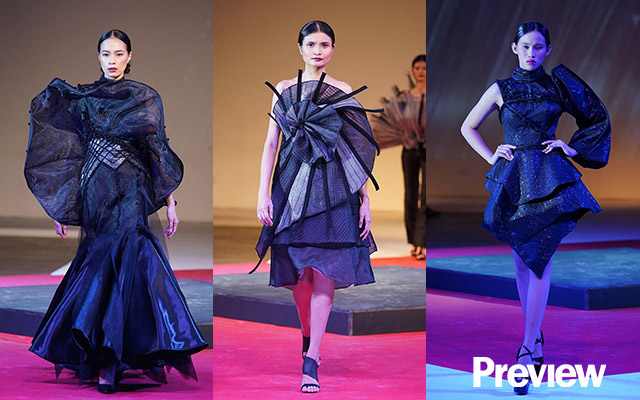 ADVERTISEMENT - CONTINUE READING BELOW
For inquiries about Kathleen's pieces, you may contact her via her Instagram account.
Justine Villanueva
Justine banks on her youth when creating clothes. "My aesthetic is highly influenced by pop culture so I can say that my designs are colorful, hip, and vibrant," she says.
But you'll be mistaken to think Justine's clothes are superficial or to simply call them "fun." This fresh design grad researches on many cultures and explores various fabrics before creating her collection. She loves the idea of mixing and matching, and this technique became the central mood of her graduation collection called The Ballerina from Bronx. "It's a crossover between '90s hiphop streetwear and ballet tutus," Justine explains. "I love the sequined fabric and it made me think of those dazzling ballerinas we see in plays. I revamped it by mixing it with the '90s baggy silhouette," she adds.
ADVERTISEMENT - CONTINUE READING BELOW
Justine's pieces can be bought off her Instagram account. They retail from P5000 to P7500.
Hey, Preview readers! Follow us on Facebook, Instagram, YouTube, Tiktok, and Twitter to stay up to speed on all things trendy and creative. We'll curate the most stylish feed for you!