A big misconception about model squads persist to this day. People think that they're cliquey and that they walk with their head held too high. But as you might expect, that's the farthest thing from the truth—and we've got receipts.
Meet the five up-and-coming models who are breaking model squad stereotypes and taking over the local fashion scene by storm.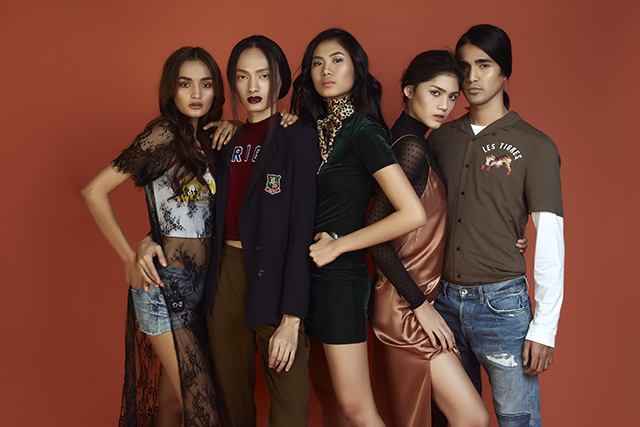 ADVERTISEMENT - CONTINUE READING BELOW
Jach Manere, Julls Culas, Lou Yanong, Hannah Locsin, and Kenn Bosch are all junior members of the Professional Models Association of the Philippines (PMAP). Although they didn't start modeling at the same time, they were brought together by their similar sense of humor and how well their personalities mixed with each other.
CONTINUE READING BELOW
Recommended Videos
"For us, there's really no competition. It's more about supporting each other," Hannah tells us. And according to Jach and Julls, they even buy each other's magazines and wish each other the best when they attend go-sees. Their group is the kind of family that you'd want to find at work, especially in a stressful industry like modeling.
Being a group of eclectic young models, they also have a diverse sense of style. They are at the forefront of fashion, so they're always in the know of what's hot on the scene. We tapped these five budding models not just to break the notion of squad exclusivity but also to show you how upcoming beauty and fashion trends can be worn on the streets.
ADVERTISEMENT - CONTINUE READING BELOW
Julls Culas: Preppy blazer + Dark Lip
How to wear dark lips: Matte dark lips are old news. Add some gloss to your dark lip to effortlessly plumps your lips, then wear it with some winged liner for eye definition or alone with a bare face when you're feeling extra bold.
How to wear preppy blazers: Collegiate wear is back on trend. Wear jock jerseys and preppy separates with a crisp button-down and tailored trousers to hop on the wagon.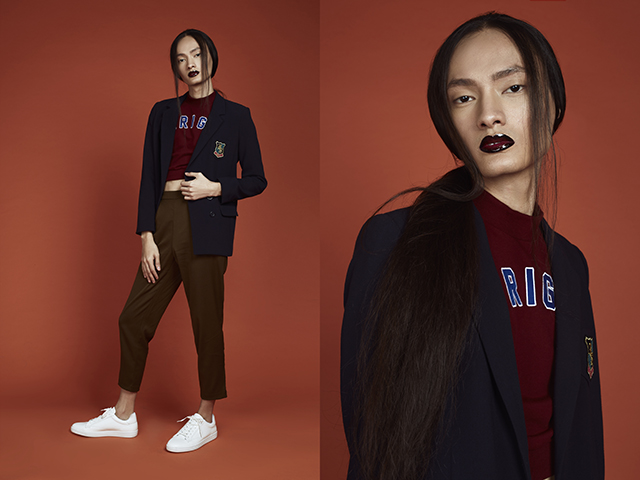 ADVERTISEMENT - CONTINUE READING BELOW
On Julls: Crop sweater, Forever 21; Trousers, H&M Studio; Sneakers, Pedro
"Layer on a button-down underneath the crop top so it's more wearable for conservative places. With that, you can even wear it to a job interview." - Julls
Jach Manere: Tulle + Halo Eye makeup
How to wear halo eyes: Lazy girls, listen up. Skip the three-color rule of eyeshadow and blend one color that you love all over your lids for a soft, diffused look that subtly defines your eyes.
How to wear tulle: You don't have to be a ballerina to wear tulle on the streets. Layer a sheer top as your third outfit piece or let your romantic side shine with some pleated tulle skirt matched with some ballerina-inspired wrap tops.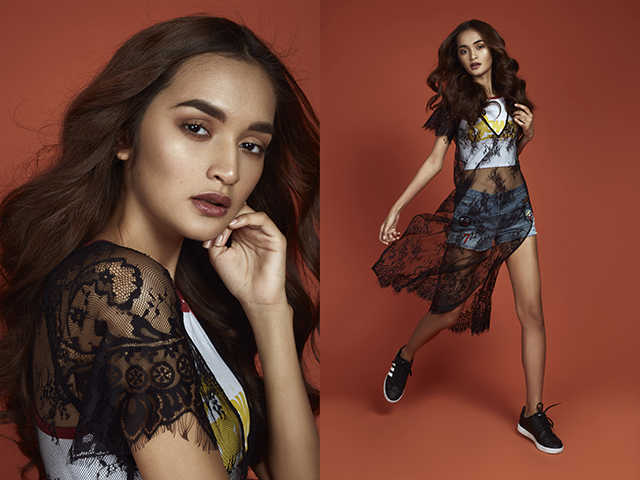 ADVERTISEMENT - CONTINUE READING BELOW
On Jach: Crop top, Lace dress, and Denim shorts, Forever 21
"I would actually wear this as it is. But if you don't want to show too much skin, wear some distressed jeans for a more laid-back look without losing the feminine touch." - Jach
Lou Yanong: Velvet + Graphic eyeliner
How to wear graphic eyeliner: Switch up your eyeliner routine for a night out and make it extra interesting with a bold, colorful wing that brings out your artsy side.
How to wear velvet: It's not as bulky or hot as you think! Wear velvet as a statement piece just to add the right amount of party and edge on any outfit.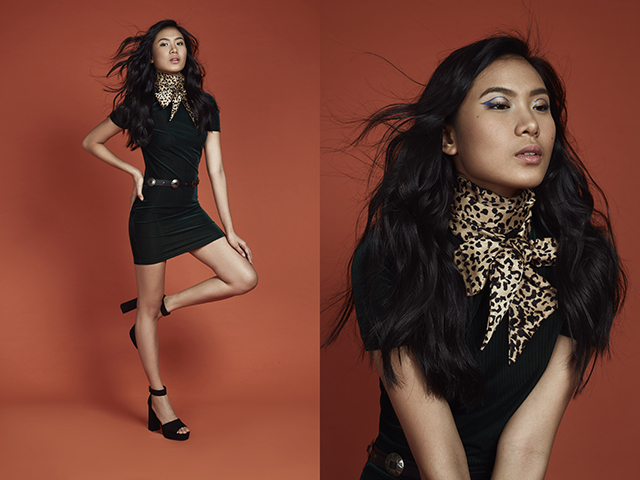 ADVERTISEMENT - CONTINUE READING BELOW
On Lou: Velvet dress, Belt, and Scarf, Forever 21; Platform shoes, Charles & Keith
"Instead of heels, you can probably pair a short velvet dress with sneakers. That way, it will be easier to wear to school or on a day out with the squad." -Lou
Kenn Bosch: Denim + Faux Freckles
How to wear freckles: Faux freckles add a splash of innocence to a bare face, and it makes the skin look more sunkissed than it is. And they're not too complicated to draw on either!
How to wear denim: Update this closet staple with frayed ends, patchwork, embroidery, and mixed fabric to keep it stylish and trendy.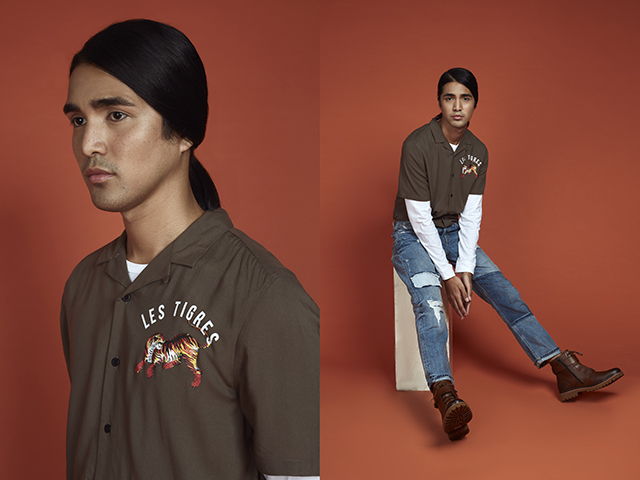 ADVERTISEMENT - CONTINUE READING BELOW
On Kenn: Long sleeve shirt, and Polo, Topman; Denim jeans, H&M; Boots, Pedro
"I probably have the easiest trend to wear. I think it's even a closet staple already. So guys, having a denim jacket is a must to achieve that casual look or to play down an otherwise too formal outfit." - Kenn
Hannah Locsin: Metallics + Glossy eyelids
How to wear glossy lids: Glossy lids aren't a crazy runway trend, you can actually wear it on the daily as a treat for your eyes. Instead of gloss, you can apply more eye cream than usual to achieve a dewy finish, or dab on some petroleum jelly to achieve a more intense shine.
How to wear metallics: Keep the party vibe on by adding a sparkly touch to your ensemble with some metallic fabric. Also, it doesn't always have to be your clothes to do all the talking. Wear some shiny shoes to accent your garb.
ADVERTISEMENT - CONTINUE READING BELOW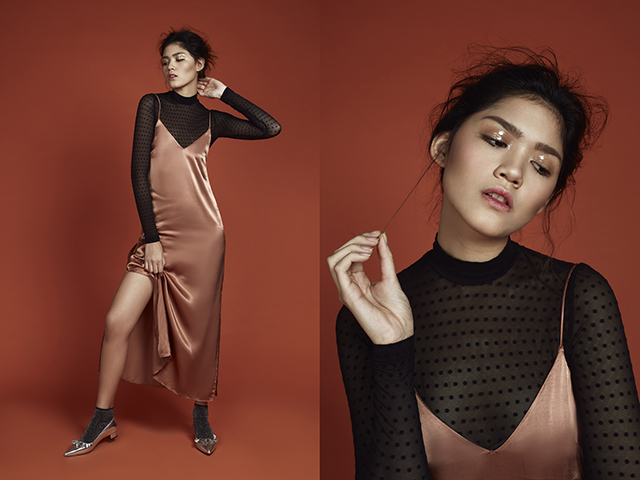 On Hannah: Sheer top, Forever 21; Metallic slip dress, and kitten heels, H&M
"Metallic fabrics tend to be too loud so find pieces in a more feminine cut to tone it down a bit. Or make it as a statement piece then leave the rest of your outfit pretty basic." - Hannah

ADVERTISEMENT - CONTINUE READING BELOW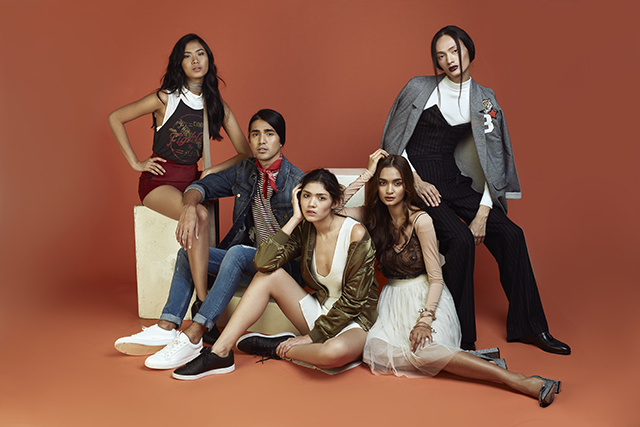 On Lou: Uptown girl shorts, and Top rated choker top, Copper; Casual graphic tee, boots and scarf, Forever 21
On Kenn: Casual shirt, and denim jeans, Topman; Sneakers, Pedro
On Hannah: Bomber jacket, and sweater dress Topshop
On Jach: Lace camisole, H&M Studio; Long sleeve basic top, and Bow heels, H&M; Tulle skirt; Forever 21
ADVERTISEMENT - CONTINUE READING BELOW
On Julls: Corset, and trousers, H&M Studio; Turtleneck sweater, and Preppy blazer, Topshop; Loafers, Pedro
Photographed by Dookie Ducay (@dookieducay)
Hair by Mycke Arcano (@hairbymyckearcano)
Makeup and grooming by Laila Al Harthy (@lailaalharthy)
Styled by Celina Dayacap (@celdstyles)
Art Direction by Gab Gutierrez (@pgabogutierrez)
Sittings Editors: Nicole Arcano (@nicolearcano) & Steph Sison (@sgsison)
Shoot Assistant: Maricar Valdez
>>