For Renan Pacson, inspiration can come from anything—everyday objects, emotions, and even moments. However, his most recent collection is anything but reminiscent of the banal and the mundane. In fact, it is teeming with a strong sense of identity, one that's distinctly "Renan Pacson"—very urban and androgynous, but always rendered in a highly versatile and wearable way.
This collection's humble conception began by chancing upon some paisley fabric, which he soon found to originate from Persia. Hence, the title Shatranj. "Shatranj is the Persian version where our modern chess game originated from, so each look kind of represents a different player from the game. I have the classic characters: the shah, ferz, rokh, and so on… I also added some characters like the butcher/murderer, the hoe, and the stranger."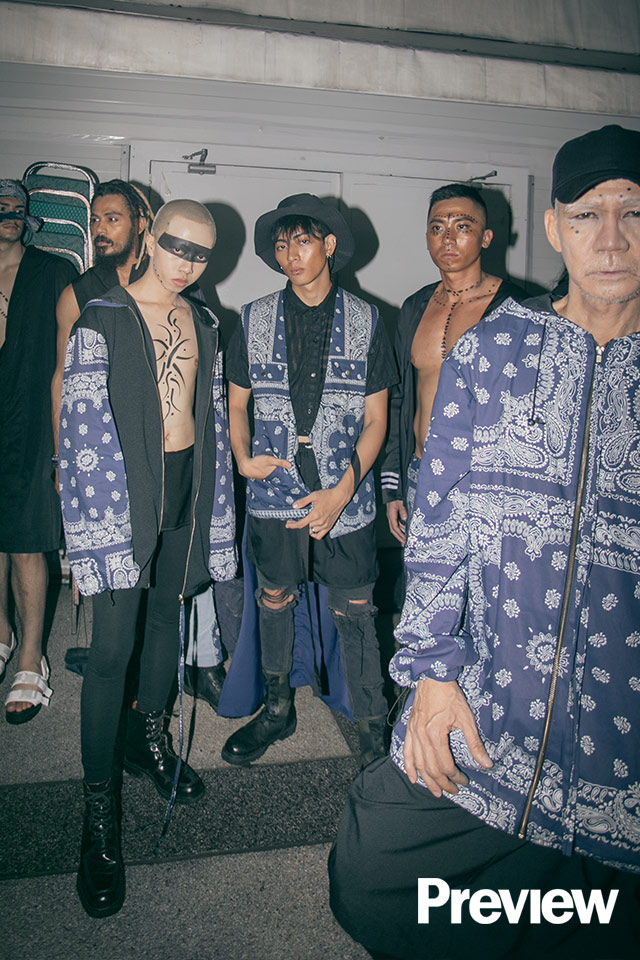 ADVERTISEMENT - CONTINUE READING BELOW
And just what kind of characters were represented in this collection? Based on the looks, the collection seems to suggest a spectrum of personalities within this army of streetwear stylephiles. There are the slightly minimalist ones who donned sleek, black, cocoon-shaped coats and anoraks with the navy blue boteh fabric (Persian for paisley) peeping underneath or worn as a vest, very much like armor. On the other side of the spectrum, there are the maximalist ones who embody the same rough-and-tumble spirit as their fellow members but chose to don boteh and color in more ways than one: Take the boteh dress, for example, wherein the denim on the skirt was haphazardly slapped onto the paisley fabric like a sartorially good mess. There's also the blue samurai-like coat worn with denim shorts overlaid with the paisley print, almost like a warrior ready to take to the streets.