Sam Richelle and KC Del Rosario are sisters born from royalty, each of them having established their own thrones in the realm of fashion. But what is it exactly that determines their fashion nobility? For one, Sam is an estemeed fashion designer who has an eye for the androgynous and maximalist aesthetic; meanwhile, KC is a social media star in her own right. Both have also committed to a signature look that only they can pull off.
These sisters are both edgy dressers, but they each have distinct styles. Sam is inclined to borrow from the boys while KC is known for her femme fatale look. They are very much aware of what works for their personalities and lifestyles despite sharing a common aesthetic. Below, they talk more about how confidence plays a huge part in dressing up and how they view fashion as art.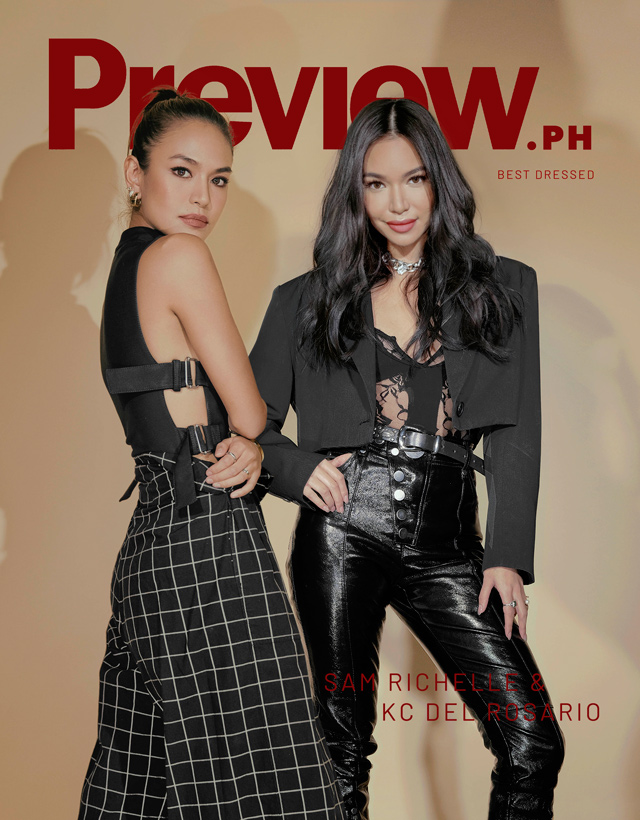 ADVERTISEMENT - CONTINUE READING BELOW
Sam wears a Dior vest and Rejina Pyo pants while KC wears a thrifted top and Alexander Wang pants.
Why do you think KC was chosen to be a part of the best dressed list?
Sam: "I think because she loves her fashion, she dresses really well. She definitely knows her body and how to dress it, too."
How about you, KC?
KC: "Sam's style is unique. Always classic."
What do you like most about how each other dresses?
KC: "She likes to experiment with a lot of different looks. I like that her style complements her tattoos."
S: "What do I like best? That's a hard question. I mean, it's her 'look.' You can definitely tell she's got style and she really owns it and knows how to wear her clothes. When you see her, you know it all works."
If you were to scroll through each other's Instagram feed, what style tip/s would you pick up?
S: "Maybe how to elongate your body with the clothes you wear. She definitely knows how to pose! Because we're both not very tall, you know, it's a good thing she knows how to style herself and really create that illusion."
CONTINUE READING BELOW
Recommended Videos
KC: "Wearing the right accessories can make a huge difference."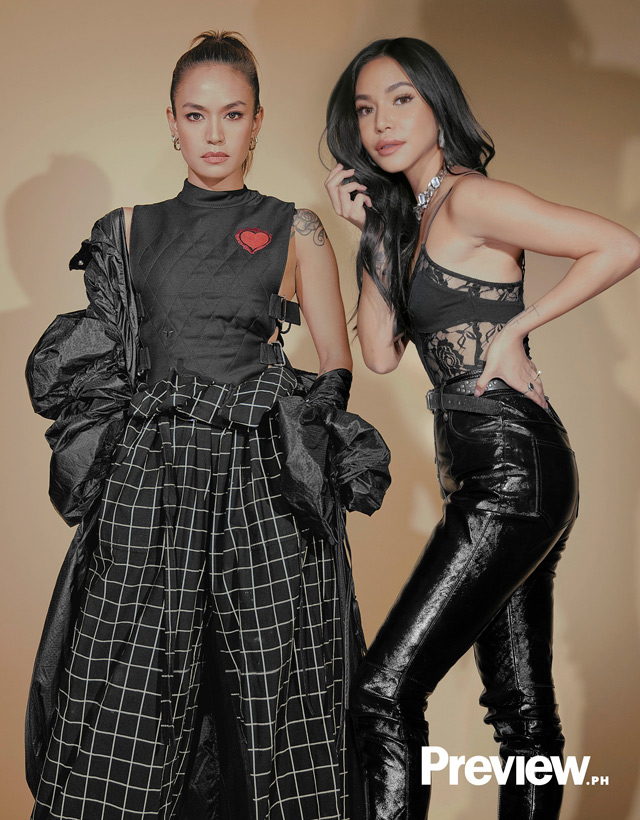 Sam wears a Blindness jacket and KC wears a pair of Givenchy hoop earrings.
What does KC's signature look tell you about her?
S: "I mean, her signature look is really her hair. I mean, it's always down and big and luscious and I think that really has a lot to do with her aesthetic when she dresses. She's always very polished. I can literally go out and just wear my hair in a bun because my hair is a crazy mess right now, but, no, she really looks so put together when she goes out and I think that has a lot to do with her hair. It's really part of her look!"
ADVERTISEMENT - CONTINUE READING BELOW
How about Sam's signature look?
KC: "That she's her own boss."
If you could steal one thing from each other's closet, what would it be and why?
S: "Can I say her hair extensions? Haha!"
KC: "Probably one of her winter coats."
In what way are your styles different? In what way are they the same?
KC: "Her style is a lot more diverse. She likes menswear and she pulls it off. I guess both our styles are pretty edgy. Edgy, sexy, comfortable, and chic. "
S: "I think our styles are so different in a sense that I kind of like to throw on a T-shirt and sneakers and some jeans sometimes. But she's always very ladylike and polished and glam. I'm more like, I mean I wish I could polish myself up that much but, I'll leave that to her!
"Our style is different because she's always very glam and I'm more casual. I like to dress down. I like my sneakers and I think my collection of sneakers is piling up. But we're the same in a sense that we both love fashion, we both love to experiment with our style."
ADVERTISEMENT - CONTINUE READING BELOW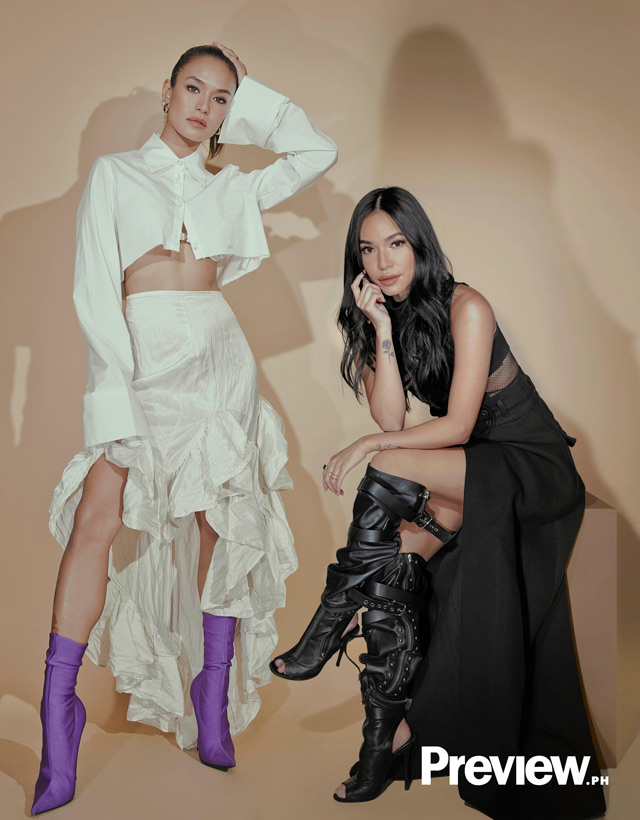 Sam wears an Off-White top, a Marques Almeida skirt, and Balenciaga boots. KC wears an ensemble by Paolo Mendoza and Guiseppe Zanotti boots.
If KC could only wear one outfit for the rest of her life, what do you think she'd choose?
S: "A little black dress. I've seen her in A LOT of little black dresses. She loves her little dresses!"
ADVERTISEMENT - CONTINUE READING BELOW
How about Sam?
KC: "Some jeans, a boyfriend blouse, and sneakers. "
Have you ever shopped for each other? What's the most memorable thing Sam has given you?
KC: "Occasionally, yes. She gave me a cropped jacket from her line which I loved."
What's the one piece of fashion advice you want to give each other?
S: "Keep doing your style. It works for you...and she knows it!"
KC: "There's honestly no piece of advice I could give her that she doesn't already know, but for the readers, always make sure you're comfortable in whatever you're wearing, even if it's something a little risky, or over the top. Confidence is everything."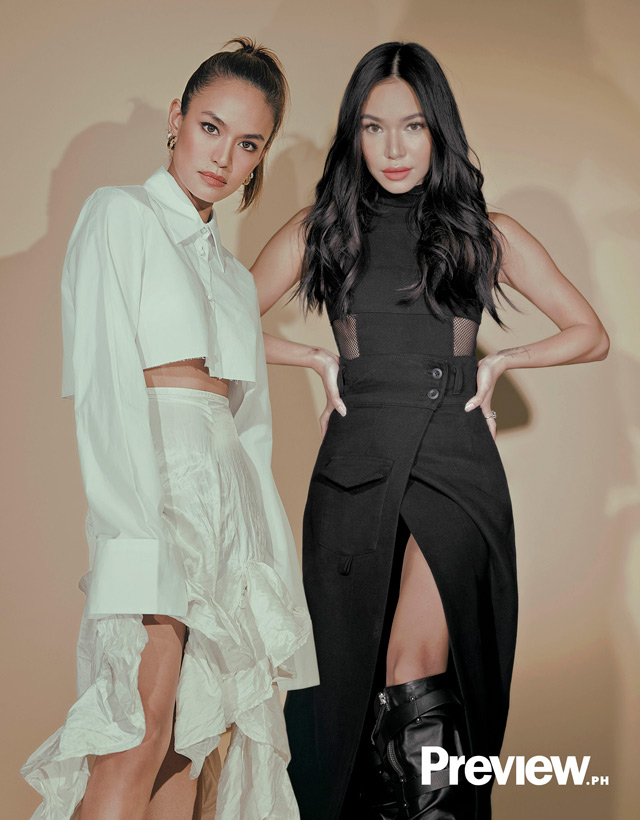 ADVERTISEMENT - CONTINUE READING BELOW
What do you enjoy most about fashion?
KC: "The creative culture. As an art form, it has the power to create social change and I've always been fascinated by the inner workings of the industry, season after season."
S: "What a question! I love that it says a lot about your mood and it also really makes you feel a certain way, you know? Like I can put on an outfit and it can change your outlook or how you feel that day. It even changes your posture in a way. I just think it says a lot. You walk into the room dressed in how you want to be dressed and the people in the room know what kind of day you're having and what you're feeling."
Is it a different joy wearing clothes and designing clothes?
S: "Totally the same! I design the clothes I want to wear and I always feel like it's part of me and part of my vision for myself. So it's totally the same feeling, just playing with fashion in different ways."
ADVERTISEMENT - CONTINUE READING BELOW
Produced by The Preview Team
Art Direction by Mark Buenaobra
Photographed by Shaira Luna
Makeup by Janell Capuchino (KC), Don de Jesus (Sam)
Hair by Mycke Arcano (KC), George Aliben (Sam)
Related Stories from Preview.ph
Hey, Preview readers! Follow us on Facebook, Instagram, YouTube, Tiktok, and Twitter to stay up to speed on all things trendy and creative. We'll curate the most stylish feed for you!