Say what you will about Taylor Swift, but the world needs to acknowledge one basic truth: she is one hell of a PR genius. Her almost 88 million of followers on Instagram and record-breaking album sales didn't happen overnight. And to give credit where it's due, it's because Taylor knows how to play her cards right.
Of course, it's no secret that T. Swizzle has a long painful history of failed relationships. Her documentation of heartbreaks via song lyrics, although clever, only added fuel to the fire. She had an irrefutable reputation for being boy-crazy, and she needed the perfect PR strategy to offset this image—and that, she did (or at least tried so hard to achieve).
Physically, she's now a far cry from the 16-year-old country artist shedding teardrops on her guitar. Looking back to her signature corkscrew curls circa 2006, Taylor's style evolution started from sweet to preppy to almost goth. She traded her long locks for an Anna Wintour-esque blunt bob, often accompanied by either crazy winged liner or a statement plum lip (remember Met Gala 2016?). It's also been nearly a decade since her favorite cowboy boots made a red carpet appearance. But then again, if you're looking to rebrand yourself, where else to start but in your closet, right? Come on, even Taylor Momsen ditched Little J to become The Pretty Reckless.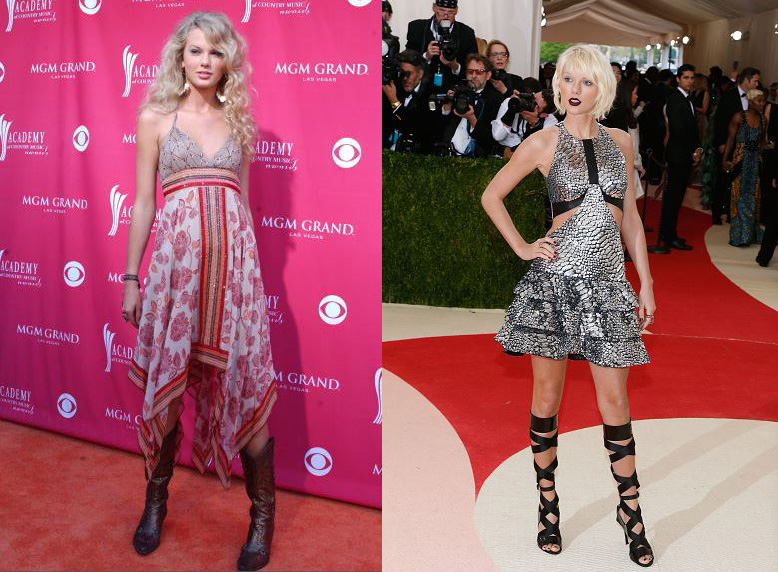 ADVERTISEMENT - CONTINUE READING BELOW
(Left photo: 41st Annual Academy of Country Music Awards; Right photo: 2016 Costume Institute Gala at the Metropolitan Museum of Art)
She may have had a complete wardrobe overhaul (may her frilly boho dresses rest in peace), but Taylor still had to be the sweet relatable girl her fans need her to be. Her hobbies include watercolor painting, sewing, and baking cookies during her spare time. But most importantly, she loves her cats—she even named one after her favorite TV character—and what kind of a sick psycho would hate a country girl who adores her furry little kittens?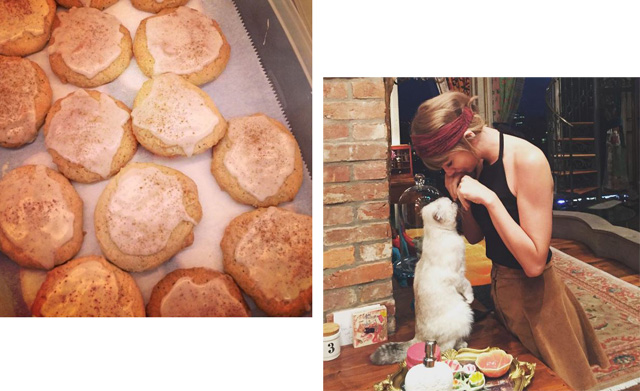 Taylor's fans would probably fight for her 'til their dying breath. Why wouldn't they when she gives them plenty of reasons to? Unlike other big stars, Taylor knows who and where her fans are. She constantly engages with them—she randomly replies on social media, gives them advice on how to deal with bullying or what to wear to prom, and even writes them a check to help pay off student loans. (She once gave her super fan a check worth $1989, which also happens to be the title of her latest album.) So you see, she can either be your best friend or your worst enemy.
Speaking of friends, one woman—no matter how talented—can't conquer the world on her own, especially if she wants it at her feet. Taylor needed a squad, and an aspirational one at that. Her long list of girl friends (almost as long as her list of past boyfriends) includes fellow music sensation Selena Gomez and super model Karlie Kloss. She also regularly hangs out with Blake Lively, Lena Dunham, Cara Delevingne, the Victoria's Secret Angels, the Haim sisters, and many others. Of course, their #squadgoal moments are almost always flaunted on Instagram, painting Taylor both as Hollywood's ultimate BFF and the most formidable foe that anyone would be too intimidated to mess with.
ADVERTISEMENT - CONTINUE READING BELOW
Related Stories from Preview.ph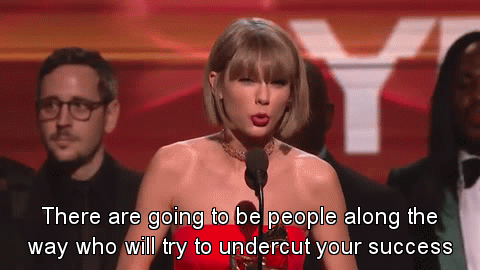 But lo and behold, she has no shortage of enemies and haters.
Just like all of us, Taylor has her crazy moments, but hers constantly draw flak from people. She once sued her guitar teacher who told the press he taught her how to play the instrument. She also took legal actions against fan-made Etsy merchandise and then patented her famous lyrics, previous album names, and even her initials. And even when everyone thought she's finally found "the one" in the form of Scottish DJ Calvin Harris (they were once the music industry's most powerful couple), she still found a way to turn him against her after they broke up. True to her name, she's been swift at moving on.
Fast forward to Taylor's present dilemma (by now everyone's aware of her feud with Kanye West over the lyrics of his Famous video), a war against the Kardashian klan may very well be the one to take her down—even Tom Hiddleston and her mighty squad combined may not be enough to get her out of this alive, especially since half of Hollywood seemed to have made a silent pact to rally against her. Britney Spears denied ever meeting her at the 2008 MTV VMAs, Katy Perry probably won't mind paying for the #TaylorSwiftIsOverParty, and now even Justin Bieber is throwing shade at her on Instagram.
She's clearly faced with her most fatal PR decision yet—but ultimately, Taylor is Taylor. Her every move is schemingly calculated, allowing her to rise from the ashes every time she gets into all sorts of drama. So either through a new song or another cat video, we're quite positive that she will leave this mess unscathed.
Your turn now, Taylor! The world awaits your next move.
ADVERTISEMENT - CONTINUE READING BELOW
Hey, Preview readers! Follow us on Facebook, Instagram, YouTube, Tiktok, and Twitter to stay up to speed on all things trendy and creative. We'll curate the most stylish feed for you!