Last year, the talk-of-the-town holiday rom-com was Hulu's Happiest Season, starring Kristen Stewart and Mackenzie Davis in a long-term relationship. This year, Netflix has taken the cue and offered its first gay holiday romance film, Single All the Way, a colorful but ultimately unexceptional signal that after several accusations of queerbaiting, Netflix producers are finally listening.
Single All The Way is exactly what the title suggests: another entry to Netflix's large catalogue of family-friendly flicks about the pressures of bringing home The One, some desperate holiday schemes, and the (un)expected relationships that blossom in these façades. It is also an uplifting peek into what incredibly supportive non-heteronormative families could look like—which we sadly don't see enough in mainstream cinema.
Given all this, is it worth watching? Here are a few things to consider: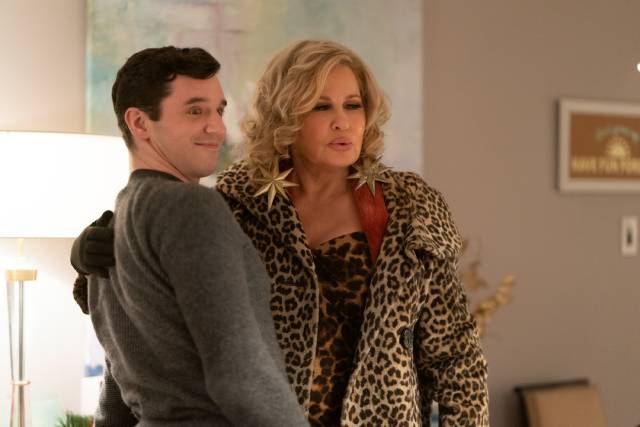 What I Liked About It
The main conflict isn't coming out, but coming 'home,' in every sense of the word.
Unfortunately, not enough LGBTQ-centered narratives are told without the anguish of coming out or the trauma that inevitably ensues from it. Greg Berlanti's beloved comedy-drama Love, Simon (2018) is one rare and delightful exception which takes on the struggles of sexuality-based discrimination, but overall still emerges as a charming and warmhearted love story.
Single All The Way is more identifiable as the latter. It follows the story of Peter (Ugly Betty's Michael Urie), a disgruntled social media strategist whose nth heartbreak in a row drives him to fabricate a relationship with his best friend Nick (Philemon Chambers), all in an effort to placate his nosy relatives at home. In other words, the problems we watch them navigate fall under more universal and comical renegotiations of home: finding the right partner; sidestepping passions for more profitable jobs; and renewing their relationships with the places they grew up. Hopefully, this sets an example for more mainstream projects to afford homosexual relationships a similar sense of normalcy.
ADVERTISEMENT - CONTINUE READING BELOW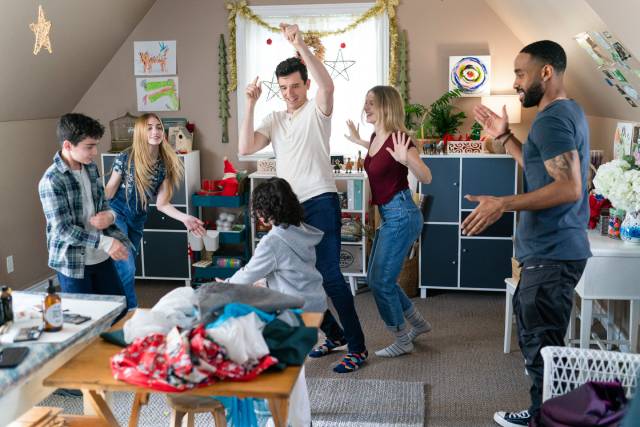 The movie is unafraid to make fun of its own formula.
By all means, Single All the Way ticks off everything you'd expect from a feel-good cookie cutter Hallmark feature. We have slow motion meet-cutes, frivolous support characters, and dubiously pleasant family dynamics. It does everything possible to comfort its viewers, rather than challenge. It soothes rather than startles. It is made clear in Michael Mayer's direction, though, that this is exactly the point. We are meant to fully bask in all the self-aware tropes, from the campy Britney Spears dance number to the wholesome Christmas montages, and all the unapologetic romantic clichés in between. This is a movie that knows its specific holiday function and delivers in heart-on-sleeve form.
It does a convincing job of not pitting love interests against each other.
With the suppressed attraction between Peter and his best friend, Nick, a second and more eager contender manifests in James, (played by the criminally underutilized Luke Macfarlane), who's arguably the man to stay for in this movie.
James seems like a reasonable match for Peter. He's a humble listener, gentle and yet absurdly athletic—most of all, he's based in New Hampshire where Peter's family lives. Nick, on the other hand, is an LA-based family favorite who writes best-selling children's books and performs handy tasks around Peter's neighborhood. It would be easy, especially for a typical Hallmark film, to pursue a thrilling spectacle in which these two love interests compete for attention, until one is somehow vilified. No such easy conclusions are offered here.
Instead, Single All the Way rotates on the kindness of two equally lovely men who offer unconditional support for Peter and encourages him to get what he wants.
ADVERTISEMENT - CONTINUE READING BELOW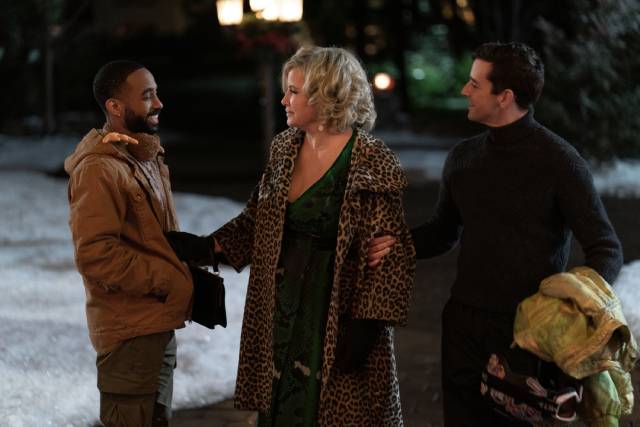 What I Didn't Like About It
The only selling point of this movie is its inclusivity.
It must be reported that except for the gay romance, everyone and everything in this film is essentially a hodgepodge of elements we've already seen elsewhere. Some might view this conventionality as a welcome change in a long history of queer representation in obscure art house films and complicated dramas. On its own however, the film is not revolutionary at all. If anything, we finally have an openly gay movie worthy of being a guilty pleasure, not because of the 'gay' aspect but because of the movie itself. Benjamin Lee of The Guardian best puts it this way, "For some, the fight for basic rights should also include the fight to be basic."
ADVERTISEMENT - CONTINUE READING BELOW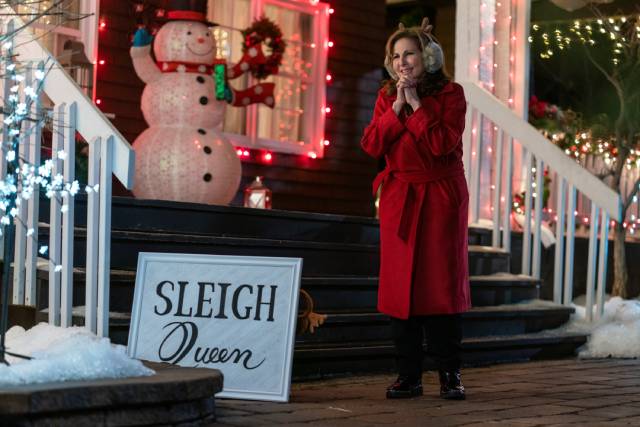 Not all the main characters were written equally.
This movie knows how to establish point of view, and from the very beginning, we take Peter's. He talks with unique enthusiasm to his plants Judith and Linda; he visibly dislikes his LA work and yet hesitates to return home to New Hampshire; and he enjoys an amicable relationship with all of his immediate relatives. We never really meet the best friend Nick to the same extent, which makes him difficult to root for. In some early scenes, for example, references are made to Nick's late mother and questionable career choices, but they're never really returned to in any meaningful way. Instead, relationships blossom and crumble around Peter and we're expected to accept them simply because Peter does.
ADVERTISEMENT - CONTINUE READING BELOW
The chemistry between the leads never really lands.
The unbalanced writing of Nick and Peter has a direct effect on their relationship. It would seem that lead actors Michael and Philemon are so magnetic in their individual scenes, that all the energy fizzles out in their scenes together. A lot about their nine-year friendship, for one, is revealed in expository dialogue but never truly shown in their general behavior around each other. Naturally, this unconvincing history between them makes for an unconvincing struggle with attraction, one that they claim to resist to protect a friendship that doesn't seem to be there in the first place.
At certain points, we might even expect Single All the Way to take an unconventional route in which the platonic love between two gay best friends actually develops but remains platonic. And at certain points, we might even wish for it.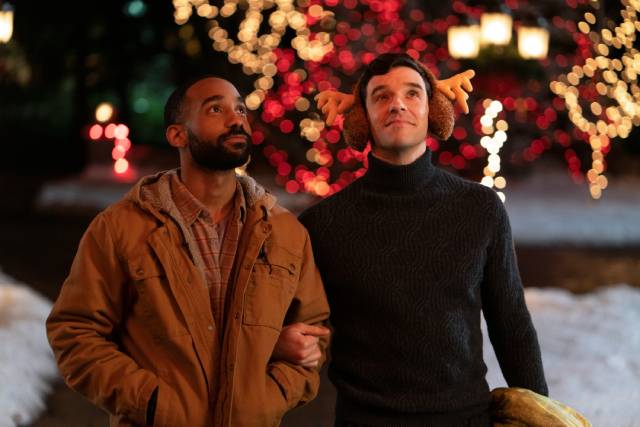 ADVERTISEMENT - CONTINUE READING BELOW
So Should You Watch it?
Single All the Way is the perfect movie for those in search of a lighthearted, comfortable romantic comedy that goes exactly where it is expected to.
It is also a valiant attempt on Netflix's part to finally veer away from peppering queer undertones between certain characters such as Betty and Veronica of Riverdale, or Benedict Bridgerton and artist Henry Granville in Bridgerton. This time, the gays take the lead in full holiday glory and generic glitter, and they stand proudly underneath the trope signboards that point to them, almost in a defiant reclamatory way. For many, that alone is well worth supporting.
Related Stories from Preview.ph



Hey, Preview readers! Follow us on Facebook, Instagram, YouTube, Tiktok, and Twitter to stay up to speed on all things trendy and creative. We'll curate the most stylish feed for you!