For a lot of us, a fitness goal ranks high on the list of our New Year's Resolutions. The dawn of the new year reawakens our drive to get in shape. However, whether we admit it or not, we slowly change our tune as months go by. Raise your hand if you're guilty of waking up late for that early class you signed up for!
Don't fret, ladies! In reality, we've all felt this way. And so, we've gathered advice on how to maintain fitness resolutions from none other than girls who actually do fitness for a living. Read on to see their practical advice on how to maintain your fitness resolutions.
Julia Sauber, 25, Filmmaker, Stunt Woman, Yoga Instructor, Martial Artist
1. Don't make it an optional item on your daily to-do list.
"I believe that having discipline is essential for anybody who wants to reach their fitness goals. One of the first things I would actually suggest to someone trying to get fit—and I know this may sound harsh—is removing the idea of choice around training. If you see working out as an option, it becomes easy to opt out. Just put that class on your calendar and attend."
ADVERTISEMENT - CONTINUE READING BELOW
2. Approach your goal holistically.
"It's best to approach health holistically. Your physical, mental, spiritual, emotional, and sexual health should all be in check. I frequently advise people to find a meditation practice. I use the Daily Shine and also recommend Liberate, which are free meditation apps you can download on your phone. Overall, your journey towards fitness should go beyond the physical—it should be fun, spiritual, and something you can't live without."
Carla Piscoso, 26, Fitness Professional
3. "Be hungry for more."
"Being a fitness professional makes me constantly challenge myself and my body. My mentality is always: What's next for Carla? It's all about being hungry for more."
4. Learn your "why's" to keep your motivation.
"My motivation is deeply rooted in my passion for fitness itself. I love getting fit, and love helping others get fit even more. To give my knowledge, energy, and motivation to others is my "why," and I think the best advice I can give someone who is trying to maintain their fitness resolutions is to find their own "why." I know it sounds a little deep but honestly, it can be something as simple as "getting fit to get over an ex," and it will still work. The more you have a reason behind your fitness resolutions, the more you'll be motivated to do it."
Gianna Llannes, 24, TV and Radio Host, Indoor Cycling Instructor
5. Track your progress.
"I'm not the type to make New Year's Resolutions, but I definitely like having concrete goals set in place so that I'm motivated to keep improving myself. What I advise a lot of people is consistently tracking your progress, whether it's downloading apps like MyFitnessPal or taking before and after photos. I believe that the more you see your improvement, the more you'll be motivated to workout."
6. Do it for the right reasons.
"I believe the most important thing to do in order to maintain your fitness resolutions is making sure you're doing them for the right reasons. If you're only doing it for aesthetics, it's easy to become lazy and fail; but if you do it to improve both your physical health, mental health, and general well-being, it'll definitely be more motivating."
ADVERTISEMENT - CONTINUE READING BELOW
Jai Lawan, 25, Interior Designer, Pilates Instructor
7. Bring a buddy to keep you in check.
"For me, accountability is a huge factor in maintaining fitness goals and resolutions. I advise people to have an accountability fitness buddy—someone who is also working on their fitness goals, and frankly, someone who can manage drag you to a workout on your lazy days.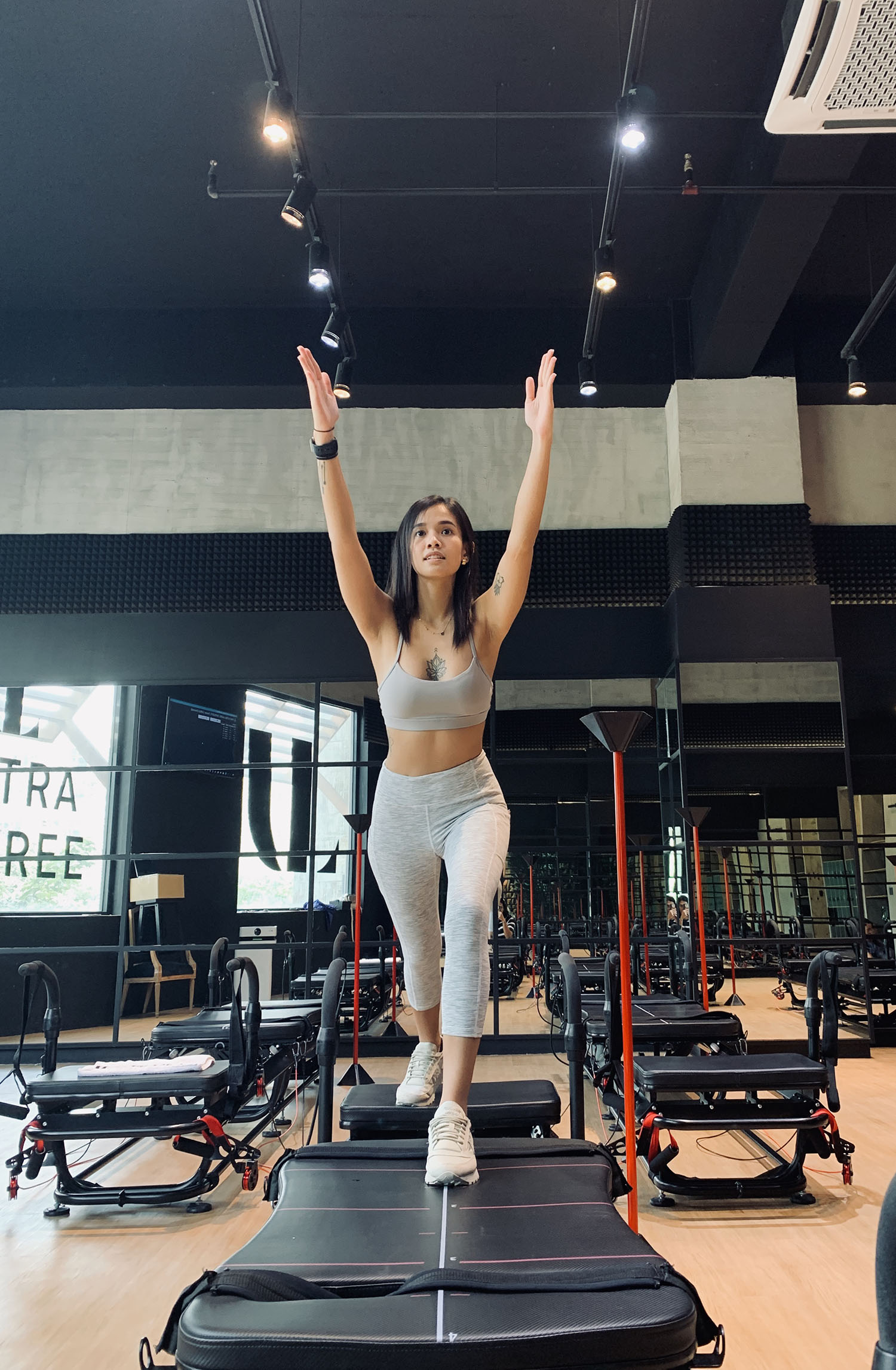 8. Try out different classes.
"I also advise trying different group classes with your friend. There are a lot of options out there, so you'll surely find one that you love and works for your lifestyle."
Marge Tejada, 24, Professional Volleyball Player
9. Stick to a routine.
"I have been an athlete for more than half of my life, so I know the dedication, discipline, and patience it takes to reach fitness goals. It's definitely not an overnight thing; going into your resolutions, you should focus on finding a routine to actively maintain, and not quick fixes."
10. Couple your fitness routine with the right diet.
"What people also don't realize often is that getting fit means changing your eating habits as well. To reach your fitness resolutions, you have to complement exercise with a healthy diet. I advise finding alternatives to cravings (I personally curb my sweet tooth with fruit), and drinking a lot of water so that you're not confusing your thirst with hunger. There are a lot of resources online about proper dieting and nutrition, so be sure to research first. Once you find that balance of working out and eating well, you'll definitely reach your fitness goals."
Related Stories from Preview.ph
Hey, Preview readers! Follow us on Facebook, Instagram, YouTube, Tiktok, and Twitter to stay up to speed on all things trendy and creative. We'll curate the most stylish feed for you!