Teen and young adult films have evolved in each decade, as the genre grows and changes with the demands and sensibilities of its audience, depending on the generation. The '80s had The Breakfast Club and Sixteen Candles that featured its set of edgy, rebellious teens whose perpetual sulk made up their core personality; '90s comedies like Clueless and Dazed and Confused charmed grunge-loving youths as the movies played alongside a soundtrack of jangly, rock 'n roll hits; the aughts had sappy tearjerkers like A Walk to Remember that likely became the predecessor of today's winning YA formula.
Today, you know you have a hit on your hands when you're watching this: two conventionally attractive leads as young teens in stylish normcore fashion as they explore the mundane sights of a small, sleepy town. This is usually set against a melange of swelling violins and synth pop tunes that underscore the fleeting moments of adolescence: midnight drives, staring at the night sky reading poetry to each other, visiting abandoned sites. Think about these definitive movies in the past few years: There was The Perks of Being a Wallflower, The Fault in Our Stars, Looking for Alaska, and all the other young, romantic films that featured a soundtrack of indie hits and lens flare effects.
ADVERTISEMENT - CONTINUE READING BELOW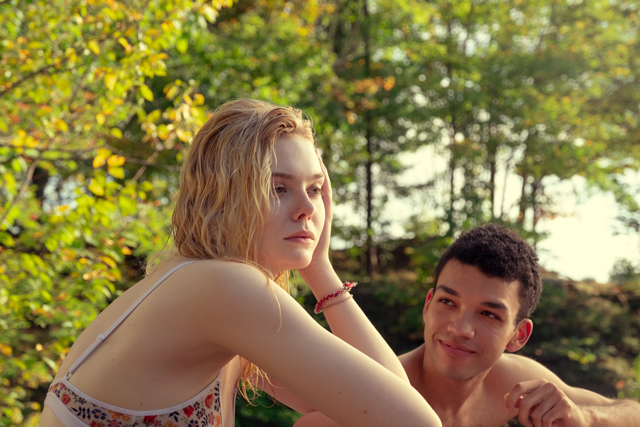 Netflix's All the Bright Places has those qualities and more, with a weepy, heart-tugging narrative at the heart of the movie. The film stars Elle Fanning and Justice Smith as Violet Markey and Theodore Finch, two teens each with their own baggage who form an unlikely yet cathartic bond as they explore the hidden wonders of their suburban hometown in Indiana. While the film starts off saddled with these contemporary young adult tropes, as the story plays on, it ends up revealing to be much more than that—it deals with deep, complex human emotions like grief, sorrow, and trauma.
ADVERTISEMENT - CONTINUE READING BELOW
Recommended Videos
In spite of those dark and somber themes, All the Bright Places is as warm and compassionate as the title suggests, a cinematic representation of a bear hug rather than a nag. Here, we list the bright and not-so-bright spots of this YA drama.
What I Liked About It
The movie is visually and aurally beautiful.
As mentioned, All the Bright Places has the workings of an aesthetically stunning movie for the Instagram generation. The movie is replete with carefully planned and polished cinematography, with shots that exchange between showing off the idyllic landscape of Indiana and capturing the nuance of each character's emotion. Cinematographer Rob Given makes sure that the colors in each scene encapsulate the overtones of each moment—the muted yet saturated hues complement the melodramatic sequences as well as its physical surroundings, whether they characters are driving through farmlands or writing platitudes in chalk on a wall while at a partially lit parking lot.
ADVERTISEMENT - CONTINUE READING BELOW
The scoring and soundtrack in the film is striking as it is fitting, naturally accompanying each scene and sequence. Keegan DeWitt is responsible for most of the instrumental music that swell in the movie's most vulnerable moments, featuring soft piano chords, violin strings and wind chimes that pointed to a character's emotional revelation.
Of course, no young adult spectacle is complete without its set of tunes from obscure artists the Coachella would approve of, like Joji of 88Rising and Sonny & The Sunsets, as well as artists of a bygone era that point to our leads' exceptional taste and intellectual maturity.
It features strong performances from its leads.
At first glance, All the Bright Places does feel like your standard melodramatic youth fare, working hard to covet a sensually aesthetic appeal. The characters are your archetypically misunderstood teens, introspective adolescents that don't quite fit in among their basic peers in a suburban high school, bonding over exchanged Virginia Woolf quotes and listening to old and obscure artists that only serve to highlight how different they are from the rest. Despite being popular at her school, Violet, played by Elle Fanning, eschews all the fashion trends her classmates wear, finding comfort in tailored pieces like blazers and a chore coat, while Justice Smith's Theodore Finch is a wisecracking teen who gives his guidance counselor a too-cool-for-school attitude.
ADVERTISEMENT - CONTINUE READING BELOW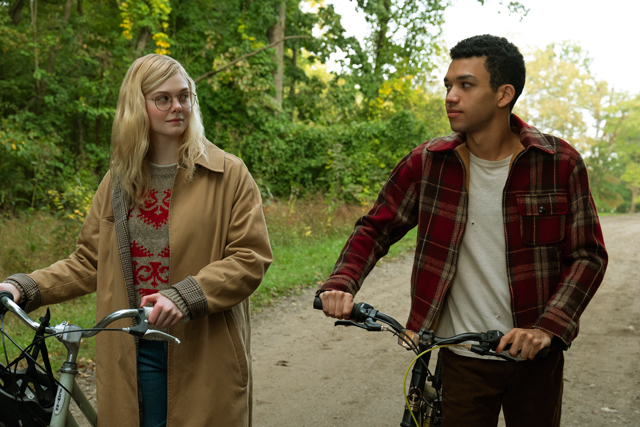 It would be easy to dismiss the two as your run-of-the-mill special snowflakes, yet Elle Fanning and Justice Smith bring certain nuances and an authentic connection to their roles aside from a palpable chemistry. Elle, a prolific actress herself, provides a subtle depth to a grief-stricken Violet, capable of showing the tiniest hints of emotion be it in a cock of an eyebrow or a slowly growing smile. Elle has proven capable of bringing more compassion and roundedness to an otherwise sullen and withdrawn character.
ADVERTISEMENT - CONTINUE READING BELOW
Meanwhile, Justice is undeniably charming, charismatic and vulnerable at once as the smart-alecky Theodore Finch. It's clear that Justice is well-versed in this genre, having been in similar novel-to-film fare such as John Green's Paper Towns and David Levithan's Every Day.
The movie deals with emotion and mental struggles in a realistic and human light.
While the film no doubt centers on a teenage romance, its underlying themes highlight something much deeper, immediately separating this movie from the rest of its ilk. Violet and Finch struggle with mental issues of their own, with one guiding the other towards the light.
The movie is careful enough not to use mental health to manipulate the story, yet highlights the internal struggles each character faces, as they act in erratic yet believable ways. They make mistakes, even bad calls despite their best intentions. Important of all, they showcase how sometimes, we can be blind to one person's sufferings and never know what they're going through even with our constant presence. While All the Bright Places treads on sensitive themes, the treatment nonetheless remains realistic and human, shaping these complex characters.
ADVERTISEMENT - CONTINUE READING BELOW
What I Didn't Like About It
Some parts tend to lean towards treacly and dragging.
Despite the movie's best intentions, perhaps the trappings of its genre can tend to dog down some parts. Before a climactic reveal towards the end of the film, the narrative tends to get lost somewhere in the middle, in the midst of the characters' sight-seeing and stringed accompaniment. Along the way, the movie can get lost in its own desire to evoke wonder and sentiment, as you wonder where the film is heading and where its own two leads are headed. The kind of meandering makes sense in a novel where an author can devote chapters building its characters' complex relationships and internal development, but not in a nearly two-hour running film where viewers rely on the visuals to carry the story.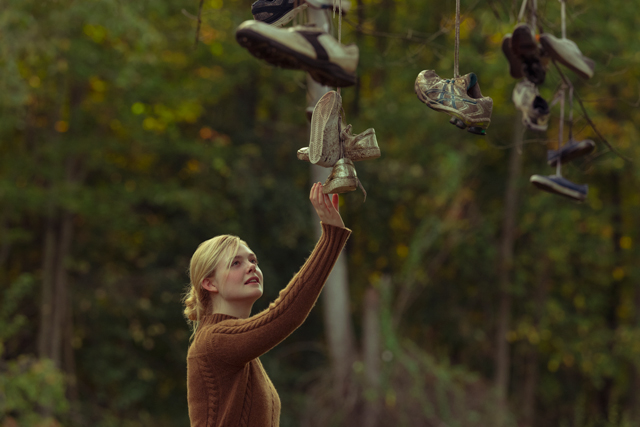 ADVERTISEMENT - CONTINUE READING BELOW
Then, of course, the dialogue can skew towards the syrupy and verbose, the kind of prose that suggests an introspective depth and leaves its young viewers swooning and quoting in their Twitter and Instagram pages, accompanied by bokeh effects and filtered sceneries. These lines that border on the saccharine can come off as unbelievable—like something a character wouldn't otherwise say in real life, yet what salvages its cliché sweetness is the conviction of its lead actors.
So Should You Watch It?
Few flaws aside, All the Bright Places is an otherwise well-crafted and executed film featuring excellent music and cinematography, as well as strong leads from its cast. The movie is able to tackle important themes without talking down to its audience. Witty, insightful and human, All the Bright Places may be one of Gen Z's most definitive films, not because of its style, but because of the important and honest conversations it could spark about mental health and emotions.
ADVERTISEMENT - CONTINUE READING BELOW
If you're a fan of films such as Call Me By Your Name, The Fault in Our Stars and Paper Towns, All the Bright Places surely won't disappoint.
Related Stories from Preview.ph
Hey, Preview readers! Follow us on Facebook, Instagram, YouTube, Tiktok, and Twitter to stay up to speed on all things trendy and creative. We'll curate the most stylish feed for you!