In a sea of K-dramas, western rom-coms, and Filipino films lies Girl from Nowhere, the lone Thai-based series that currently stands out on Netflix. Anyone who's frequented the streaming site as of late will have already seen the show's banner or poster on their home page. At present, Girl from Nowhere currently sits at number four on Netflix Philippines' Top 10, and has consistently held a position on the list for the past few weeks, joining beloved Korean dramas like It's Okay to Not Be Okay and The King: Eternal Monarch. Don't get it wrong though, Girl from Nowhere's plot and its overall themes are actually a far cry from the aforementioned series.
So what exactly is this sleeper hit all about? We break it down for you below.
*Trigger Warning: The show depicts scenes of rape, abuse, and heavy violence.
ADVERTISEMENT - CONTINUE READING BELOW
Plot
Known in Thailand as Dek Mai, Girl from Nowhere first premiered on Thai network GMM25 back in August 2018. It's a supernatural horror thriller anthology series that follows Nanno, an enigmatic girl who frequently transfers schools in pursuit of exposing the scandalous inner workings of each institution, from predatory teachers to abusive students.
Multiple reports on the show state that the entire series is actually based on the heartbreaking true-to-life exploitation of girls from 13 schools. Thus, it depicts varying and twisted cases of bullying, sexual abuse, rape, pedophilia, academic cheating, and even the dangers of stan culture and hive mentality.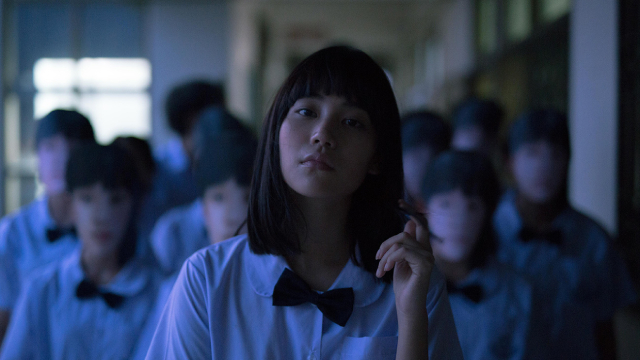 Each of the 13 episodes is helmed by a different director, which often gives the series a fresh perspective, especially in terms of film style. Lead actress Kitty Chicha Amatayakul once stated in an interview. "I'm very happy to play Nannoh. Every week, I attend an acting workshop…and work with the director who is in charge of the next episode."
Cast
Owing to the fact that each episode in the gritty series follows a different plotline, the cast constantly changes, save for Nanno herself, portrayed by 26-year-old Kitty Amatayakul—and yes, she was named after Hello Kitty. (Fun fact: Harry Styles follows her on Instagram!)
Before trying her hand at acting, Kitty first dipped her toes into the entertainment industry as a singer. She was part of the five-piece girl group Kiss Me Five, formed in 2010. She soon pursued acting and took on a few supporting roles before landing on Nanno in 2018—the character which she's most proud of to date, as revealed in an interview with S Weekly. "Girl from Nowhere has such a unique story—something completely new for a Thai TV show. It's brave in the way it looks at topics like teenage problems and school bullying. There's also an element of feminism. Women are no longer willing to be victims and are prepared to fight back," Kitty says.
ADVERTISEMENT - CONTINUE READING BELOW
Though complex and gruesome at times, Kitty remained dedicated to her role. Episode two of the series required the actress to be buried alive, but instead of letting a stunt double do all the dirty work, she had insisted on doing the scene herself. "At first, the production team prepared a stand-in for me, but I decided to play it myself because I wanted it to be more natural and real," Kitty told Nation Thailand.
Who is Nanno?
Part of Girl from Nowhere 's popularity hinges on discussions over who or what Nanno really is. Where the first episode, centering on a predatory teacher, eases viewers into the show's sinister dark atmosphere, its supernatural elements immediately kick in by episode two.
Titled Apologies, the episode starts with Nanno in yet another new school where the boys fawn over her beauty, and the girls sneer in envy at her popularity. She quickly unknowingly catches the attention of the three most popular boys in school who subsequently attempt to court her. As Nanno remains indifferent to their advances, the trio seek the help of two of Nanno's friends who've also grown jealous of her. The group then invites Nanno to a house party where they place a sedative in her drink to knock her out so the boys can have their way with her. However, as a recurring theme in the series, Nanno remains one step ahead of them. Riled up by her odd reaction to the situation, one of boys accidentally chokes her to death. They end up burying her, only for Nanno to come back alive again and again, showing that she's not actually human.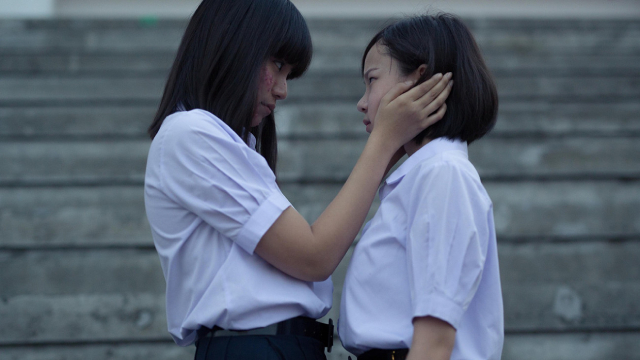 So what is she? While fans have pegged her for a vengeful ghost, Kitty first explained her character's true nature back in 2018. "[She's not a ghost,] but she isn't really human. She's like the daughter of Satan or the snake from the Garden of Eden who comes to Earth to give forbidden fruit to humans. She's here to test how evil humans can be." Kitty continues "I found it very challenging. It took me a long time to understand the character and portray her in a believable way. She isn't human so she doesn't have feelings like empathy or guilt. I had to use my imagination to figure out how somebody like that would behave."
ADVERTISEMENT - CONTINUE READING BELOW
Curious for more? Watch the full trailer below
Stream Girl from Nowhere now on Netflix.
Hey, Preview readers! Follow us on Facebook, Instagram, YouTube, Tiktok, and Twitter to stay up to speed on all things trendy and creative. We'll curate the most stylish feed for you!