Effie Iñigo's feed has always been in our follow list. The celebrity makeup artist regularly shares the looks she's done on clients like Toni Gonzaga, Julia Barretto, Janella Salvador, Elisse Joson, Jane de Leon, and more. It's a fount of beauty inspiration.But over the course of quarantine, something new popped up in her Instagram, a delectable photo of shrimp bathing in a creamy sauce.
Her caption reads : "I wasn't going to post this here in my work or business IG account but I realized that right now, this is actually my work or my business. Try this Cacio e Pepe Shrimp dish. It's simple but soooooo good. Even kids will love it. It's made with fresh, big and meaty vannamei/whiteleg shrimps and lots of parmesan cheese. (Well, there are a few other ingredients that make this dish interesting, but you have to order to find out.) You can eat this three ways: with rice, pasta or with garlic bread. If you do eat this with garlic bread, please do me a favor—scrape the sauce on the plate with your garlic bread. It's the best! Message me to order, or you may message the number in the next photo. Thank you. Stay healthy and safe!"
This first post received 19 visible inquiries in the comments. The second time she posted, visible inquiries increased to 57. Today, almost 2 months later, she sells about 40 kilos of shimp weekly. "A lot of people have purchased from me, and I was surprised that a lot of celebrities ordered from me, too!" Effie shares. "And so far, all the feedback that I've received have been positive. Thank God!"
ADVERTISEMENT - CONTINUE READING BELOW
Starting Up
The pandemic has not been easy on freelancers like her whose work came to a standstill when the enhanced community quarantine was made effective. With bills piling up, she shares that "I started feeling a bit anxious and worried that the global pandemic wasn't going away soon, and that even after the ECQ, work still wouldn't pick up and go back to the way it used to be." That's when she decided to take action, and she started selling her signature dish, Cacio e Pepe Shrimp, on May 28.
Out of everything she could cook, why this? It was always the most-requested dish by her immediate family. "One of my sisters commented that it tastes like a dish from a high-end restaurant," she tells us, adding, "My dad would request for me to make it every time the family would get together for dinner." Her intuition was telling her that it would sell, too: It wasn't something you'd commonly see being sold in community groups, and nearly everyone loves eating shrimps.
Growing Slowly but Surely
ADVERTISEMENT - CONTINUE READING BELOW
The initial hurdle was sourcing ingredients. Buying shrimp and parmesan cheese wedges, the dish's main ingredients, as well as packaging supplies were pricey at the grocery ,and ate away at her profit margin. She also didn't have a lot of freezer space, and had to manage storage with a large cooler. "I just made do with a little profit at first," she says. "I was earning little by little. I didn't want to price it so high, even if I use premium ingredients, because I was worried that people would think that it was expensive, and that it wouldn't sell."
But as the weeks progressed, she was able to find good suppliers. Everything fell into place when she found her shrimp supplier. "We get our shrimps from Malabon, and we always get them fresh. Fresh harvest is delivered to me right away." She was also able to find a good supplier for pecorino romano cheese. And with the profit from her initial sales, she was able to purchase a freezer. (She waited to see if she could buy one using the money she earned from selling the dish.)
ADVERTISEMENT - CONTINUE READING BELOW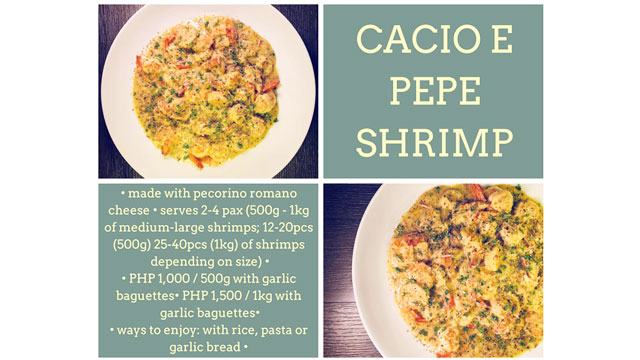 ADVERTISEMENT - CONTINUE READING BELOW
Though she initially targeted the community in the South, she's found that people from all over the metro have been placing orders. "I remember my first customer was Janella Salvador," she shares adding that the young actress made a repeat order a week later. "I'm grateful for repeaters," says Effie, who calls customers who have ordered more than once repeaters.
While she has yet to come up with a name for her business, she's already thinking of adding dishes to her repertoire now that the ball is rolling. However, this doesn't mean that she's giving up makeup (Phew!). "I see myself cooking and selling my dishes when I don't have makeup gigs," she says. "So now, since our industry hasn't really picked up yet, I'm busy at home with this food business, and I take a break from it when I have work as a makeup artist."
ADVERTISEMENT - CONTINUE READING BELOW
The Preview Review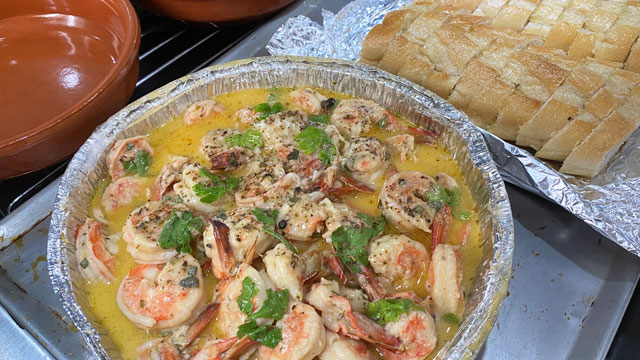 I placed a 1 kilo order (P1500) for lunch time on a Thursday, and paid for it with GCash. When the day came, I coordinated with Effie, and booked a Grab to pick it up at the time she told me it would be ready. Even if I live further away, my order arrived well-packed and still hot, though advised to heat it up a bit in the oven. All I needed to do was toast the garlic bread, which was already slathered with olive oil and loaded with garlic.
ADVERTISEMENT - CONTINUE READING BELOW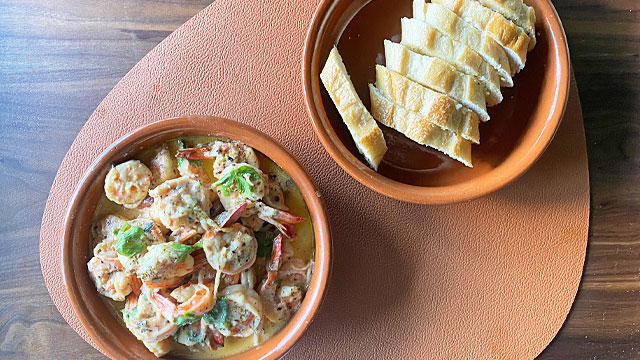 My order arrived sealed in a foil takeaway tray accompanied by an entire baguette of garlic bread that just needed to be toasted in the oven. The serving portion was really generous and the shrimps were fat and juicy. You could really taste the cheese in the creamy garlic sauce, and the sprinkling of fresh parsley she put on top really added to the flavor.
ADVERTISEMENT - CONTINUE READING BELOW
As recommended, I tried it three ways. First, with pasta, and second, over a slice of garlic bread. Both ways were really good, as the sauce coats both the noodles and bread nicely. Having it with garlic bread is perfect if you enjoy the extra zing a hefty serving of garlic gives.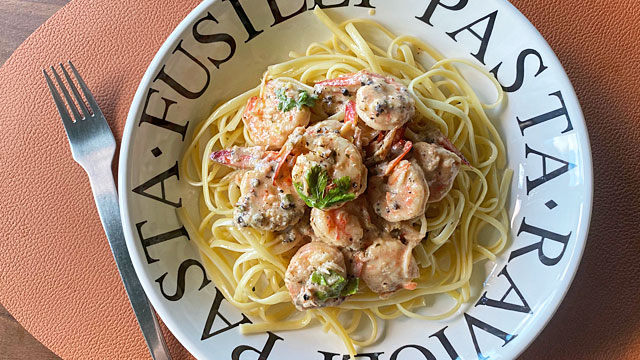 ADVERTISEMENT - CONTINUE READING BELOW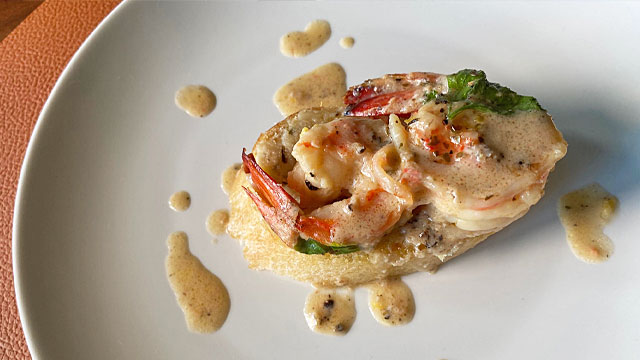 I tried it with rice the day after, our order was definitely more than enough for just one meal. Effie told me that other customers say that her Cacio e Pepe Shrimp tastes even better the next day, and I definitely agree. The sauce became more full-bodied, and really coated each piece of shrimp.
ADVERTISEMENT - CONTINUE READING BELOW
Overall, I felt I definitely got great value for my money: a home-cooked dish, made with premium ingredients that fed us for 2 meals and extra. Effie can count me in as a repeater among her list of customers.
Hey, Preview readers! Follow us on Facebook, Instagram, YouTube, Tiktok, and Twitter to stay up to speed on all things trendy and creative. We'll curate the most stylish feed for you!