Valentine's Day is fast-approaching, and you know what that means? May it be because of the butterflies in your stomach or for healing a broken heart, it's time to treat yourself, or your significant other, to some scrumptious desserts! After all, there's no better way to celebrate heart's day other than eating sweets while watching a rom-com film.
With the rise of online bakery shops on social media, it's getting harder to pick which ones to buy from. Don't get too flustered though! Below, we've put together a curated list of options to quell your dessert cravings.
From cookies to cakes, here are yummy sweets you should consider getting this Valentine's Day!
1. Assorted Madeleines
If you and your special someone love talking to each other over hot drinks, these Premium Madeleines from La Madeleine Manille are the perfect choice to partner with a cup of tea or coffee! The box contains four flavors: Lavender Glazed, White Chocolate Matcha, Chocolate Pistachio, and their famous Caramel Lotus Biscoff. One bite could easily transport you to the romantic atmosphere of Paris!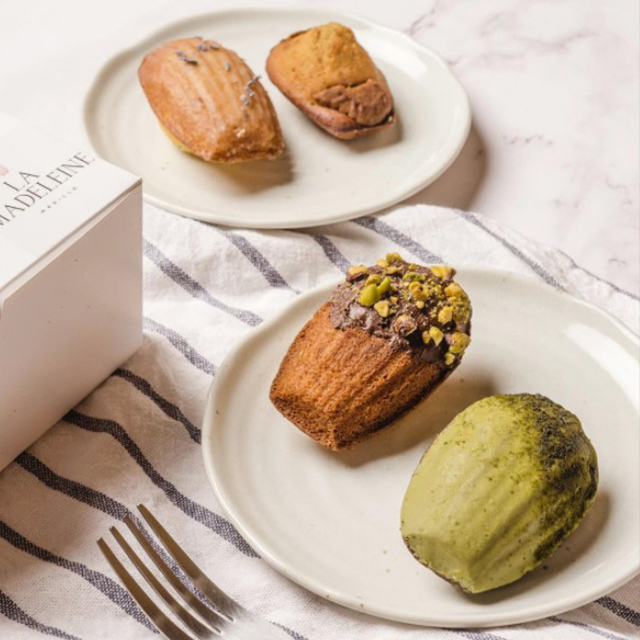 ADVERTISEMENT - CONTINUE READING BELOW
Assorted Madeleines, P689/12 pieces, LA MADELEINE MANILLE, Available online
2. Brookies
Brownies and chocolate chip cookies in one? Sign us up! K.D.C.N Bakes offers their iconic Brookies that gives you the best of both worlds: a dark fudgy brownie at the bottom and a crispy yet chewy chocolate chip cookie on top! Plus, you can satisfy your loved one's sweet tooth while being able to help others who are in need. With their motto—"Treat yourself and change the world one bite at a time"—and mission, 50% of their profit goes to different non-profit organizations. Talk about spreading love outside our homes!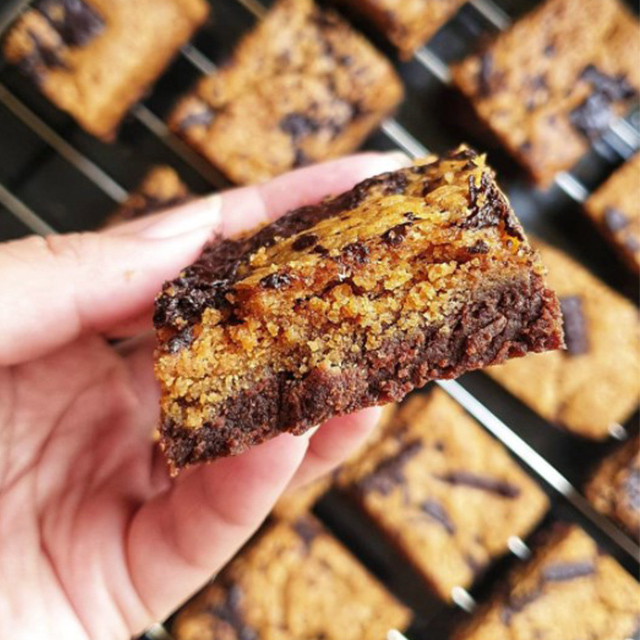 Brookies, P300/12 pieces, K.D.C.N BAKES, Available online
3. Chocolate Chunk Cookies
You can't go wrong with a good ol' chocolate chip cookie. What makes Doux's Chocolate Chunk Cookies special is that they freshly bake their cookies on the day it gets delivered to make sure that it has the right texture and taste when you take that first bite. If your significant other loves cookies with a crispy exterior yet chewy interior, a box of this will win their heart all over again for sure!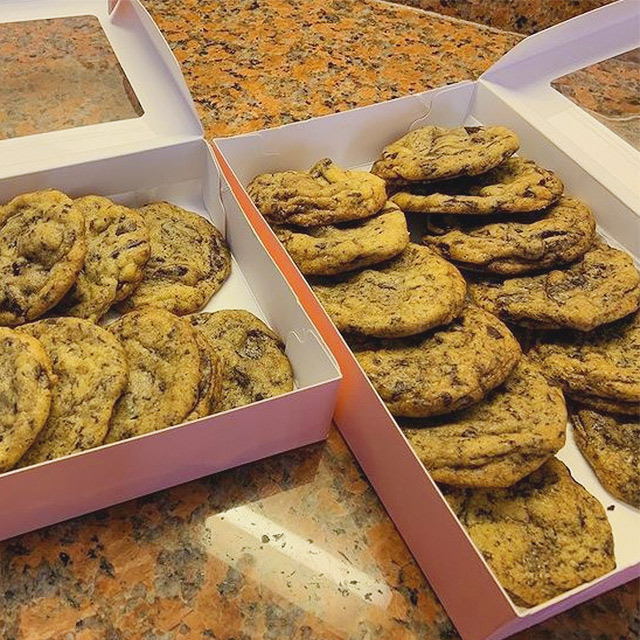 Chocolate Chunk Cookies, P300/12 pieces, DOUX, Available online
4. Strawberry Cream Cake
To all strawberry-flavored dessert lovers out there, we introduce you to Midnight Confections' Strawberry Cream Cake. As per their menu, this elegant cake consists of "a thick layer of fresh cream with strawberry chunks in between two layers of light vanilla cake." While you can also opt for a nine-inch cake, their six-inch is the ideal mini size to get as a Valentine's gift!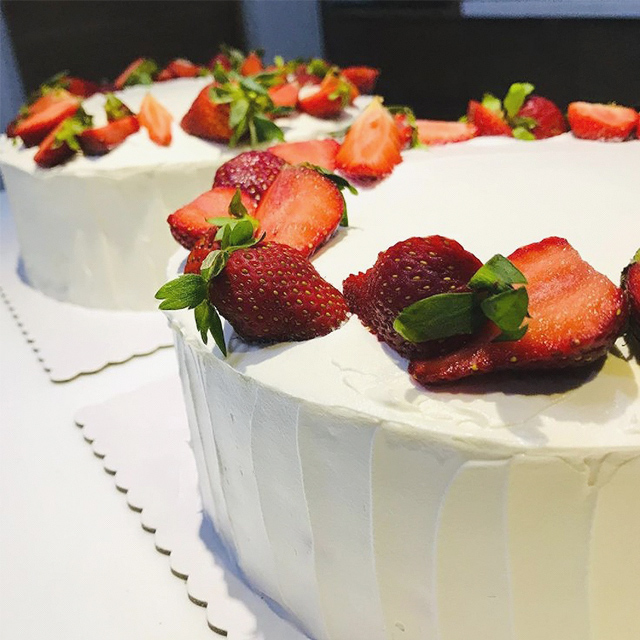 ADVERTISEMENT - CONTINUE READING BELOW
Strawberry Cream Cake, P740/6-inch, MIDNIGHT CONFECTIONS, Available online

5. Coffee Crumble
Hillview Street made sure everyone who doesn't have a sweet tooth still gets to eat a decadent dessert too this upcoming holiday. Their six-inch elevated Coffee Crumble will satisfy those who love strong coffee flavors. Its delightful coffee mousse cake perfectly blends with the saltiness of its nutty crust. Get a tub of this for your special friend (or yourself, we won't judge, LOL!), and they'll surely be floating on cloud nine.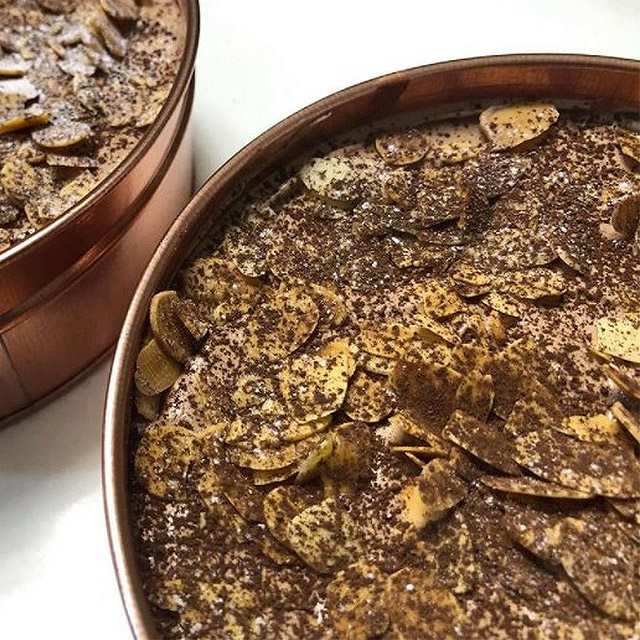 Coffee Crumble, P220/tub, HILLVIEW STREET, Available online
6. Heart Charcute Wreath
A charcuterie gift might not be the first thing you associate with sweetness, but this savory treat is for those who keep to a strict healthy lifestyle. This time we found The Sweet Life by Ange's Meatless Fruit and Cheese Charcute Wreath, which, much like its name, is a heart-shaped wreath filled with seasonal fruits sprinkled with pieces of sharp and mild cheese. Best partnered to eat with red wine, you may also go for the assorted meat option (P4,000) so you can dive into the full charcuterie experience!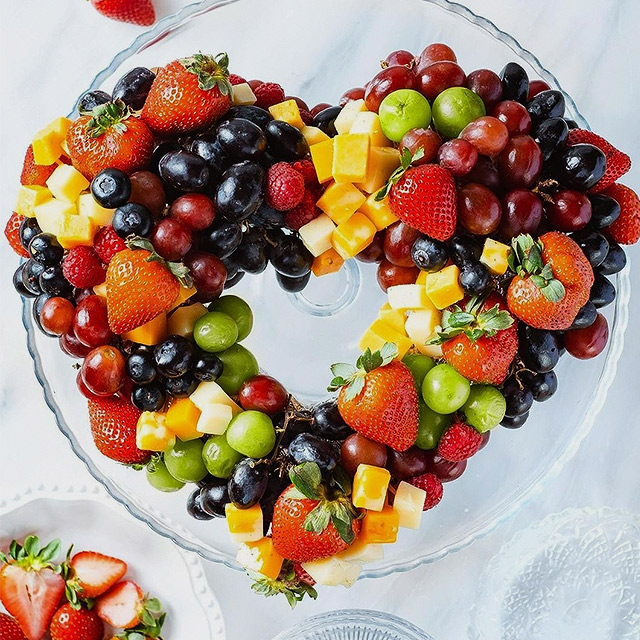 Meatless Fruit and Cheese Charcuterie Wreath, P5,800/14-inch, THE SWEET LIFE BY ANGE, Available online
7. Mini Crack Pies
Looking for something with a buttery, flaky crust and a creamy filling? Mrs. Makes will reel you right in with their four-inch Crack Pies. Different from the classic pie consistency, their OG crack pie is baked on a crunchy oatmeal cookie crust, jammed with sweet custard and powdered sugar on top. Along with that, they're also offering three more flavors—Brûlée Cheesecake, Caramelt, and Banoffee—where you can ask them to decorate the pies with a personalized message for your loved one. So cute!
ADVERTISEMENT - CONTINUE READING BELOW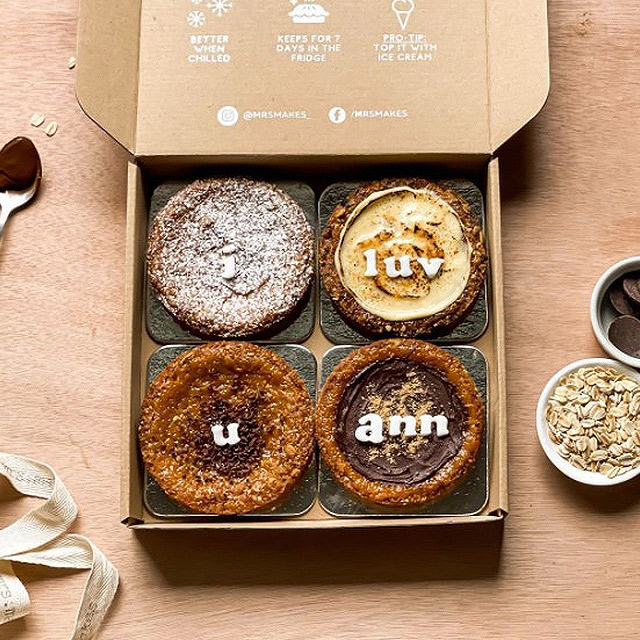 Mini Crack Pies, P690/4 pieces, MRS. MAKES, Available online
8. Nama Chocolates
A box of chocolates may seem like an ordinary choice but Chew's Nama Chocolates have further proven that you can never go wrong with them. ICYDK, Nama Chocolate is richer and chewier than a truffle. Inspired by the Royce brand of Japan's Nama Chocolates, their premium chocolate treats have its own Filipino touch. With four flavors to choose, Milk, Dark, Cinnamon, and Matcha, you may select one flavor per box of 24 pieces. Plus, you can buy an Ecuadorian rose along with your dessert with just an additional P200 per stem.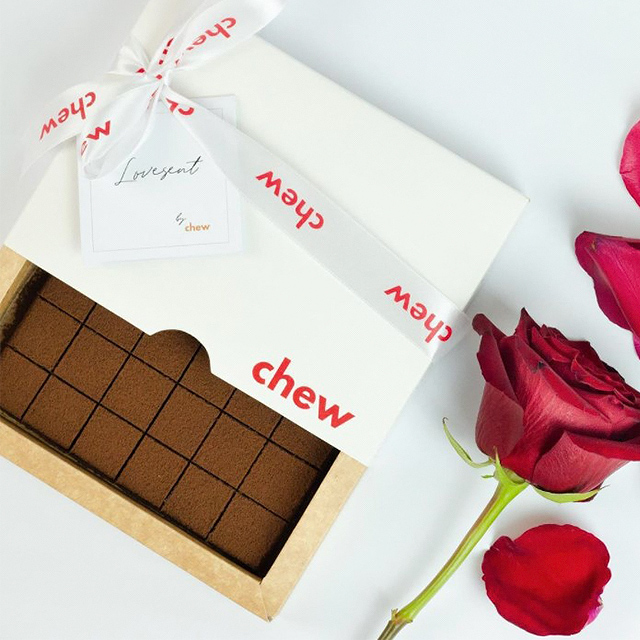 Nama Chocolates, P640/3 boxes, CHEW, Available online
9. Mix Berries Croissant Tarts
Here's an extravagant treat for a deserving lover: Introducing, Sweet Bella Desserts' Mix Berries Croissant Tarts. According to their Instagram page, their signature dessert "is crispy on the outside, filled with light pastry cream, topped with fresh blueberries, strawberries and blackberries." For every purchase, you will get 24 Ecuadorian roses to go along with your premium Valentine's gift.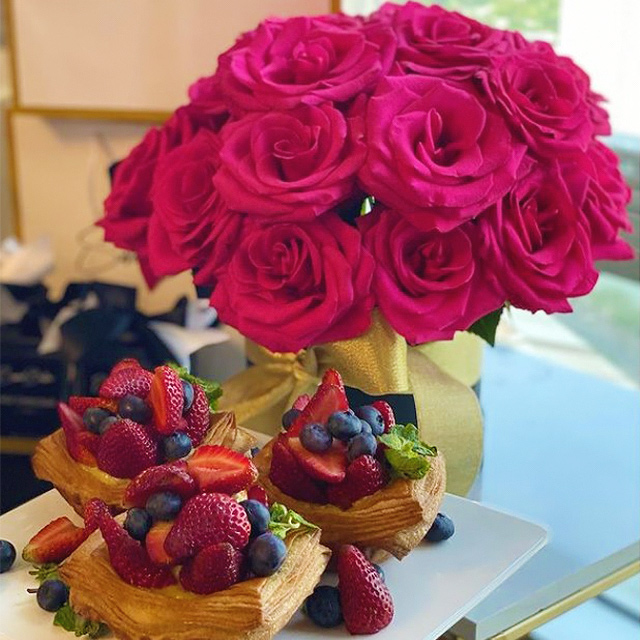 Mix Berries Croissant Tarts, P12,500/4 pieces with roses, SWEET BELLA DESSERTS, Available online
10. Chocolate-Covered Strawberries Bouquet
You can't beat a classic chocolate and strawberries combo, and Cloudé's Chocolate-Covered Strawberries Bouquet makes your gift hunt easier as it offers both dessert and flowers in one. Wrapped in their signature Furoshiki silk wrap, these plump strawberries covered in dark, milk, and white Belgian chocolate are bundled with their own dried flowers arrangement.
ADVERTISEMENT - CONTINUE READING BELOW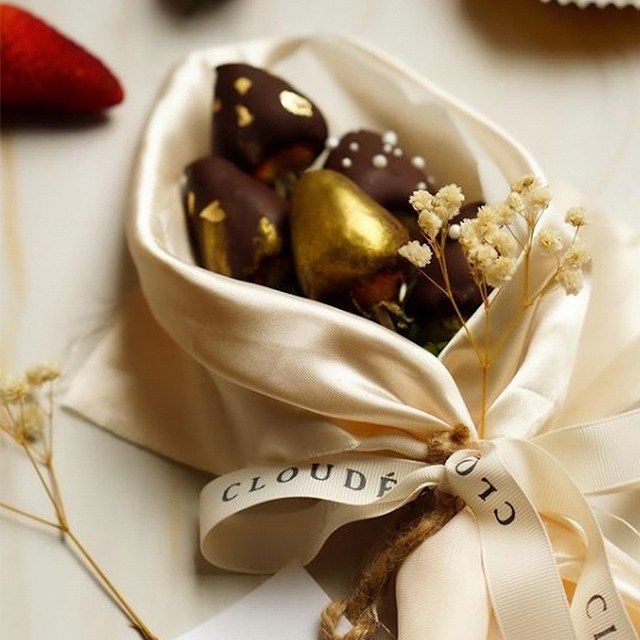 Chocolate-Covered Strawberries Bouquet, P800/6 pieces, CLOUDÉ, Available online

Related Stories from Preview.ph



Hey, Preview readers! Follow us on Facebook, Instagram, YouTube, Tiktok, and Twitter to stay up to speed on all things trendy and creative. We'll curate the most stylish feed for you!