Looking at these bright, immaculate spaces, you might be thinking: How can I possibly achieve this in my own home? On some days, even the tangles of cluter on our bedside tables are already a little too confrontational.
Well, you're in for a treat. Would you believe that this luminous apartment is actually a resale flat from the 1980s? Gee Cuevas, a hardware technician, purchased the unit with her partner and had it remodeled into a space that emanates the clean, functional aesthetic of Japanese design.
White walls, light-tinted wood, and subtle accent pieces make this home. We can't help noticing how the wide windows let the perfect amount of light in, too!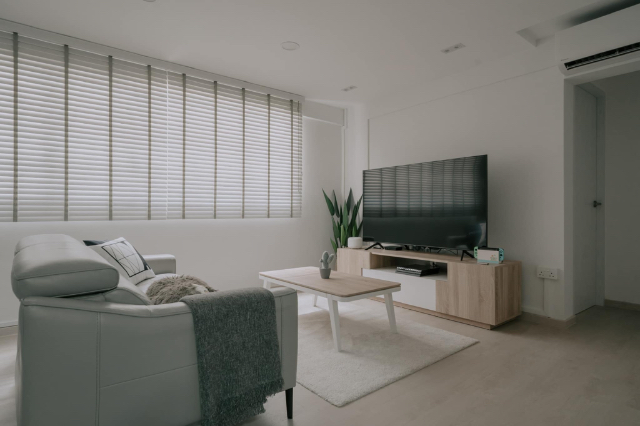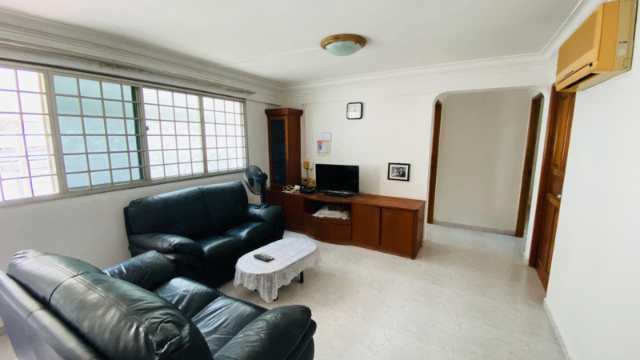 ADVERTISEMENT - CONTINUE READING BELOW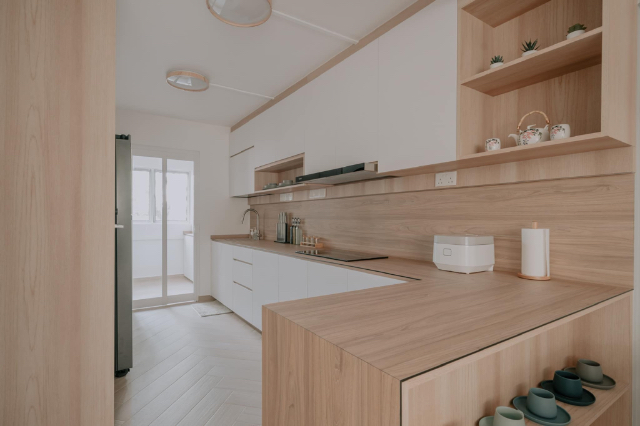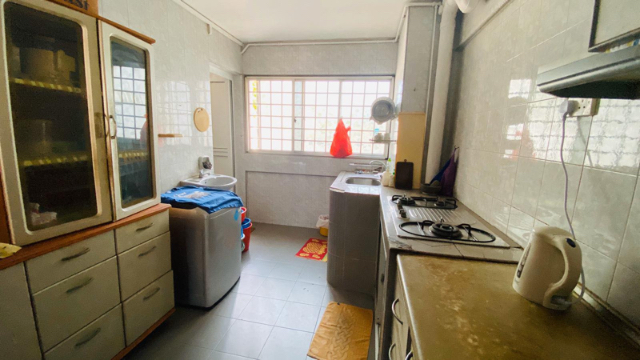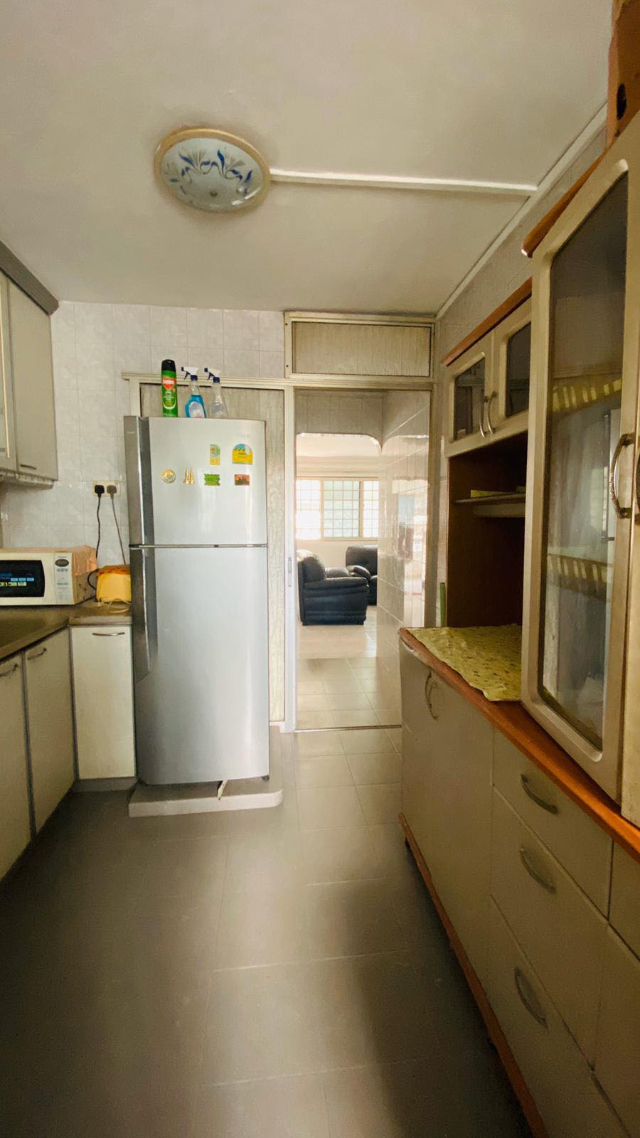 Preview got the chance to talk to Gee about the hard work that went into redesigning the unit. Read on!
Your home is so light and peaceful— it really is a Muji-esque dream! What did your home look like before the transformation?
"Me and my partner bought a 34-year-old resale flat located in North-East part of Singapore. The house was on its original state - it has the old layout and design of a typical flat back in the late 80s."
I saw that KeyConcept Singapore designed the home. Nowadays, people seem to really be into DIY-ing their own spaces, doing everything from conceptualizing to sourcing materials. In your experience, what were the benefits of hiring an interior designer?
"I am still a big fan of DIY-ing and I highly commend those who do. In our case though, we were caught up with work and don't really have the liberty to do everything on our own. Hiring an interior designer gave us the convenience of leaving everything to them without worrying should any issues arise. All we had to do was list down what we wanted and all the concepts that we had in mind and they would put them all together for us. That way, we would only have one point of contact if we have any concerns rather than reaching out to multiple people.
"Another bonus point that KeyConcept Singapore offered us was an initial 3D render of our ideas put up together before signing up a contract with them. The best part is that our interior designer does site visits to ensure everything is done properly as we won't be able to check the place every now and then during the whole process."
ADVERTISEMENT - CONTINUE READING BELOW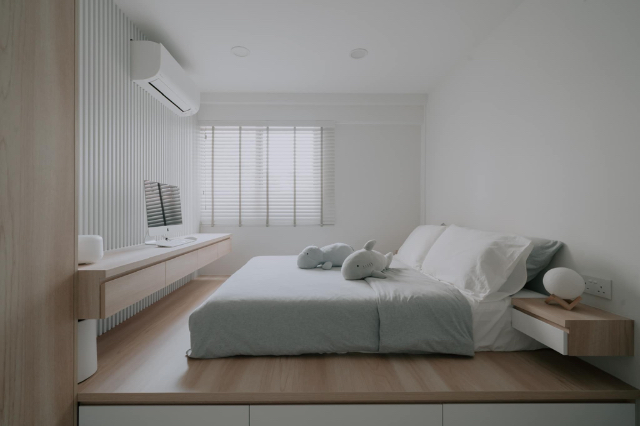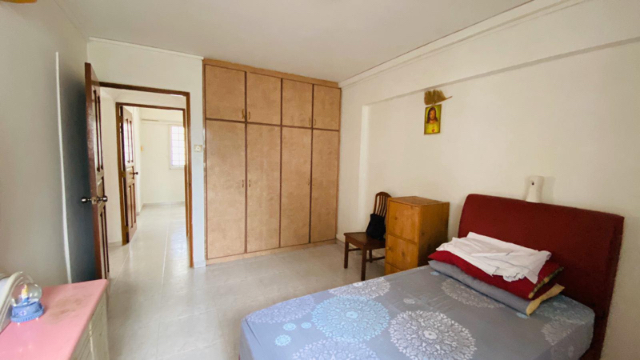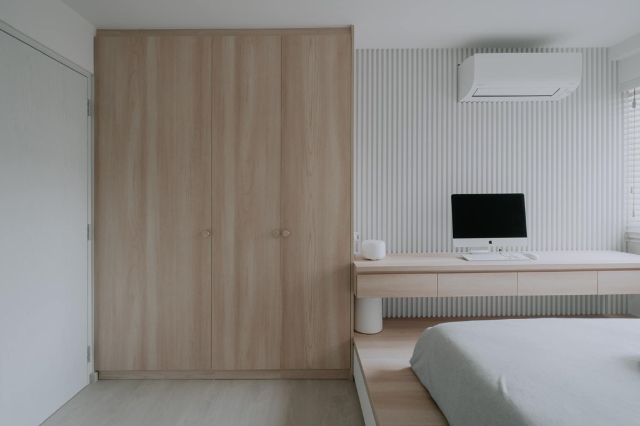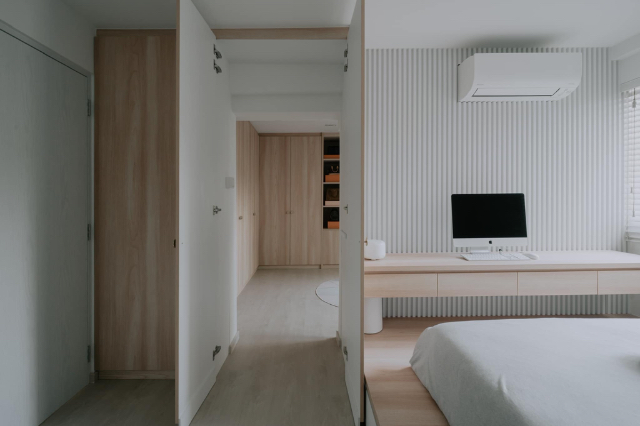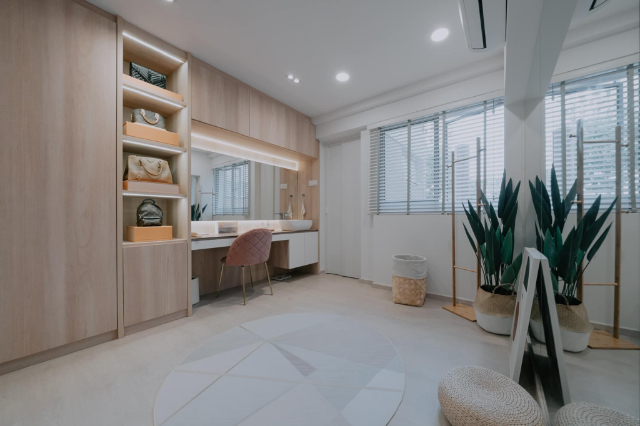 ADVERTISEMENT - CONTINUE READING BELOW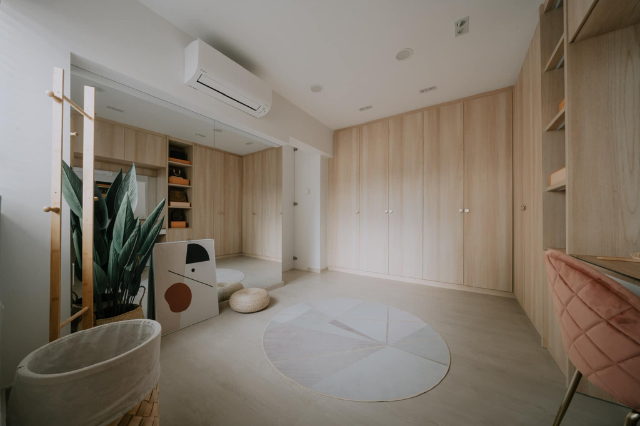 What were some of the biggest challenges you faced while developing the home?
"There were a few challenges during the renovation. One of the issues we had was the air conditioner pipe layout. We've already decided the location of the air conditioners on the floorplan, but during the actual work, we found out that what we want is not possible. They had to put it on certain locations that we were unsure of, so our Interior Designer had to make changes to the design. Initially, I felt that it was very off and my being OCD, I don't really like the big pipes, so I had to ask them to conceal the pipes in a fake wall.
"The biggest issue, however, was COVID-19. We had to halt the whole renovation for 3 months as the government issued a memo for all kinds of renovations to stop as it is not essential. They resumed around June but then Singapore's borders were closed. As a result, the contractors from Malaysia couldn't get in the country. They had to source for local companies which is kinda pricey as the demand is very high. A renovation usually takes about 3-4 months but ours took about seven months."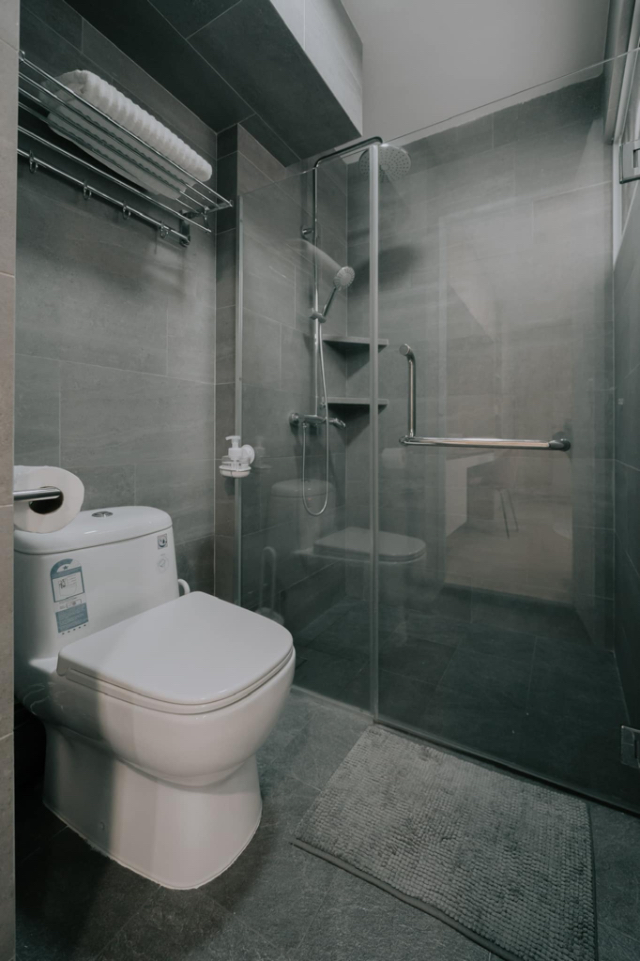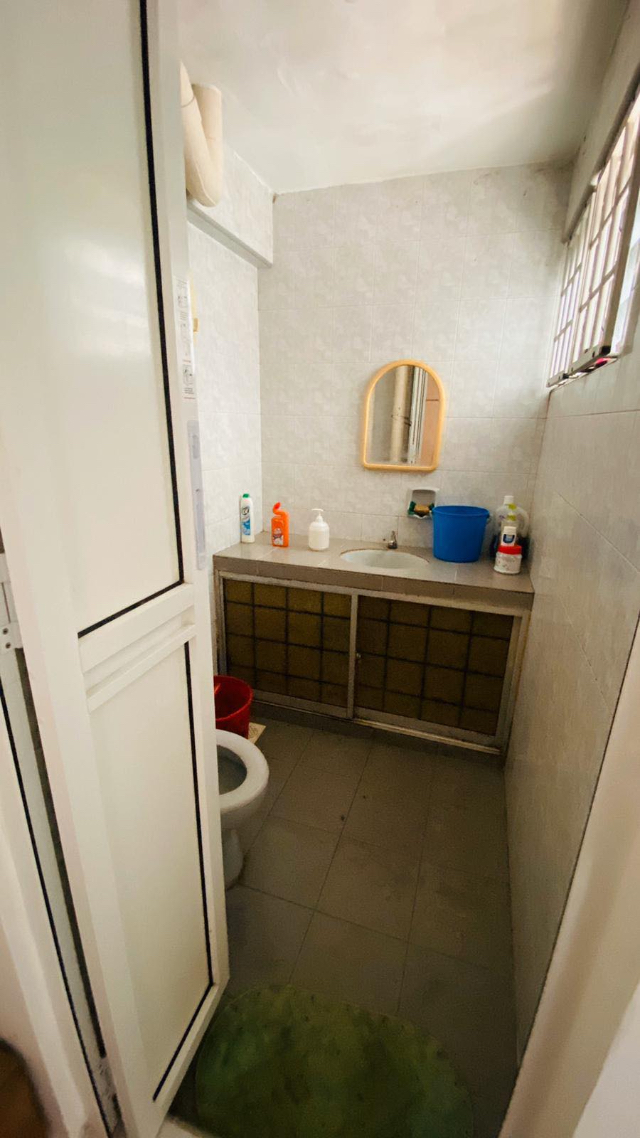 ADVERTISEMENT - CONTINUE READING BELOW
Could you share five practical tips for people who want to achieve this look for their own homes? They can be nuggets of wisdom you wish you knew before you embarked on this design journey, or helpful tricks you learned along way!
1. Site Visit.
"Make sure that the contractors and interior designers have seen the actual site before you request to do 3D renders or samples. This will affect the whole design even if you have the floor plan copy. I regret not doing this as there were lots of restrictions and pipe placements that were not factored in to the design."
2. Voice Out.
"If you don't like the design or you want to do changes, you should voice out and don't feel shy. Before the actual work, I had to voice out certain things that I'm not okay with. Think about this, it's gonna be your home for the next few years or even your lifetime so you want a design that you really like and not something you would regret later on."
3. Think about Quality.
"Sometimes, furniture and electronics can be quite pricey, but I always have filtering questions like "Will it last me for years? Will I use this as much as how I would use my phone? Will I be able to stick with the design for atleast three to five years?" If yes, then I would just go ahead and buy it. I think for the long run. You would want to invest on something good that will serve you for years."
4. Clutter Free.
"I always tell myself that if I want a Muji-esque home, I would have to let go of old habits and lots of things then keep it minimal. I know it's hard and I've been there. When I used to be addicted to claw machines, I had a vast collection of stuffed toys and random things that don't fit with the theme but I had to let them all go for the sake of having an alignment and visual standards at home."
5. Maintain and Organize.
"I always have this mentality that no matter how good my house looks, if I don't maintain and organize, I'll be back to square one. I always make sure to set a to-do list whenever I clean and organize my stuff. I also try my best not to let random things sit on a table or countertop for too long if it doesn't belong there to avoid clutter. Say no to hoarding."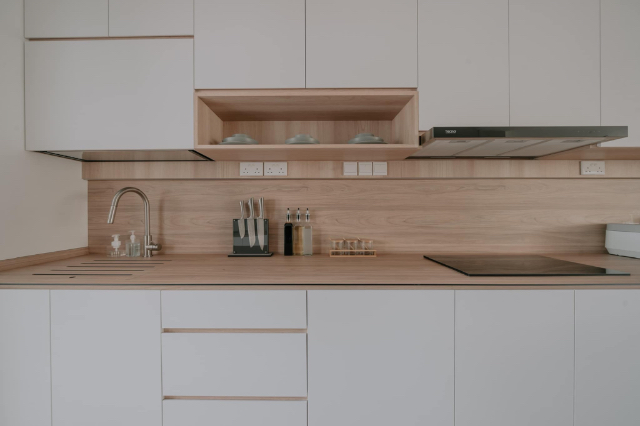 ADVERTISEMENT - CONTINUE READING BELOW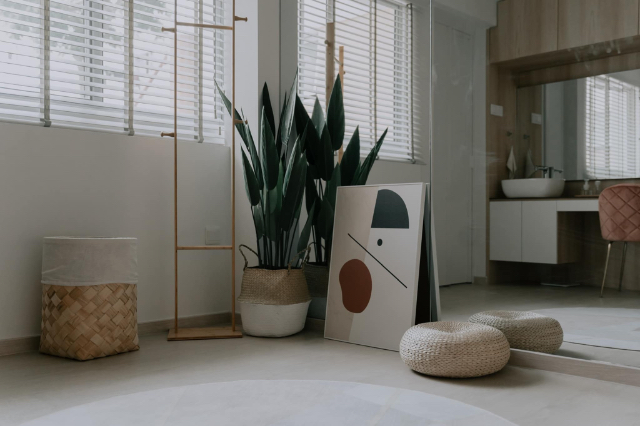 Do you have a favourite corner or spot in your home? What about it do you love?
"My favorite part is the living room because it's spacious, bright, and comfy. We used to rent a 1-bedroom unit that didn't really have a good couch and a small TV, so the living room back then was under-utilized. So now, during my rest days, I prefer to laze around. My couch has an auto recliner so I can lay there for hours without doing anything. Sometimes I do play my Switch, watch the television, or read a book. It's very relaxing!"
Preview is now on Quento! Click here to download the app for iOS and Android and enjoy more articles and videos from Preview and your favorite websites!
Related Stories from Preview.ph
Hey, Preview readers! Follow us on Facebook, Instagram, YouTube, Tiktok, and Twitter to stay up to speed on all things trendy and creative. We'll curate the most stylish feed for you!