One would think that Isabel Santos' hands have always been destined for the canvas. She, after all, descends from a family of great Filipino artists—her parents being Soler and Mona Santos, and her grandfather, the late Malang Santos, an award-winning icon of contemporary Filipino art. However, it's exactly this hefty pedigree that first caused her aversion for the scene. "Art was around me my whole life. My whole family plus my lolo are and were artists. Long story short: I liked it. Then avoided/resented it in high school," Isabel tells Preview. "People assumed I was only good at art because of my family but I wanted to prove I was good at other things." It wasn't until the young artist was given the freedom and time to appreciate the world she was born into on her own when she really started embracing her talent for the craft.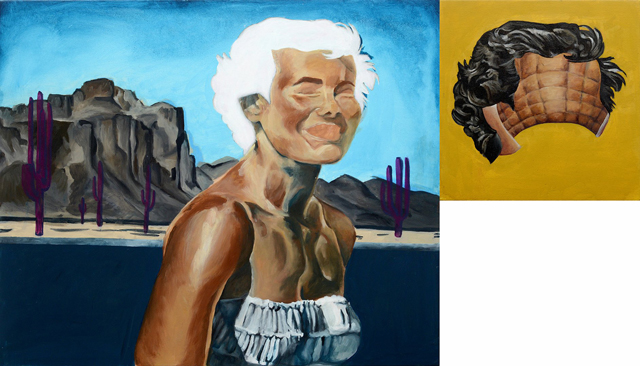 ADVERTISEMENT - CONTINUE READING BELOW
Years later, Isabel is slowly but surely carving her own mark in the art world. As young as she is, her constantly evolving style involves the particularly striking use of mixed media, often seen experimenting with acrylic and cut-outs of the comics she reads, making pop culture references in her works that speak of her creative youth and allowing her to stand out from the rest of her family's shadow. With already over a number of shows and residencies under her belt, including exhibits in New York, Germany, and France, she's well on her way to paving her own path, admittedly with a style she hasn't quite pinned down yet, as she's always experimenting, always discovering.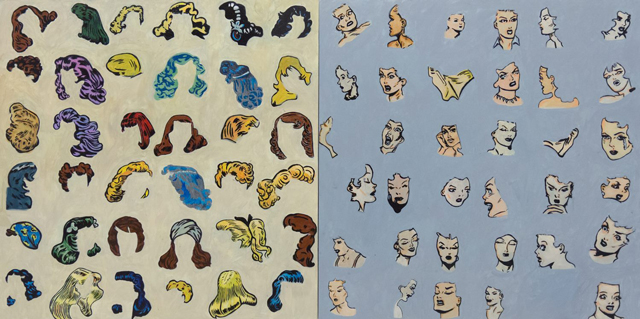 She doesn't only get to test her skills on a blank canvas, though. If her Instagram account is any indication, Isabel's also quite the makeup artist, occasionally posting her vibrant and eccentric makeup looks on her account. It's a personal talent that's apparently helped her in honing her vocational craft. "Makeup has actually helped me in painting faces," she reveals.
Check out a few of her looks, below.
ADVERTISEMENT - CONTINUE READING BELOW
Get to know more of Isabel and her art as she talks to Preview about her creative journey, the meaning of art for her, and her advice for other aspiring artists.
Could you tell us about your creative journey? How did you start off with your art?
"Well, art was around me my whole life. My whole family plus my lolo are and were artists. Long story short: I liked it. Then avoided/resented it in high school, then it came back to me or rather I came back to liking art mid college. People assumed I was only good at art because of my family but I wanted to prove I was good at other things. At my own time, I slowly felt that this was what I wanted to do. After college and a family Europe trip, I had a break and did the so called "finding myself." I wanted to become an artist after all. I wanted to create things. My first group show was back in November 2013."
Who are your inspirations and why?
"I don't really have inspirations to avoid the inclination to copy but I am a fan of a lot of artists here and abroad. Locally, I love the works of Mariano Ching, Jigger Cruz, Kawayan de Guia, Yasmin Sison, and my dad, Soler Santos. Abroad would be total cliches but I like Van Gogh, Edward Hopper, Lucian Freud, David Shrigley, Andy Warhol, Lawrence Weiner, and Marcel Broodthaers. They inspire me because they're so good! I just want to be as good as them but in my own way."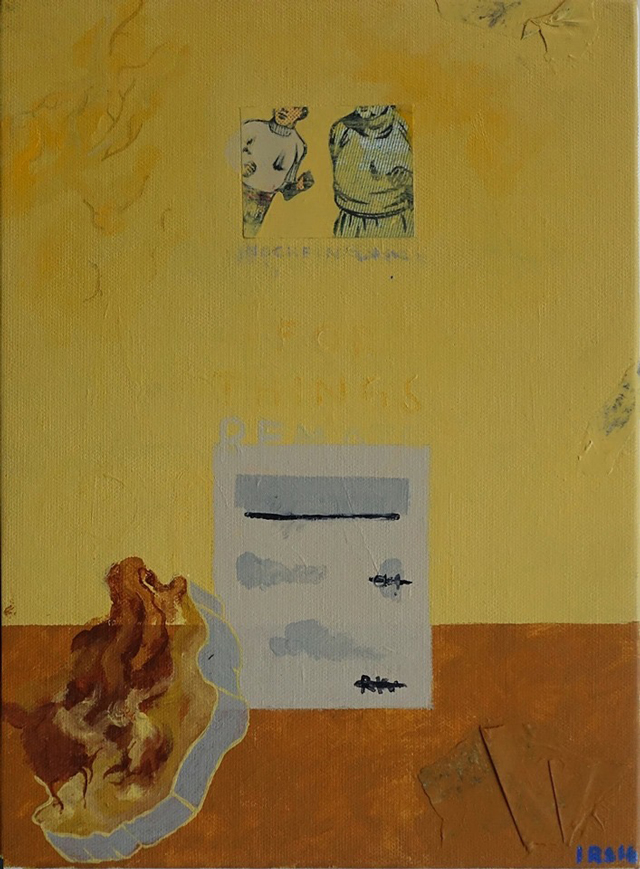 How would you describe your art style/personal aesthetic as an artist?
"Ha! There I am not so sure yet. Sometimes I like still life. Other times I like to do comics. I also like do realistic paintings. It depends on my mood. I used to say my works are colorful but now I like some black and white pieces as well."
You've had quite the few residencies abroad, how would you say has international culture affected your style in any way?
"It made me more independent. It also gave me chances to practice explaining my art and myself. Also, it made me appreciate the fact that there is no favoritism towards men here in the Philippines art scene. But this is only my experience. I could be wrong."
ADVERTISEMENT - CONTINUE READING BELOW
If you had to write a short artistic statement to encompass your work so far, what would it be?
"Works of a gemini. Haha!"
Much like writers, do you ever experience artist's block? If so, what do you do to get out of a rut?
"Yes, sometimes it takes longer to think and stare at the canvas than the actual work. My lolo said just be at the studio. If you're not up for painting, clean your studio. Be there where you are most creative and hopefully it will come to you."
Courtesy of Isabel Santos

We love the makeup looks on your Instagram! Do you approach makeup the same way you approach your paintings? Have you ever thought about doing it for a living on the side?
"Makeup has actually helped me in painting faces! I would love to try it on others but I would never take money, I'm too anxious of a person. Makeup on me might not look good or the same on a different person. The only 'client' I've had is my mom. So far, no complaints."
What's your advice to aspiring artists who are looking to make a living out of their passion?
"For artists, advice is to go to exhibits and openings. They're free and it will help in finding the style you like. Also, it will give you a chance to meet people and maybe get a show. For other creatives, I'm not so sure. But I think just educate yourself and surround yourself with good people."
As we find ourselves in a rampant digital age, in your opinion, how has social media impacted how people treat art?
"It really depends on your goal as a creative. What defines your success? Being successful in the art world doesn't really equate to having many followers or vice versa. Also I know some artists also choose not to have social media because of its effects on their art and mind. But there are kinds of art that thrive in social media. Some people find jobs through it."
PHOTO BY

Courtesy of Isabel Santos

ADVERTISEMENT - CONTINUE READING BELOW

Do you have any advocacies that you push for with the use of your art? If so, what would they be?
"You can use art for advocacies but I don't think it's necessary. I think any job or talent you have can help out an advocacy close to the heart. For example, I did, for a while, draw pets for a fee and gave all proceeds to MBY pet sanctuary. "
Do you think art you should always have meaning?
"Having meaning in the artwork can happen even if the artist didn't intend to. For example, a Van Gogh. I love the pieces and have a particular attachment to them but we can never really know what his works are about. Sometimes it's love at first sight and other times appreciation can be enhanced by the write up. 'What does this mean?' is the hardest question for me because there is never really just one answer."
Where do you hope to take your art/career next?
"I hope to show again abroad! Maybe another residency, if I [can bear] leaving my two dogs."
Related Stories from Preview.ph
Hey, Preview readers! Follow us on Facebook, Instagram, YouTube, Tiktok, and Twitter to stay up to speed on all things trendy and creative. We'll curate the most stylish feed for you!