This month of June is an event-filled one. We're not only marking the fourth month since quarantine began, but we are also celebrating many important things.
There's Independence Day, which was met with arduous expression online last June 12 due to numerous political concerns such as the Anti-Terror Bill and the encroachment of the West Philippine Sea, among others. It's also Pride Month, which, despite the absence of a Pride march this year, was remotely celebrated at home and just as passionately.
We're halfway through 2020, and whether you've been rallying for political change, waving the LGBTQIA+ flag, or navigating the daily challenges of quarantine, you've probably struggled with anxiety at some point in time. Preview recently caught up with the Fab Five—yup the cast behind Netflix's Queer Eye series! The show is one that's always top-of-mind in the feel-good category, and naturally, they shared tips and advice on how one can deal with these challenging times: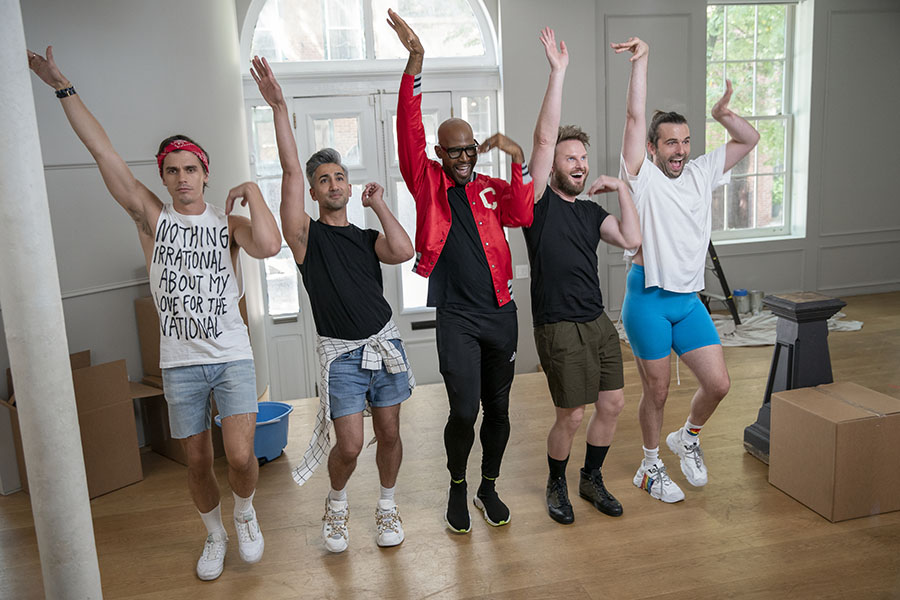 ADVERTISEMENT - CONTINUE READING BELOW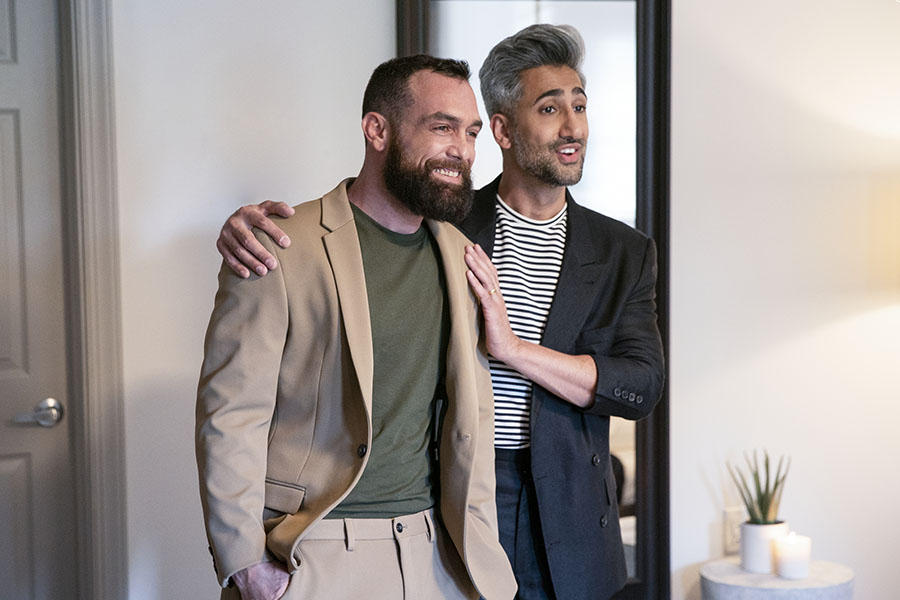 On discussing sensitive topics
Many of us are vocal about our personal advocacies, especially online. Tan France, the show's resident fashion guru, shares that he is personally open to dialogue on social media, but makes sure that they are based on facts. "When I say that I'm open to conversation on social media, that is when that is something's just a fact. And, I don't want the trolls and the haters to come for me—it's just that, a fact is a fact—and I'm not wanting to discuss that, but when it's an actual conversation I think that's incredibly important [as well]."
He also says that being informed should always come first, and that it's great that the show sparks dialogue in other communities: "We're all very sensitive and aware of our surroundings and we try and speak only when we're informed and what it is interesting being on a show where we have to open up so much, we're asking our heroes to open up so much and, and it does start a conversation that I hope encourages others to have conversations with their own homes and their own communities."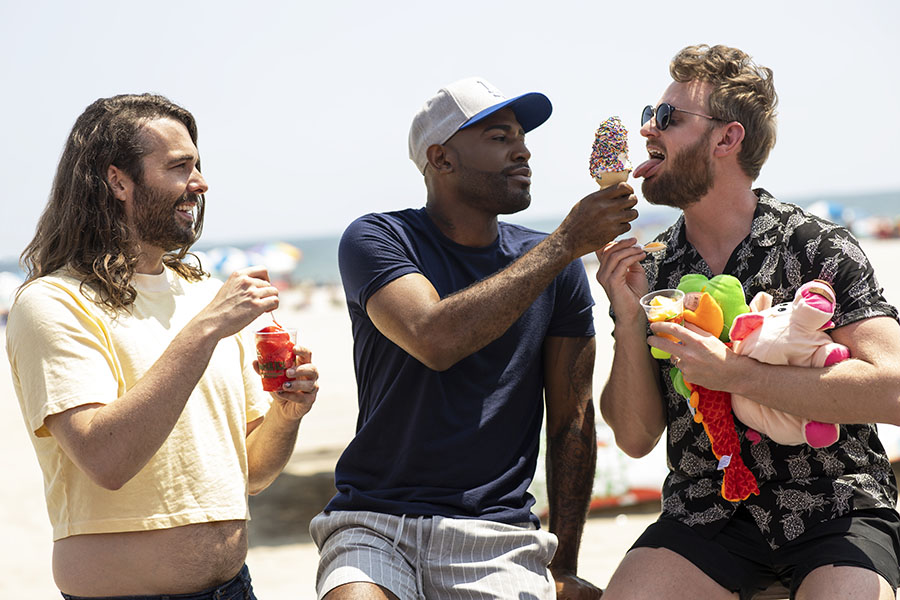 On finding the good in this messy world
The world right now is as complicated as it can get, and it's pretty difficult for some to find the slightest glimmer of hope. However, Karamo Brown, the show's psychotherapist, says that you don't need to look elsewhere other than within you.
"Well, first of all, to see the good in others, you need to see the good in yourself. I think any change that we see in the world starts with ourselves first. It starts with how you're communicating with yourself. Are you talking to yourself with kindness and love and empathy, and then are you educating yourself about who you are and clear about who you are?
"That way, you can learn about other cultures and other people's experience. And I think when you do that, you're able to meet people who may have different point of views from you or who have different perspectives and speak to them in a way where you get your point across, but it's still respectful and loving."
ADVERTISEMENT - CONTINUE READING BELOW
"And I think that's where we see our country right now, the world right now—people banding together through empathy and education to say that 'Enough is enough,' or 'We're going to work together,' and some of the most difficult conversations are now happening around the world that have needed to happen for a while..."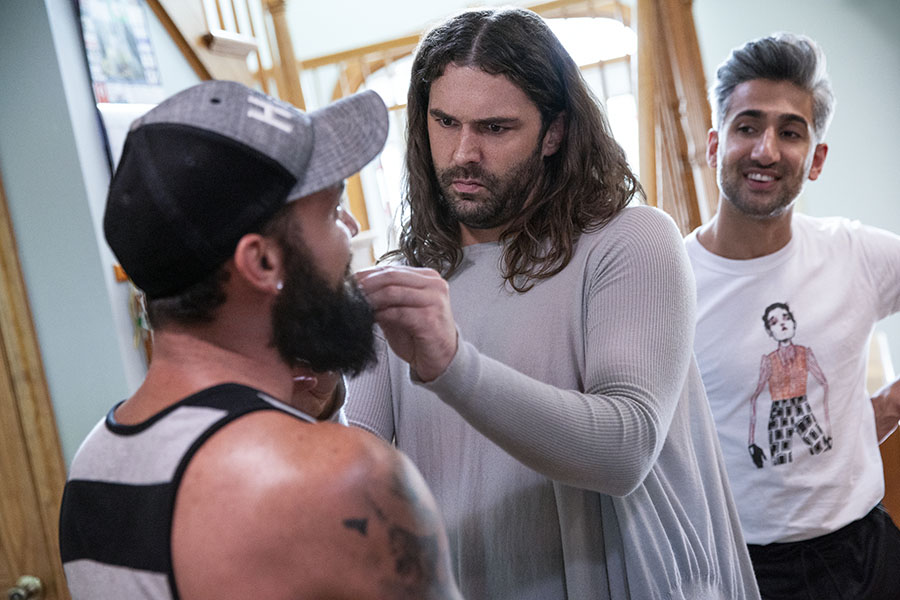 On quarantine makeovers
Quarantine has deprived us of the joy of getting dressed and dolled up, but we've learned that fashion and beauty still have a place, even at home. In fact, many of us have resorted to DIY fashion projects and beauty makeovers. Jonathan Van Ness, the show's beauty expert, however, shares that when it comes to makeovers, the key is to keep it semi-permanent (lest you want to regret your decisions!):
"You know, I love to be adventurous, in a lot of ways, but I think that some of my worst mistakes lie behind the chair—like doing errors—[is because] I committed to doing too much on someone's hair. And so, I think, as a hairstylist, [I mean we] go to school for a lot of hours to learn to do what we do—that when it comes down to a haircut or a hair color, I would say don't overcommit."
"Have more fun with, like, changing up hairstyles, playing with makeup, and doing things that are not permanent. Because I don't think anyone wants to be in a situation where you really mess up your hair or create a haircut that you have to grow out or go to the salon, a lot—too much to get fixed as we're going through all of this. So I would say, be adventurous with hairstyling and semi-permanent things, but I would try not to, you know, buzz all your hair off or like do a bleach-and-tone right now."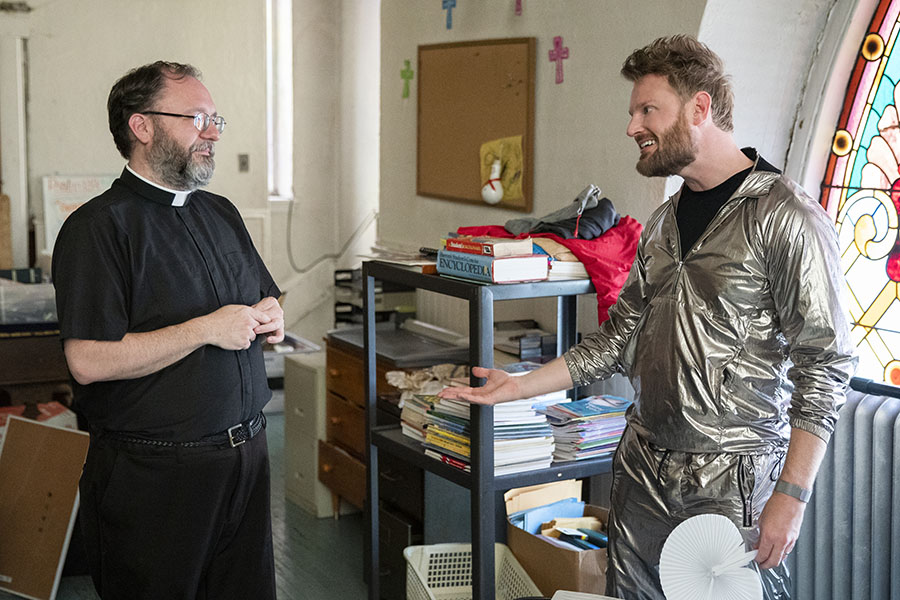 ADVERTISEMENT - CONTINUE READING BELOW
On LGBTQ+ individuals struggling to reconcile their sexuality with religion
Queer Eye's first episode follows the transformation story of Pastor Noah, who is an openly gay leader of his church but is struggling with self-confidence, as he hasn't fully reconciled his sexuality with his role in the church. Bobby Berk, the show's resident interior design expert, gives moving advice for individuals who are experiencing the same thing:
"My advice is to realize the fact that a lot of the anti-gay rhetoric that is spewed from the churches is spewed from man. It is, it is rhetoric that was made up by, who knows who, but it wasn't God. And so just to remember that God is love and God loves you, and God made you perfectly, the way you are."
"So, just my advice is to remember that you are perfectly designed as Karamo's book says and that you are loved and you are made exactly the way God made you and that people will come around and it will get better. And just to love yourself because that's the most important thing."
Catch Season 5 of Queer Eye only on Netflix.
Related Stories from Preview.ph



Hey, Preview readers! Follow us on Facebook, Instagram, YouTube, Tiktok, and Twitter to stay up to speed on all things trendy and creative. We'll curate the most stylish feed for you!