The first thing Dr. Nelda Eufemio of Center for Advanced Dentistry will tell a patient is, if you want to change something about your face, let the first thing be your teeth—it makes a whole world of a difference. 80% of the time, someone who gets veneers changes their minds about surgery or fillers afterwards. Here's the lowdown on what veneers are, how they're installed, and why you shouldn't be afraid to get them.
The Who
Who are eligible to have it done? Not just artistas, but anybody—as long as your teeth aren't too crooked. At my first consultation, I discovered my upper teeth were perfect candidates, but my lower row of teeth were too "sungki." People with okay alignment but discolored teeth are also good candidates. Otherwise, Dr. Nelda recommends that you get braces or Invisalign.
The What
Veneers are mostly seen on your fave celebrities and beauty queens (those literally winning smiles). According to WebMD, "Dental veneers (sometimes called porcelain veneers or dental porcelain laminates) are wafer-thin, custom-made shells of tooth-colored materials designed to cover the front surface of teeth to improve your appearance. These shells are bonded to the front of the teeth changing their color, shape, size, or length."
Veneers start at P20,000 per tooth (they recommend eight upper teeth).
The When
Best to have this done when all your teeth are permanent and you've had your wisdom teeth removed, if need be. Give yourself a couple of days downtime after the final installation as you might be a little sore.
ADVERTISEMENT - CONTINUE READING BELOW
The Where
Center for Advanced Dentistry is at Infinity Tower, 26th street, Bonifacio Global City
Phone: (02) 478 9275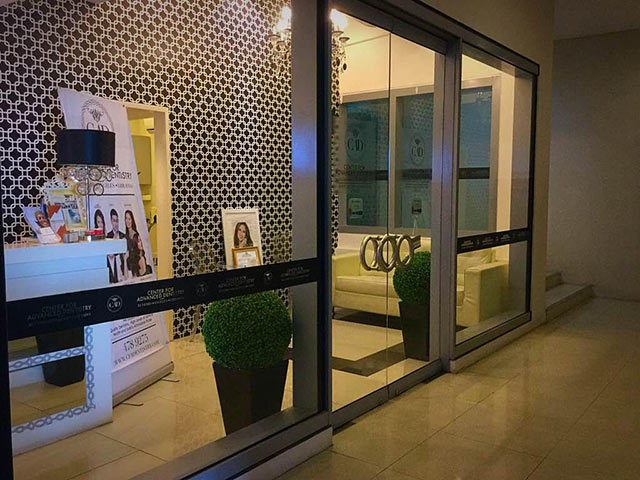 IMAGE Courtesy of Center for Advanced Dentistry
The entrance to the clinic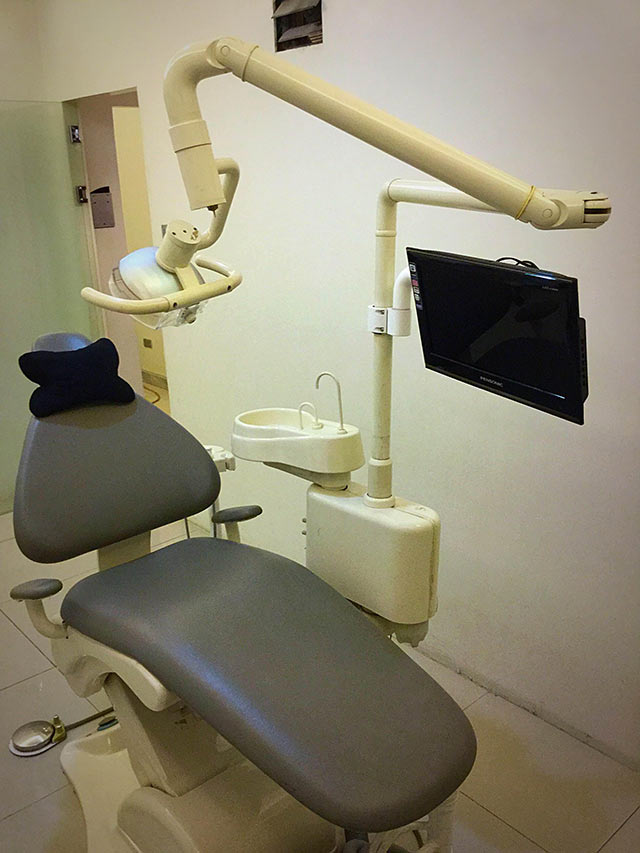 IMAGE Courtesy of Center for Advanced Dentistry
Where the magic happens
The How
Now this is a pretty long process—but considering how braces, and even Invisalign, could take a year or more, a month is a very short time for a drastic (but good) change. I took about a total of five visits in five weeks and here's how it went: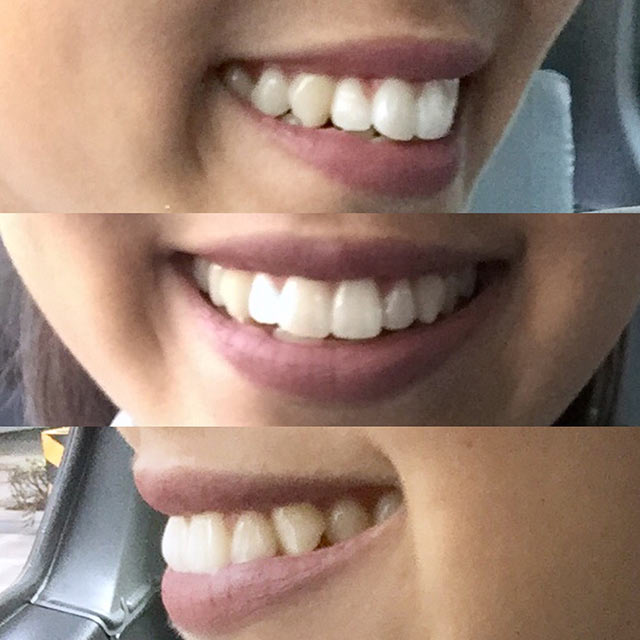 IMAGE Belle Rodolfo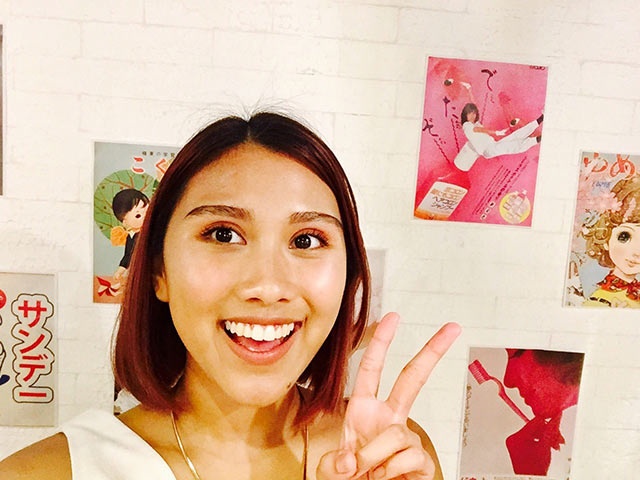 IMAGE Belle Rodolfo
My teeth, pre-veneers

1st visit: Consultation time! This is where Dr. Nelda assesses your aesthetic dental needs, and where you talk about what you want from this makeover. My tip? Like getting makeup or hair done, it doesn't hurt to bring pegs.
At the end of the day, she will tell you how and what will fit your face, size and color wise. On this visit, they will also take dental molds with gum-filled trays that they'll fit your upper and lower rows into. Not to worry, it only takes a minute each.
ADVERTISEMENT - CONTINUE READING BELOW
Total time: 1 hour
2nd visit: This was the longest and toughest session for me (just because you have your mouth open for long)—this is where they make your teeth smaller. The great thing about this was they totally numb you, and once the injection is over, you can just sort of sit there and watch things unfold painlessly.
First they shave your teeth down, so when the veneers are installed, you won't end up with bunny teeth. This takes around an hour or two in total. Not everybody needs this, especially if your teeth are the really small kind, but mine were bunny teeth by default so they needed reducing. After which, they take another mold of upper and lower rows, then they fit temporary bondings over them so you can go about your life as usual. These temps last about a week, just in time for your first fitting.
Also, before they even start having your new porcelain smile made in the lab, they'll let you choose a shade—and if you see the range, it's like a whole line of foundations. They recommended the whitest from the natural line to match my teeth. Some, like celebs and beauty queens, prefer the whiter "bleach" shades but I preferred a more natural smile since I'm just your average non-celebrity person.
Total time: 2 hours
3rd visit: Ah, my first fitting! I naively expected to walk away from the clinic after one fit, but like any good bespoke creation, it required plenty of necessary adjustments. CAD Clinic's team is awesome because they will never let anybody walk out of their clinic ugly. No, Dr. Nelda won't do you like that, girl. Before they fit you, they remove your temps, and they again replace them with new ones.
Total time: 30 minutes
4th visit: I, again, had hoped this would be the last, but alas, fate—and Dr. Nelda—would not have it. The porcelain set was still a bit too big for me, and so they sent it back to the lab to be resized. Again, my temps were replaced by a fresh set—having them on for too long was a bit weird, to be honest, as they have no gaps between them. You get used to it, however.
Total time: 30 minutes
5th visit: At last, it was the last! I fit the final set, and the color perfectly matched. Once you attain the perfect fit, they numb you again because they need to perfectly dry your teeth for installation. It will look its best once it's cemented in, because with fitting they only literally fit it over. The final step was adjusting and reducing parts of the teeth inside so the veneers adjust perfectly to your natural bite, and cleaning and flossing your new pearly whites.
Total time: 1 hour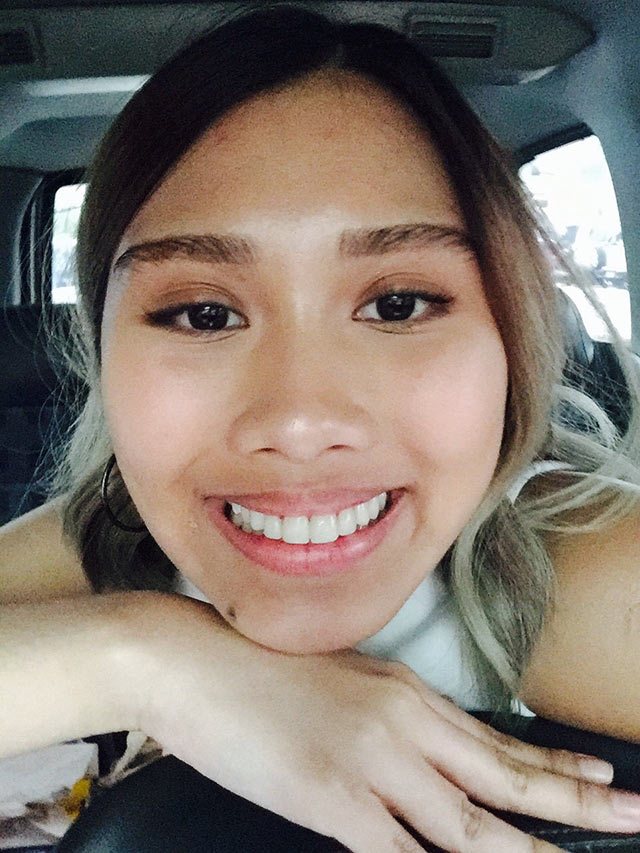 ADVERTISEMENT - CONTINUE READING BELOW
IMAGE Belle Rodolfo
Immediately after the procedure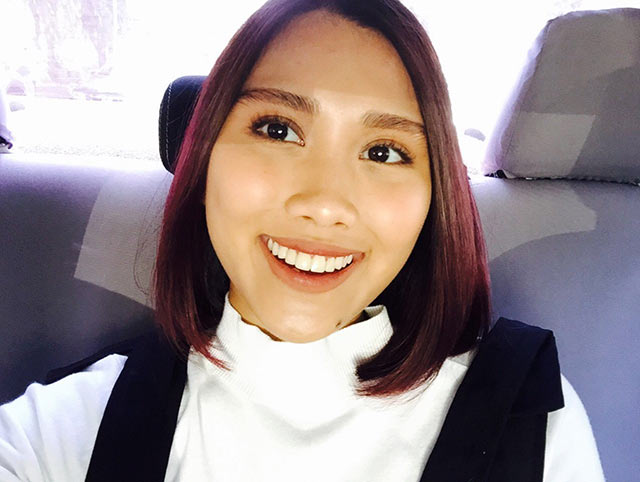 IMAGE Belle Rodolfo
One day after, numbness and swollen lips have subsided (plus I had my hair colored!)
Related Stories from Preview.ph
Hey, Preview readers! Follow us on Facebook, Instagram, YouTube, Tiktok, and Twitter to stay up to speed on all things trendy and creative. We'll curate the most stylish feed for you!