My Halloween plans this year involve staying at home, binging on a new Netflix series, and foregoing my diet to indulge myself with a big bag of Cheetos. Sounds good, right? Especially if you're not one to party on Hallow's Eve. But to get into the spooky spirit (at the bare minimum) without wearing a costume, I thought it'll be quite fun to at least get my nails done for the 31st.
What Is It: Japanese Nail Art by Kiyosa Japanese Total Beauty Salon
Kiyosa is a holistic beauty salon that offers hair, nail, and eyelash services using Japanese techniques. They have Japanese staff and directors who train and oversee each service, and you have the option to book these licensed beauty technicians.
ADVERTISEMENT - CONTINUE READING BELOW
Their basic gel nails start at P880, while the base price for nail art is P1380. They specialize in intricate designs that require freehand drawing and applique placement. Since I went for a fully customized design, Kiyosa broke down my bill after the service. You can also request for an estimate so they can simply adjust the design according to your budget.
Current Condition:
I've gone polish-free for a couple of weeks to avoid my nails from turning yellow and becoming brittle from all the manicures I've had. This is also to prep for the gel nails for this review, knowing that the procedure tends to dry out your cuticles over time. I normally maintain a square-ish shape too, since that's how my nails naturally grow out.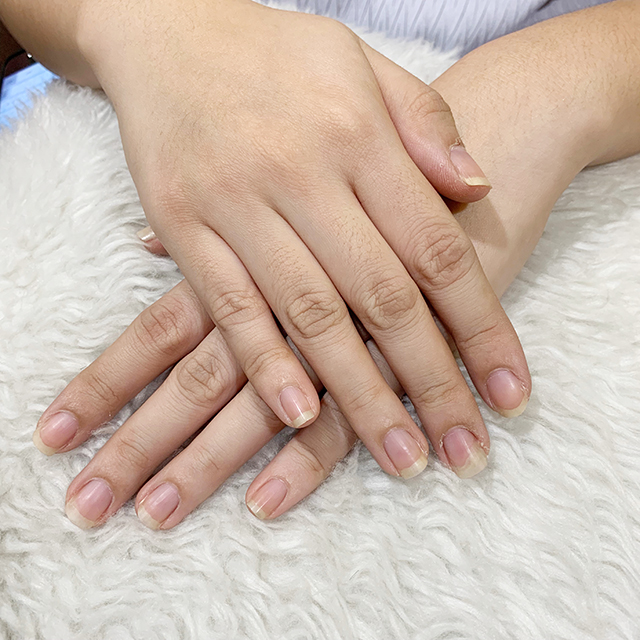 For the design, I opted for something nostalgic and pastel—the millennial internet aesthetic, if you may. I searched for retro My Little Pony images and sent it to Kiyosa for their artist to check and review. I didn't really want to dictate the details too much, as to allow them to have creative freedom and just wow me with the end-result.
The treatment:
Kiyosa recommended that their Nail Director Technician, Maiko Fukuda, do my nails. In case you didn't know, nail technicians in Japan need to pass a licensure exam before they practice their craft. This is to reassure the quality of service and skills needed for the career. It also explains why salon services in Japan are pretty expensive! Maiko-san is a licensed nail artist, which makes her one of the most experienced staff at Kiyosa. She's usually able to execute their clients' preferred design no matter the difficulty.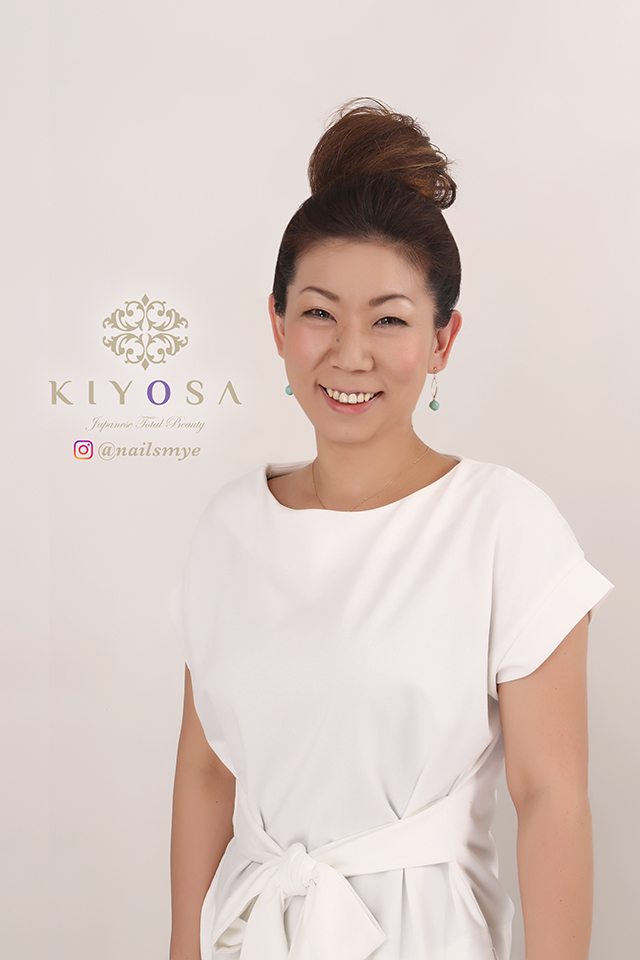 The area designated for all their nail services is situated at this cozy nook of the salon by the back. All their seats are La-Z-Boys so no need to worry about your back or butt aching while getting your hands done. It's also pretty quiet and they have an attachable cushioned side table if you decide to bring your laptop to watch your fave series.
ADVERTISEMENT - CONTINUE READING BELOW
Maiko-san started the treatment by asking me if I got my nails done regularly and if she could change my nail shape to match the nail art she had in mind. I said yes, and she officially began by smoothening my cuticles. I've never before tried the nail drill she used, but the result was a more even and flat base for polish—it almost makes your pointers look like acrylics! She then proceeded to file my nails into a more acute oval shape—a look I previously thought wouldn't work for my hands. Still, I ended up liking how it made my fingers look so much longer and slimmer.
After shaping and removing the dry skin, Maiko-san started with the design. She admittedly wasn't sure yet what she wanted for the overall layout when our session began, but she was sure of doing a 3D gel nail and one hand-painted drawing. Kiyosa only uses Japanese gel polish and nail accessories. I noticed that she would dip her brush into a little pink plastic container and not the typical glass bottle like Western nail products. She started off with the unicorn artwork that she painted straight on a white base! No stencils or anything!
The 3D gel nail was the most time consuming process of the entire design. Maiko-san basically wanted to recreate the texture of a unicorn horn on my ring finger by layering clear gel polish over and over again until she got the embossed lift she wanted. For that glittery ivory-like like finish, Maiko-san dusted my nail with pearl powder before sealing it with clear polish.
For the rest of my nails, she opted for a candy-colored gradient topped with holographic sequins and chunky silver glitters. Maiko-san painted and mixed the colors herself and she made sure each nail had a different kind of color blend. She also attached the flat sequins and glitter strategically to get the overall sparkle right.
Conclusion: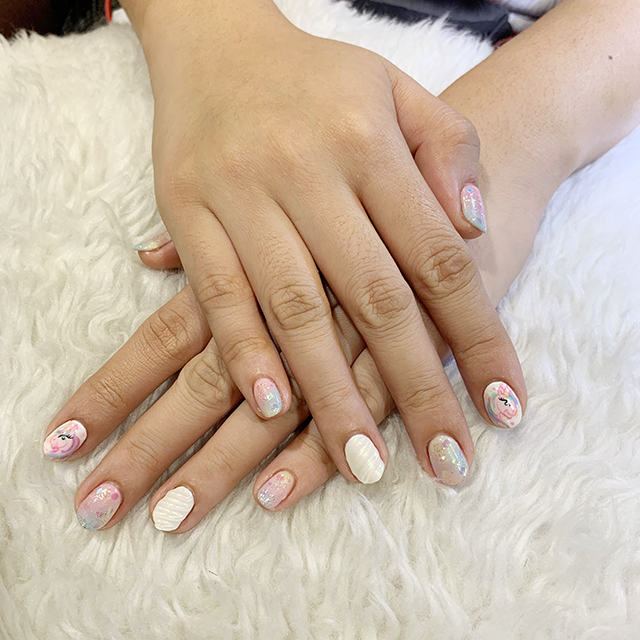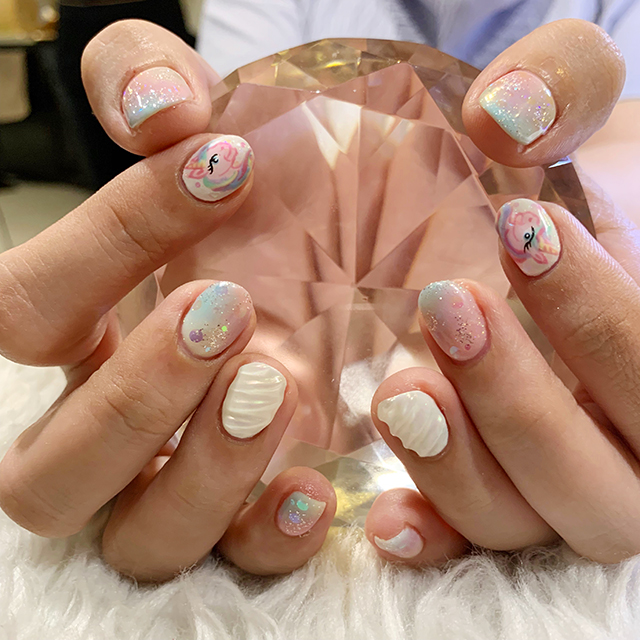 ADVERTISEMENT - CONTINUE READING BELOW
In all honesty, this is the best get nail art I have ever gotten. The design was well thought-out and the detail of the free-hand unicorn drawing is pretty unreal! People thought it was a sticker printed or pasted onto my nail because it was so precise and perfect. I also felt that the technician thought of the overall look of my hands when she worked on them. The oval shape really made a huge difference in relation to the nail art, and I'm pretty excited to have my nails filed this way again. Of course, we can't not talk about the 3D gel effect! It's something I haven't seen other local salons do or achieve without sticking some sort of applique onto the nail. But at Kiyosa, the artist can create the design from scratch so literally anything is possible as long as you show them your peg.
What I also appreciated is Maiko-san's promptness. I had another appointment that afternoon and we started and finished on time—if not earlier! I was done in about two hours and 15 minutes; considering how intricate the design was, I was surprised it didn't take longer.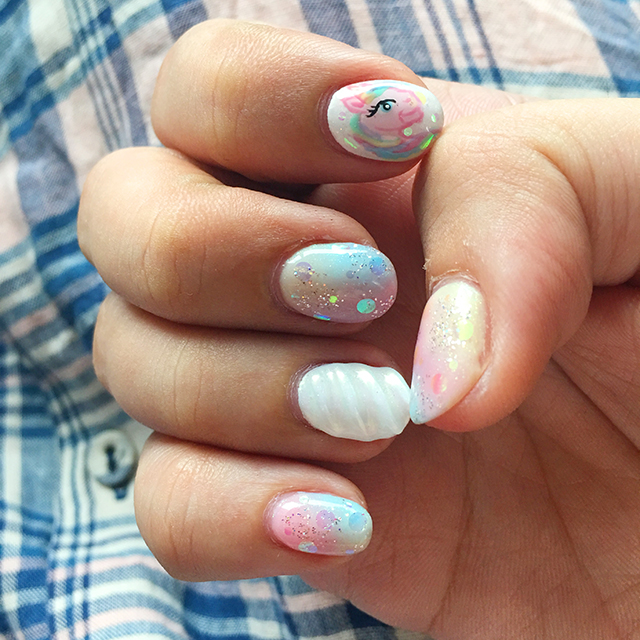 I've had the nails on for about a week and so far everything is intact. No signs of chipping or budging at all—despite not being extra careful and my nails always brushing against the zippers of my bag and wallet. My total bill was P3740 since it was full customization (their rates depend on how difficult or intricate your desired design is). But it's definitely worth it for the quality, service, and the finished art. I'd come back for another gel manicure for sure—whether it involves nail art or not!
Kiyosa Japanese Total Beauty is located on the ground floor of F1 Hotel, 32nd st. corner Lane Q, Bonifacion Global City. For inquiries or reservations, call 805-8888/0939-9158888.
Related Stories from Preview.ph



Hey, Preview readers! Follow us on Facebook, Instagram, YouTube, Tiktok, and Twitter to stay up to speed on all things trendy and creative. We'll curate the most stylish feed for you!