What: Dove Soothing Moisture Anti-Dandruff Shampoo and Conditioner
What It Is
An anti-dandruff shampoo and conditioner that claims to be mild, pH balanced, and gentle enough for everyday use. It contains a blend of oils as well as active pyrithione zinc, which is an ingredient that's said to address dandruff while soothing and nourishing the scalp.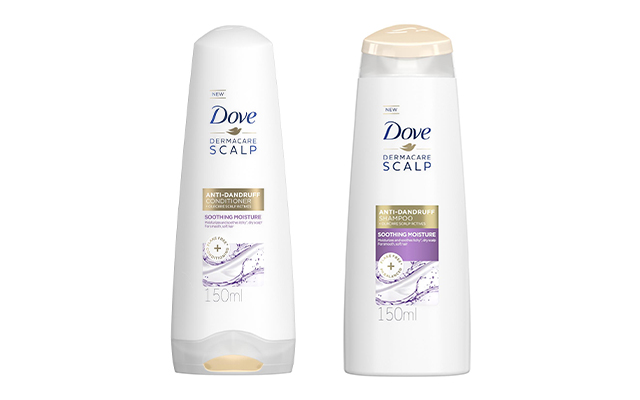 ADVERTISEMENT - CONTINUE READING BELOW
DOVE Dermacare Anti-Dandruff Scalp Soothing Moisture Shampoo, P135, Lazada; Soothing Moisture Conditioner, P135, Lazada
Current Condition
I'm naturally prone to dandruff because of genetics. It's something I've been struggling with since I was young, and the only methods that are able to control my flakes include using gentle shampoos and washing my hair often to prevent buildup. It sounds unproductive, but I tend to avoid anti-dandruff formulas in general because they always dry out my hair and scalp too much and give me that uncomfortable squeaky clean feeling. This is why Dove's new anti-dandruff line caught my attention. Aside from addressing flakiness, the formula also claims to be pH balanced and gentle enough for daily use.
Since my hair is bleached, I only wash it every other day. I should actually wash it less often, but I'm way too dandruff-prone for that. I tried the Soothing Moisture line for two weeks straight, which totaled to seven uses.
How I Used It
The first thing I noticed about the products was the scent. It didn't have that strong menthol scent most anti-dandruff shampoos have, which was comforting because mentholated shampoos and I don't really jive that well. Instead of a minty whiff, both the shampoo and conditioner gave off a comforting floral scent with a subtle hint of lavender.
I worked up a strong lather of the shampoo on wet hair, and it rinsed off easily. And though it already claimed to be non-drying, I was still pleasantly surprised at how comfortable my strands were after washing. They were clean but not "squeaky clean" and dry like they usually become after using other shampoos. No joke—my hair felt even softer than when I use my usual purple shampoo.
As for the conditioner, I found it really lightweight and not difficult to wash off. It's the kind of formula you won't hesitate to use every single day, but because I have bleached hair, I do prefer using something richer. Nonetheless, I like how it doesn't weigh my locks down and how it has that subtle floral scent that lingers post-shower.
ADVERTISEMENT - CONTINUE READING BELOW
Once my hair was completely dry, I noticed a big difference. Instead of feeling dehydrated and frizzy, it was actually really soft and bouncy, as if I didn't use a cleansing shampoo at all. My scalp didn't feel tight either, which I always take as a sign that what I used isn't too harsh for me. Also, I'm usually already quite flaky the next day, but that wasn't the case this time. My dandruff diminished for the succeeding days as well, if the lack of itchiness and flakes on my shoulders were any indication.
Conclusion
I honestly didn't have high expectations for these products. I've had countless experiences with anti-dandruff shampoos and conditioners and doubted that these would be any different. But as you can probably tell from the details above, I was sorely mistaken. The Soothing Moisture shampoo didn't dry out my hair like I thought it would, and it even reduced my flakiness in less than two weeks. The refreshing, non-minty scent was definitely a plus, too. If you're someone looking to address dandruff without overdrying your scalp and hair, this range is worth picking up from your local drugstore.
ADVERTISEMENT - CONTINUE READING BELOW
Related Stories from Preview.ph
Hey, Preview readers! Follow us on Facebook, Instagram, YouTube, Tiktok, and Twitter to stay up to speed on all things trendy and creative. We'll curate the most stylish feed for you!