Exfoliating your lips is a necessary step, whether your purpose is for smoother application of matte lipsticks or to make your lips chap-free and naturally plump. And while there are many ready-made lip scrubs available from different cosmetic brands in the market, you actually need not go far because you can DIY your own right at home!
Within reach of the cupboards in your households, you'll find fresh and natural ingredients like sugar, sea salt, and ground coffee beans that are all effective in getting rid of flaky, dry lips. However, Dr. Gretchen Frieling, M.D. tells Refinery29 that since the lips are made of thin, fragile skin, it is advisable to mix in essential oils and other liquid ingredients that are naturally moisturizing and hydrating to make scrubbing less harsh. Below, we list seven easy lip scrub recipes you can whip up at home:
DIY Lip Scrubs
1. Coconut Lip Scrub
Coconut oil is naturally moisturizing, but other than that, it is antibacterial and anti-fungal, too. Its moisturizing benefits include fatty acids and vitamin E that are nourishing for the lips.
To make this coconut lip scrub, use one tablespoon of brown sugar as the base that will slough away flakes off your lips. Add a tablespoon of raw honey (this is anti-bacterial and has soothing properties) into the mix. Lastly, add five to six drops of coconut oil. This will take a few minutes to fully mix together, so make sure to evenly blend the ingredients before gently buffing over your lips.
ADVERTISEMENT - CONTINUE READING BELOW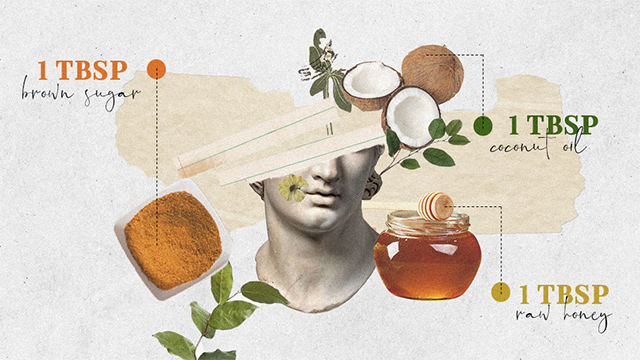 2. Lavender Lip Scrub
Lavender oil, aside from smelling amazing, can make your scrub more nourishing and help you naturally soothe the senses and sunburnt lips. Add five to six drops of this to a mixture of one tablespoon of raw honey and one tablespoon of brown sugar. The brown sugar will serve as an exfoliator, and honey will serve as a natural antibacterial and brightening ingredient. Overall, this recipe will make you one of the best-smelling homemade lip scrubs for a smoother pout.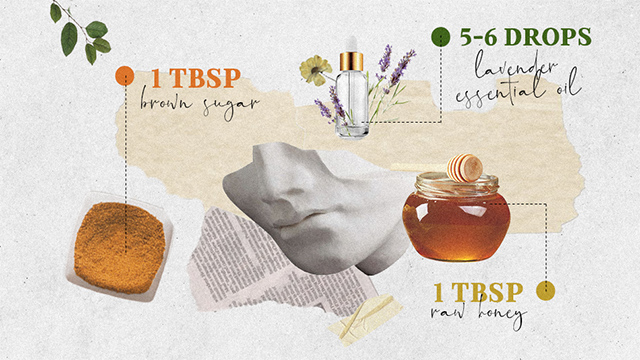 3. Mint Lip Scrub
Peppermint or spearmint essential oil is naturally soothing and stimulates circulation on the lips to make them appear plumper or fuller. For this mint lip scrub, mix eight to 10 drops of this oil with two tablespoons of olive or coconut oil to give lips extra hydration. For the scrub, measure two tablespoons of white or brown sugar and add it into the mixture. To add extra moisture and antioxidant benefits, you can opt to add ½ teaspoon of grapeseed oil.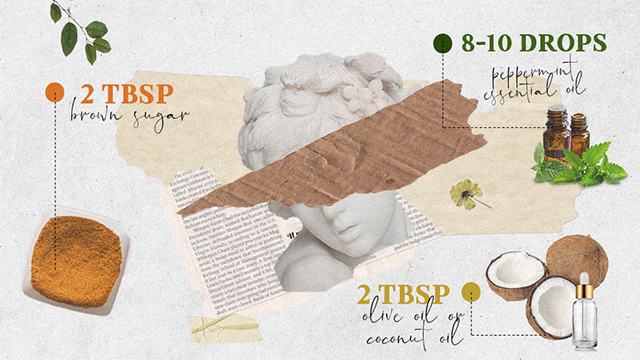 4. Lemon Lip Scrub
While lemon juice is a natural bleaching agent, it also helps exfoliate dead skin cells. Here's how to make it part of your recipe: To one tablespoon of lemon juice, add two tablespoons of white or brown sugar and another teaspoon of petroleum jelly to give you extra slip while scrubbing.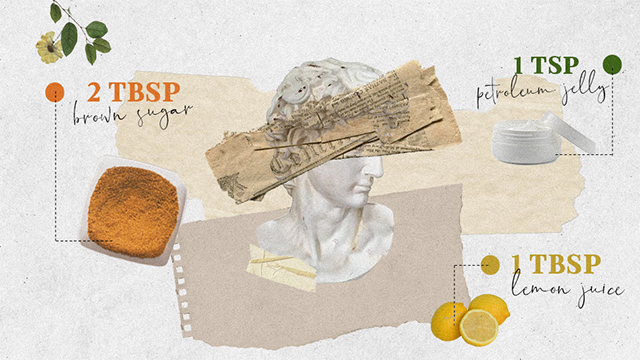 ADVERTISEMENT - CONTINUE READING BELOW
5. Sea Salt Lip Scrub
Sea salt is known to be naturally antibacterial, but thanks to its texture, it can also exfoliate just like sugar. To one teaspoon of sea salt, add two teaspoons of coconut oil to give lips extra moisture while leaving it rosy after scrubbing. An optional ingredient for this mixture is an essential oil of your choice—one to two drops of lavender oil or peppermint oil will do!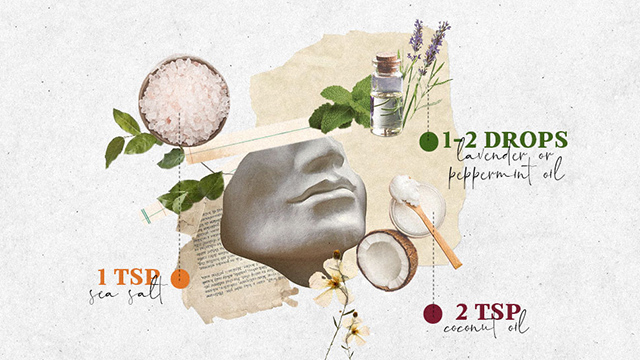 6. Coffee Lip Scrub
In cosmetics, coffee (or caffeine) is used to wake up and soothe, leaving skin—or lips, in this case—"awake" and plump all day. Incorporate it into your lip scrub by mixing one tablespoon of coffee bean grounds to one tablespoon of raw honey. The coffee grounds' gritty texture will help with the exfoliation, while the honey will serve as your moisturizing ingredient.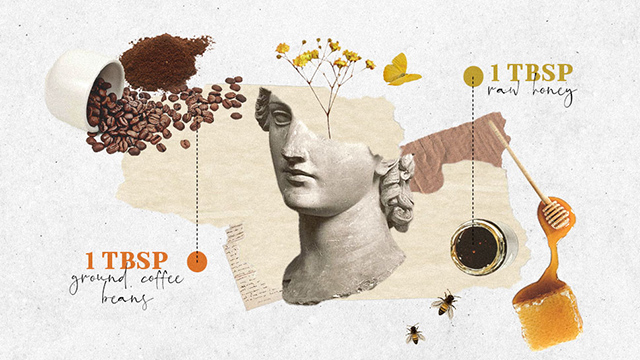 7. Aloe +Papaya Lip Scrub
Aloe is a great soothing ingredient and source of hydration for dry lips. As for papaya, it has high water content as well, so it will add extra moisture and a yummy flavor.
To make this unique recipe, add one teaspoon of aloe (or a store-bought aloe gel, if you don't have an aloe plant!) to one teaspoon of mashed papaya. To help break down buildup on the lips, add one tablespoon of sugar to the mixture (white or brown sugar can work). Add another teaspoon of raw honey to boost the scrub's consistency even more and give it some antibacterial benefits. You may also opt to add ½ teaspoon of an essential oil of your choice and ½ teaspoon of green tea to the lip scrub concoction to charge it with more antioxidants and adjust the scent.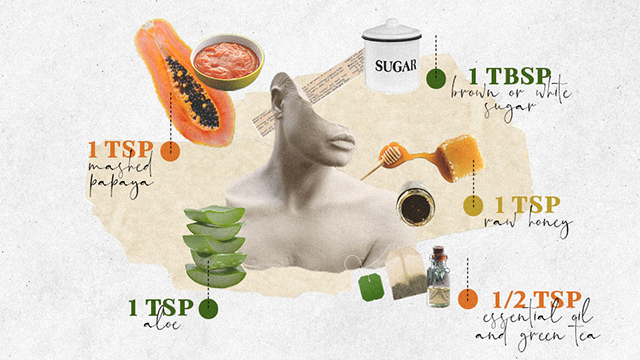 ADVERTISEMENT - CONTINUE READING BELOW
Collages by Beatrice Lu and Bianca Bravo
Related Stories from Preview.ph
Hey, Preview readers! Follow us on Facebook, Instagram, YouTube, Tiktok, and Twitter to stay up to speed on all things trendy and creative. We'll curate the most stylish feed for you!