Dr. Vicki Belo hardly requires an introduction. The president and medical director of Belo Medical Group is arguably the most popular dermatologist in the Philippines, having a beauty empire that's behind countless transformations of celebrities and personalities.
The beauty doctor graduated from the University of Santo Tomas with a degree in Medicine and Surgery and got her diploma in Dermatology from the Institute of Dermatology in Bangkok. Her career in beauty bloomed after 1990, the year she opened her first clinic in Makati. Now, you can find Belo clinics not only in Manila but also in Cebu and Davao.
Dr. Vicki Belo
"The Belo Medical Group is a very personal clinic. When I put up the brand in 1990, I just wanted to help as many people as I could, people who shared the same insecurities as I did," the doctor writes on her clinic's website. "I wanted to make it my life's resolution to make everyone beautiful. I figured, if we were all beautiful, we would be judged based on the essentials: character, intelligence, and hard work."
ADVERTISEMENT - CONTINUE READING BELOW
Dr. Vicki's dedication to making the Philippines the most beautiful country also extends to her own self-care routine. It's said that she personally tries all the treatments in her clinic if she could, with a long list of favorite skincare products and procedures before they are rolled out to the Belo clinics. In an exclusive interview with Preview, the doctor reveals her best-kept beauty secrets—from how she got rid of her oily skin, to her favorite facials, to her love-hate relationship with peanut butter.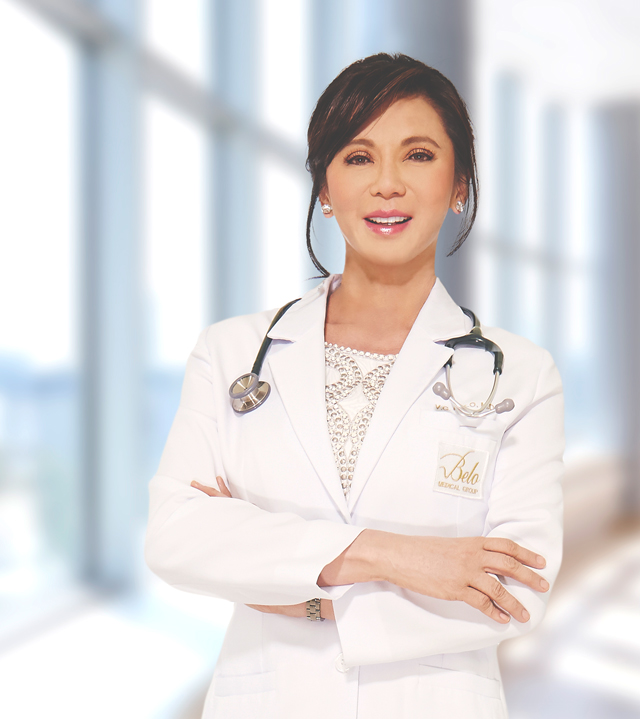 Her personal skincare philosophy
"My skincare philosophy has evolved. I used to be more aggressive, wanting to put a lot of tretinoin because I know it's anti-aging, anti-acne. I like to take care of my whole body, of course the face and the neck always go together, but it's important for me to also have healthy skin even in my thighs, because I like to touch my skin [laughs]. I feel good when it's soft. I try to do the best I can as not aggressive and looking as natural as possible."
Skin type, skin issues, and skin goals
"I used to be very oily. I'm one of those people who unfortunately had adult acne. I had adult acne until the age of 50—actually, up to 56. So it is really good that I had a clinic because oiliness is really the bottom cause of everything. But with the help of lasers like V-beam, G-max, Revlite, and [light therapy], my skin type now is normal. Yay, finally!
ADVERTISEMENT - CONTINUE READING BELOW
"Of course, my goal is to have skin as beautiful as Hunter and Scarlet [laughs]. [I want] skin that has small pores and not oily nor dry (that's Dr. Obagi), not sensitive, and skin that has good cell turnover. I think my dream would be to be able to go around with no makeup—sometimes I do when I feel my skin's nice enough."
Dr. Vicki Belo's daily skincare routine
"Step one is cleanse, and then exfoliate, then toner. We have Balatone, a toner that's good and not too strong, so it doesn't destroy the acid mantle of the face. When your skin is prepared, you can now put on your creams. You know how anti-moisturizers I am, because for me moisturizers are like paste that keeps the cell turnover slow. So in the short run, it feels good; in the long run, your skin gets lazy—your fiberplasts get lazy to produce new collagen, you don't preserve water. I also don't like to do the 12 layers of Korean products. I only do two medicines at night, two in the morning.
ADVERTISEMENT - CONTINUE READING BELOW
"In the morning, I use a glycolic acid exfoliator and vitamin C. I think every person is hiyang to certain medicine. What's very bagay to me is a little glycolic [acid] or any alpha-hydroxy acid, but glycolic in particular my skin loves. I also love vitamin C, which is an antioxidant. I use those in the morning: glycolic to make sure my skin turnover is good and then the penetration of vitamin C is good. Vitamin C stops the free radicals from the sun, and then sunblock on top.
"In the evening, I use Brightalive, which is a combination of secret ingredients from ZO that doesn't have hydroquinone, to lighten my skin—because as you get older, you get hyperpigmentation. And then every other day, I use tretinoin so I don't get the redness and the peeling that used to go with it before."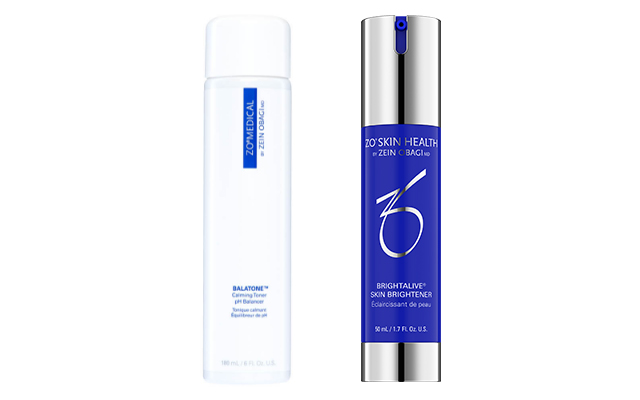 ADVERTISEMENT - CONTINUE READING BELOW
ZO Medical Balatone Calming Toner, price unavailable; ZO Skin Health Brightalive Skin Brightener, price unavailable, Belo Medical Group clinics
Must-have skincare step
"Of course, washing my face!"
Favorite skin treatments
"I always get skin treatments. As you get older ,your skin gets worse, so we always talk about collagen, elastin, and how we lose 1% of it every year. After 40—I won't tell you na how old I am—it's really, really low already. So even if you have an exfoliator, once every three weeks you need [to be] a little more aggressive. For me, that would mean I would use either the ultrasonic blade, Powerpeel, or Salt Facial.
"And then I believe in always rotating my treatments, because it's like planting things in the ground, if you keep planting the same crop eventually all the vitamins and the minerals for all that particular crop are gone. So it's good to change treatments often. You'll see me doing, for example, my favorite is Glycopeel Cleaning and Powerpeel, and the next week I'll do a facial with massage that will stimulate my skin and increase blood circulation or facial acupuncture. And then next week I'm going to something like Oxylite with LED to stimulate and then I'll go back na naman.
ADVERTISEMENT - CONTINUE READING BELOW
"It's important to go to a facialist or clinic where everyone's well-trained to look at your face because if you keep getting the same treatment every week, month, or three weeks, then it just shows that your skin isn't really evolving or getting better.
Favorite skin treat
"We have new products from Fillmed—wonderful for instant glow. So you do the glycolic mask, which gets rid of all the dull, dead skin, oiliness, and makes your pores look really small. And then right after we do the hyaluronic mask. Hyaluronic acid is what we use in fillers but the most important thing about it is that it's very calming to the face and it absorbs water so right away when you remove it you have a glow. You can go around for at least three to five days without any makeup because that's a very short procedure, around 30 minutes, and then you're okay."
ADVERTISEMENT - CONTINUE READING BELOW
The products that made the biggest difference
"I think Biologique Recherche has been one. The PicoSure and the Revlite have been wonderful. For laser, Fraxel has done wonders for me, the V-beam. That's why those are all in [the Belo Greenbelt branch] because it's near my house [laughs].
"In terms of facial treatments, the Emsculpt gave me better abdominal muscles, and for the butt because finally after doing so many squats na nakakapagod I now have a lifted and firmer butt. I should do it more often. My number one favorite right now is the Kinetic Face Lift. I love it because I can do it on-face or off-face. When I have a special event to go to I do this in the hair the scalp. You don't even touch your makeup or wash your face. For me it does the most especially for my neck. I didn't have anything that really worked well on my neck.
ADVERTISEMENT - CONTINUE READING BELOW
Her non-skincare habits for good skin
"I think it's important to hydrate and drink hydrogen water, or just drink lots and lots of water. I work out, I do Bikram yoga two to three times a week because I feel that it detoxifies. Working out is really good, you have to do some kind of cardio so when you perspire you can get your blood circulation going. I do intravenous treatments, the Cinderella Royale, because I'm such a believer in glutathione not only to help keep me fair but also because it cleanses my liver. I see the results when I get my blood tests my liver is always so healthy—so I mean what harm can that do, right?"
ADVERTISEMENT - CONTINUE READING BELOW
What to avoid for good skin
"I don't avoid—I just try to minimize [laughs]. I love peanut butter but I know if I eat it three days in a row, my skin will break out. My pores get big, I get oily, so I don't do it so often. I only do one tablespoon every three days so I don't have to go through that. Sun exposure is the worst—I'm always under my umbrella and have my sunblock. I avoid too much heat as well because if you're exposed to too much heat you'll have broken capillaries. Also, being rough with my body. Before I used to use loofahs and stuff like that, now I know it cuts the skin."
Best skincare tips
"First of all, you should learn to relax because keeping tension on your face makes you look really old. Either learn to meditate or have massages on your face at Belo.
ADVERTISEMENT - CONTINUE READING BELOW
"Hydrate. It's very hard to do. I'm good at it in the morning, but in the afternoon pagod na ko. Giving myself different kinds of water, alkaline water, pi-water, hydrogen water, sparkling water, just to have variety because I get bored.
"What's really good for me now is having manukha honey and lemon in warm water—it's very good for cleansing. Manuka honey is like an antibiotic, so when I'm sick instead of going straight to medicine, I'll take manuka first and it stops my cold and my cough.
"Of course, avoid the sun at all times. Because even if you use sunblock, the heat itself would still affect your skin even if you were able to block the UVA UVB rays. There's enough radiation, parang niluluto ka, so you still get hyperpigmentation because your cells, the melanocytes, respond to heat. Sometimes you get glycation when your collagen isn't so healthy anymore just because of the heat. So I avoid heat from lightbulbs, cooking, so I don't cook [laughs].
ADVERTISEMENT - CONTINUE READING BELOW
*This interview has been condensed for clarity.
Related Stories from Preview.ph
Hey, Preview readers! Follow us on Facebook, Instagram, YouTube, Tiktok, and Twitter to stay up to speed on all things trendy and creative. We'll curate the most stylish feed for you!