Aging, wrinkling, and sagging are some of the worst fears of women everywhere. Looking forever young with supple and smooth skin is what we all try to achieve, thus we religiously follow our skin care routines. However, such products can only do so much in the long run. Eventually, our age shows in the form of hollow areas and sagging skin.
Thankfully, technology allows us to cheat time and prolong our young-looking skin. Take for example, Cat Arambulo-Antonio, who recently discovered dermal fillers. "I resolved to getting fillers because I've been struggling with significant depression on my under-eye, which I coined as bangkay eyes. Haha! No matter how much concealer I used and all the possible types/brands I exhausted... it was useless," she tells Preview.
Cat even shares how she felt after the procedure. She admits, "Now I can wake up, look at myself, and be confident enough to post photos even without makeup. My only regret: I should've done this sooner."
ADVERTISEMENT - CONTINUE READING BELOW
To discuss more about Botox and dermal fillers, we talk to Dr. Janice Soriano of The Aivee Group to answer the most frequently asked questions about these treatments. Read on below!
What is Botox and how does it work?
"Botox or Botulinum toxin is produced by bacterium Clostridium botulinum. It is used to treat and smoothen out fine lines and wrinkles by temporarily relaxing the muscles. It can also treat excessive sweating, muscular disorders, some bladder and bowel disorders, and migraine."
What are fillers and how do they work?
"As we age, skin loses volume and elasticity. That is why dermal fillers are really helpful with a lot of skin aging issues. Dermal fillers are popularly used to add volume to parts of the face, which need augmenting to make it look fuller and younger. Dermal fillers are very effective in enhancing facial features, giving the face more definition and contour. Dermal fillers are used on the lips, cheeks, nasolabial folds, marionnette lines, chin and nose, forehead, temple area, and the undereye. Dermal fillers also have the ability to reinforce collagen in the skin to promote skin elasticity."
What are the differences between Botox and fillers?
"Though both are popular ways to deal with skin aging issues the difference are: Botox temporarily relaxes the muscle while dermal fillers add volume. Dermal fillers fill out depressions and hollows on some parts of the skin like the under eye area. Botox is often injected in the forehead and crow's feet area to smoothen out wrinkles and fine lines."
Can a patient undergo both treatments?
"Definitely, by getting both botox and dermal fillers, it will surely give patients superb results [and] a younger-looking face."
When is it not advisable to avail of the treatments?
"Patients with known allergies and with history of any known medical condition [are advised to seek] doctor's consultation first."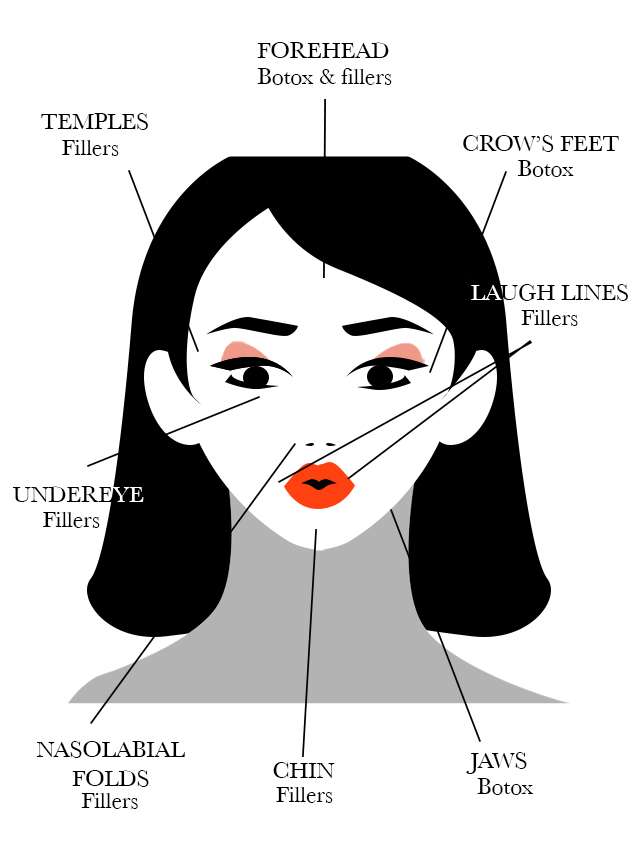 Which parts of the face would need Botox and fillers more?
"Botox are usually injected on the forehead, crow's feet, and jaws to give more jawline definition and contour. Dermal fillers can be used to augment and add volume on the lips, cheeks, nasolabial folds, marionnette lines (laughlines), forehead, temple area and the undereye. Fillers can also help treat dark undereyes and eyebags. Dermal fillers have also become popularly used in adding volume on the nose and chin for definition."
How long do Botox and fillers last? And how often should one get treated with these?
ADVERTISEMENT - CONTINUE READING BELOW
"Botox normally last for six to eight months. It is advisable to redo it after six to eight months, same as dermal fillers to maintain results. There are some dermal fillers which can last longer from six months up to two years."
Are there any risks and side effects?
"Improper technique and using of wrong dosage may results to some side effects, while overdoing it can cause different side effects. Asymmetry can be one result when fillers are overdone or injected incorrectly. A patient can look expressionless or have a 'frozen face' if too much botox were applied. This can also cause someone to have droopy eyelids and cockeyed eyebrows, crooked smile, and drooling. It can also cause temporary bruising, which can be alleviated by cold compress. Applying botox and fillers requires technique and proper specialization in injecting, so we highly recommend for patients to look for a doctor who's been doing botox and fillers for a long time to achieve safe and best results."
Related Stories from Preview.ph
Hey, Preview readers! Follow us on Facebook, Instagram, YouTube, Tiktok, and Twitter to stay up to speed on all things trendy and creative. We'll curate the most stylish feed for you!