Having a matching tattoo with your best friend is such a special way to solidify your friendship. It's one way to say you'll always be there for each other, despite all the ups and downs.
Below, seven groups of best friends share the stories behind the tattoos that brought them closer together—from planned inks to spontaneous tattoo trips. Scroll ahead to be inspired!
1. Shiela Bachoco & Analyn Ruiz
The design: Palm tree
"We've been friends for almost seven years! We decided to celebrate our friendship and Analyn's birthday at Rydelreib Tattoo. We thought about our design for months, and we eventually ended up deciding on getting a palm tree because it has a very complex meaning for us. It represents life in a desert, life in the wilderness, life in the unknown, and just life in general.
"We've been in different seasons from college transitioning into young adults. We enjoy the life we share together because we share the same faith and values. In life, hindi maiiwasan na madalas may offense, but we know that our relationship is more important than our faults and pride. I guess life is an adventure towards an unknown future, and we know that there will be so much fun because we have someone to journey it with."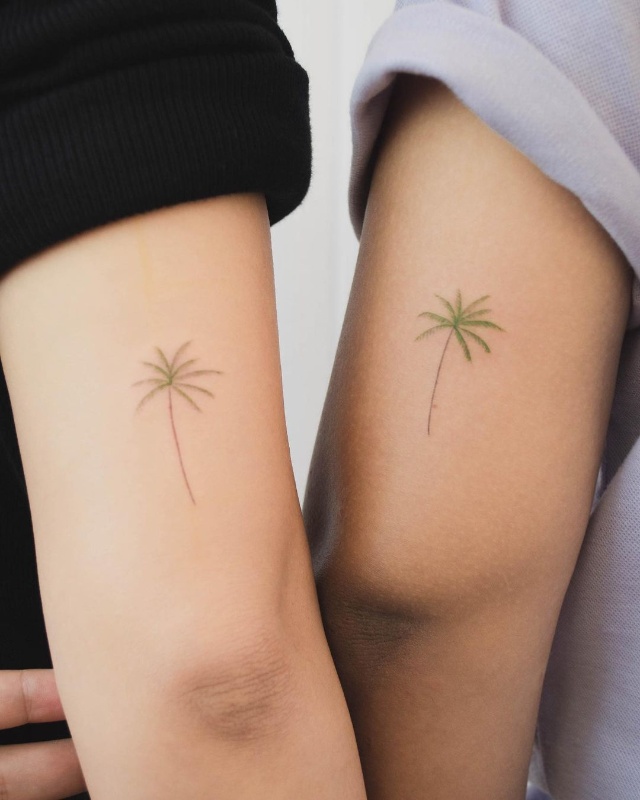 ADVERTISEMENT - CONTINUE READING BELOW
2. Isa Espinola, Pash Brillantes, & Jesse Luna
The design: Three interlocked triangles
"It was a spur of the moment decision! Pash and I had a tattoo sched with Chelsi (@misspokestattoo) that day and we brought Jesse to tag along. After Chelsi was done with our tattoos, we joked that we should get matching tattoos—and tada!
"The symbol of three interlocked triangles represent our strong bond as a trio with 10 years worth of friendship. Each triangle is shaded differently, referencing one [individual] out of the three. We just randomly chose which triangle we want shaded and its color!"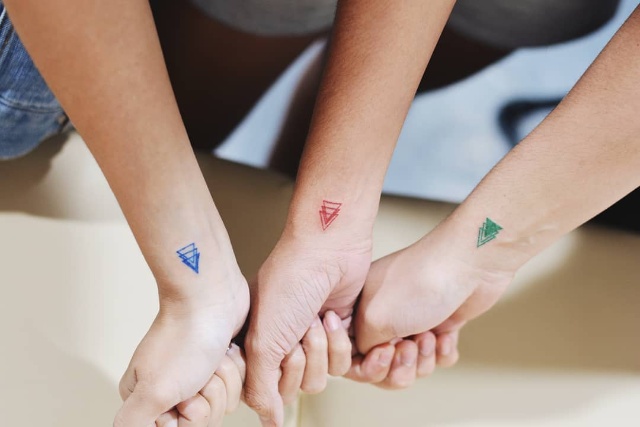 3. Loui Lagare, Iris Aranda, & Claude Sevilla
The design: "Cowboy chick"
"We didn't really plan on getting this specific design—we just really wanted to get matching tattoos. It was really spontaneous because we were watching Tiktoks of tattoo artists (that makes matching tattoos) the night before our appointment, and this was the design we all liked and related to. The pointing of the guns is similar to the old Spiderman meme, but it's about us pointing at each other on who's the worst and best person in our trio. It basically means nothing, we just really wanted matching tattoos since we've been friends for more than 10 years."
4. Chame Bueno & Evange Villarino
The design: Hakuna Matata symbols
"We've been friends for a decade now, and a matching tatt is one thing we've crossed off of our bucketlist.
[We chose] Two words for two besties to keep their sanity: Hakuna Matata. It's a carefree philosophy; looking forward to tomorrow and trying not to give excessive weight to the past that we can no longer intervene."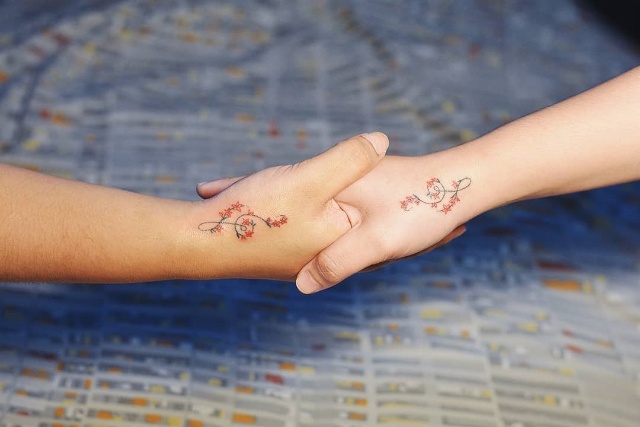 ADVERTISEMENT - CONTINUE READING BELOW
5. Ivy Dimaculangan & Jane Garcia
The design: Beach
"We were both stressed and wanted something that reminds us of summer—those chill, refreshing days under the sun. We just wanted a breather from the toxic work environment we were in. So when I decided to get a tatt, I asked Jane if she wanted one, too, and she agreed right away.
"Plus, we were fascinated with hand poked tatts that time so we decided to try it out. Shout out to [Chelsi of] @misspokestattoo for the cutest beach themed tat and [for having the] lightest hands while inking our skin! [Our tattoo] is a reminder for us to take a break, go to the beach and enjoy life."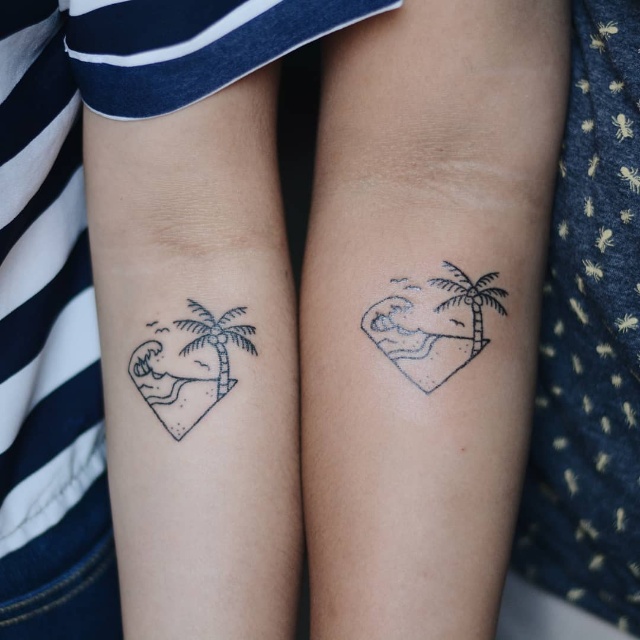 6. Leigh Reyes, Kim Idra, Janeva Taguinod, Sacha Guzman, & Raisa Lacar
The design: Semi-colon
"We've been friends since our 1st year in college. After graduation, we'd rarely see each other but we remained best friends. A semicolon is used to link ideas in a single sentence, just like how we are linked for life no matter what. It's not a regular semicolon; rather we decided to use the heart sign para kahit di kami lagi magkakasama, nareremind kami that we are each other's constants. In short, [our tattoo] is somewhat [of a representation] of our lifetime commitment to our friendship. We're only four in the photo, but actually five [have the] tattoo. One of us got her tattoo at a different artist on a different date, but with the same design."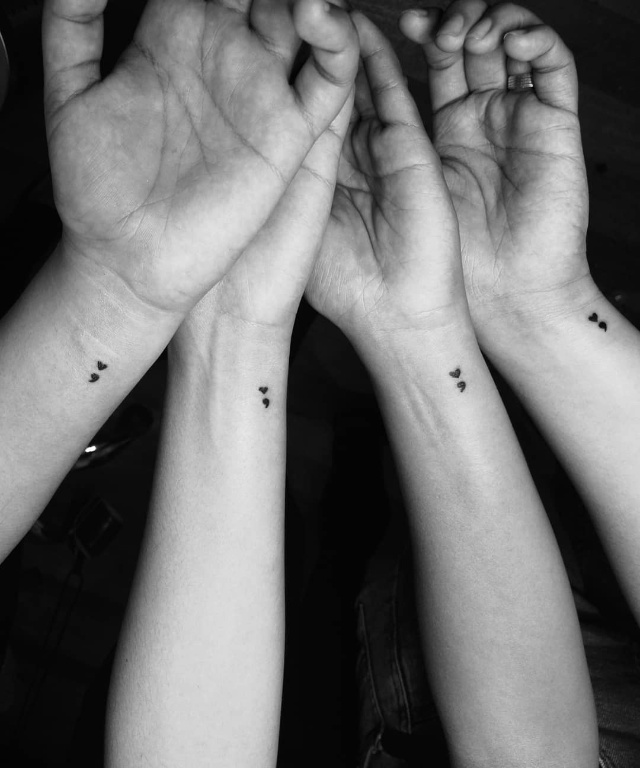 7. Mia Castro & Sasha Evio
The design: Opposite winged tattoos
"It was the first time Sasha and I saw each other again after the lockdown. We were originally just going to get lunch and she'll accompany me to my tattoo appointment. But, the thing with us is that we like to joke around about things to the point of actually doing it. So, on the way there I just said, 'Why not get matching ones?' True to our friendship style, we ended up coming up with ideas for our matching tattoos. Thankfully, the studio had an extra spot open so it all worked out great.
ADVERTISEMENT - CONTINUE READING BELOW
"Basically, it's just a sign of how we always say that we're the complete match but [also a] complete opposite. We balance each other off with our personalities, so we both got angel wings but Sasha has a halo on hers and mine has the devil horns."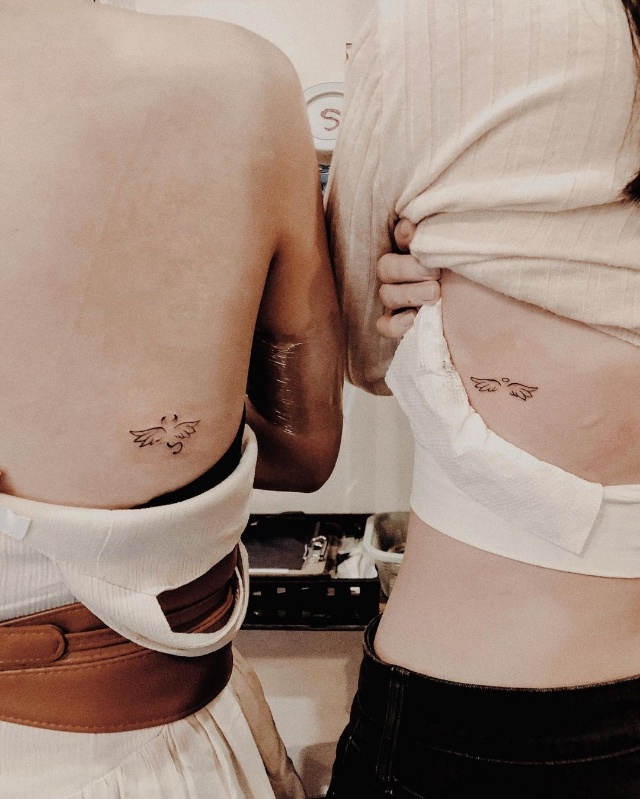 Related Stories from Preview.ph
Hey, Preview readers! Follow us on Facebook, Instagram, YouTube, Tiktok, and Twitter to stay up to speed on all things trendy and creative. We'll curate the most stylish feed for you!